EXPLOITATION FERROVIAIRE AU JAPON / HOW TRAINS ARE RUN IN JAPAN
(28-04 > 10-05-2013)

( CHARGEMENT DE 119 PHOTOGRAPHIES, MERCI DE PATIENTER... )

On associe ici photographies, commentaires et chronométrages pour donner
une certaine idée de l'exploitation ferroviaire au Japon : une exceptionnelle
combinaison de qualité, de précision et de sens du service.

( NOW LOADING 119 PICTURES, PLEASE WAIT... )

In this presentation, a series of pictures, comments and logs aims at showing
how trains are run in Japan : an impressive combination of quality, precision
and service.


2 CARTES UTILES / 2 USEFUL MAPS

(MAP 01) 2013-11-20 Japanese rail network map (c) Japan Rail Pass

(MAP 02) Tôkyô rail network (c) JR East


(1) I N T R O D U C T I O N / I N T R O D U C T I O N

Depuis la privatisation de 1987, notamment pour traiter un endettement
voisin de 300 Mds € actuels, l'organisation générale est la suivante :

- 6 compagnies principales pour les voyageurs, distribuées géographiquement :
JR Hokkaido, JR East, JR Central/Tokai, JR West, JR Shikoku, JR Kyûshû,

- de nombreuses compagnies privées sur un périmètre limité (banlieue,
accès aux aéroports…) et dont l'origine est souvent historique
(elles n'avaient jamais été nationalisées...),

- une seule compagnie fret : JR Freight, qui n'est propriétaire que de
quelques dizaines de km de voie d'accès à ses installations (dépôts,
triages, terminaux),

- un réseau historiquement à voie métrique anglaise (1067mm), complété
à partir de 1964 par un réseau à Grande Vitesse 1435mm (Shinkansen)
qui s'étend régulièrement.

Certaines gares Shinkansen sont des gares centrales, communes aux deux
réseaux (Tôkyô, Nagoya...) ; les autres sont des gares de correspondance
avec une gare du réseau urbain de l'agglomération, et sont de ce fait
nommées Shin-XXX. Par exemple, Yokohama est la gare centrale historique,
alors que Shin-Yokohama est la gare Shinkansen en même temps qu'une gare
d'une ligne JR East de la banlieue de Tôkyô. Idem pour Osaka et Shin-Osaka.

Aujourd'hui, le réseau Shinkansen ["shin" = nouveau, "sen"=ligne] s'étend
de Shin-Aomori au nord à Kagoshima au sud, et atteindra prochainement
Sapporo, Kanazawa et Nagasaki.

Le réseau Shinkansen est géré :

- au nord de Tokyo : par JR East
- de Tokyo à Shin-Osaka (Tokaido Shinkansen) : par JR Central
- de Shin-Osaka à Hakata : par JR West (avec une proportion notable
de trains JR Central, ayant Tôkyô pour origine ou destination)
- de Hakata à Kagoshima : par JR Kyûshû

A Tôkyô, sur le réseau Shinkansen, JR Central opère sur 6 voies (14 à 19) avec
des demi-tours en 16-17 mn nettoyage compris. JR East dispose de 4 voies
seulement (20 à 23) avec des demi-tours pouvant descendre à 12 mn, nettoyage
également compris... ou 8 mn seulement sur arrivée à vide.

Deux branches JR East (Yamagata/Shinjo et Akita) sont d'ex-voies métriques,
d'où un matériel roulant spécifique, doté de caisses étroites (2,95m au lieu de
3,38m). Ces matériels (séries E3 et E6) ont aussi des caisses plus courtes,
pour pouvoir s'inscrire dans des courbes de faible rayon.

La banlieue de Tôkyô est gérée par JR East.

Les 17 gares du Tokaido Shinkansen (Tôkyô – Shin-Osaka, 515 km dont 342
jusqu'à Nagoya) se décomposent en :

- 6 gares d'arrêt systématique : 1 Tôkyô, 2 Shinagawa, 3 Shin-Yokohama,
13 Nagoya, 16 Kyoto, 17 Shin-Osaka,
- 1 gare à 2 voies, sans dépassement possible : 5 Atami
- 10 gares à 4 voies (voies centrales sans quais), où les trains
qui s'arrêtent sont presque toujours dépassés par au moins
un autre train, et assez souvent par deux en succession.

Les omnibus (Kodama), à fréquence 30 mn jusqu'à Nagoya, sont dépassés
de 10 à 14 fois sur ce parcours, les semi-directs Hikari au maximum
deux fois (mais ils sont surtout lents entre Nagoya et Shin-Osaka,
dans une logique de desserte par zones successives à partir de Tôkyô).

Par exemple, le Kodama 671 (Tôkyô 16h26 Nagoya 19h14) est dépassé...
12 fois en 317 km, par tous les départs compris entre 16h30 inclus et
17h30 inclus. Ceci dans 8 gares, avec 4 dépassements simples et 4 doubles.

Pour mémoire, le Tokaido Shinkansen n'est pas banalisé (absence de signalisation
permettant de circuler à contre-sens, hormis dans les grandes gares) : le nombre
de trains étant trop élevé (plus de 320 par jour), on a préféré investir dans
la fiabilité des installations fixes et du matériel roulant.

Since the 1987 privatisation, which was primarily triggered by huge debt
(around 300 billion € in current value), the general structure
of the railways in Japan reads as follows :

- 6 main companies for passenger traffic, geographically distributed :
JR Hokkaido, JR East, JR Central/Tokai, JR West, JR Shikoku, JR Kyûshû,

- numerous private operators, usually on a small perimeter (mostly suburban
lines or airport links). The origin of this distribution is usually historical
(these lines had never been nationalised),

- only one freight operator : JR Freight, which owns no tracks but for a few kms
accessing its depots, shunting yards or terminals,

- a metric gauge (1067mm) network, supplemented from 1964 onwards by the
1435 mm standard gauge Shinkansen (high speed) network, still expanding today.

Some Shinkansen stations are central ones, belonging to both networks (Tôkyô,
Nagoya...) ; the others are interchange stations, connected to the urban area's
local network, and are named Shin-XXX. For instance, Yokohama is the historical
central (JR East) station, while Shin-Yokohama is the Shinkansen (JR Central)
station, as well as a station of the Tôkyô (JR East) suburban network. The same
principle applies to Osaka and Shin-Osaka.

Today, the Shinkansen ["shin" = new, "sen"=line] network reaches Shin-Aomori
in the North and Kagoshima in the South, and will also serve, in the near future,
Sapporo, Kanazawa, and Nagasaki.

The Shinkansen network is managed :

- north of Tôkyô : by JR East
- from Tôkyô to Shin-Osaka (Tokaido Shinkansen) : by JR Central,
- from Shin-Osaka to Hakata : by JR West (but with a substantial
proportion of JR Central trains, coming from / going to Tôkyô),
- from Hakata to Kagoshima : by JR Kyûshû.

At Tôkyô central station, on the Shinkansen network, JR Central operates
on 6 tracks (14-19) with a standard turnaround time of 16-17 mns, including
cleaning time for arriving trains. For JR East, with only 4 tracks available
(20-23), turnaround times can be as low as 12 mn, also including cleaning time...
and 8 mn only when the incoming train is empty (and therefore clean).

On the JR East Shinkansen network, two branch lines (Yamagata/Shinjo
and Akita) are former metric lines, a fact which accounts for specific
rolling stock, only 2m95 wide instead of 3m38. Because of line curvature,
coaches are also shorter (this applies to the E3 and E6 series).

The Tôkyô suburban network is managed by JR East.

The 17 stations of the Tokaido Shinkansen high speed line (Tôkyô – Shin-Osaka,
515 km, Nagoya being located at km 342) can be classified in the following way :

- 6 where all trains stop : 1 Tôkyô, 2 Shinagawa, 3 Shin-Yokohama, 13 Nagoya,
16 Kyoto, 17 Shin-Osaka,

- 1 with only 2 tracks and therefore no possible overtaking : 5 Atami

- 10 with loops in either direction (centre tracks have no platforms). Calling
trains are almost always overtaken by another train, and often by 2 in succession.

Kodama trains, calling at all stations, run twice hourly until Nagoya, and are
overtaken between 10 and 14 times on this section, while semi-fast Hikari trains
are overtaken only twice on the same Tôkyô - Nagoya section (they serve more
stations between Nagoya and Shin-Osaka).

For instance, the Kodama 671 train (Tokyo 16h26 Nagoya 19h14) is overtaken...
12 times in 317 km, by all departures between 16:30 and 17:30. This is performed
at 8 successive locations, by means of 4 "double" and 4 "single" overtakings.

The Tokaido Shinkansen network is not bidirectional (except of course in major
stations) : the number of trains (more than 320 on a standard weekday) is thought
to be too high to make any use of it, so the preferred option has been to invest
more in the reliability of the whole system (infrastructure and rolling stock).


(2) TOKYO - NAGANO - SHIZUOKA - TOKYO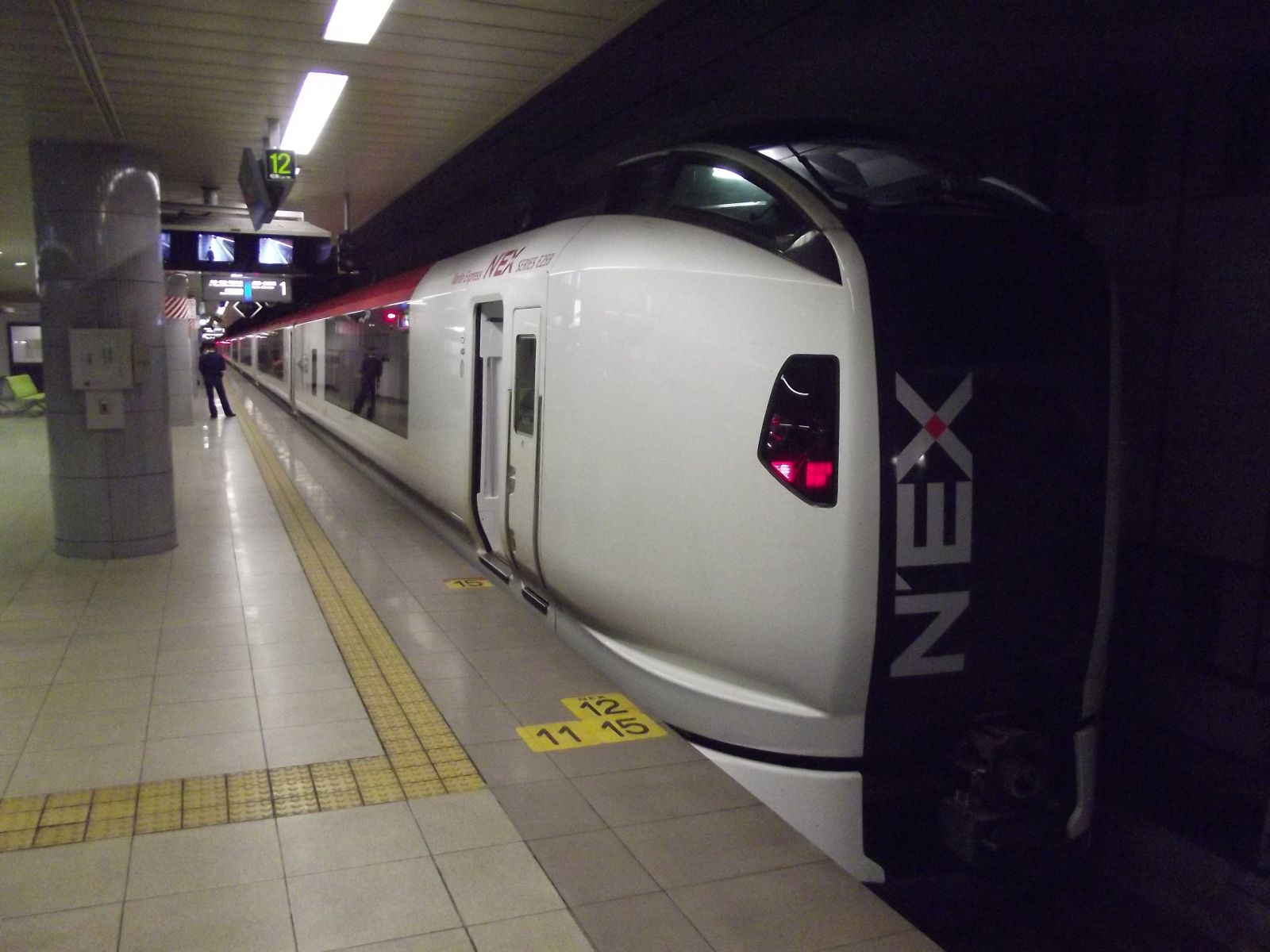 (01) Narita Express (Narita 2013-04-27)
Dès la gare souterraine de Narita, l'aéroport international de Tôkyô, l'impression est très positive.
Le Narita Express se compose de deux automotrices de 6 voitures qui à Tôkyô Central vont se séparer,
l'une allant à Yokohama, l'autre à Shinjuku. En France, cela serait évidemment considéré comme "non robuste"
dans une zone aussi chargée... Matériel récent et (comme toujours au Japon...) d'une propreté impeccable.
Voie métrique anglaise (1067 mm), vitesse maximale 130 km/h, réservation obligatoire même avec le
JR Pass (mais elle est alors gratuite...). Il existe aussi, mais elle n'a pas été testée (le JR Pass
ne permet pas de l'emprunter), une ligne concurrente privée : celle-ci est à voie métrique également,
mais est de conception récente, dépourvue de passages à niveau, et de ce fait autorisée à 160 km/h,
un cas unique au Japon.
Right from the underground railway station at Narita, Tôkyô's international airport, the general
impression is highly positive. Narita Express trains are 2x6-car multiple units, parting in
Tokyo Central Station : the first unit goes to Yokohama, the second to Shinjuku. The same in France
would of course be deemed "unreliable" in such a high-density area... The rolling stock seems to be
very recent and is (as always in Japan...) impeccably clean. Metric track (1067 mm), maximum speed 130 kph,
mandatory reservation even with a JR Pass (but then, at no cost). There is a competing private line,
also metric but faster (160 kph... the only metric line in Japan where this speed is permitted, thanks
to the absence of level crossings), but it has not been tested (the JR Pass is not valid there).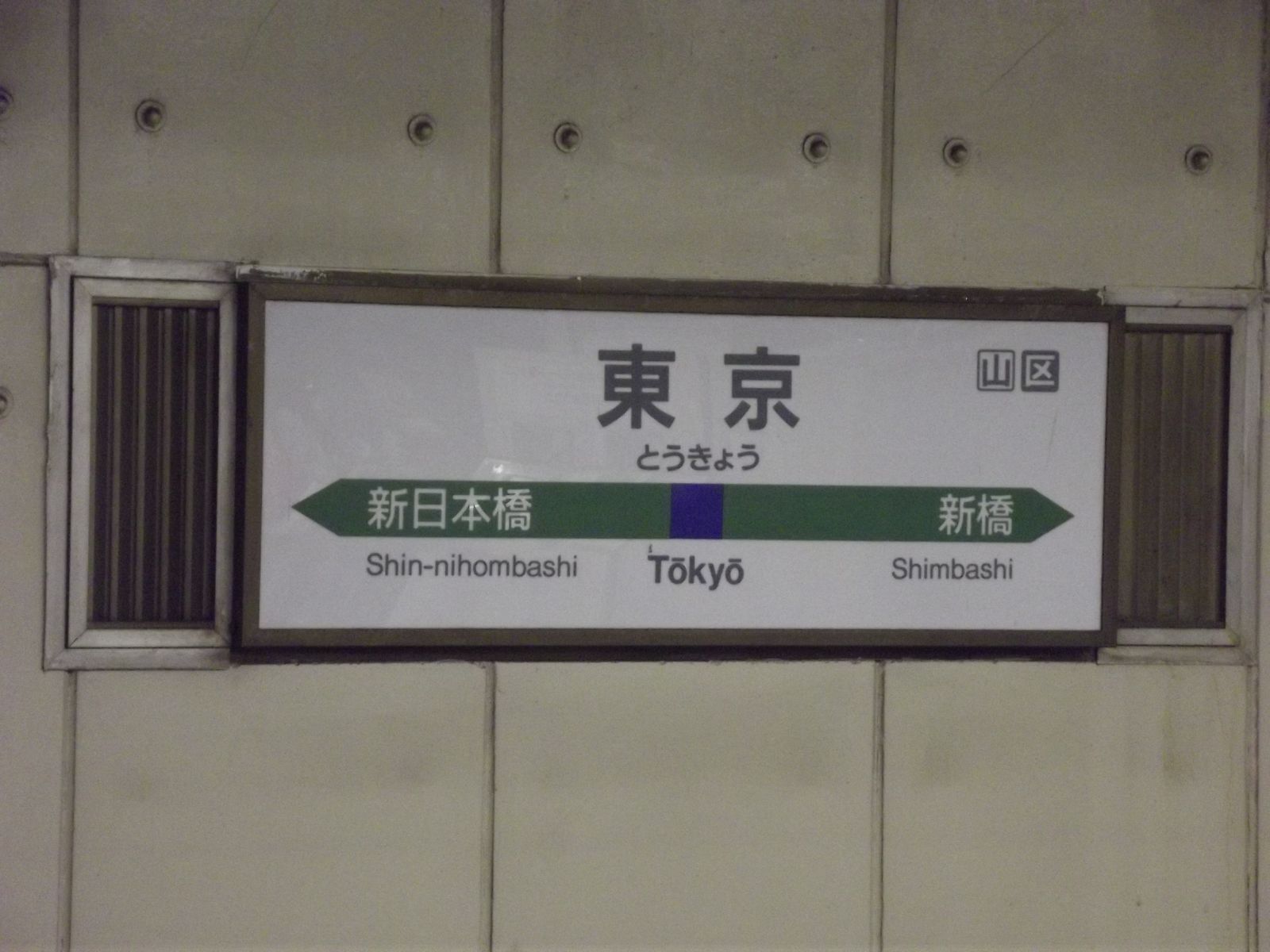 (02) Typical station board (Tôkyô 2013-04-27)
A Tôkyô comme dans toutes les gares du Japon, les panneaux indiquent les noms
des gares précédentes et suivantes : très pratique pour préparer sa sortie...
In Tôkyô, as in any japanese railway station, station boards also give the name
of the previous and next stations - most convenient when preparing to exit...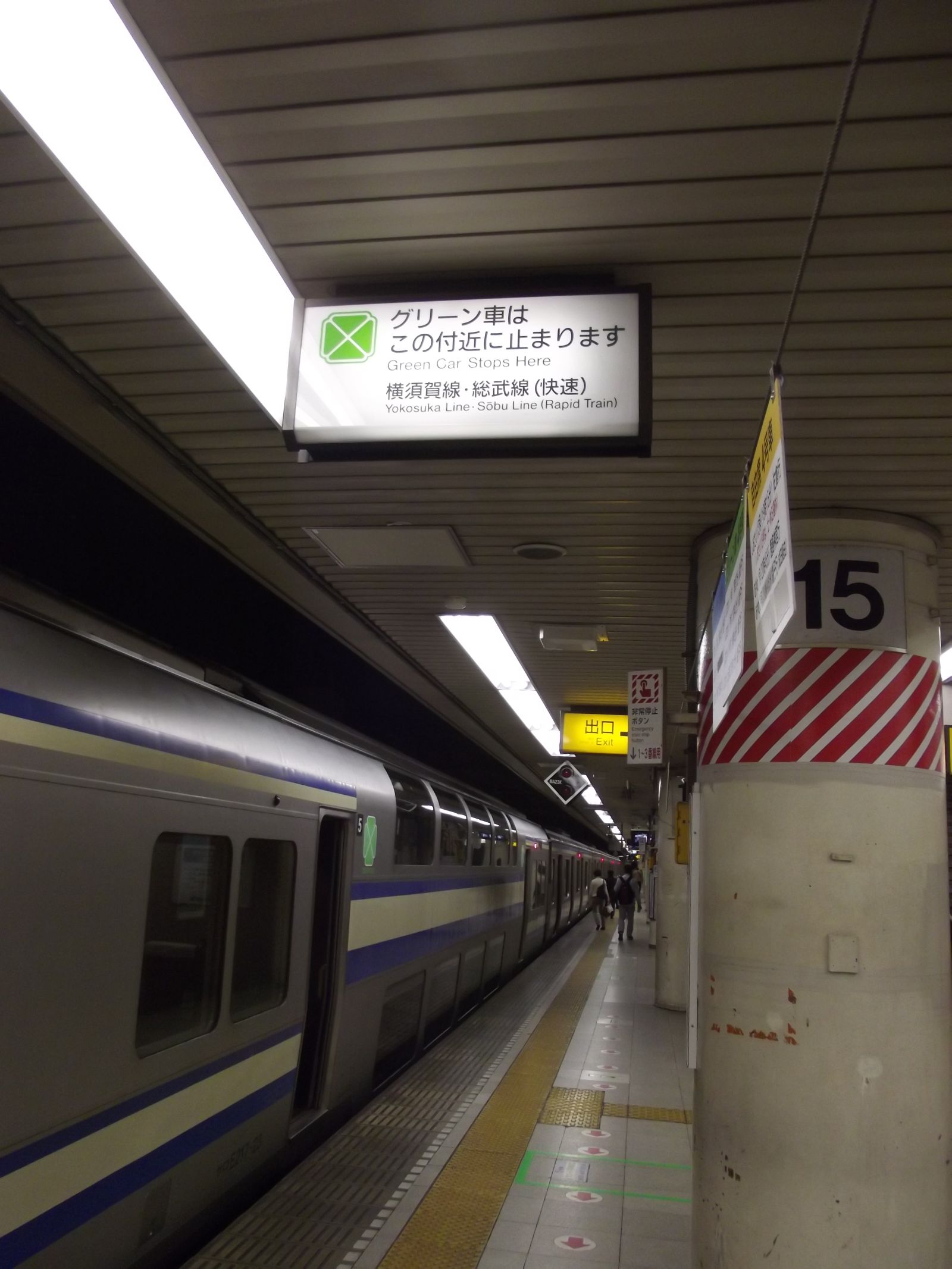 (03) Medium-distance suburban train (Tokyo 2013-04-27)
Toujours dans la partie souterraine de la gare centrale de Tôkyô, réservée
aux services de moyenne distance, une rame dont la voiture de première classe
(toujours nommée "Green Car" [Voiture Verte] au Japon) est la seule à deux niveaux.
Toutes les lignes JR East de l'agglomération de Tôkyô ont un nom, comme ici
("Yokosuka Line Sôbu Line [Rapid Service]"), et on retrouve bien entendu
cette même dénomination sur les plans du réseau (voir plus loin).
Again in the low level part of Tôkyô's central station, used by medium-distance
services, this train has only one bilevel car, the first class one (always named
"Green Car" in Japan). All JR East lines in the Tôkyô area are named, as shown here
("Yokosuka Line Sôbu Line [Rapid Service]"), and the same name is of course shown
on network maps (see further on).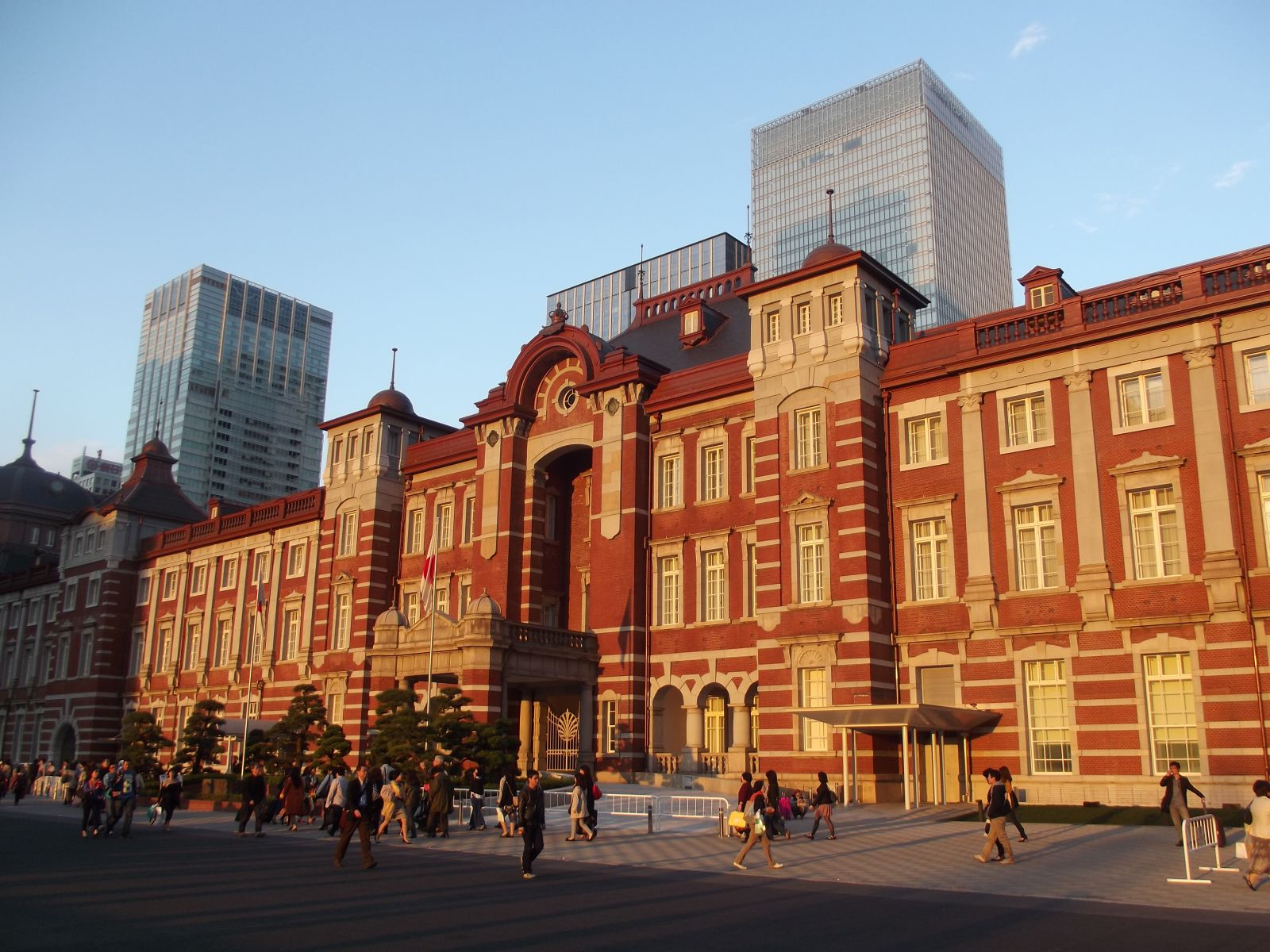 (04) Tokyo Central Station 2013-04-27
Façade ouest de la gare centrale de Tôkyô, récemment rénovée - seul bâtiment
relativement ancien du secteur (il date du début des années 1920). Cette gare
se compose de 4 parties :
- en surface, côté Est, voies 20-23 : Shinkansen Nord (Tôhoku, JR East)
- en surface, zone médiane, voies 14-19 : Shinkansen Sud (Tokaido, JR Central)
- en surface, côté Ouest : banlieue proche (3 lignes : Yamanote, Chuô, Keihin)
- en souterrain, côté Ouest : banlieue éloignée (dont le Narita Express)
West side of Tôkyô's central station, recently renovated - the only relatively old
building in the area (early 1920s). This station has 4 parts :
- upper level, east side, tracks 20-23 : Shinkansen North (Tôhoku, JR East)
- upper level, middle, tracks 14-19 : Shinkansen South (Tokaido, JR Central)
- upper level, west side : suburban (short distance) (3 lines : Yamanote, Chuô, Keihin)
- lower level, west side : suburban (medium & long distance, including Narita Express)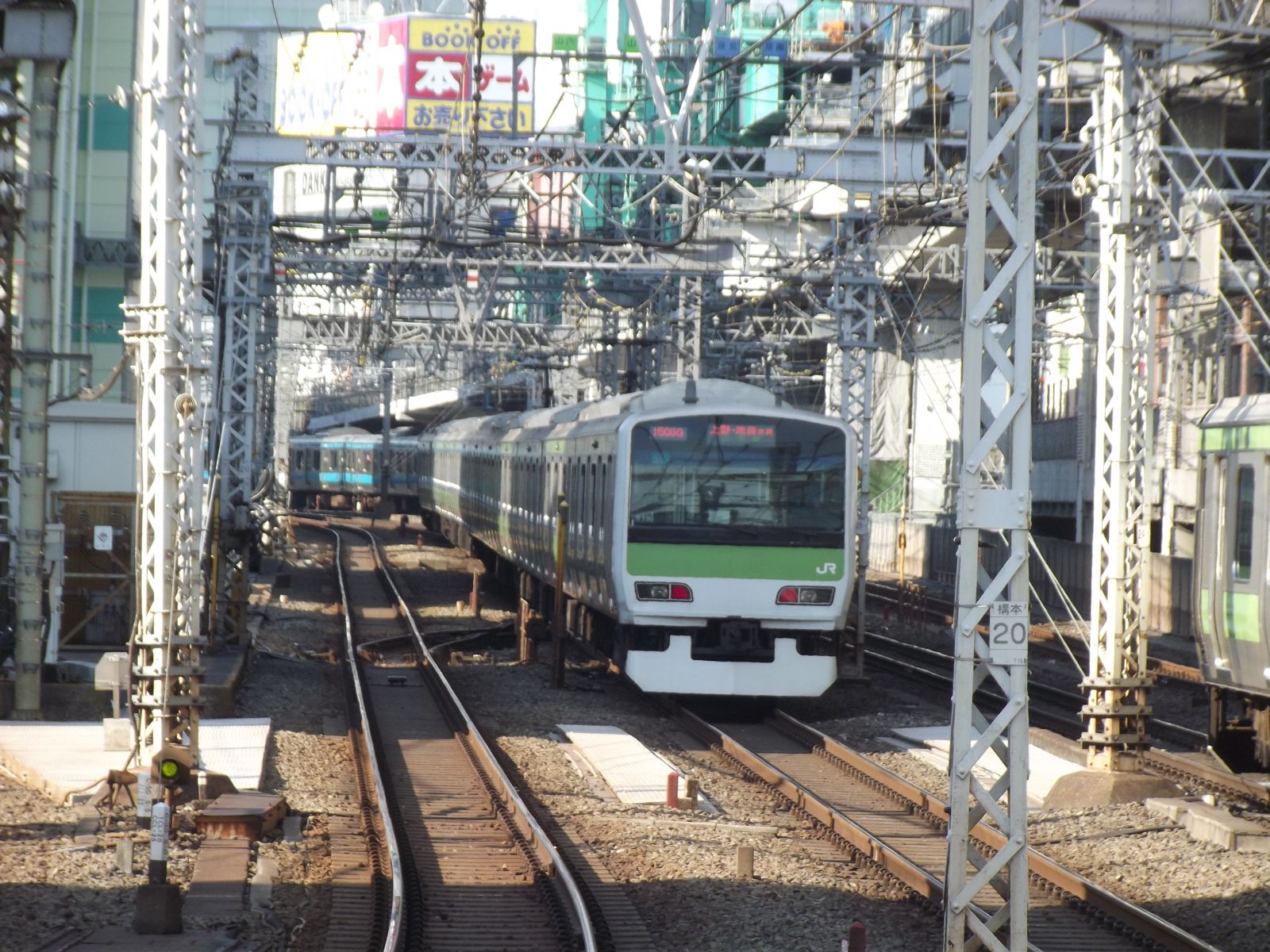 (05) Kanda (view N) 2013-04-28 (Yamanote Line green, Keihin Line blue)

Le matériel de la banlieue de Tôkyô est très standardisé, et la couleur des rames est
le principal facteur de distinction, comme on peut le voir ici et sur la vue suivante.
Moins visible, le nombre de caisses est un autre facteur distinctif, avec au moins
4 variantes identifiées : 8, 10, 11 et 15 voitures par rame (11 sur la Yamanote Line).
Il n'y a pas de matériel à deux niveaux, pour maîtriser les temps de stationnement.
The Tôkyô suburban rolling stock is highly standardized, colour being the main
differenciation factor. The number of cars per set is another, though, with at least
4 identified lengths : 8, 10, 11 and 15 cars. Yamanote Line trains have 11. There is
no bilevel stock, in order to keep dwell times low.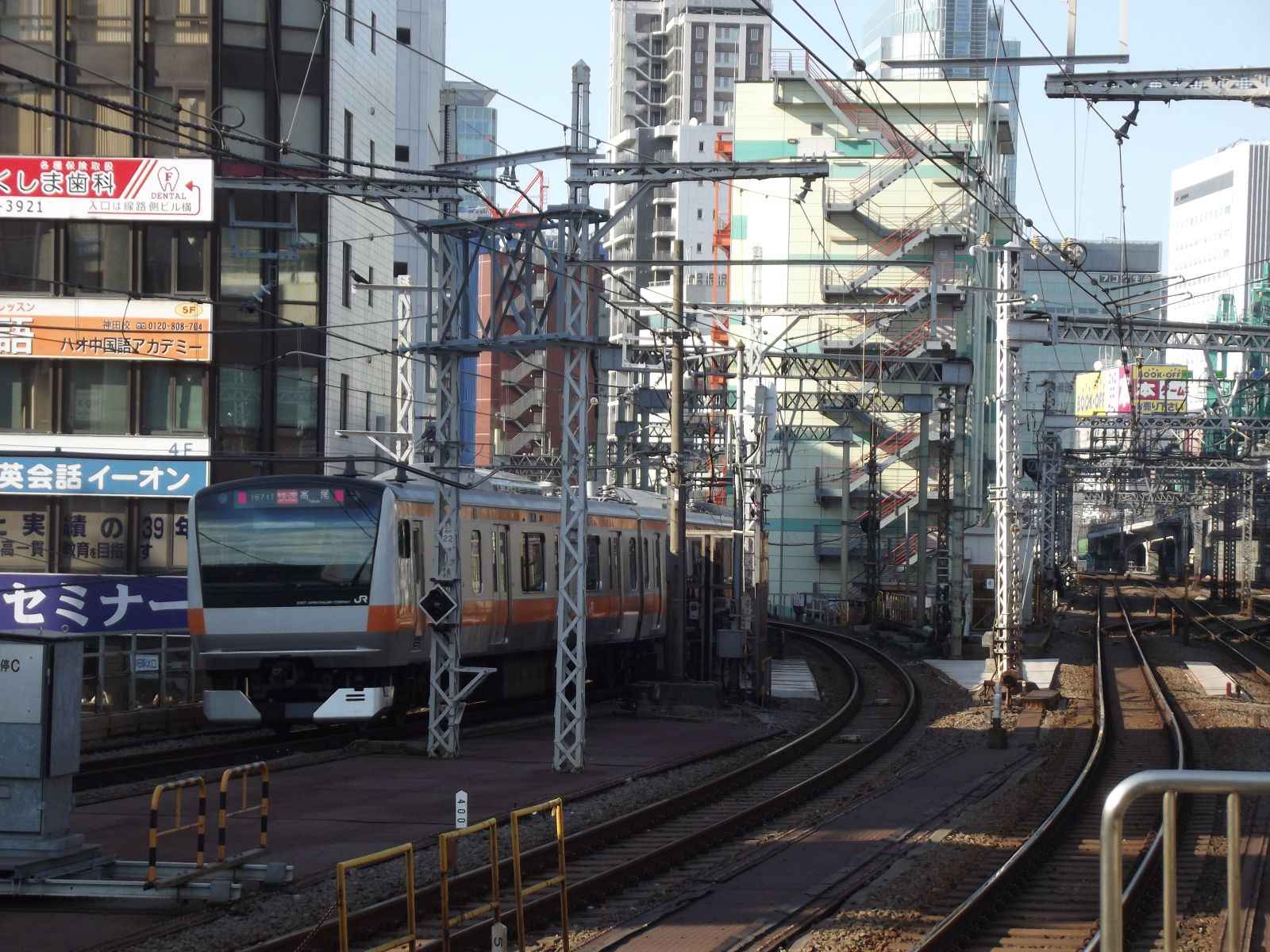 (06) Kanda (Chuo Line orange) 2013-04-28
(même endroit, vue à gauche de la précédente) Rame de la Chuo Line (15 caisses).
(same spot, view to the left of the previous one) Chuo Line train (15 cars).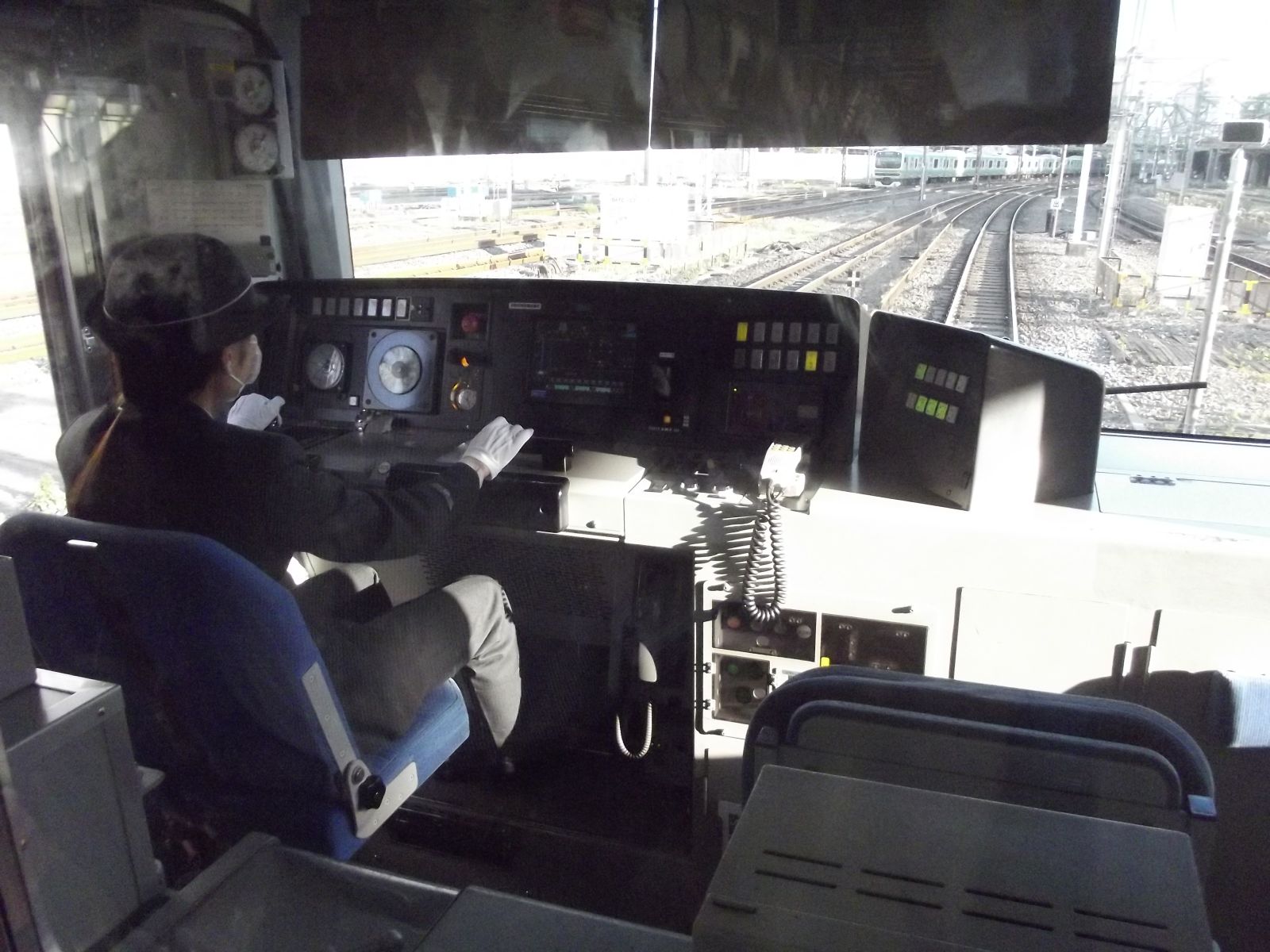 (07) Yamanote Line driving cab 2013-04-28
Cabine de conduite d'une rame de la Yamanote Line. On notera les gants blancs
(garantie de la propreté de la cabine de conduite...) et l'espace, ici bien sûr
occupé, pour la montre de l'agent de conduite. Le plus remarquable, non visible ici,
estle niveau de concentration du personnel de conduite, jamais perturbé par les
voyageurs derrière la vitre... Une pratique usuelle est de pointer du doigt les
signaux, avec commentaire oral en sus : il a été démontré que cela réduit
le risque d'inattention, et la pratique a été conservée malgré la mise en place
d'un système de contrôle de vitesse.
Driving cab of a Yamanote Line train. Note the white gloves (a way of making sure
that the driving cab is perfectly clean...) and the location for the driver's watch.
The most remarkable fact is the driver's level of concentration - never affected
by the passengers behind the glass panel... a usual practice is to point at signals
by hand, with a vocal comment too : it has been proved that this reduces the risk
of loss of attention, and this practice has been maintained even after a speed
control system has been installed.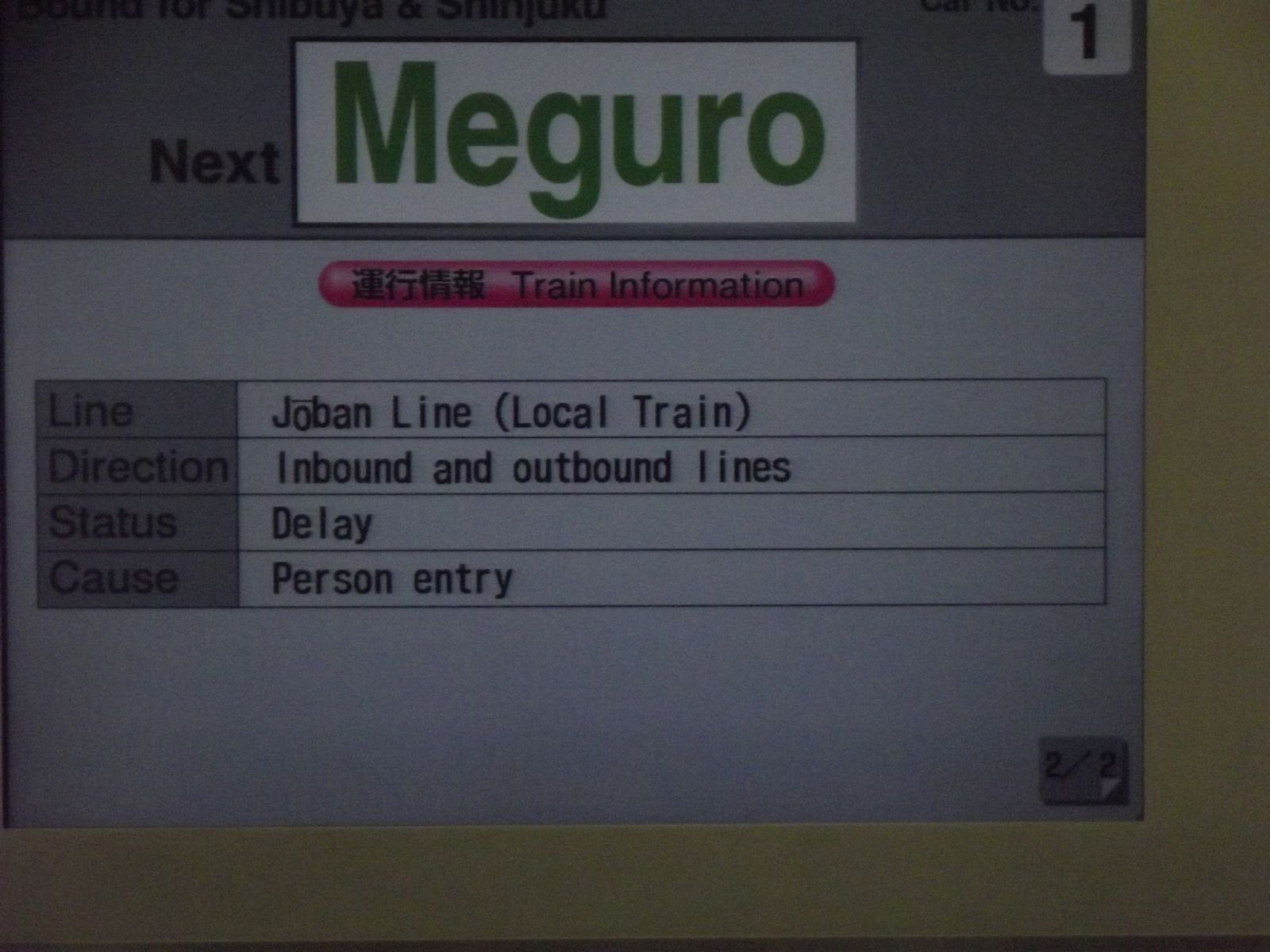 (08) Yamanote Line real-time info 2013-04-28
Un exemple de l'un des nombreux panneaux possibles (voir plus loin la séquence complète),
alternant entre le japonais et l'anglais. Ici, l'information concerne un incident sur une autre ligne
du réseau de banlieue de Tôkyô.
An example of one of the many different panels which are displayed (the full sequence
will be shown later), either in japanese or english. Here, the information
provided is about another line of the Tôkyô suburban network.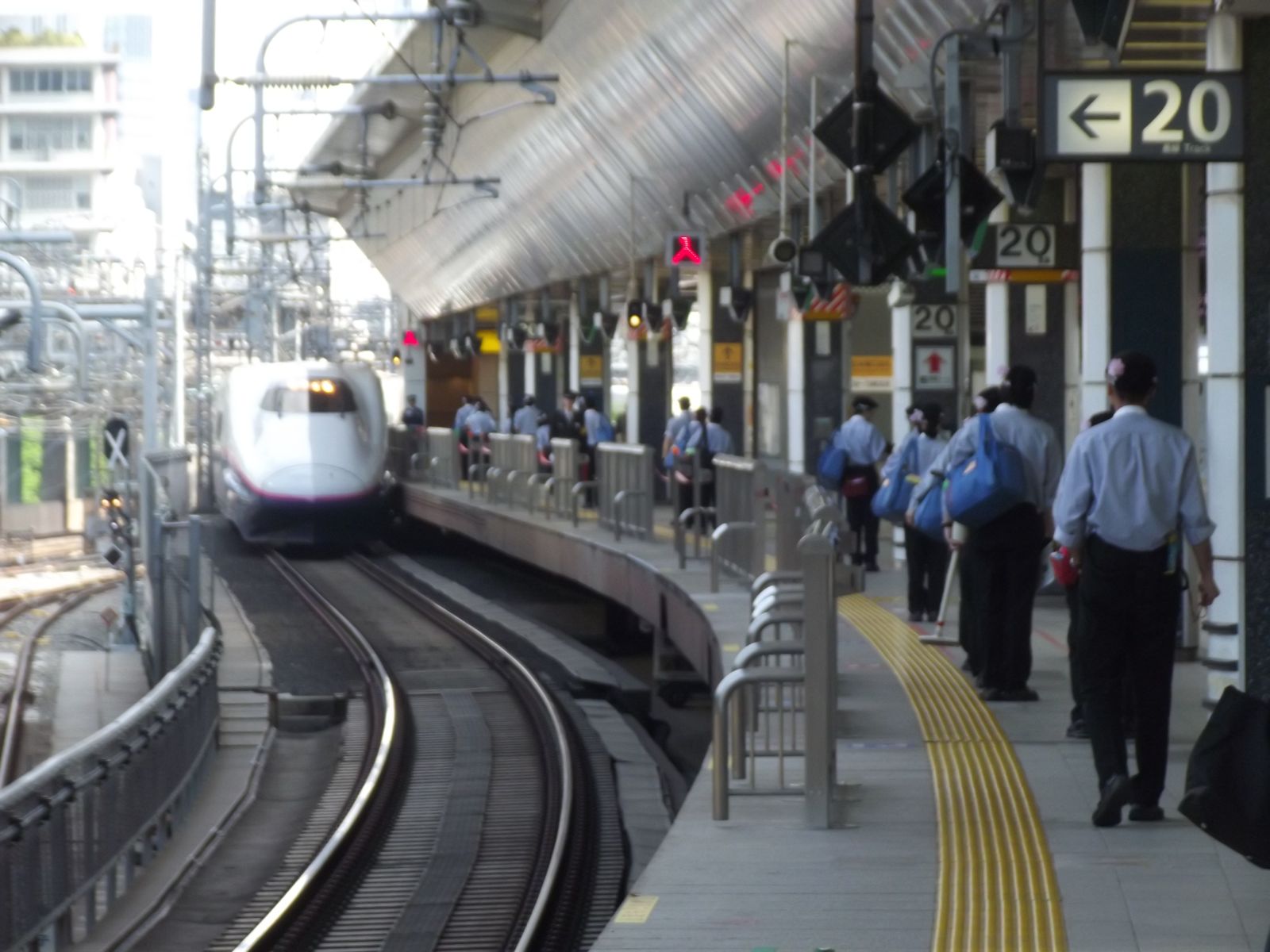 (09) Cleaners ready Tokyo (JR East) 2013-04-29
Attente du personnel de nettoyage, à l'arrivée d'une rame Shinkansen JR East en gare centrale de Tôkyô.
The personnel responsible for cleaning is waiting for the entry of a JR East Shinkansen set
(Tôkyô central station).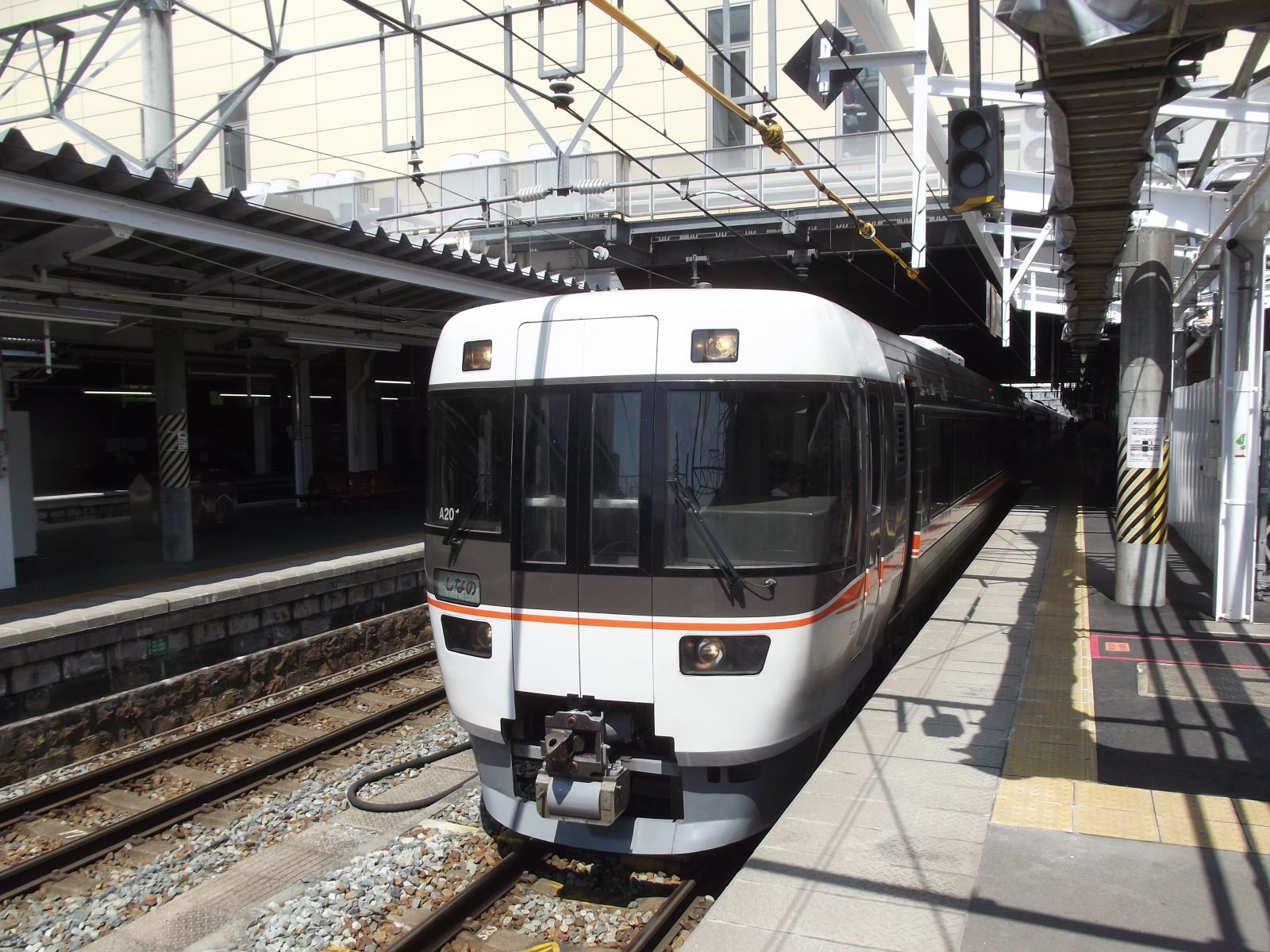 (10) Now metric track to Matsumoto (Nagano 2013-04-29 12h58)
Nagano : début du parcours en voie métrique vers Matsumoto puis Shin-Fuji.
Attention, on verra un peu plus loin l'autre extrémité du même train...
Nagano : now begining the metric track trip towards Matsumoto and Shin-Fuji.
Note : the other end of the same train will be shown a little bit later...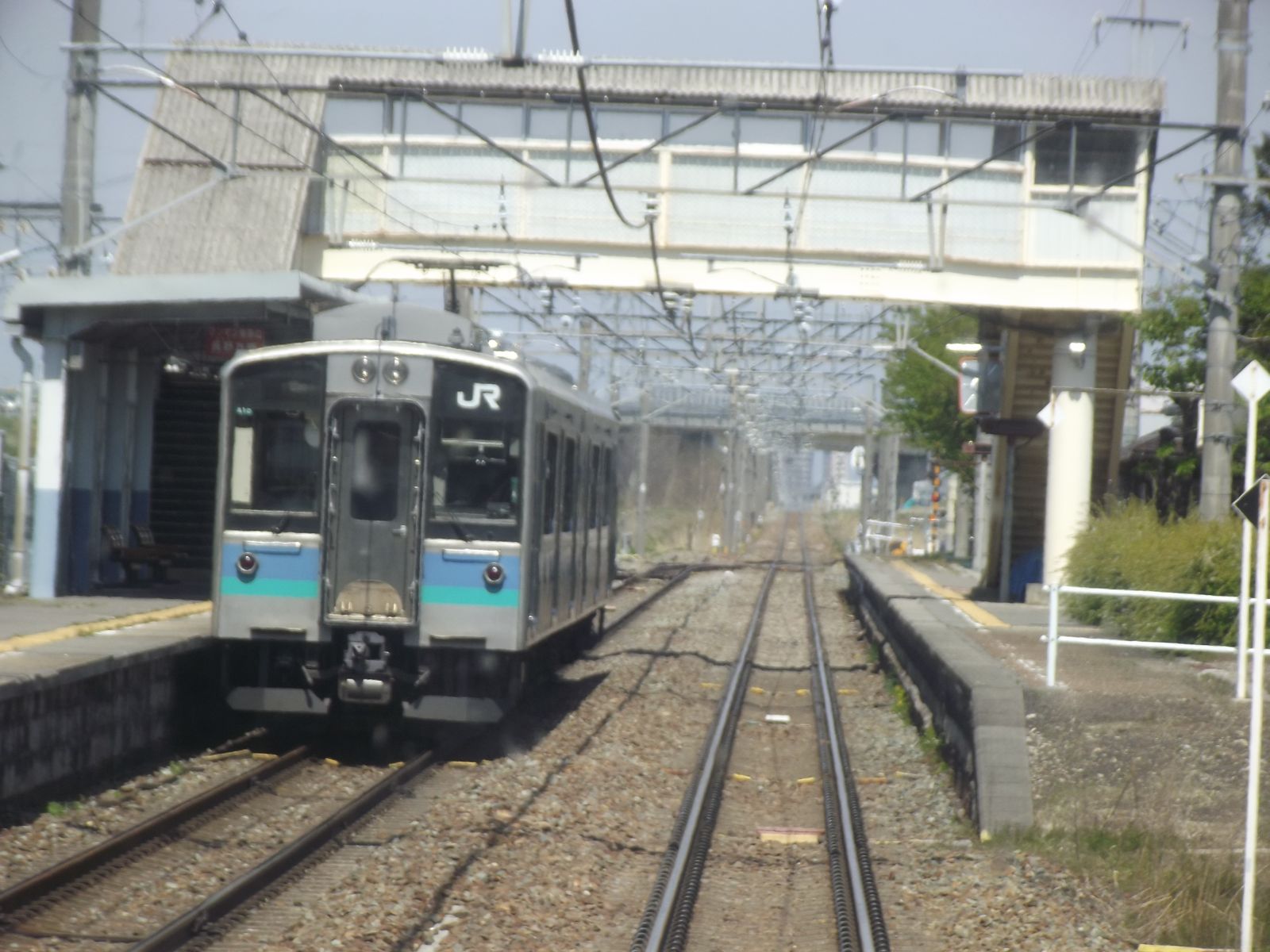 (11) 1st station with loop (S of Nagano 2013-04-29 13h16)
Premier croisement sur voie métrique, au sud de Nagano (vue prise vers l'arrière).
First train passed, on loop south of Nagano (view taken backwards).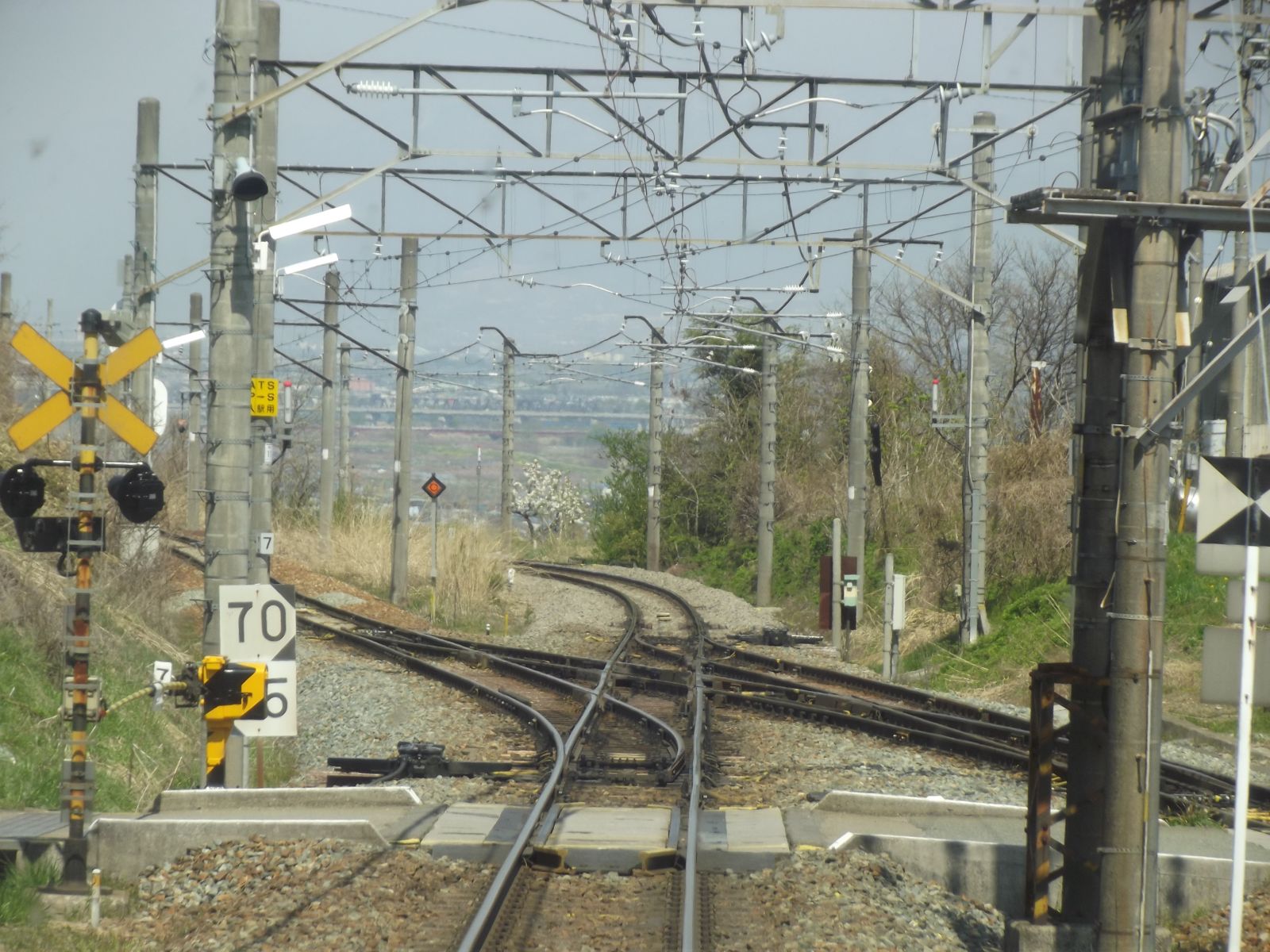 (12) Unusual jcn S of Nagano 2013-04-29 13h19
Bifurcation à aiguilles multiples au lieu d'une traversée-jonction (plus facile
à maintenir, itinéraires simultanés possibles) entre Nagano et Matsumoto.
A double junction with successive points (easier to maintain, and providing two
independent ways) between Nagano and Matsumoto.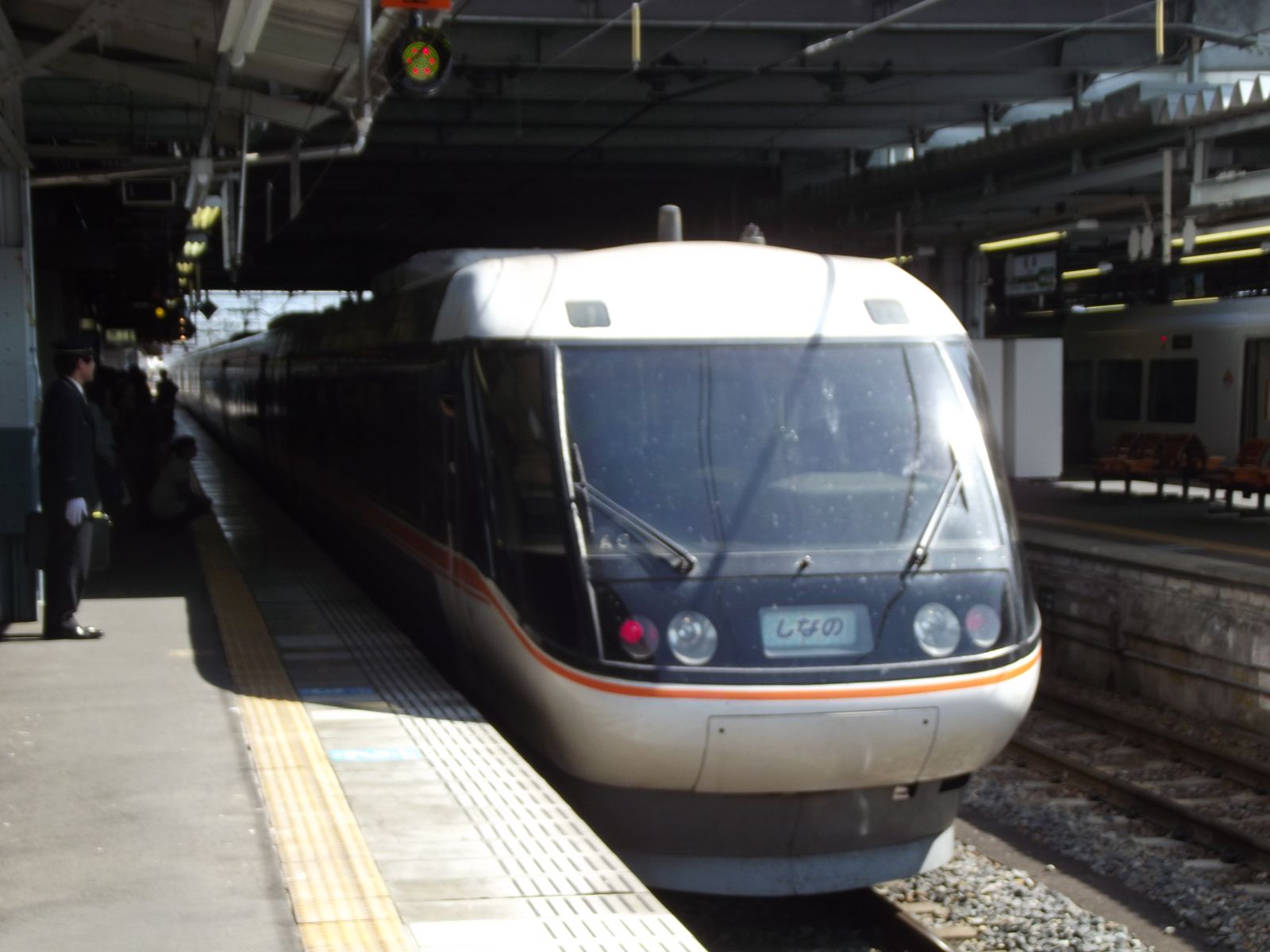 (13) Same train other end (Matsumoto 2013-04-29 13h54)
A l'arrivée à Matsumoto, vue de l'autre extrémité du train utilisé (cf. 3 vues
plus haut) : allure très différente, car pas d'intercirculation de ce côté...
On arrival at Matsumoto, here is the other end of the train - quite different,
because here passing from one set to the next is not an option...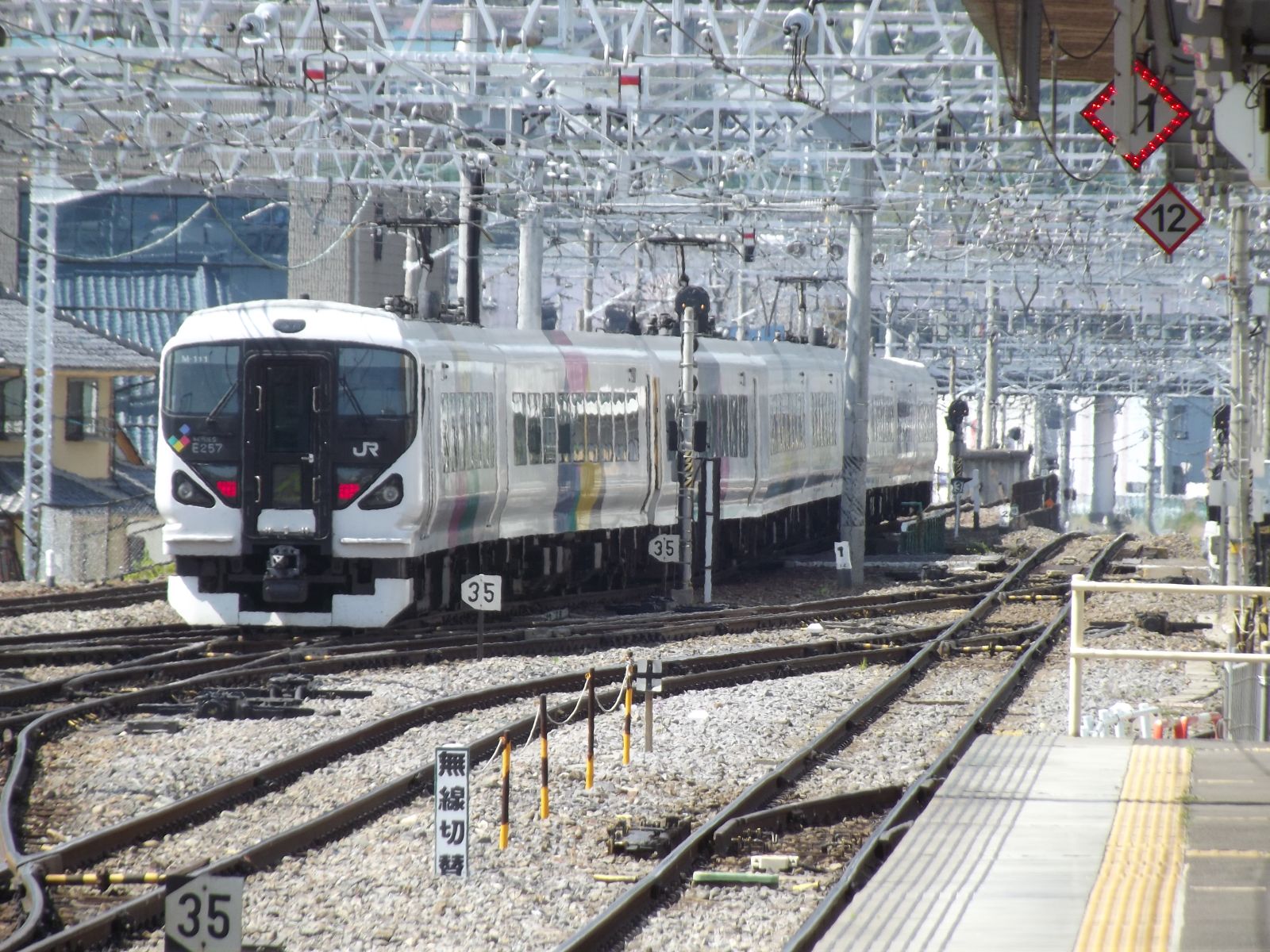 (14) New local train (Matsumoto 2013-04-29 13h56)
Train régional flambant neuf, en service sur la ligne Tôkyô - Matsumoto.
A brand new regional train, operating on the Tôkyô - Matsumoto line.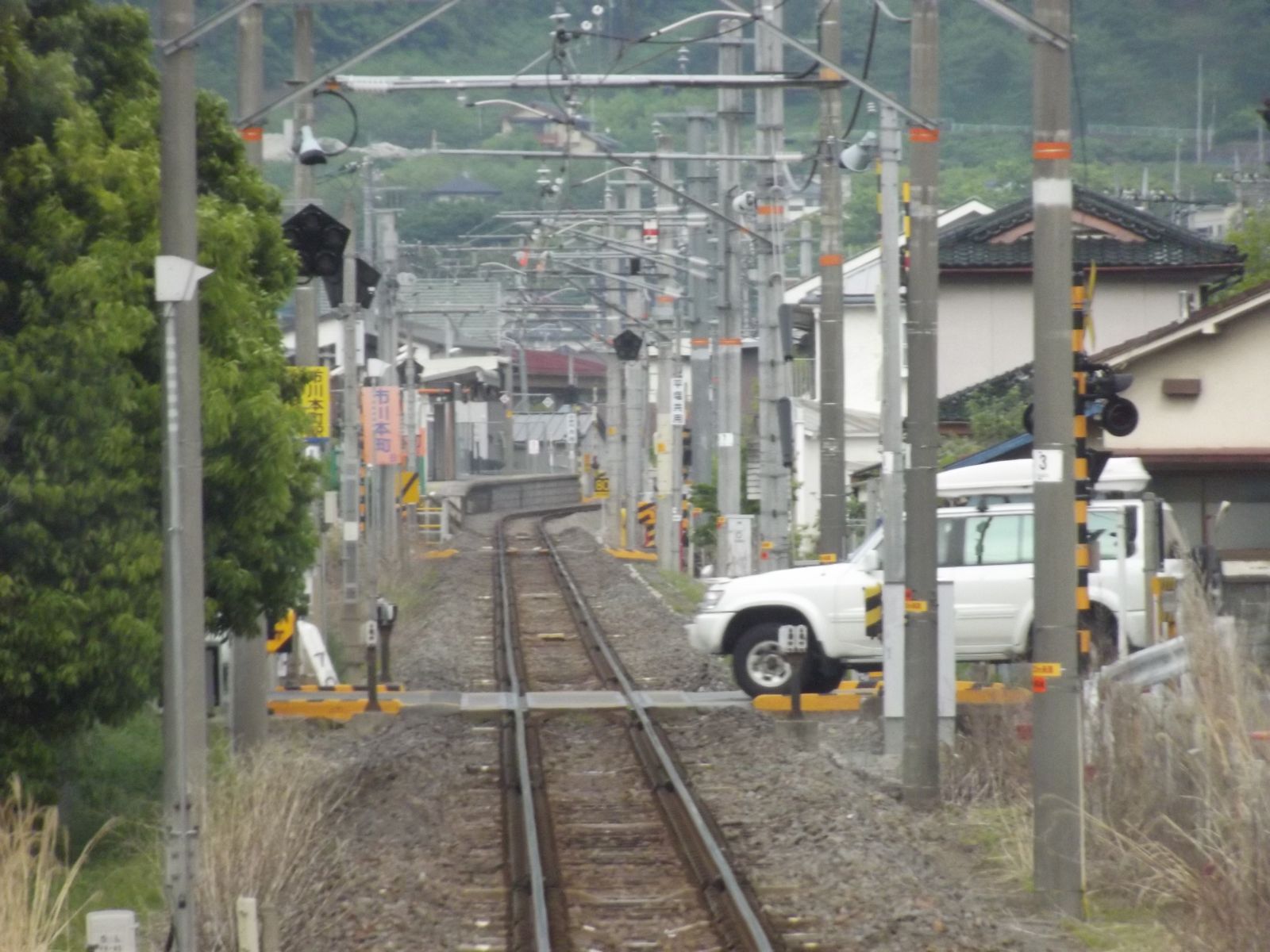 (15) Non-welded rail S of Kofu 2013-04-29
Rails non soudés (mais voie bien dressée et entretenue) au sud de Kofu.
Ce n'est pas au Japon que vous trouverez le "bricolage à la française"
que constitue le mélange de traverses bois et béton si typique de nombreuses
lignes secondaires françaises (où, en l'absence de renouvellement complet
programmé à court terme, on remplace à l'unité les traverses en bois
les plus anciennes pour assurer un minimum de tenue à la voie...).
Non-welded rail (but track in good condition, nevertheless) south of Kofu.
No chance in Japan to see what is so typical on secondary french lines
i.e. a mixture of wood and concrete sleepers (when no complete renewal
is planned for the foreseeable future, this is a makeshift way of
maintaining track stability and levelling - to a point, at least...).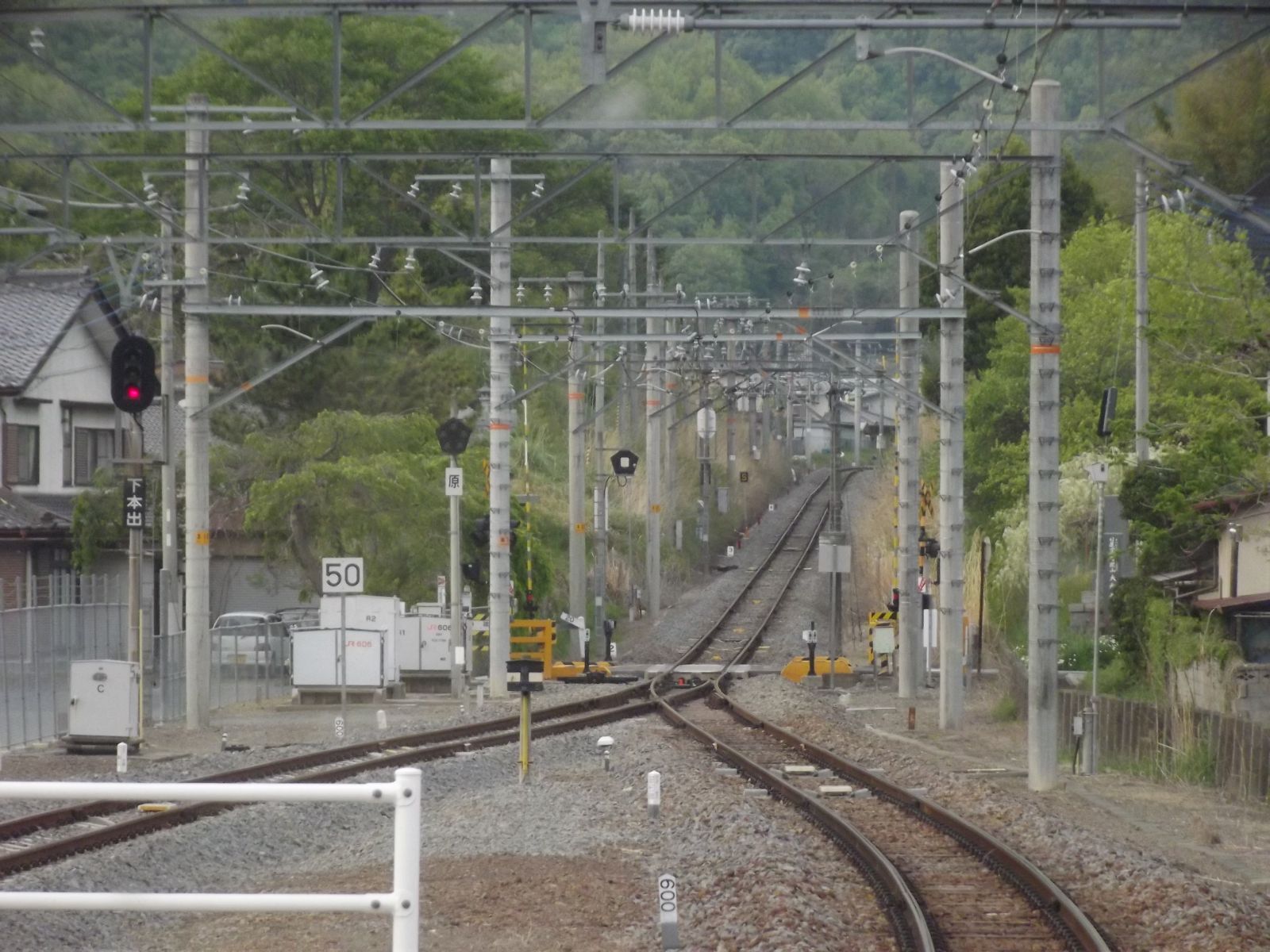 (16) 1 in 50 gradient S of Kofu 2013-04-29
Rampe de 20 °/°° au sud de Kofu, non loin du Mont Fuji (contourné par l'ouest).
"1 in 50" gradient west of Mount Fuji (the lines goes round its western slopes).


(3) DANS L'ILE DE KYUSHU / IN KYUSHU ISLAND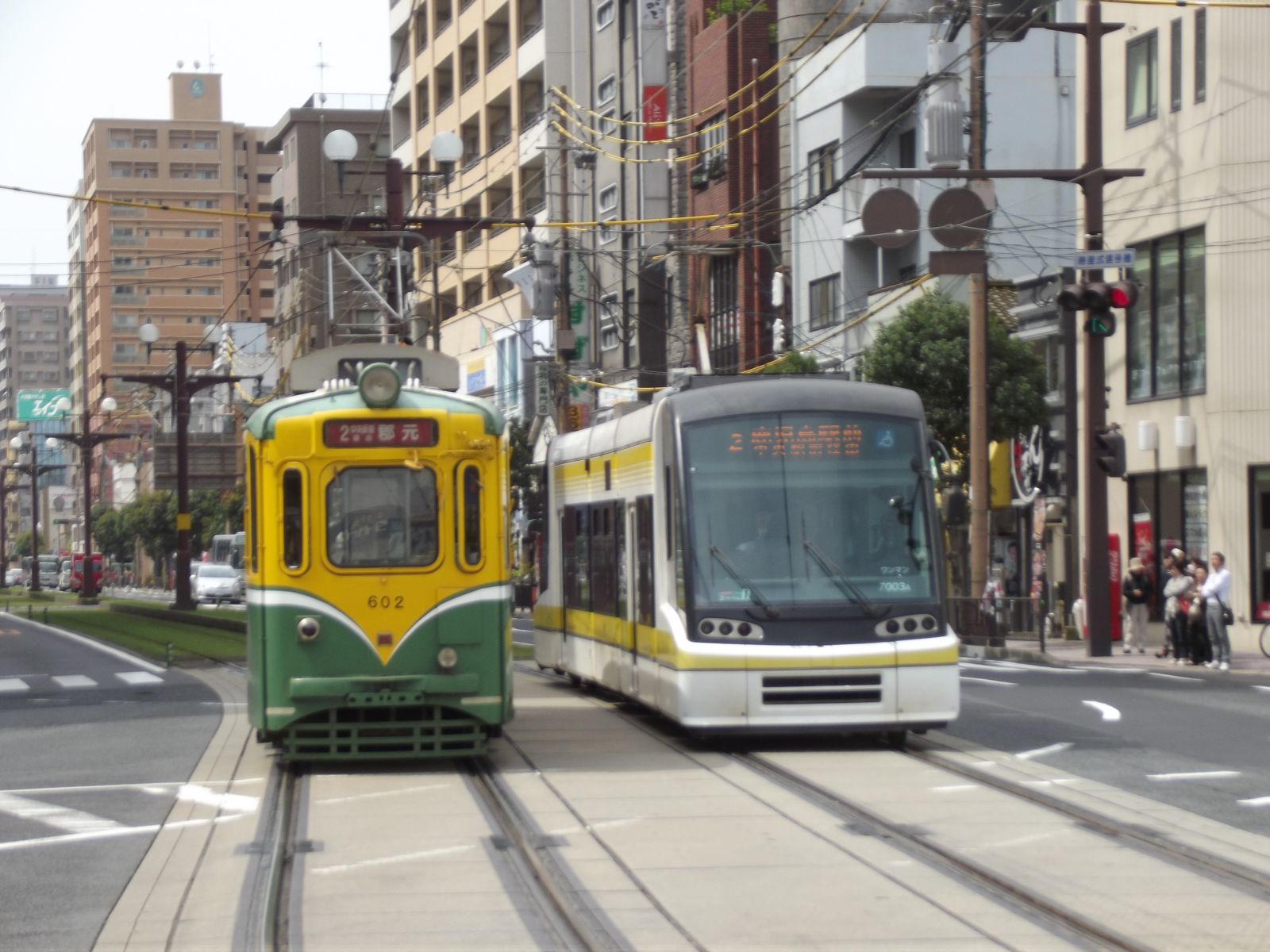 (17) Kagoshima tramway 2013-05-01
Kagoshima (île de Kyushu) : le tramway... en version moderne et "historique".
Kagoshima (Kyushu Island) : trams... in "historical" and modern versions.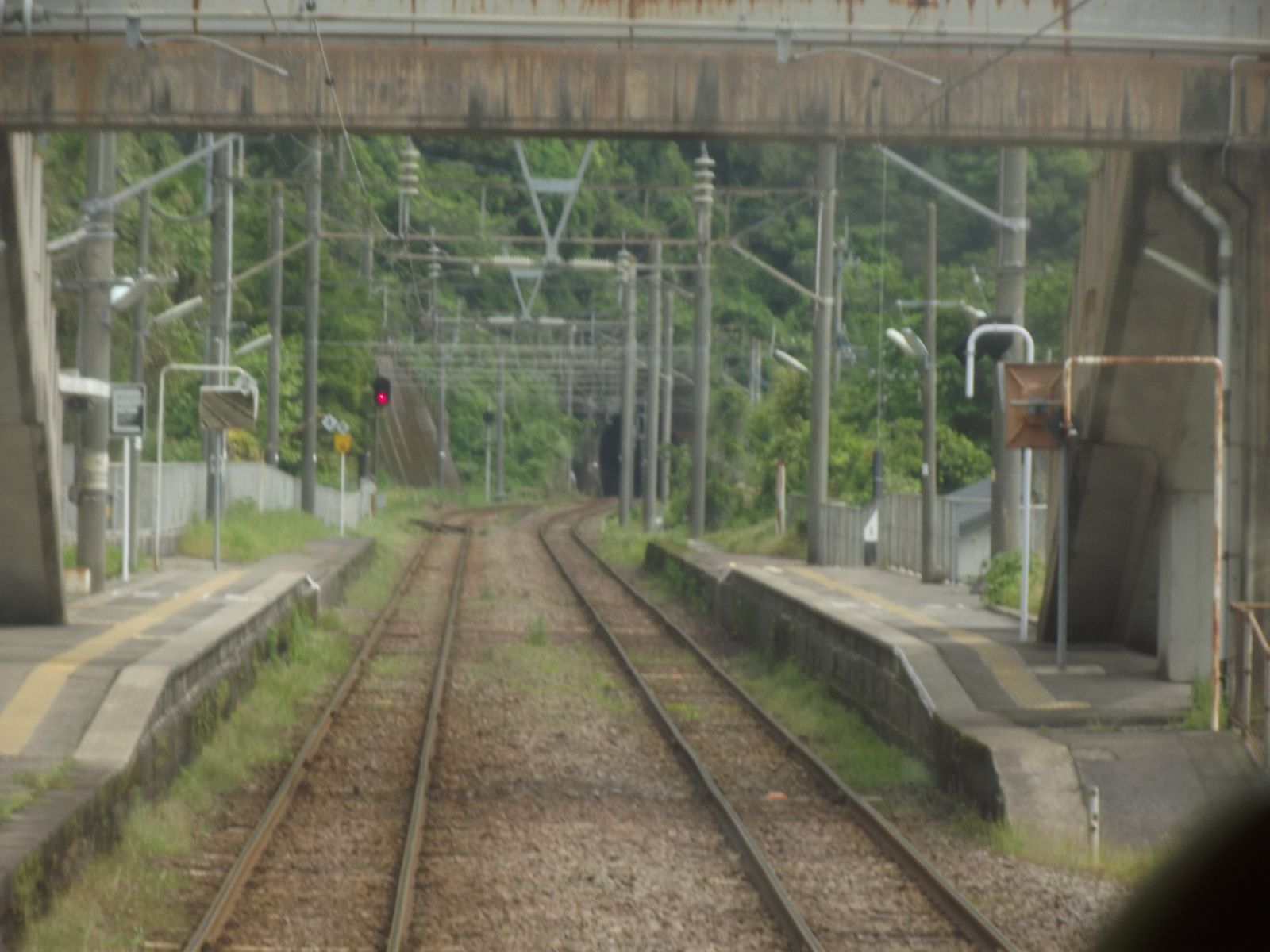 (18) Partly raised platform (Kyushu south coast line 2013-05-01)
Des quais partiellement surélevés dans une petite gare à l'est de Kagoshima.
Partly raised platforms in a small station east of Kagoshima.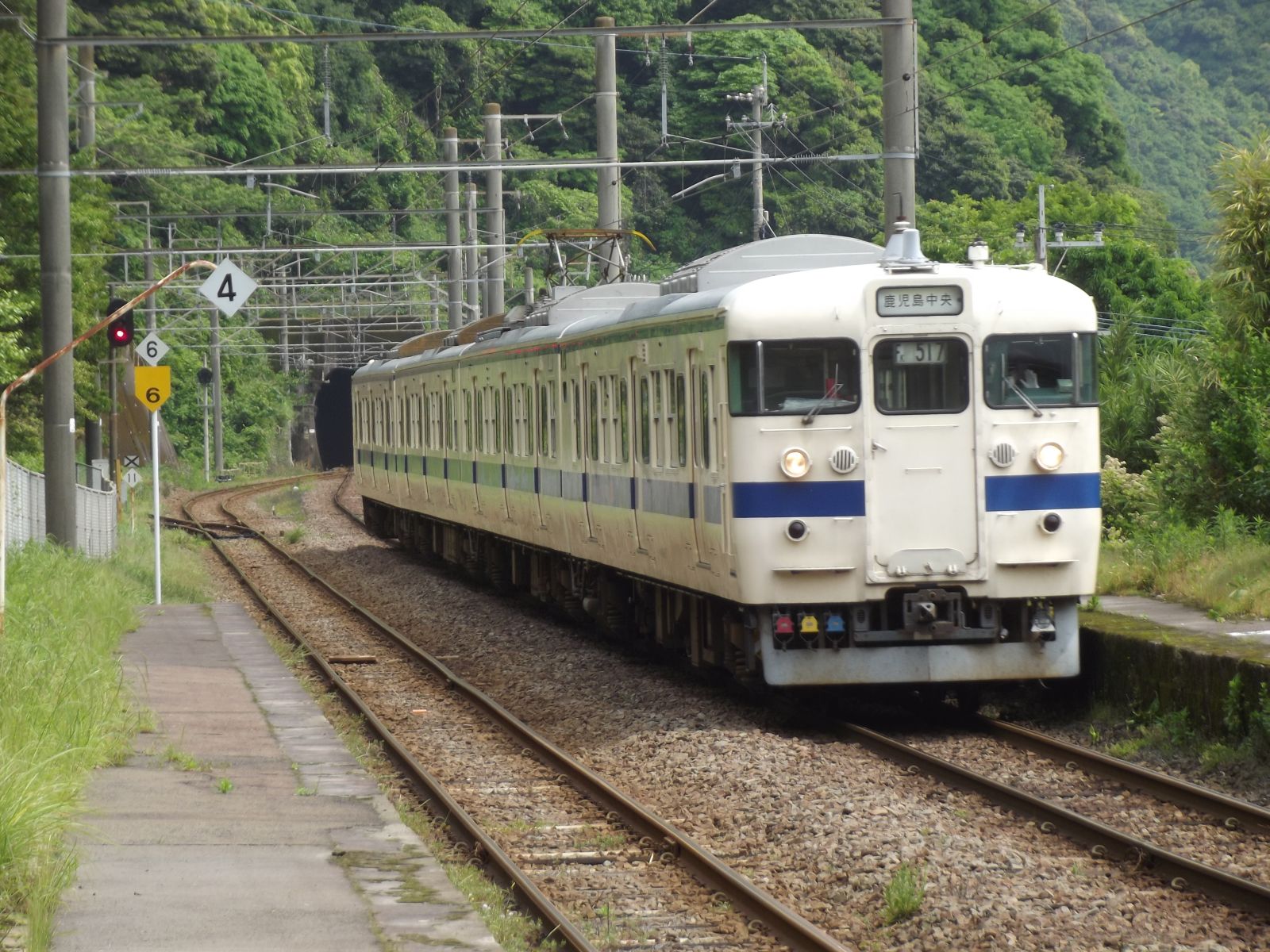 (19) A passing train 2013-05-01 10h43
Croisement dans la même gare.
Passing another train in the same station.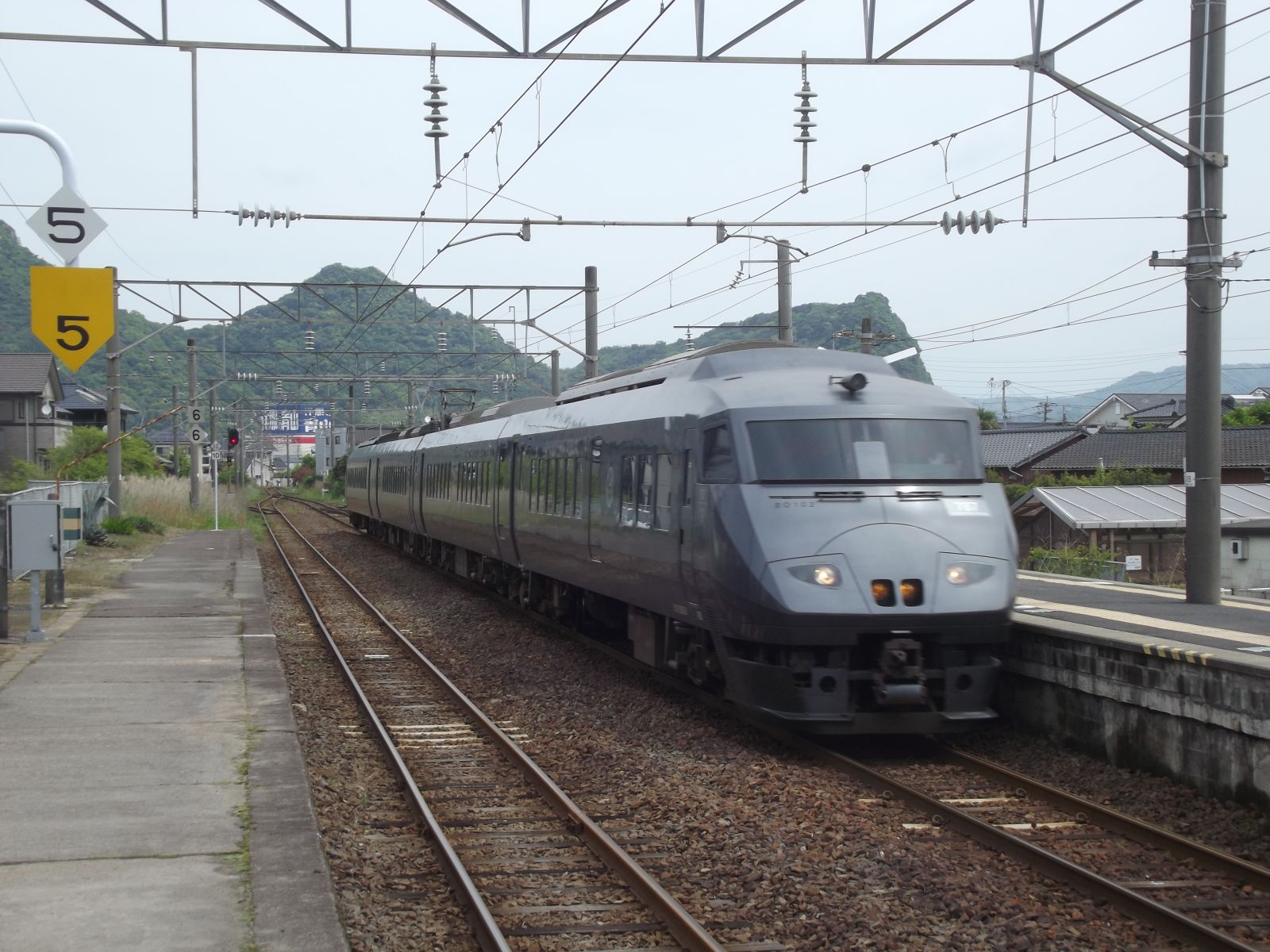 (20) Another passing train 2013-05-01 11h06
Un autre croisement sur la même ligne (sur la côte Sud de l'île de Kyushu). Un train à l'allure
familière... mais toujours en motorisation répartie, contrairement aux TGV et premiers ICE.
Another passing loop on the same line (Kyushu island, southern coastline). This train
looks slightly familiar... but has distributed traction, unlike TGVs and earlier ICEs.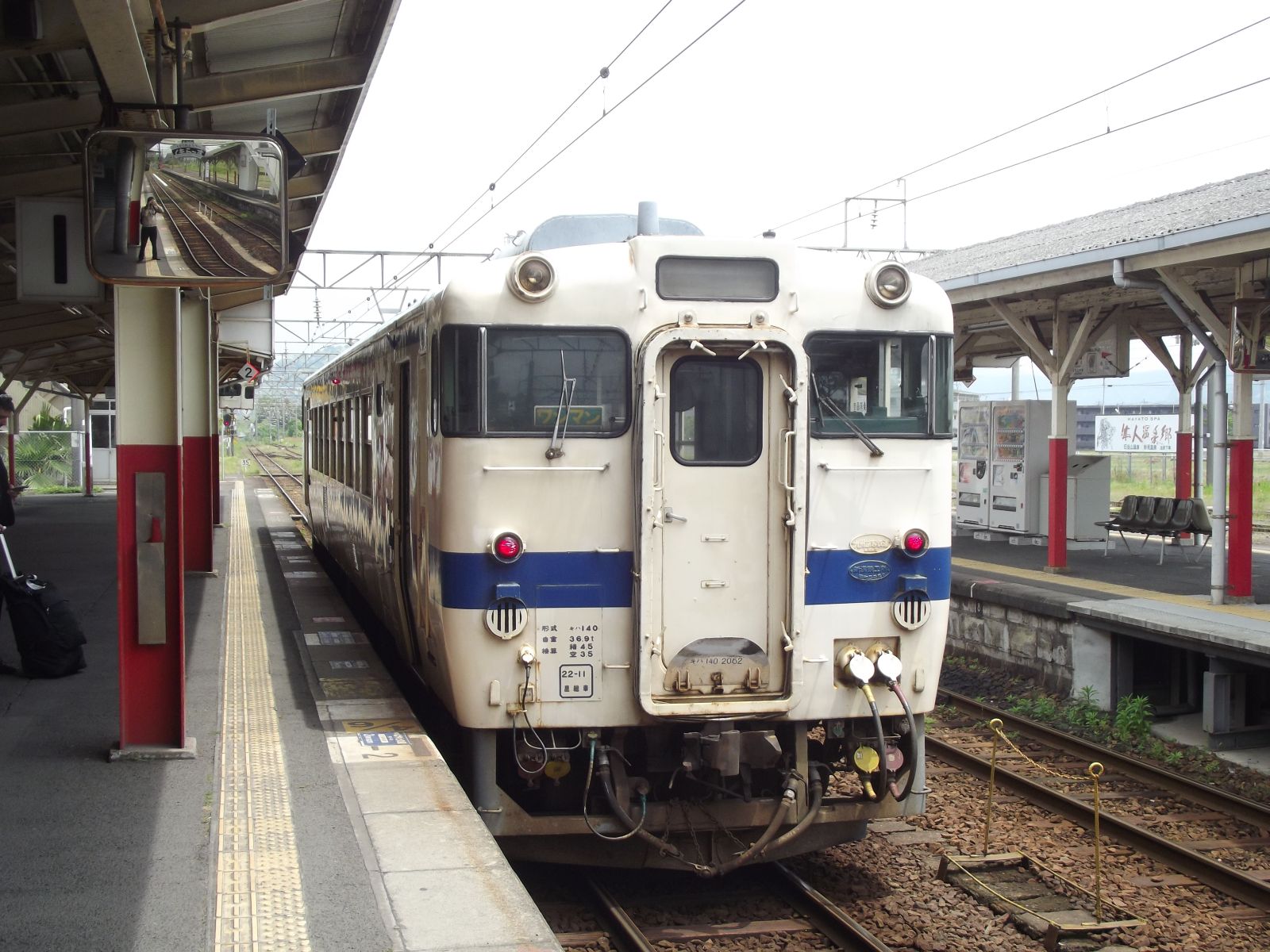 (21) Now single car DMU 2013-05-01 11h40
L'allure est la même, mais on passe ici à la traction diesel et à la caisse unique...
The overall appearance is the same, but here we move to diesel traction and a single car...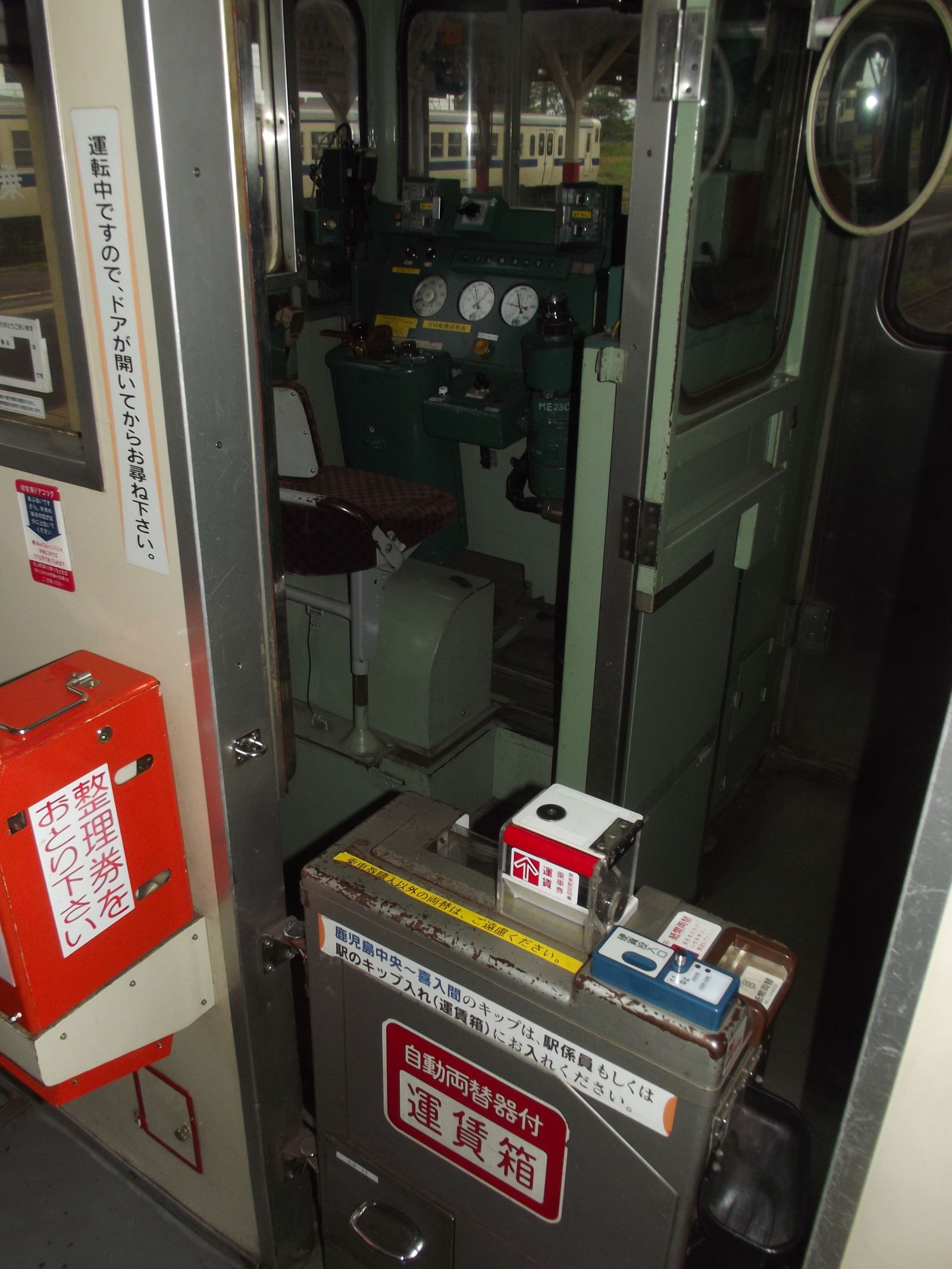 (22) Ticket-selling machine inside (english not spoken) 2013-05-01 11h43
Dans ce même matériel diesel à caisse unique, machine de vente de billets à la disposition
du conducteur : une disposition très courante dans les trains régionaux. Ici, à environ
1300 km de Tôkyô, toute signalétique en anglais a disparu, et il est peu probable que
le conducteur/contrôleur parle anglais...
In the same diesel single-car set, here is a ticket-selling machine for use by the driver :
something very common in japanese regional trains. Here, 1300 km away from Tôkyô,
signs in english have vanished, and the train driver is unlikely to speak english...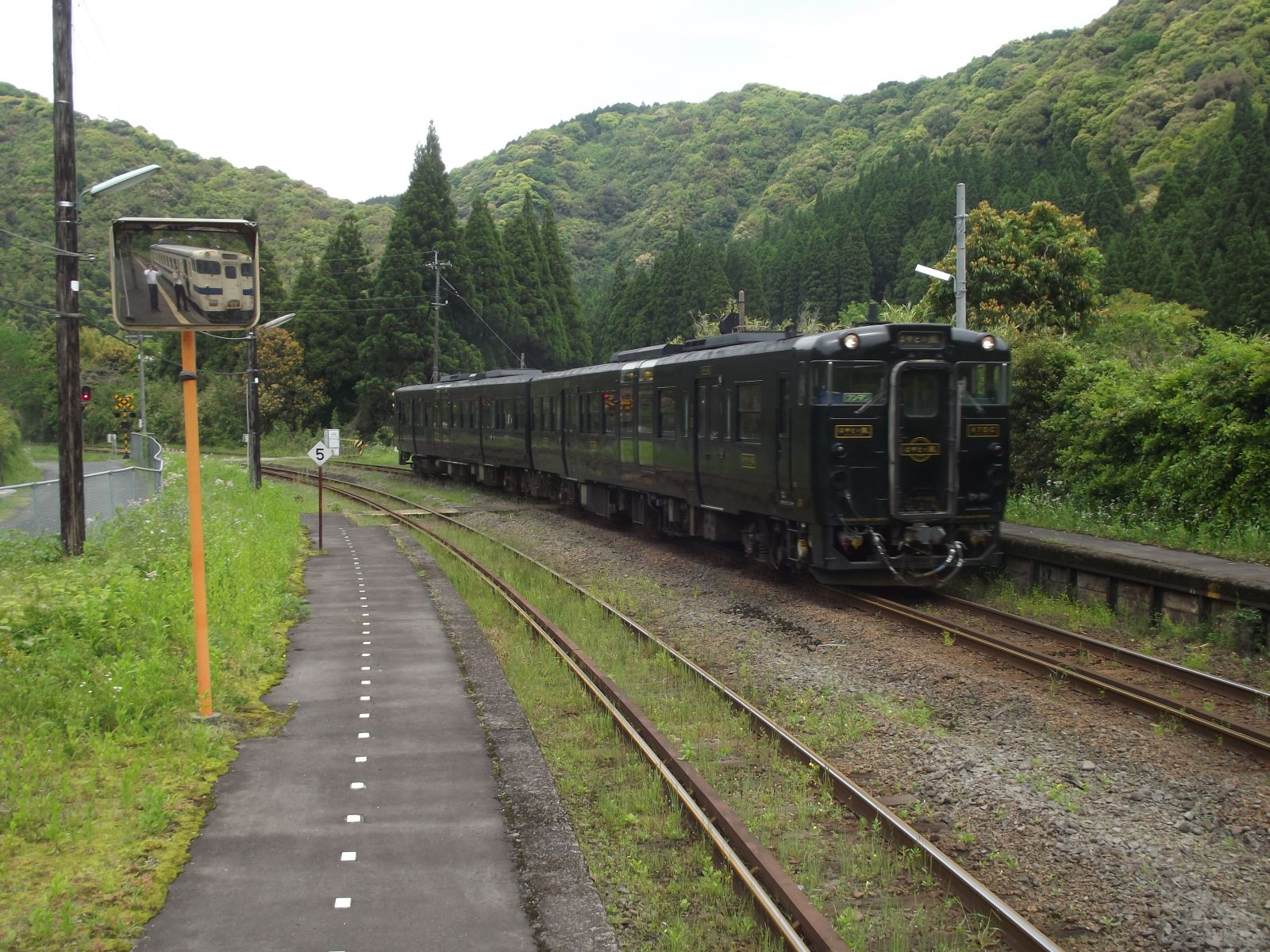 (23) Tourist version here 2013-05-01 12h09
Sur un évitement de la même ligne, croisement d'un matériel similaire, mais en version touristique.
Notre version "de base" est visible dans le miroir de quai.
On a passing loop of the same line, a similar train, but in a tourist version.
Our own "basic" train can be seen in the platform mirror.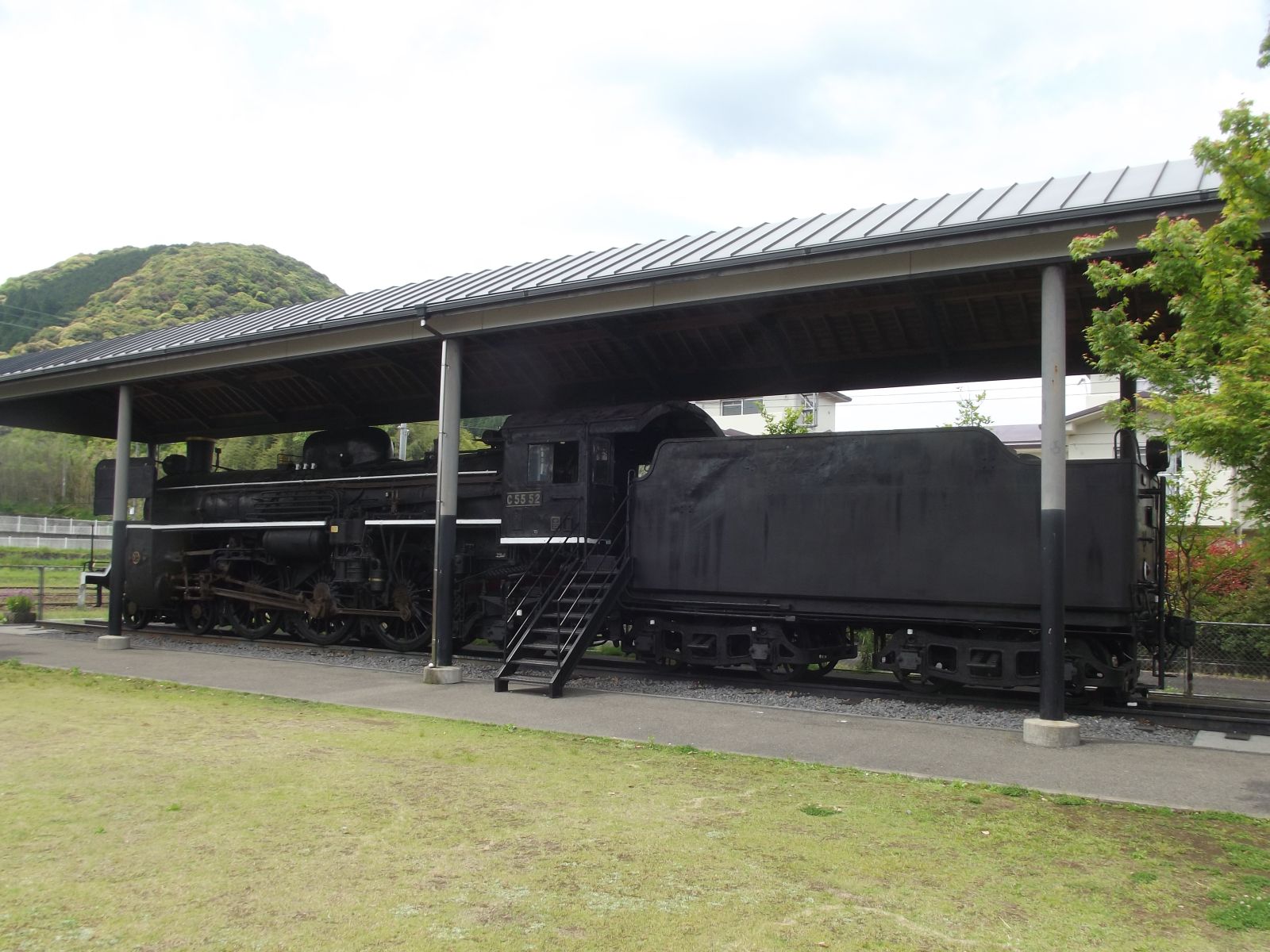 (24) Yoshimatsu (Kyushu) 2013-05-01 13h11
Fin de parcours à Yoshimatsu (île de Kyushu), où une locomotive à vapeur orne la place
de la gare. Noter la protection contre les fortes pluies, très utile ici...
End of the current trip at Yoshimatsu (Kyushu island), where a steam engine stands
next to the railway station. Note the protection against heavy rains, most useful here...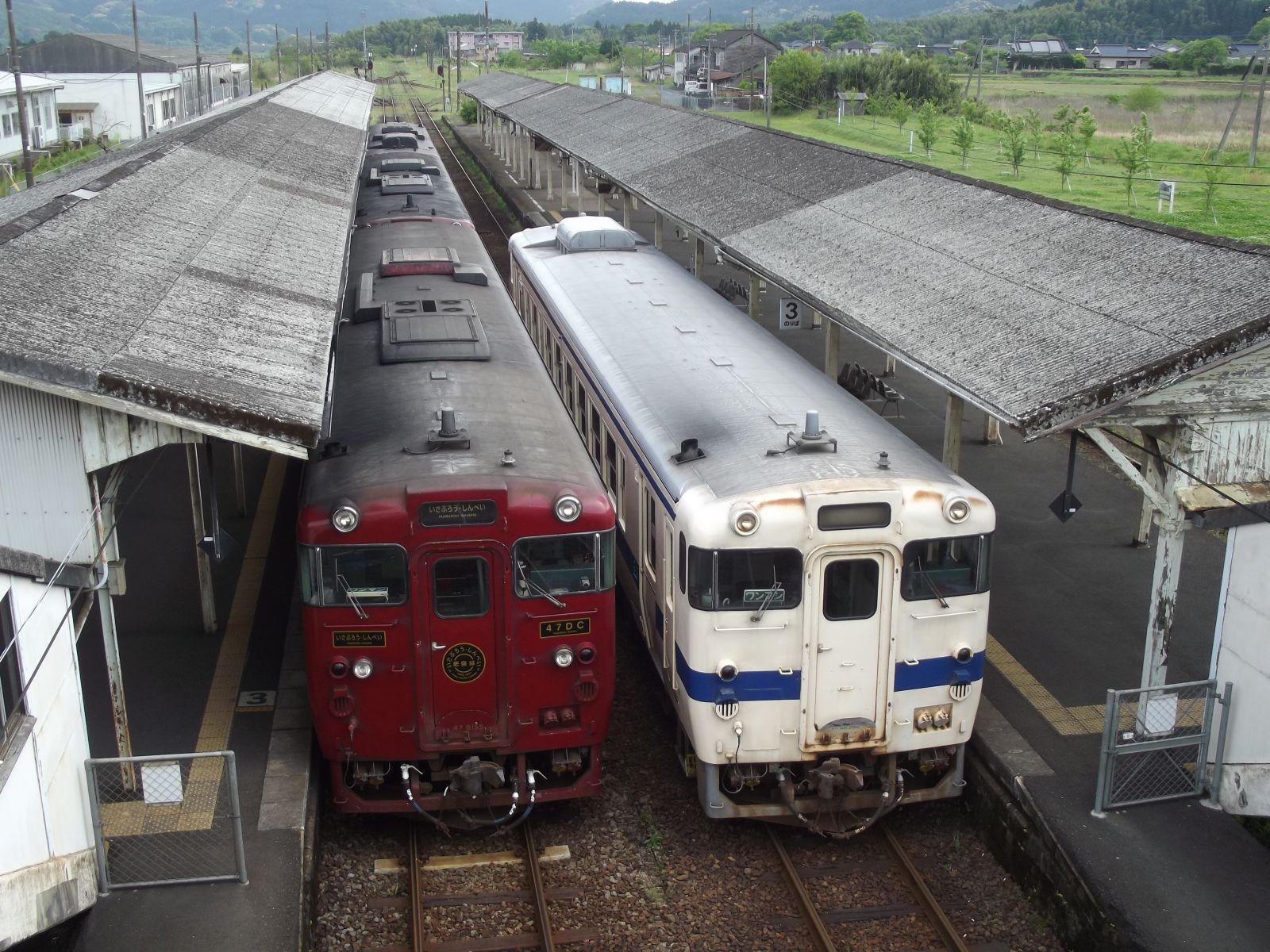 (25) Yoshimatsu (Kyushu) 2013-05-01 15h00
Toujours à Yoshimatsu, le train à l'arrivée à droite, le train touristique au départ à gauche,
avec lequel nous poursuivons notre trajet vers le Nord. Vue Sud depuis la passerelle de la gare.
Still at Yoshimatsu, our arrival train stands on the right, while the tourist train with which
our northbound trip will continue, stands on the left. Southward view, from station footbridge.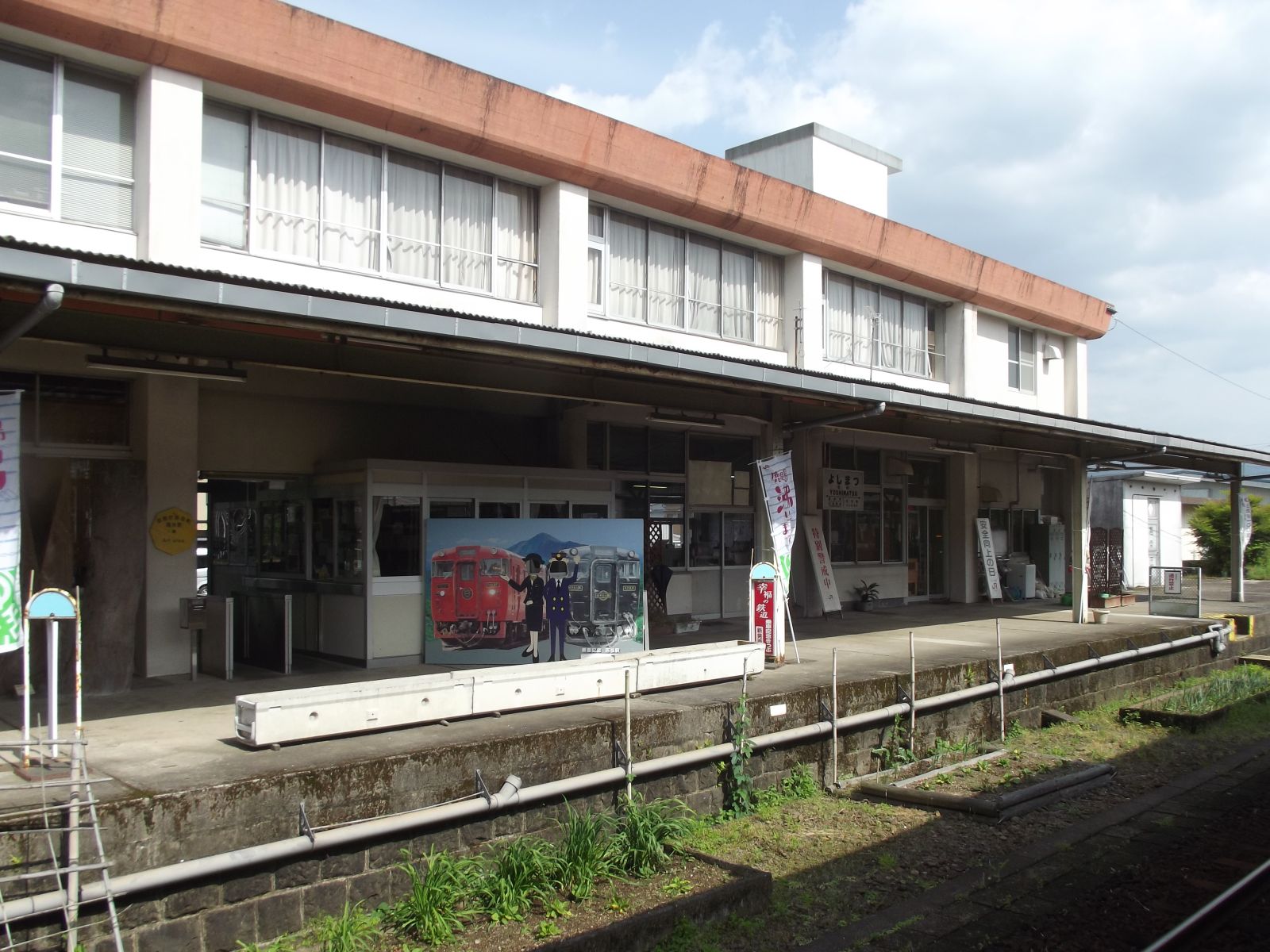 (26) Yoshimatsu (Kyushu) 2013-05-01 15h10
Yoshimatsu. La quai de la gare est équipé pour les autoportaits des touristes amateurs de trains...
Yoshimatsu. The station platform is adequately equipped for self-portraits by railway enthusiasts...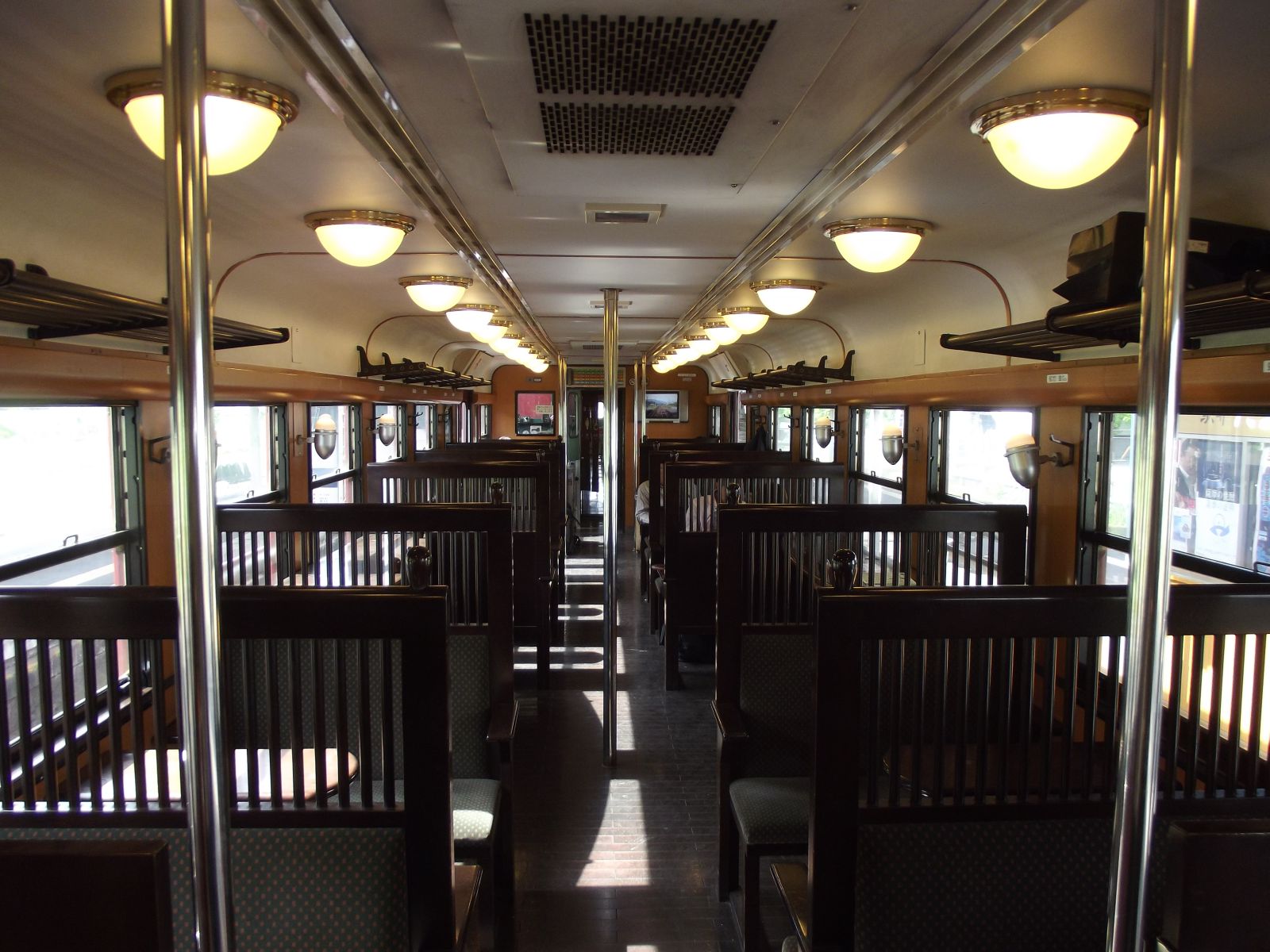 (27) Yoshimatsu (Kyushu) 2013-05-01 15h11 - Unit 140-2125
Yoshimatsu. Intérieur du train touristique (voiture de tête).
Yoshimatsu. Inside the tourist train (leading car).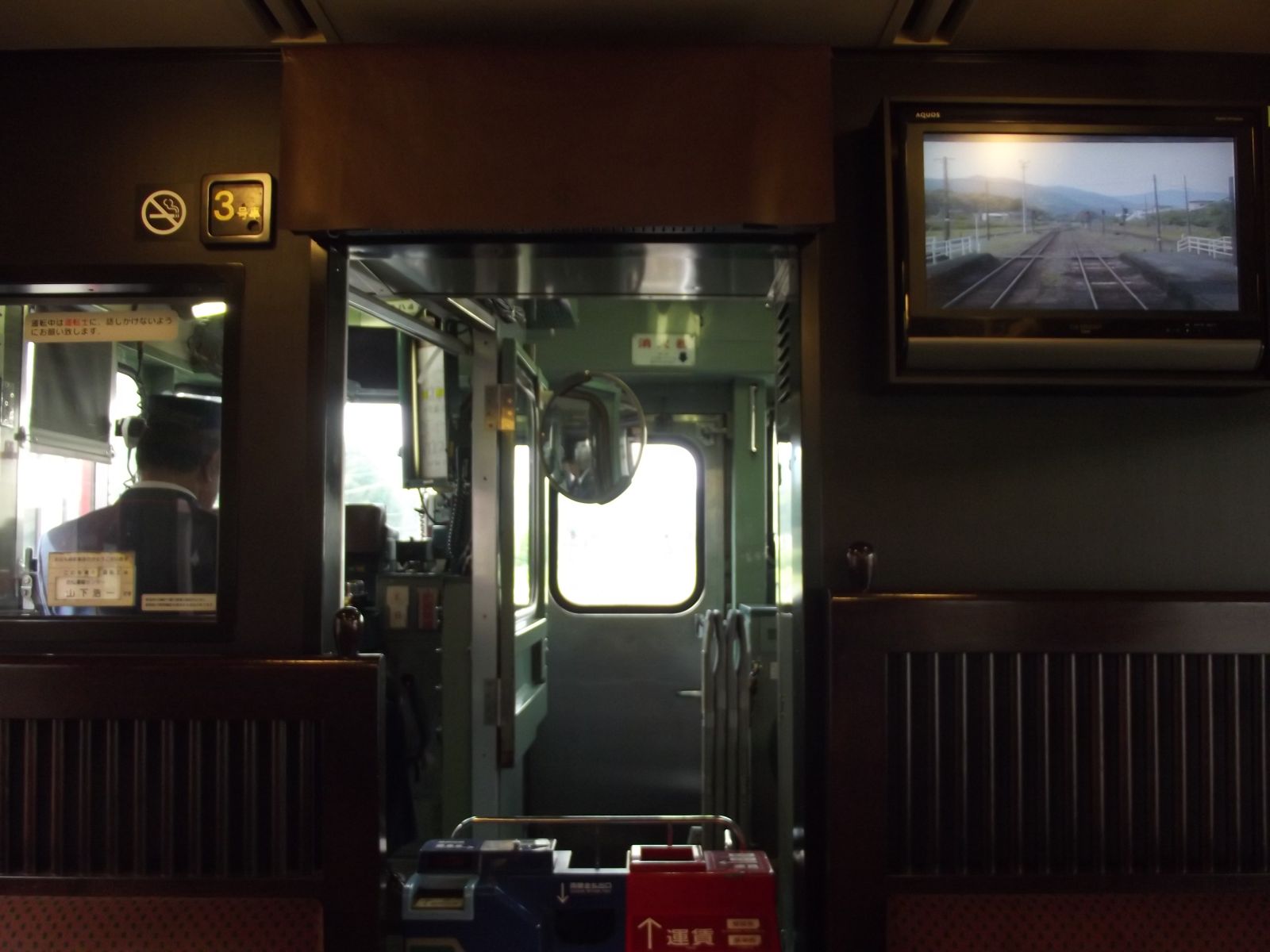 (28) TV screen in tourist train (Yoshimatsu 2013-05-01 15h16)
Yoshimatsu. Nous n'avions pas de places réservées dans cette même voiture de tête, et avons été priés
de nous installer ailleurs... La raison est bien visible ici : l'écran de télévision à droite,
qui permet d'avoir une vue de la ligne comme si l'on conduisait le train... Egalement, l'hôtesse
du train dispense des informations touristiques aux passagers de cette voiture.
Yoshimatsu. We had no reserved seats in this leading car, and were politely advised to sit elsewhere.
The reason fot this is the TV screen on the right, which gives a driver's view of the line... Also,
the train hostess provides tourist information to the passengers seated in ths car.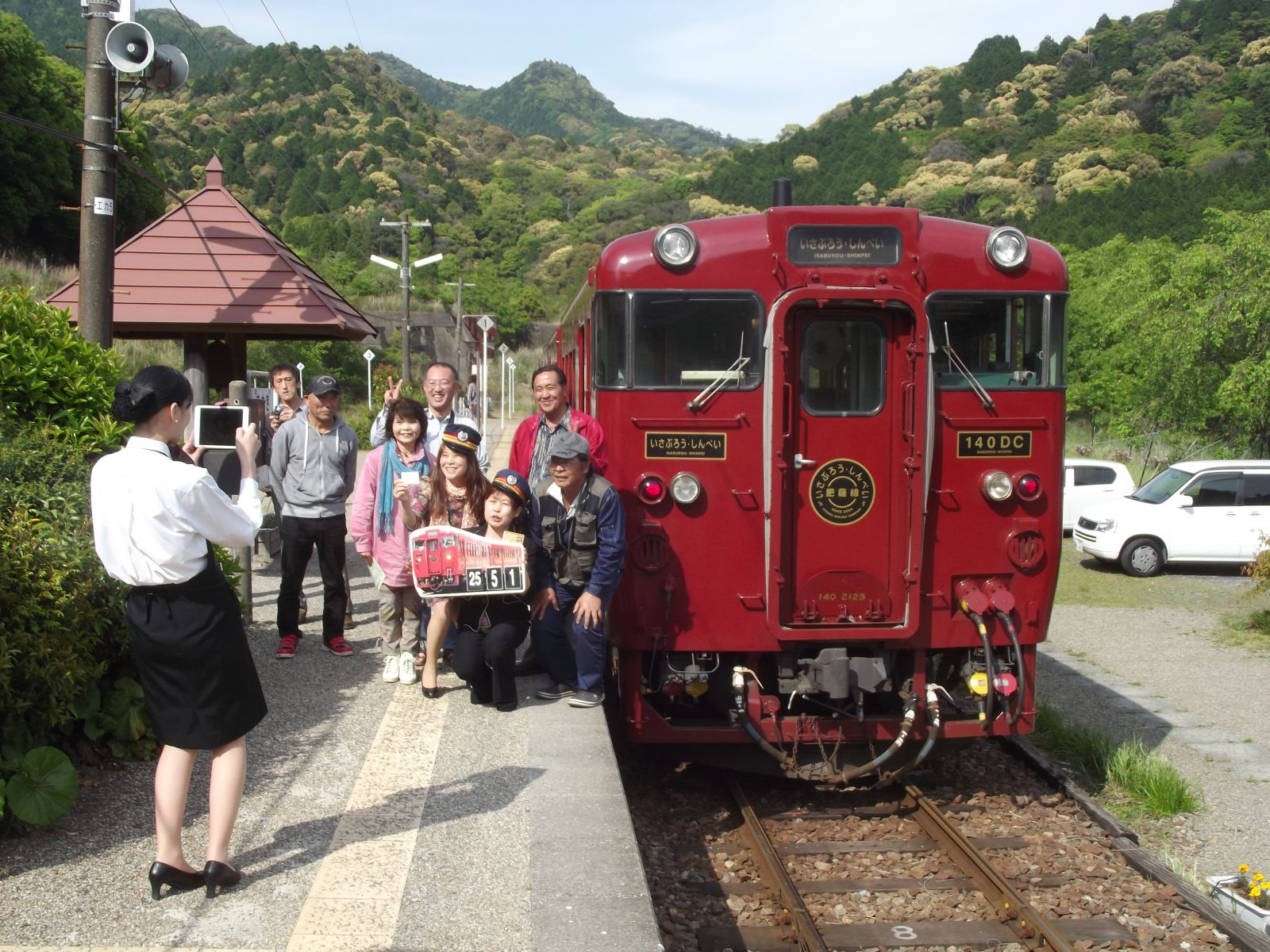 (29) Train hostess can picture you too (Masaki 2013-05-01 15h32)
Masaki. Le parcours comporte un certain nombre d'arrêts-photo, y compris hors des gares, et
l'hôtesse du train est toujours disponible pour prendre des photos, de groupe ou individuelles.
Les casquettes et la plaque portant le no. du train font partie des accessoires en prêt...
Masaki. Along the way, including outside stations, there a number of photographic stops,
where the train hostess is always willing to help. Accessories are even provided...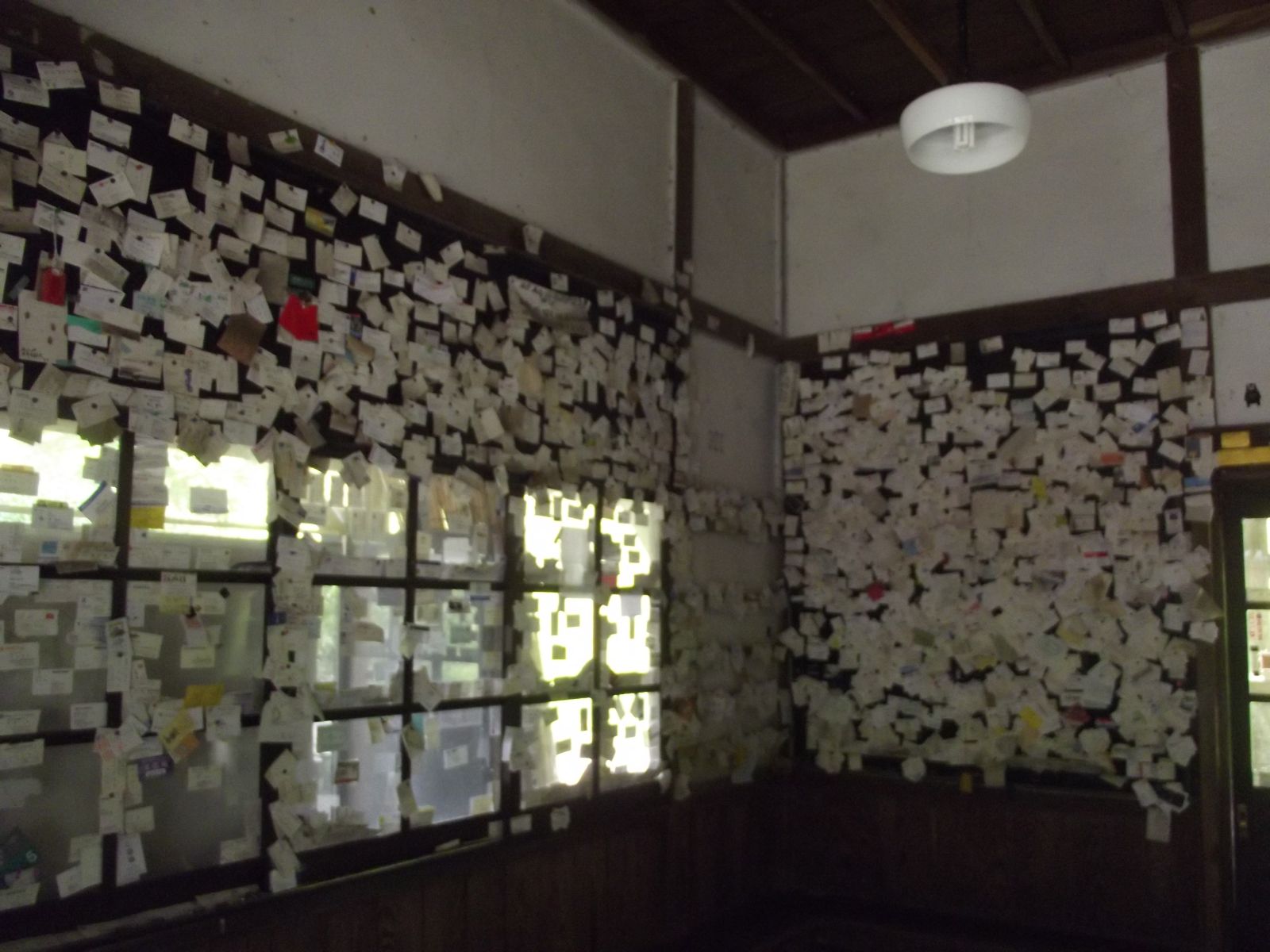 (30) Inside Okoba train station 2013-05-01 16h22
Okoba, intérieur de la gare. Cartes de visites laissées en souvenir par les touristes.
Okoba, inside the station building. Business cards left as a souvenir by tourists.


(4) MUSEE SHINKANSEN DE NAGOYA / NAGOYA SHINKANSEN MUSEUM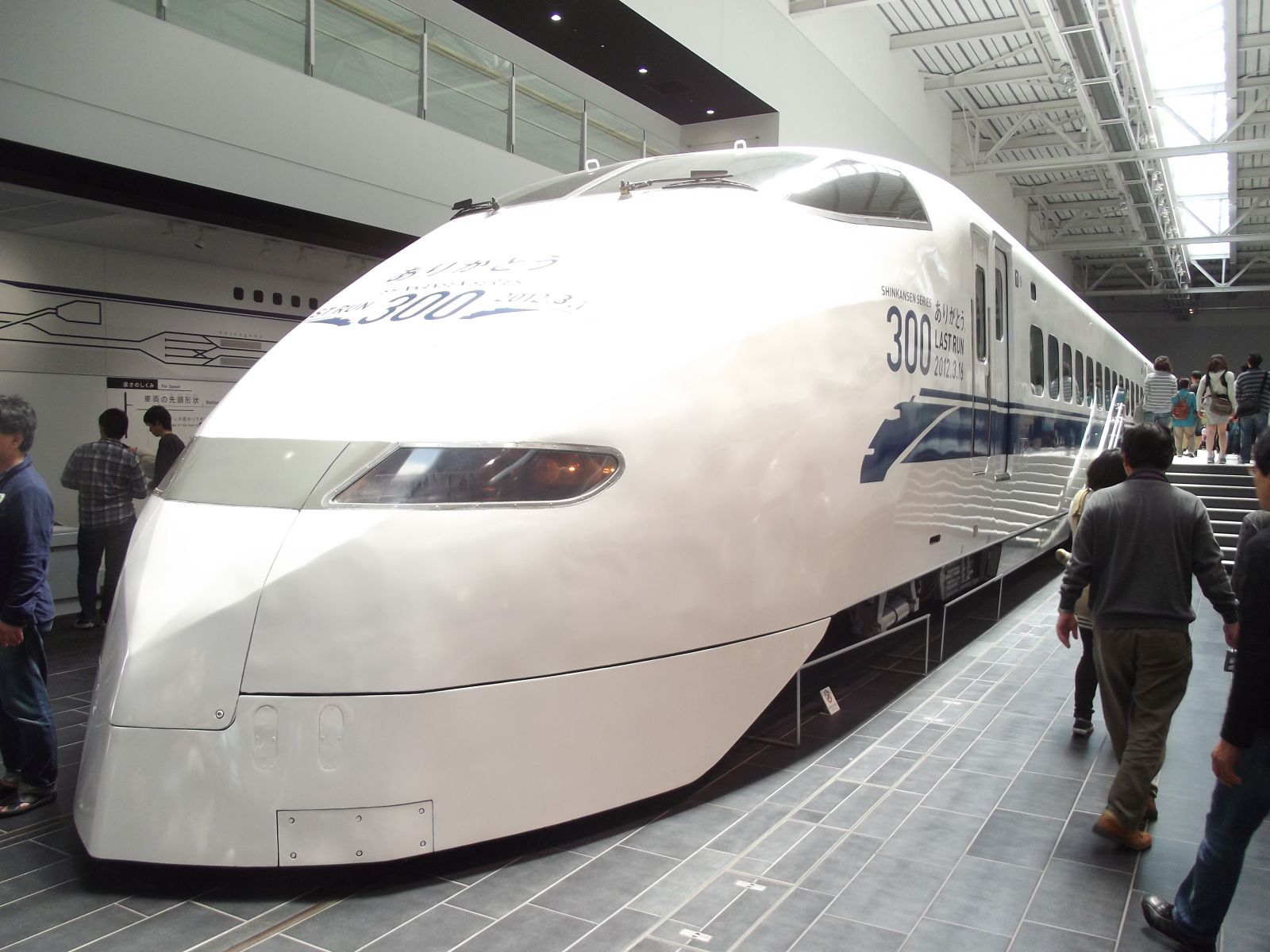 (31) Nagoya Shinkansen Museum 2013-05-03 (last S-300 run 2012-03-16)

De retour sur l'île principale, nous voici au Musée Shinkansen de Nagoya (il existe un autre musée
du chemin de fer, à Tôkyô, mais celui-ci n'a pas été visité - ce sea pour un prochain séjour...).

Le dernier parcours d'une rame S-300 a eu lieu le 16/03/2012. On ne peut pourtant pas dire
que ce matériel ait l'air ancien, mais il a déjà parcouru un nombre important de km,
et les exigences de fiabilité sont particulièrement élevées...

Back on the main island, we are now at the Nagoya Shinkansen Museum (there is another railway
museum, in Tôkyô, but we didn't visit it - surely this will occur during a future trip...).

The last commercial run of a S-300 set occurred on march 16, 2012. These trains certainly don't
look old, but their mileage is already high, and reliability criteria are extremely high too...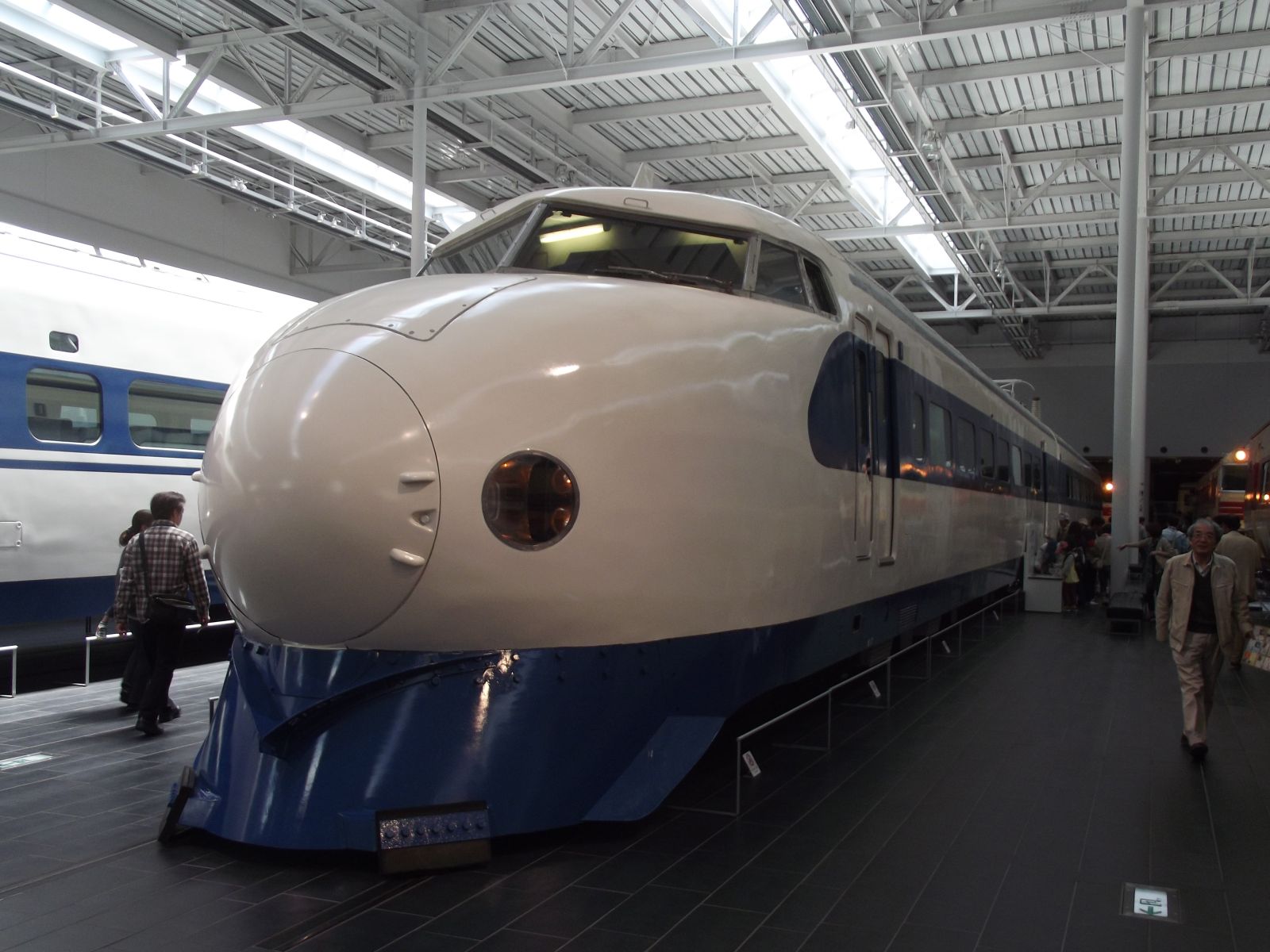 (32) Nagoya Shinkansen Museum (the oldest one)
Musée Shinkansen de Nagoya - Rame Tokaido de 1ère génération
Nagoya Shinkansen Museum - First generation Tokaido train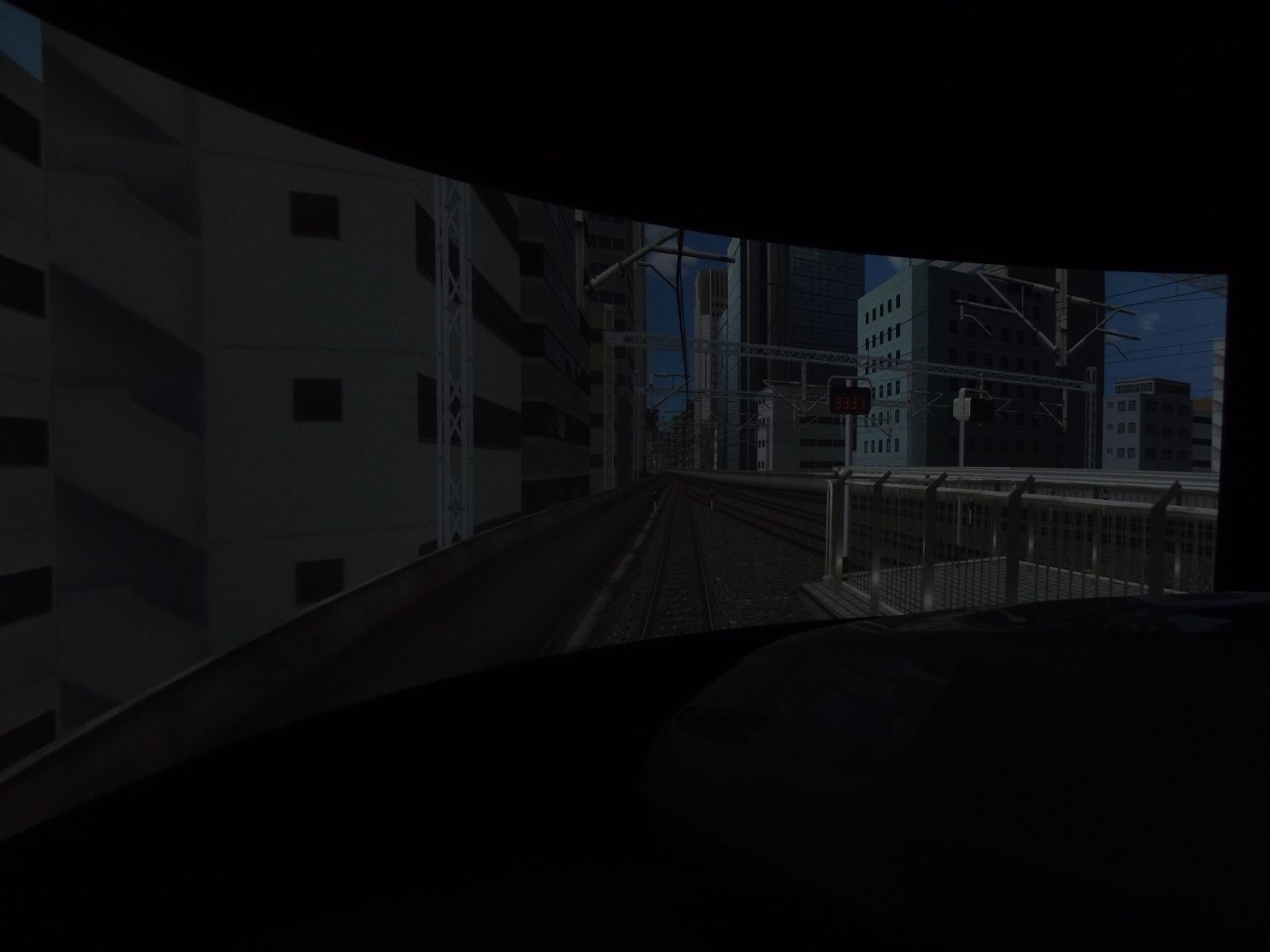 (33) Shinkansen simulator (NSM 2013-05-03)
Musée Shinkansen de Nagoya - Simulateur Shinkansen (exemplaire unique, réservation nécessaire)
Nagoya Shinkansen Museum - Shinkansen simulator (only one available, booking required)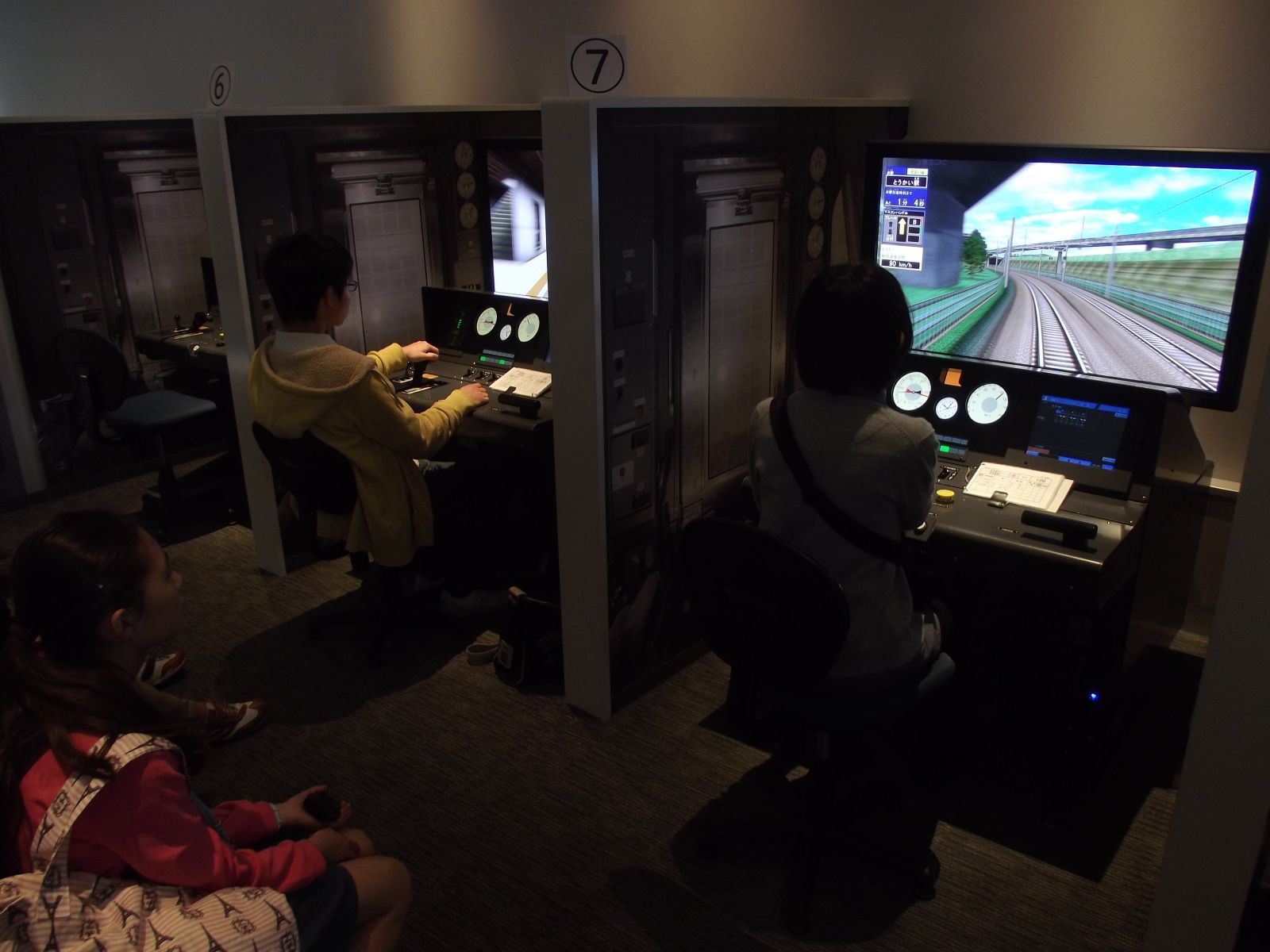 (34) Metric track simulator (NSM 2013-05-03)
Musée Shinkansen de Nagoya - Simulateurs sur voie métrique
Nagoya Shinkansen Museum - Metric track simulators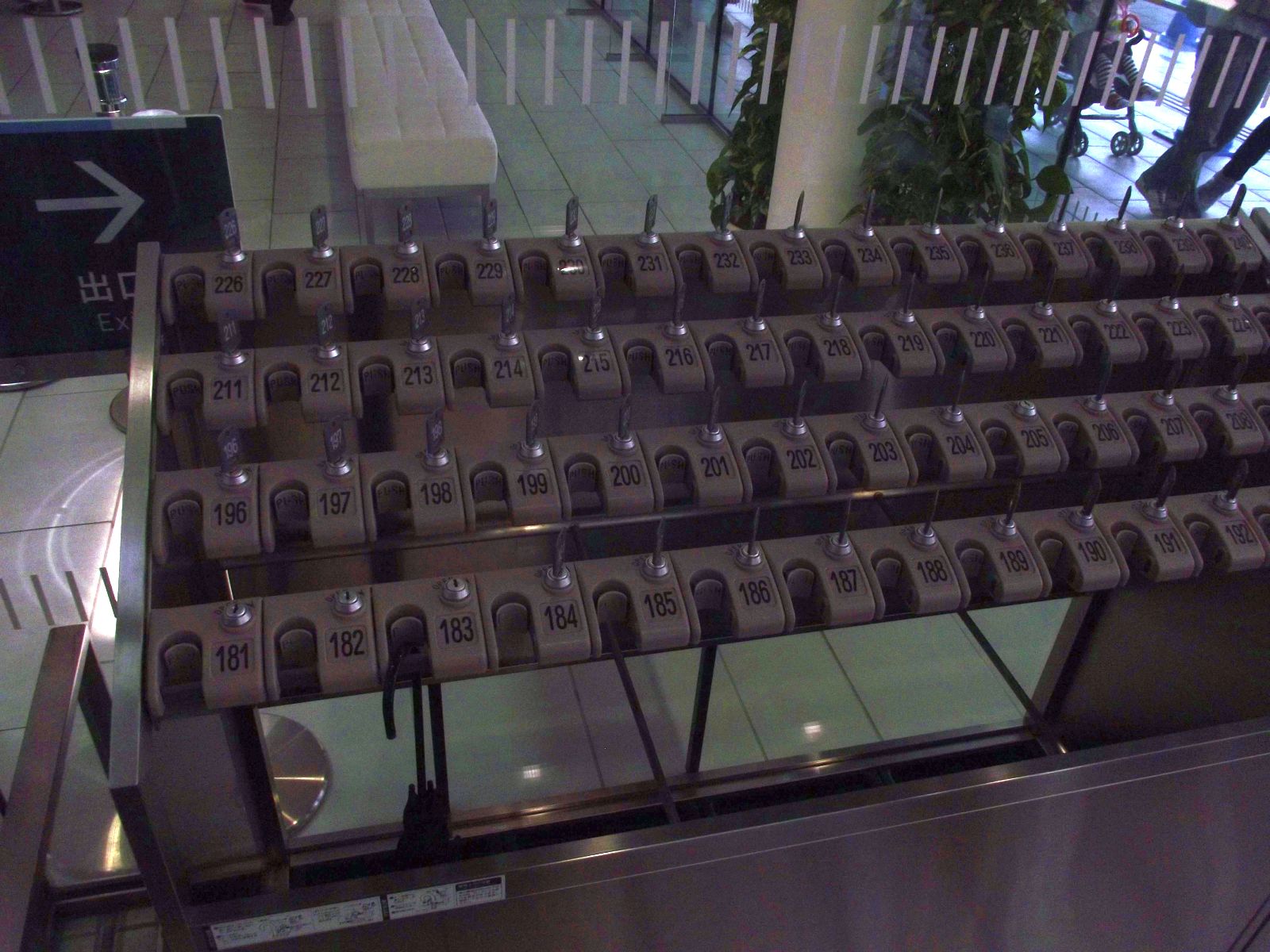 (35) Umbrella storage with locks (NSM 2013-05-03)
Musée Shinkansen de Nagoya - Stockage de parapluies avec cadenas...
Nagoya Shinkansen Museum - Umbrella storage with locks...


(5) TOKAIDO SHINKANSEN (TOKYO - NAGOYA - OSAKA)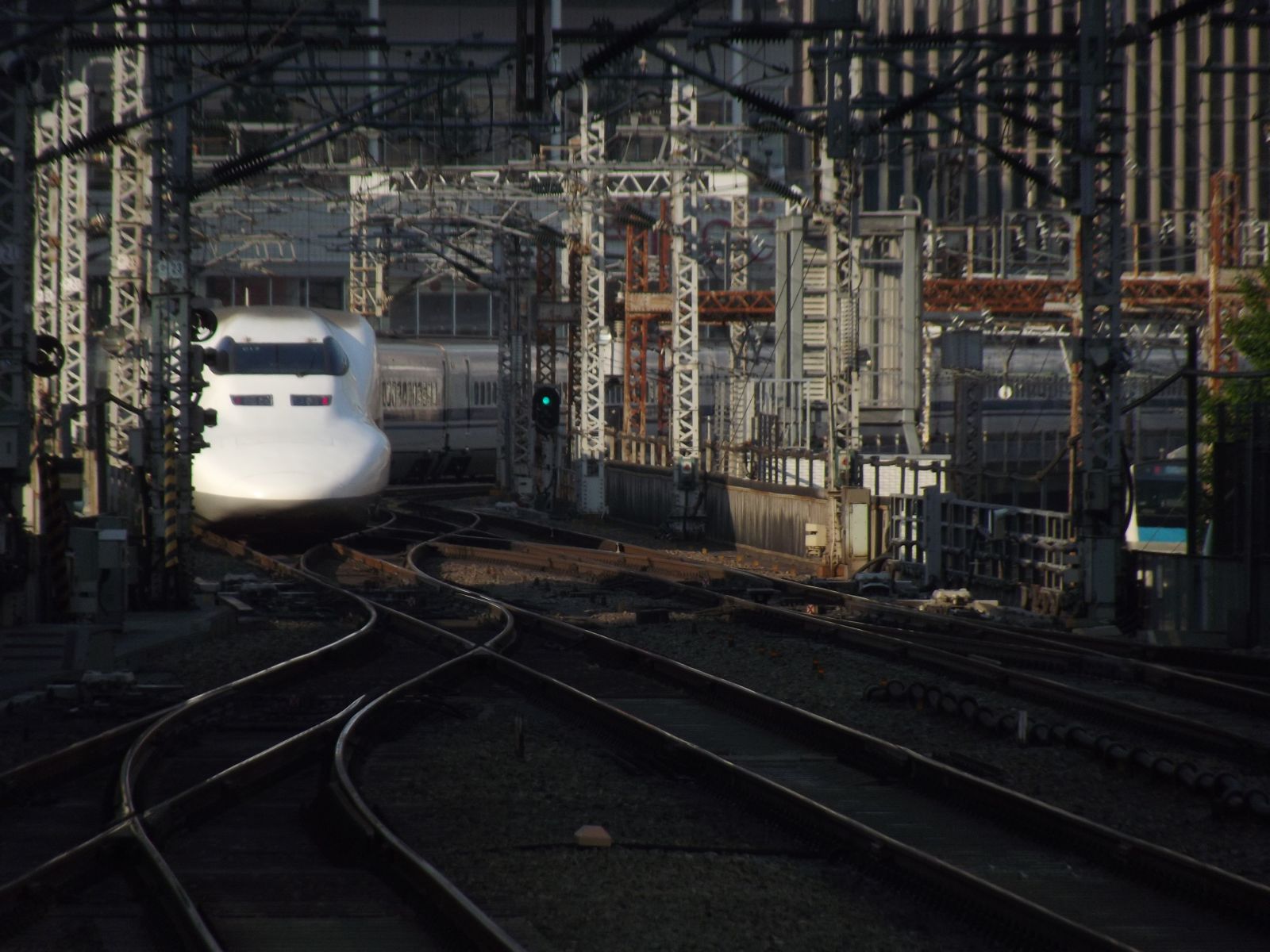 (36) A simple track layout (Tokyo 2013-05-06)

Tôkyô, gare Shinkansen JR Central (ligne Tôkyô - Nagoya - Osaka). Le plan de voies
très simple de cette gare (une communication croisée en avant-gare, et 4 aiguilles
simples pour donner accès aux voies en gare) prend peu de place et permet d'implanter
des aiguilles pour une vitesse relativement élevée (ici 80 km/h), nécessaire pour
obtenir un débit élevé. En outre, cette simplicité contribue à la fiabilité d'ensemble,
essentielle ici pour traiter plus de 320 trains par jour.

La situation est encore plus tendue sur le terminal adjacent, celui du réseau Shinkansen
JR East : il n'a que 4 voies à quai. Le nombre de trains quotidiens est moindre, mais les
temps de stationnement des rames en gare sont plus courts, comme on le verra plus loin.

At the Tôkyô JR Central terminal (Tôkyô - Nagoya - Osaka line), the track layout is very
simple : a double X-shaped set of points outside the station, and 4 points giving access
to all 6 tracks. This requires little space, which enables to implement high-speed points
(here, 80 kph), an essential factor for a high throughput. Furthermore, this simplicity
contributes to overall reliability, a vital factor when handling 320+ trains per day.

Constraints are even higher at the neighbouring JR East Shinkensen terminal, which has
only 4 tracks. There are fewer trains than on JR Central, but the low number of tracks
requires even shorter turnaround times, as will be seen later.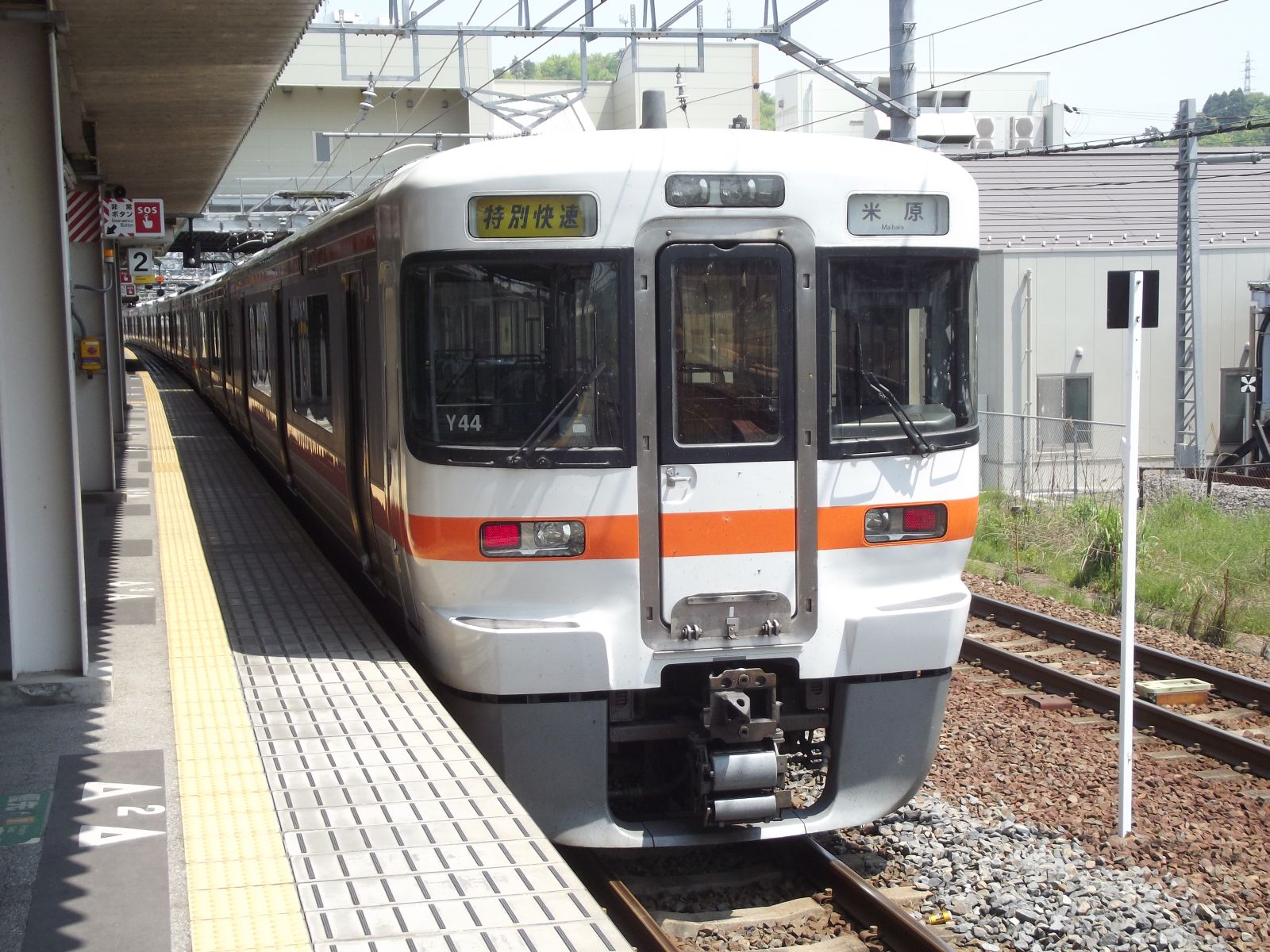 (37) Just arrived at Maibara 2013-05-06 10h47
Maibara. Train régional "Super-Rapid" de moyenne distance, en provenance de Nagoya.
Ici, comme souvent, les deux réseaux (métrique et Shinkansen) desservent la gare.
Maibara. A "Super-Rapid" medium distance regional train, just arrived from Nagoya.
Here, as is often the case, both network (metric and Shinkansen) serve the station.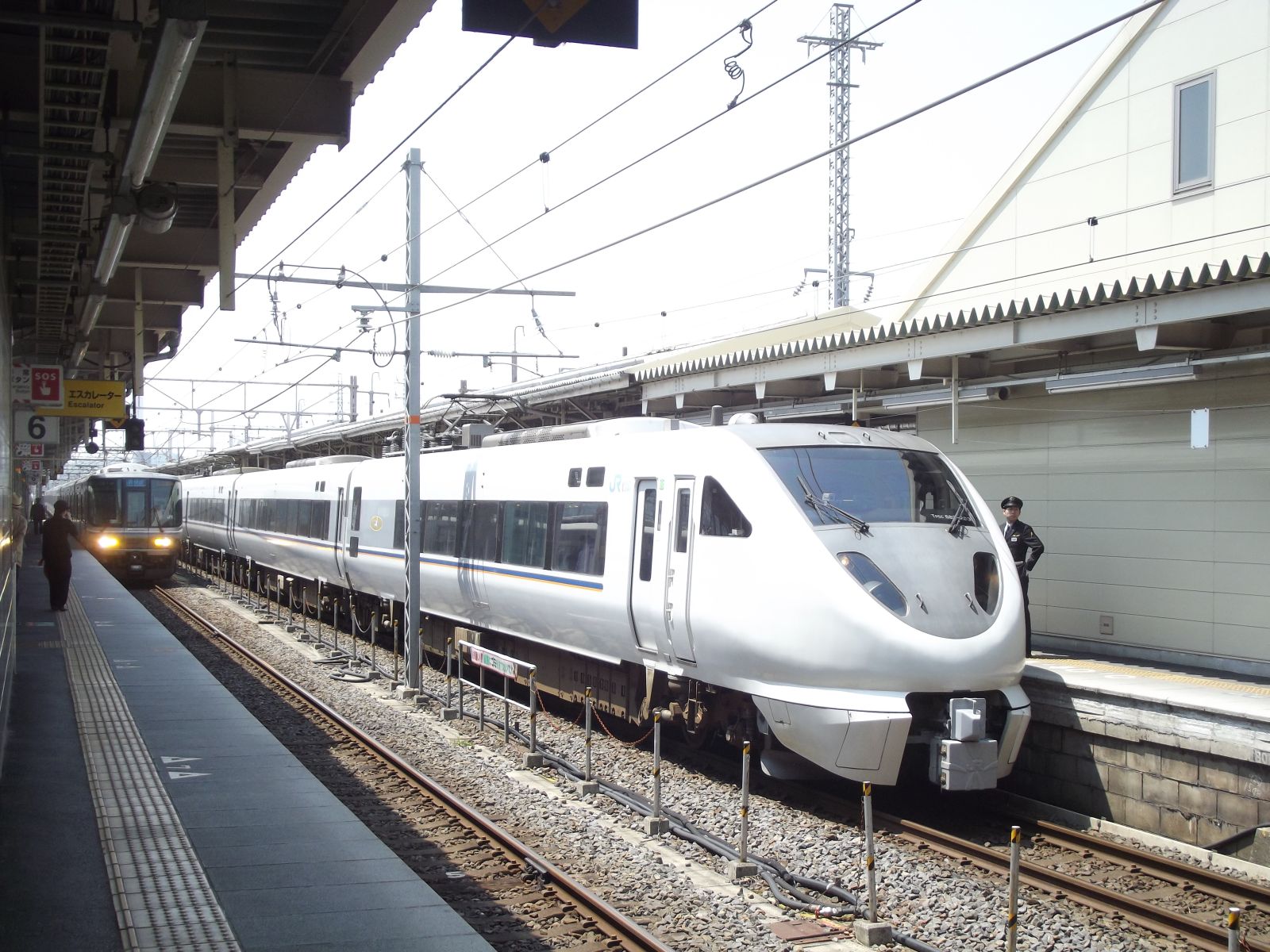 (38) 5-car train end 1 (Maibara 2013-05-06)
Maibara. Une automotrice moderne à 5 caisses du réseau classique à voie métrique.
Maibara. A modern 5-car EMU (metric gauge network).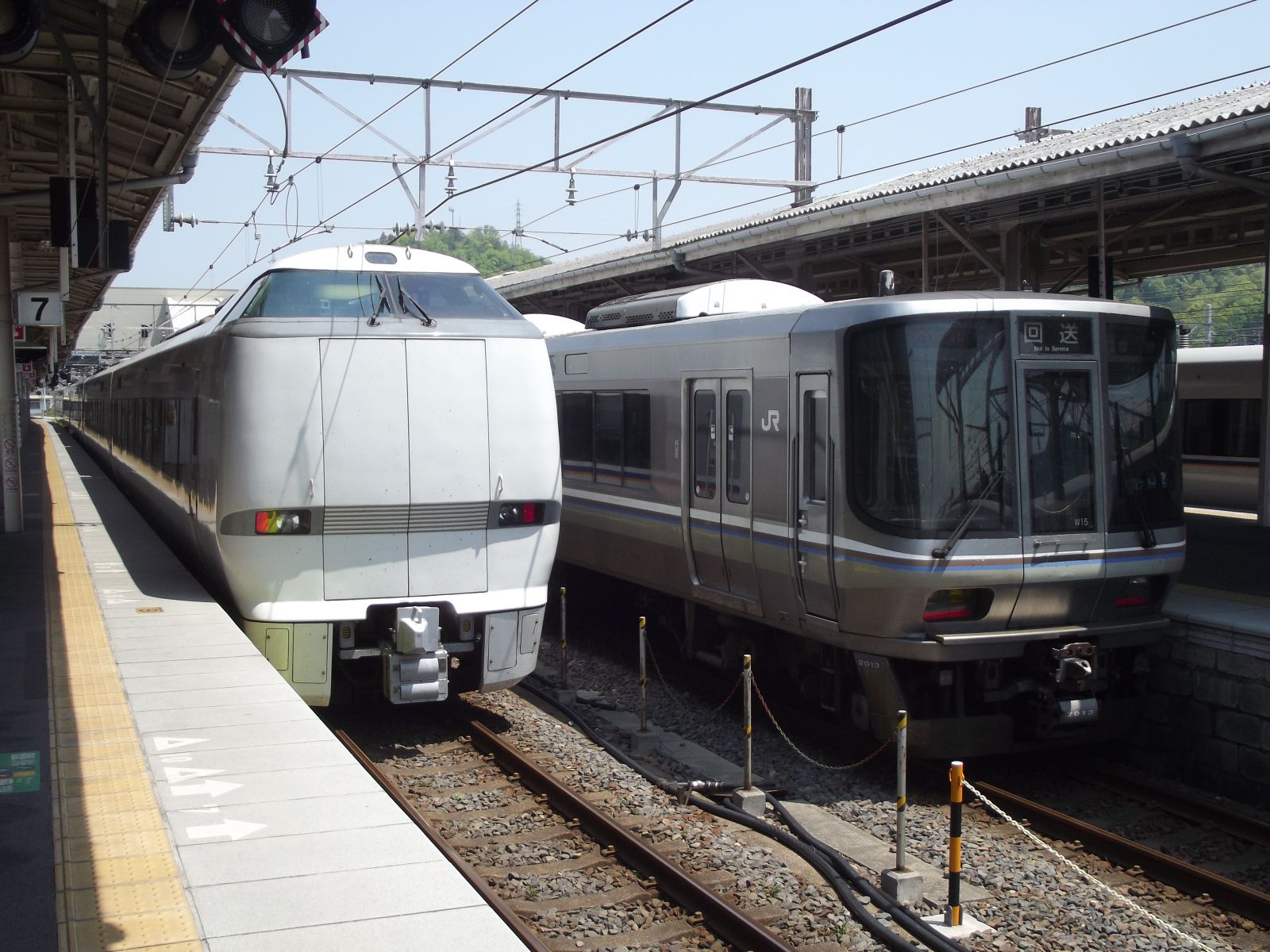 (39) 5-car train end 2 (Maibara 2013-05-06)
A gauche, l'autre extrémité de la même rame, pour l'intercirculation.
On the left, the same 5-car set, other end (gangwayed at this end).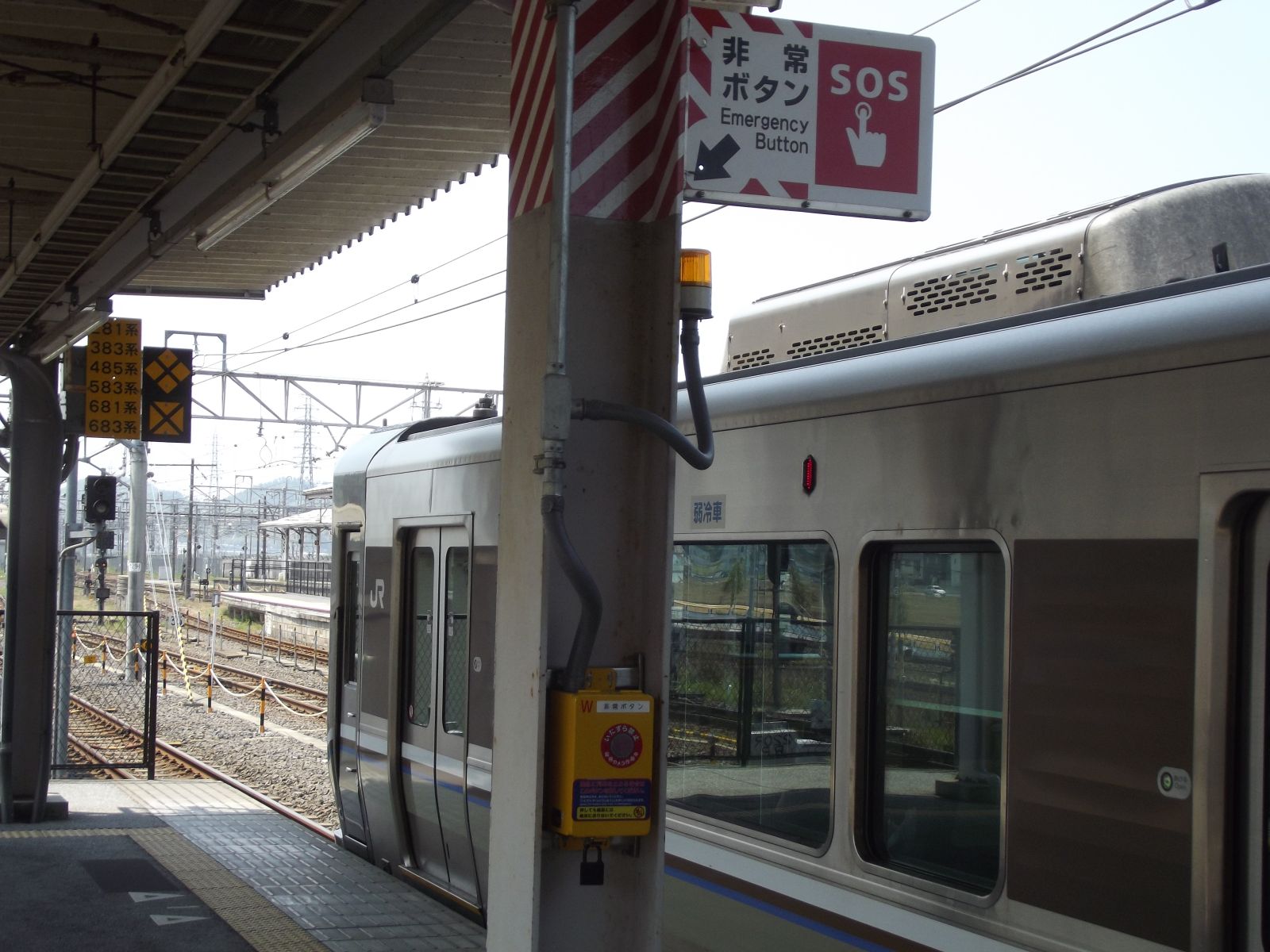 (40) SOS EMERGENCY BUTTON Maibara 2013-05-06
Maibara. Bouton d'arrêt d'urgence des trains, présent sur la plupart des quais au Japon. Difficile à imaginer en France...
Maibara. Emergency stop button (can be found on most japanese platforms). Hard to imagine in France...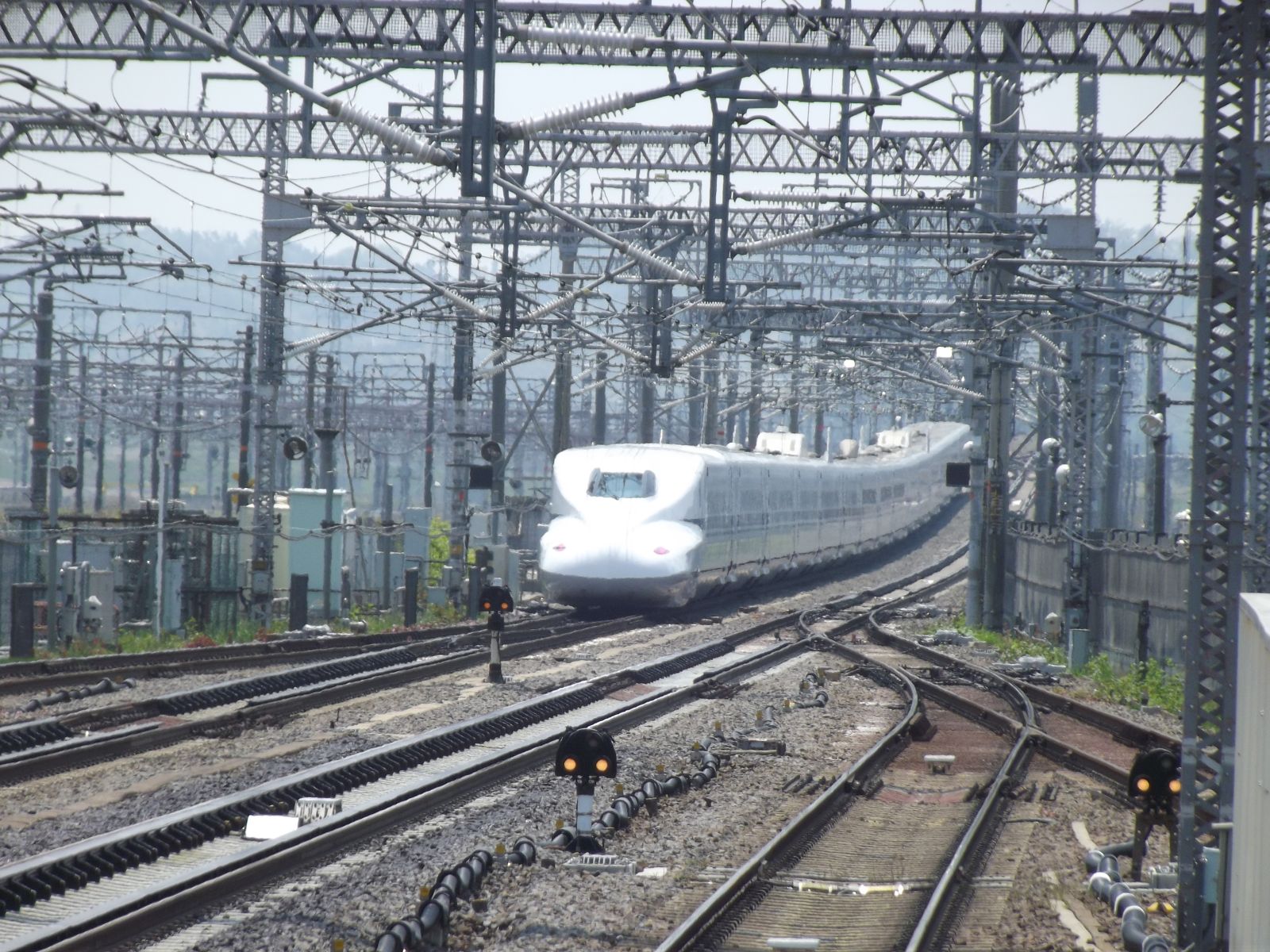 (41) Typical track layout (Maibara 2013-05-06)
Maibara. Plan de voies typique d'une gare Shinkansen de ville moyenne. Terrain plat,
la rampe visible ici est occasionnée par le franchissement d'un cours d'eau.
On notera qu'ici il n'y a pas de communication entre les deux voies rapides,
ce qui confirme que celles-ci ne sont pas banalisées.
Maibara. Typical track layout for a Shinkansen station serving a medium-size city.
Flat terrain, the gradient here is due to a waterway. One may note that there is
no junction between the main tracks, a fact which confirms that these are not
equipped for wrong-line running.


(42) Sharp curve at Nagoya 2013-05-06 (NOZOMI 331 to Shin-Osaka)
La ligne Shinkansen Tôkyô - Osaka permet une vitesse de 270 km/h... avec des exceptions,
comme dans cette courbe serrée à Nagoya.
The Tôkyô - Osaka Shinkansen line has a top speed of 270 kph... with some exceptions,
such as in this sharp curve at Nagoya.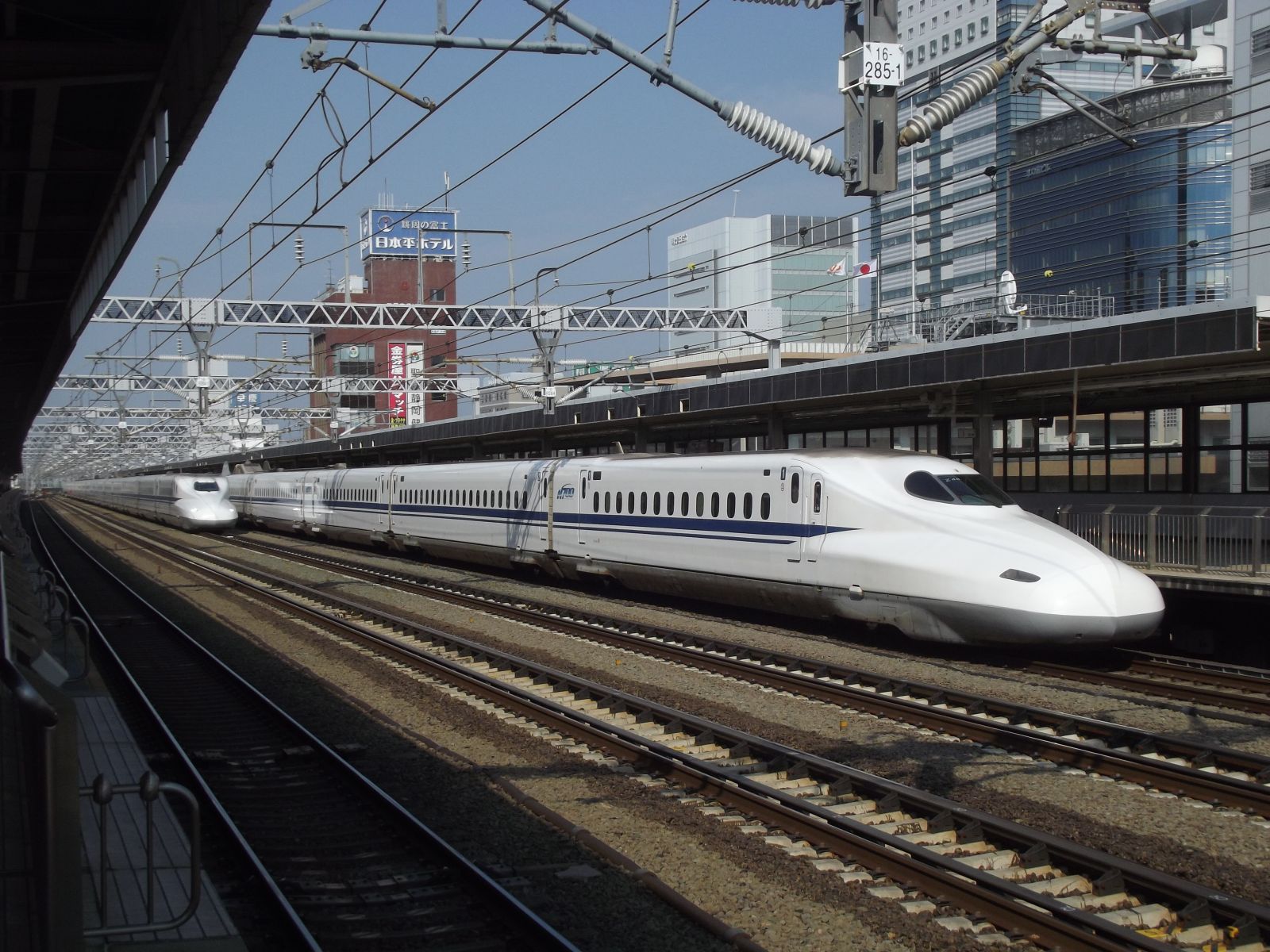 (43) Overtaking at Shizuoka 2013-05-06 15h27
A l'arrêt, le Kodama 661 (Tôkyô 13h56 Shin-Osaka 17h50). Au passage, le Nozomi 41
(Tôkyô 14h49 Hakata 19h39). Le premier met 2h27 de Shin-Yokohama à Nagoya, le second 1h22.
Waiting is Kodama 661 (Tôkyô 13h56 Shin-Osaka 17h50). Overtaking is Nozomi 41 (Tôkyô 14h49
Hakata 19h39). The former takes 2hrs27mn from Shin-Yokohama to Nagoya, the latter only 1hr22mn.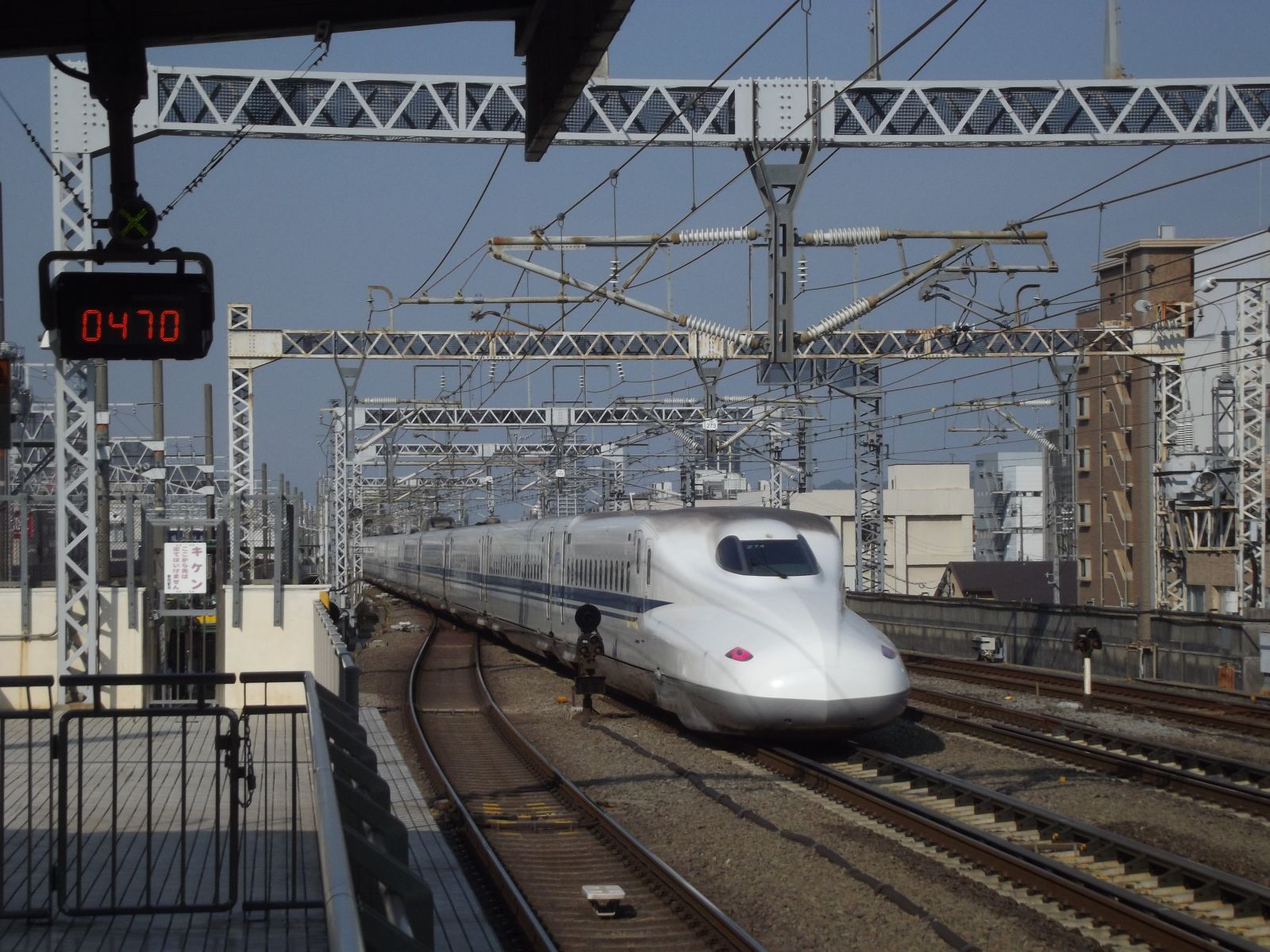 (44) Hikari 470 overtaken (note short loop) Shizuoka 2013-05-06 15h37mn56
Shizuoka (170 km à l'ouest de Tôkyô). Dépassement du Hikari 470 Okayama - Tôkyô (dont le numéro
est visible sur le quai) par le Nozomi 26 Hakata (Fukuoka) - Tôkyô. Noter l'aiguille de sortie
relativement courte, qui limite la vitesse à 70 km/h - soit pour limiter les coûts de construction
ou à cause d'un espace disponible réduit, soit parce qu'à l'époque (années 60) cette vitesse
limitée n'aparaissait pas comme une contrainte majeure. Aujourd'hui, alors que la signalisation
a été récemment modernisée pour en optimiser le débit, il s'agit du seul (petit) défaut technique
de l'exploitation : on peut estimer la perte de temps associée à environ 1/2 mn à chaque arrêt,
car il y a impact aussi bien au freinage qu'à l'accélération, même si le premier est moindre.
Shizuoka (170 km west of Tôkyô). Here, train Hikari 470 Okayama - Tôkyô (note number displayed
on platform) is being overtaken by train Nozomi 26 (Hakata (Fukuoka) - Tôkyô). The points are
relatively short, restricting speed to 70 kph - either to limit construction costs or because
of limited available space, or because at the time (1960s) this relatively low speed was not
thought to be a major constraint. Today, now that the signalling system has been recently
modernised in order to reduce headways between trains, this appears to be the only (small)
technical defect in the whole system : the resulting loss of time can be rounded to about 1/2 mn
per train stop, as it impacts braking as well as acceleration, even if less so for the former.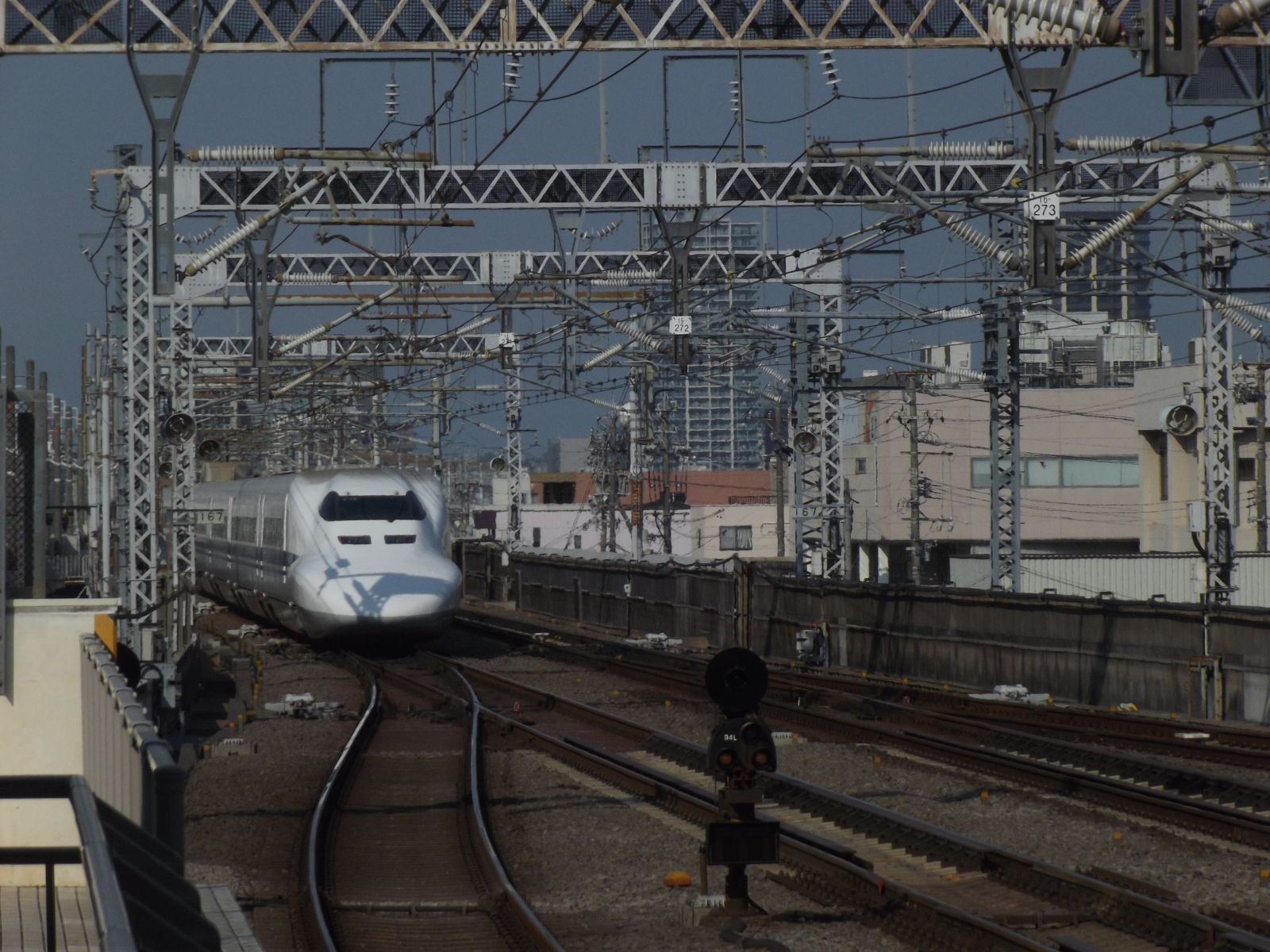 (45) Hikari 470 leaves (Shizuoka 2013-05-06 15h39mn54)
Départ, à la suite, du Hikari 470. Il est impressionnant de noter que moins de 2 mn après le
passage du train sans arrêt, il a déjà parcouru environ 500 m et a entièrement quitté le quai...
La rame est une 700 et non N-700 comme dans les vues précédentes : l'avant est légèrement
différent, et elle ne pendule pas, au contraire de la N-700 qui de ce fait est autorisée à 270 km/h
en courbe de 2500 m de rayon. En France, un rayon de 3250 m est requis pour 270 km/h.
Shortly after, train Hikari 470 leaves. It is most impressive to note that less than 2 mns
after the non-stopping train has passed, train 470 has already moved by more than 500 m
and has entirely left the platform... Note that this is a 700 set, not N-700 as in previous
pictures. The latter has a different nose and tilts slightly, which enables it to run at
270 kph in 2500m-radius curves. In France, a radius of 3250 m is needed for 270 kph.


(6) VERS LE NORD (JR EAST) / GOING NORTH (JR EAST)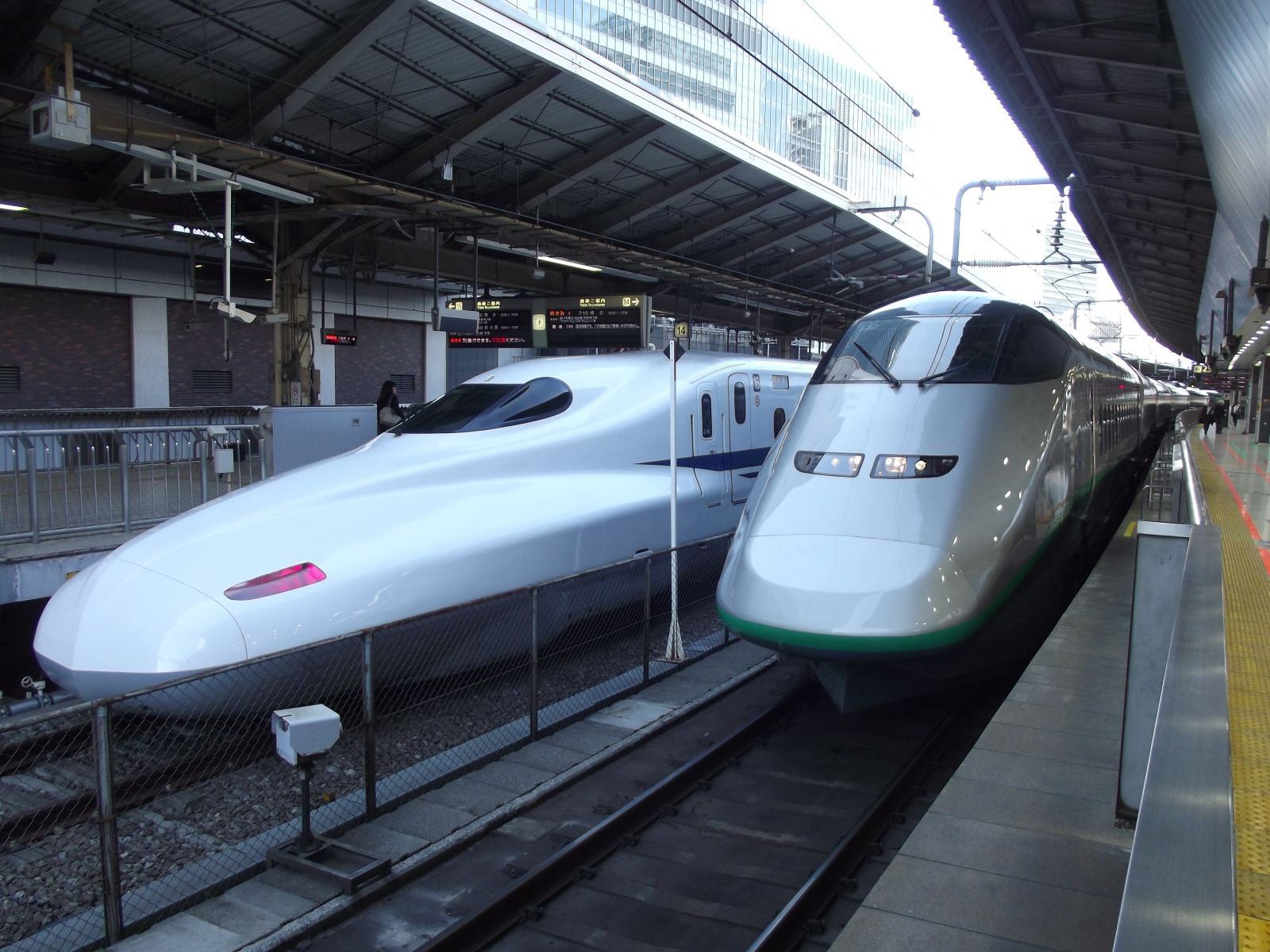 (46) Tracks 14 (JR Central) and 23 (JR East) Tokyo 2013-05-07 (R is Tsubasa 123 to Shinjo)
Tôkyô. A gauche, une rame Shinkansen JR Central sur voie 14, à droite une rame JR East à caisse
étroite sur voie 23 (les numéros de voies ne sont pas à la suite parce que les voies JR East
ont été créées postérieurement à celles de JR Central). Le matériel JR East est pour partie à
caisse étroite (2m95 au lieu de 3m38) et surnommé de ce fait "mini-Shinkansen" ; une particularité
nécessaire pour circuler sur les branches de (Yamagata) Shinjo et Akita, anciennes lignes
à voie métrique mises à voie normale pour permettre la circulation des Shinkansen, mais sans
augmentation de gabarit à cause des nombreux tunnels et parois rocheuses qu'elles comportent.
Tôkyô. Left : a JR Central Shinkansen set on track 14. Right : a JR East narrow body set on
track 23 (track numbers are not in sequence because JR East platforms were added later).
A number of JR East sets, dubbed "mini-Shinkansen", are narrower (2m95 vs 3m38) than
JR Central ones because this is necessary on the (Yamagata) Shinjo and Akita branch lines,
which are former metric gauge lines reequipped with standard gauge track for Shinkansen trains,
but with no increased gauge because of its numerous tunnels and rocky cuttings.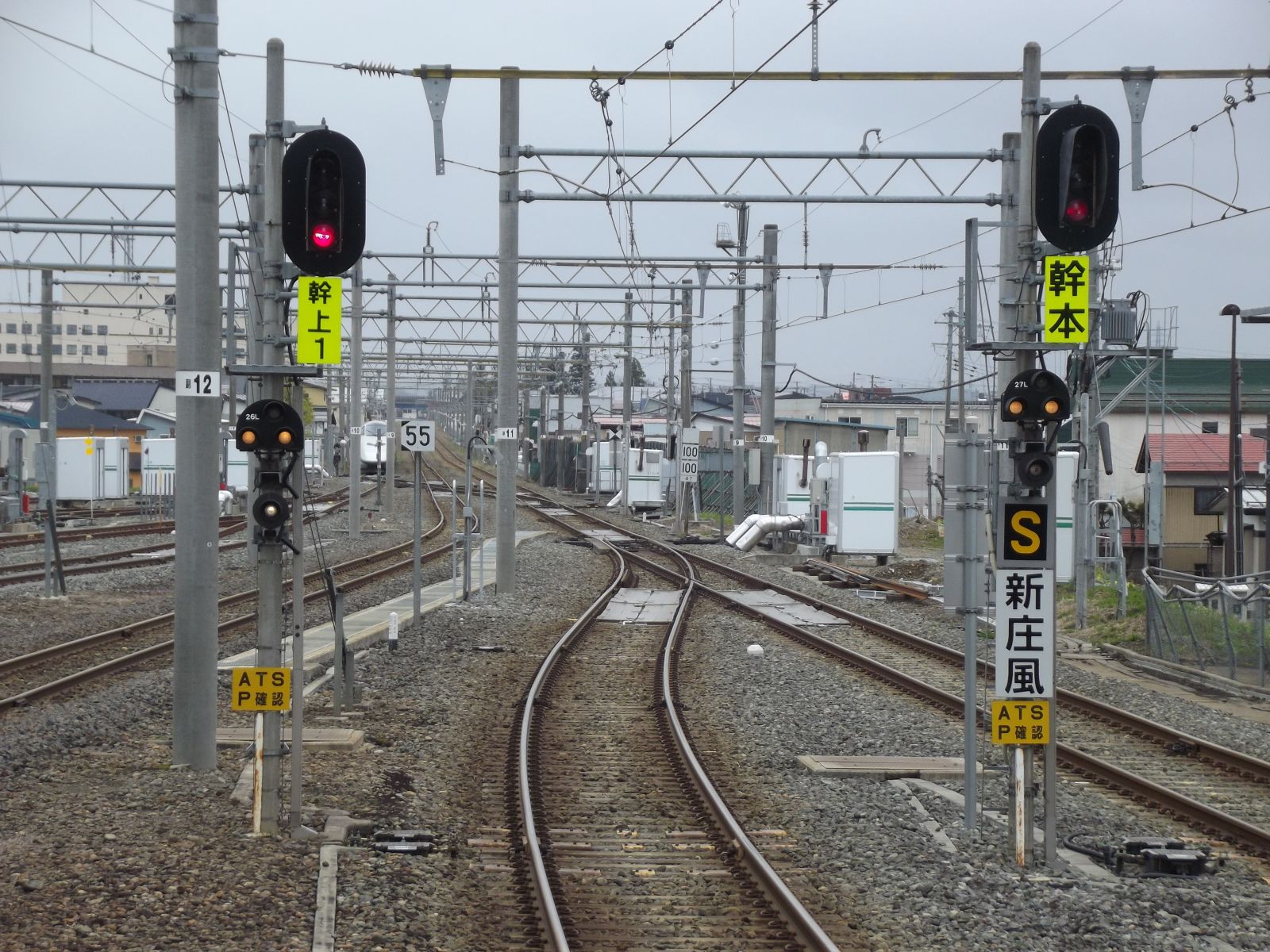 (47) 1067mm - 1435mm tracks at Shinjo south 2013-05-07
Shinjo, côté sud. A gauche, voie métrique 1067 mm, au centre et à droite voie normale 1435 mm.
L'adaptation de ces lignes au matériel Shinkansen s'est faite de manière variable :
- voie unique à écartement normal là où il n'y a pas d'autre trafic,
- deux voies uniques parallèles, une par écartement, à la place d'une double voie métrique,
- une voie unique à 3 files de rails.
Shinjo (south side). Left : metric track (1,067 mm). Centre and right : standard track (1,435 mm).
The transformation of former purely metric lines has been done in various ways :
- single line, standard gauge, where no other type of traffic was maintained,
- two parallel single lines, one metric, one standard, instead of a metric double track,
- a single line but wth 3 rails, in order to accomodate both gauges.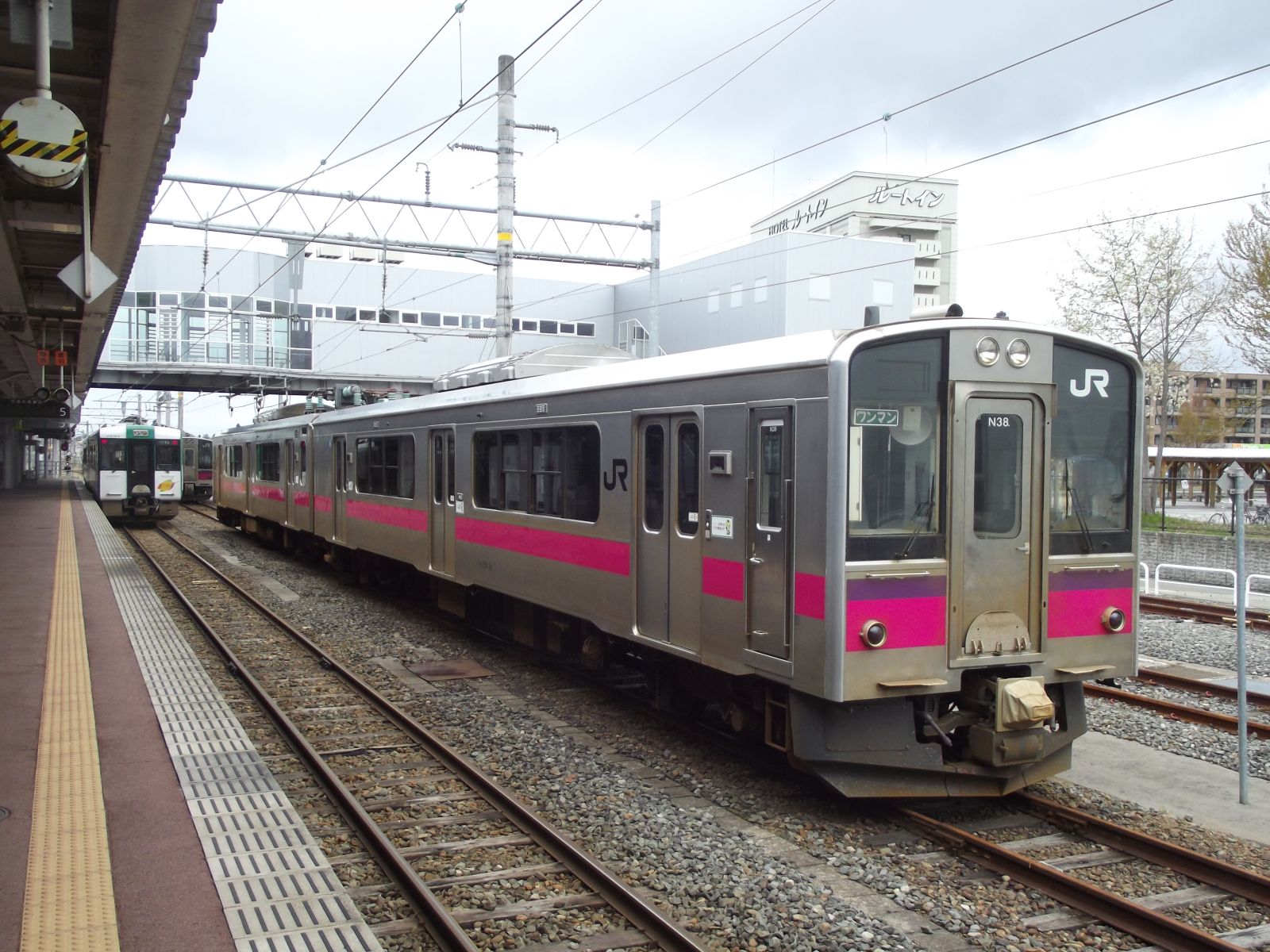 (48) Local train at Shinjo 2013-05-07
Shinjo. Un tran local (voie métrique).
Shinjo. A local train (metric track).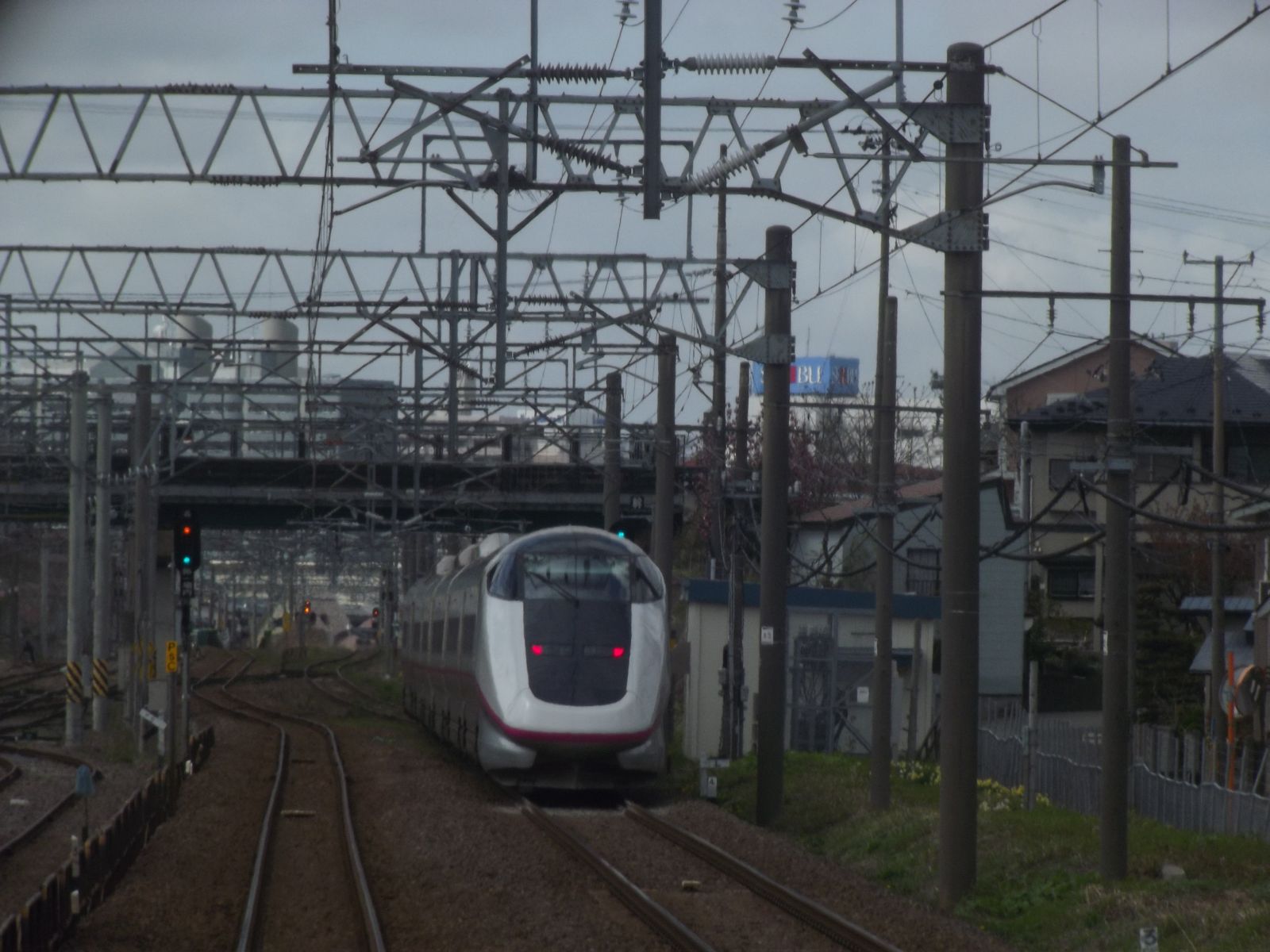 (49) Racing behind mini-Shinkansen at Akita 2013-05-07 13h59
Arrivée à Akita dans un train régional à voie métrique depuis Shinjo. Celui-ci
vient d'être dépassé par un "mini-Shinkansen" à caisse étroite, en provenance
de Tôkyô. La différence d'écartement des deux voies est ici bien visible.
Arrival at Akita in a regional train (metric gauge) from Shinjo. This train
has just been overtaken by a "mini-Shinkansen" train coming from Tôkyô.
The difference between track gauges is quite apparent here.