Rastatt, 50 jours d'arrêt pour le premier axe fret européen (12.08 > 02.10.2017)
Rastatt, the first european freight corridor grinds to a halt (12.08 > 02.10.2017)

Mise en ligne / online since : 2017-10-09

Mise à jour du texte de la vue n° 8 : 2017-10-11
Text update for picture number n° 8 : 2017-10-11

Ce reportage ne s'intéresse pas à la coupure de Rastatt proprement dite, autrement dit à
l'affaissement de la voie de la ligne Karlsruhe - Bâle non loin de la tête sud du futur tunnel
de la NBS (NeuBauStrecke ou "ligne nouvelle") qui évitera la gare de Rastatt par un tunnel
de 4,3 km de longueur : le sujet a été abondamment traité dans la presse ferroviaire
(voir notamment le site transportrail.canalblog.com, rubrique Allemagne) et même généraliste.
L'aspect évoqué ici est celui des détournements, avec un petit aperçu côté français et un
beaucoup plus substantiel côté allemand, principalement entre les environs de Stuttgart
(Böblingen) et le noeud ferroviaire de Singen (Hohentwiel), non loin du lac de Constance.
This report does not concentrate on the Rastatt interruption itself, caused by the subsidence
of the Karlsruhe - Basle main line near the southern head of the new high speed line 4.3 km tunnel
which will bypass Rastatt : this subject has received full media (both specialized and general)
coverage (see also transportrail.canalblog.com). What is studied here is how freight trains
have been diverted, with a brief look at the french side but a much more detailed one at
the german side, mostly between the suburbs of Stuttgart (Böblingen) and the station of
Singen (Hohentwiel), not far from the Constance Lake.

Les trains de voyageurs ont été traités pour l'essentiel par "coupure locale", autrement dit remplacés
par des bus urbains de substitution à haute fréquence et haute capacité entre Rastatt et Baden-Baden :
un départ toutes les 5 mn environ, pour un temps de parcours compris entre 17 et 22 mn selon
la densité de la circulation routière. Les trains de grand parcours ou régionaux faisaient donc
demi-tour dans ces deux gares. Exception notable, les TGV et ICE Paris < > Francfort et
Paris < > Stuttgart étaient systématiquement détournés par la ligne Sarrebruck - Mannheim,
sans arrêt commercial entre Paris et Mannheim pour ceux qui étaient effectivement détournés
(par opposition aux 4 AR Paris < > Francfort via Sarrebruck, inchangés). En pratique, un arrêt
de service avait couramment lieu à à Sarrebruck, sans doute pour la visite de la douane.
Passenger traffic has been mostly handled with a "local cut" i.e. substitution by high frequency
city buses between Rastatt and Baden-Baden : a departure every 5 mins or so, for a travel time
between 17 and 22 mins, depending on traffic. Accordingly, long distance or regional trains
turned round in both stations. A notable exception was Paris < > Frankfurt and Paris < > Stuttgart
ICEs and TGVs, which were systematically diverted via the Saarbrücken - Mannheim line, with
no commercial stop between Paris and Mannheim for those trains which were indeed diverted
(i.e. all but the 4 pairs of Paris < > Saarbrücken < > Frankfurt trains, where remained unchanged).
In practical terms, a service stop was usually scheduled at Saarbrücken, for a visit by the customs.

Mais tout cela n'était rien par rapport à la gestion du détournement de 200 trains de fret
par jour (120 de transport combiné et 80 de fret conventionnel), qui s'est tout bonnement avéré
impossible à réaliser intégralement... avec pour conséquence un encombrement des terminaux de
transport combiné, partiellement soulagés par la route... et le transport fluvial sur le Rhin.
Ce reportage va montrer pourquoi les détournements, malgré les nombreux itinéraires alternatifs
possibles, n'auront jamais suffi à couvrir la demande... au point que les opérateurs fret concernés
ont réclamé 250 M€ d'indemnisation avant même la fin de la période des détournements.
But all this was small stuff in comparison with the diversion of 200 freight trains per day
(120 intermodal, 80 others), which turned out to be impossible and resulted in a quick overload
of terminals, partly relieved by road... and the Rhine. This report will show how diversions,
despite the variety of possible alternative routes, never coped, to the extent that rail freight
operators involved claimed 250 M€ in compensation, even before the end of the diversions period.

051 00a Document DB Netz présentant le projet du tunnel de Rastatt. L'incident s'est produit au Km 98,7.
A DB Netz presentation of the Rastatt tunnel project. The incident occurred at Km 98.7.
Cliquer sur ce titre pour ouvrir ce document, de préférence en click droit pour pouvoir l'ouvrir dans une autre fenêtre
et le garder ouverte le temps nécessaire / Click on the title above so as to open this document,
better so with a right click so as to keep it open in another window for as long as desired.

051 00b Carte globale (2016) / Global map (2016)
Cliquer sur ce titre pour ouvrir la carte, de préférence en clic droit pour pouvoir l'ouvrir dans une autre fenêtre
et la garder ouverte pendant toute la visite / Click on the title above so as to open the map,
better so with a right click so as to keep it open in another window during the whole visit.

Cette carte globale permet de situer les 5 alternatives disponibles :
This global map enables to locate the 5 possible alternative routes :

(1) Via Strasbourg, Metz, Thionville et ensuite soit vers Béning, Sarrebruck, Mannheim,
soit directement vers Trèves, Coblence et Cologne,
(1) Via Strasbourg, Metz, Thionville and then either Béning Sarrebruck, Mannheim,
or directly towards Trier, Koblenz and Cologne,

(2) Via Strasbourg, Lauterbourg, Wörth et au-delà vers Mayence,
(2) Via Strasbourg, Lauterbourg, Wörth and beyond towards Mainz,

(3) Via la ligne Stuttgart - Singen, objet de la majorité de ce reportage,
(3) Via the Stuttgart - Singen line i.e. the main subject of this report,

(4) Via la même ligne au sud de Horb, mais via Tübingen plus au Nord pendant la fermeture
pour travaux de la section Böblingen - Horb, pendant tout le mois d'août 2017,
(4) Via the same line south of Horb, but via Tübingen further north during the closure (for
track renewal) of the Böblingen - Horb section, during the whole of August, 2017,

(5) Beaucoup plus à l'est, via l'autre grand itinéraire fret Nord - Sud : Hanovre - Würzburg - Munich.
(5) Much further east, via the other main North - South freight corridor : Hannover - Würzburg - Munich

Le problème, c'est qu'aucun de ces itinéraires n'était pleinement satisfaisant :
The problem was that none of these options was fully satisfactory :

- l'itinéraire n° 1 n'est pas au gabarit AF "Autoroute Ferroviaire", ni d'ailleurs au gabarit
de certains wagons allemands conventionnels, pas plus larges mais environ 30 cm plus haut...
d'où un incident sérieux le 3 septembre dans un tunnel des Vosges : court-circuit entre
la caténaire, plus basse en tunnel, et un wagon... et convoi immobilisé en plein tunnel,
- route 1 had no gauge clearance for rolling highway traffic and was not even fit for some
standard german wagons, which were not wider but about 30cm higher... something which
on September 3 resulted in a major incident in a tunnel : a short circuit between the
(lowered in tunnel) catenary and a wagon, thereby causing the train to stop in the tunnel,

- l'itinéraire n° 2 pourrait être au gabarit AF car c'était une ligne au gabarit allemand entre 1871
et 1918... Comme elle n'est pas électrifiée et ne comporte aucun tunnel, c'est même très probable...
mais personne à SNCF Réseau n'aurait été en mesure de le confirmer à court terme, faute de disposer
d'un engin rapide de mesure du gabarit (ce sera en principe pour 2019). Mais cette question
n'a peut-être jamais été posée : dans les faits, ce handicap n'était pas si important par rapport à
toutes les difficultés qui handicapent le trafic international, comme on le verra plus loin... Et
cet itinéraire n° 2 requiert la traction diesel de Strasbourg à Wörth (en pratique, changement
de traction à Hausbergen), avec de surcroît une section à voie unique entre Lauterbourg et Wörth,
- route 2 might have that gauge clearance for rolling highway traffic, because this was
a german line between 1891 and 1918... As it has not been electrified and has no tunnel, this
is indeed quite likely... but nobody at SNCF Réseau could have possibly confirmed this
at short notice, because no fast gauge measurement train was available (one will be in 2019).
However, this question may well never have been raised : actually, this drawback wasn't really
that important in comparison with all the difficulties which hamper international rail freight
traffic, as will be seen further on... Furthermore, this route requires diesel traction between
Strasbourg and Wörth (in practical terms, traction change took place at Hausbergen), and is
further handicapped by the single track section between Lauterbourg and Wörth,

- l'itinéraire n° 3 (Stuttgart - Singen) s'est avéré être, une fois rouvert début septembre entre Stuttgart
et Horb, le principal itinéraire de détournement. Mais on va voir plus loin que sa capacité était limitée...
- route 3 (Stuttgart - Singen), once opened again at the beginning of September, turned out to be
the main diversionary route. But, as will be seen later, it only had limited capacity...

- l'itinéraire n° 4 n'était qu'un pis-aller pour une partie de l'itinéraire n°3, pendant le mois d'août.
Etant non électrifié entre Tübingen et Horb, il ne présentait plus aucun intérêt à partir de début septembre,
- route 4 was only a makeshift alternative for route 3 during the month of August. As it was
not electrified bewteen Tübingen and Horb, it served no purpose from early September onwards,

- enfin, l'itinéraire n° 5 était techniquement parfait (enfin, pour l'Italie, pas pour la Suisse...)
mais déjà proche de la saturation : son apport ne pouvait dès lors être que marginal, d'autant plus
que des travaux y étaient également planifiés entre Munich et Vérone, sur la ligne du Brenner...
et pour corser l'affaire, il y eut des problèmes de migrants cherchant à entrer en Autriche
depuis l'Italie, problèmes qui ont pu bloquer certains trains jusqu'à 10 jours (!).
- finally, route 5 was technically fine (well, at least towards Italy, not Switzerland...) but
already near capacity : as a resulat, it could only serve a marginal purpose, especially as
track work was also planned thete between Munich and Verona, on the Brenner line... and this
was further compounded by the problem of migrants trying to move from Italy to Austria,
which resulted in trains being held for up to days (!).

051 00c Carte locale, secteur Strasbourg - Rastatt - Stuttgart (2006) / Local map, Strasbourg - Rastatt - Stuttgart area (2006)
Cliquer sur ce titre pour ouvrir la carte, de préférence en click droit pour pouvoir l'ouvrir dans une autre fenêtre
et la garder ouverte pendant toute la visite / Click on the title above so as to open the map,
better so with a right click so as to keep it open in another window during the whole visit.

Cette carte permet de localiser l'itinéraire alternatif n°2 (Strasbourg - Lauterbourg - Wörth) mais aussi
la rocade Böblingen - Renningen, au sud-est de Stuttgart et qui en 2006 était encore réservée au fret.
This map enables to locate alternative route 2 (Strasbourg - Lauterbourg - Wörth), as well as
the Stuttgart avoiding line (i.e. Böblingen - Renningen), south west of Stuttgart, which in 2006
still was a freight-only route.

051 00d Le profil simplifié de la ligne Rastatt - Freudenstadt / A simple line profile for Rastatt - Freudenstadt
Cliquer sur ce titre pour ouvrir la carte, de préférence en click droit pour pouvoir l'ouvrir dans une autre fenêtre
et la garder ouverte le temps nécessaire / Click on the title above so as to open the map,
better so with a right click so as to keep it open in another window for as long as desired.

Ce profil simplifié a été principalement construit à partir d'observations terrain. La "bosse"
de Freudenstadt (+50 °/°° puis -45 °/°° vers Freudenstadt-Hbf) y est bien visible et permet
de comprendre pourquoi ce n'était pas un itinéraire alternatif envisageable pour le fret...
This simplified line profile has been mostly built from observations while travelling.
The Freudenstadt "hump" (1 in 20 then 1 in 22 towards Freudenstadt-Hbf) is clearly visible,
and is a good explanation why this route was in no way a possible option for diverting freight...

On commence ici, quelques jours avant la visite de Stuttgart - Singen, par quelques photos faites
entre Wörth et Seltz, sur l'itinéraire de détournement n° 2 Strasbourg - Lauterbourg - Wörth.
En septembre, une dizaine de trains par jour y circulaient en semaine. Celui-ci a cependant
plus l'air d'un trafic local que d'un train de grand parcours...
A few days before visiting the Stuttgart - Singen line, let us begin here with a few pictures
taken in Wörth, Lauterbourg and Seltz, on diversion route 2 (Strasbourg - Lauterbourg - Wörth).
In September, about 10 diverted trains used the line on a standard weekday. This one, however,
looks more like local traffic than like a long distance train...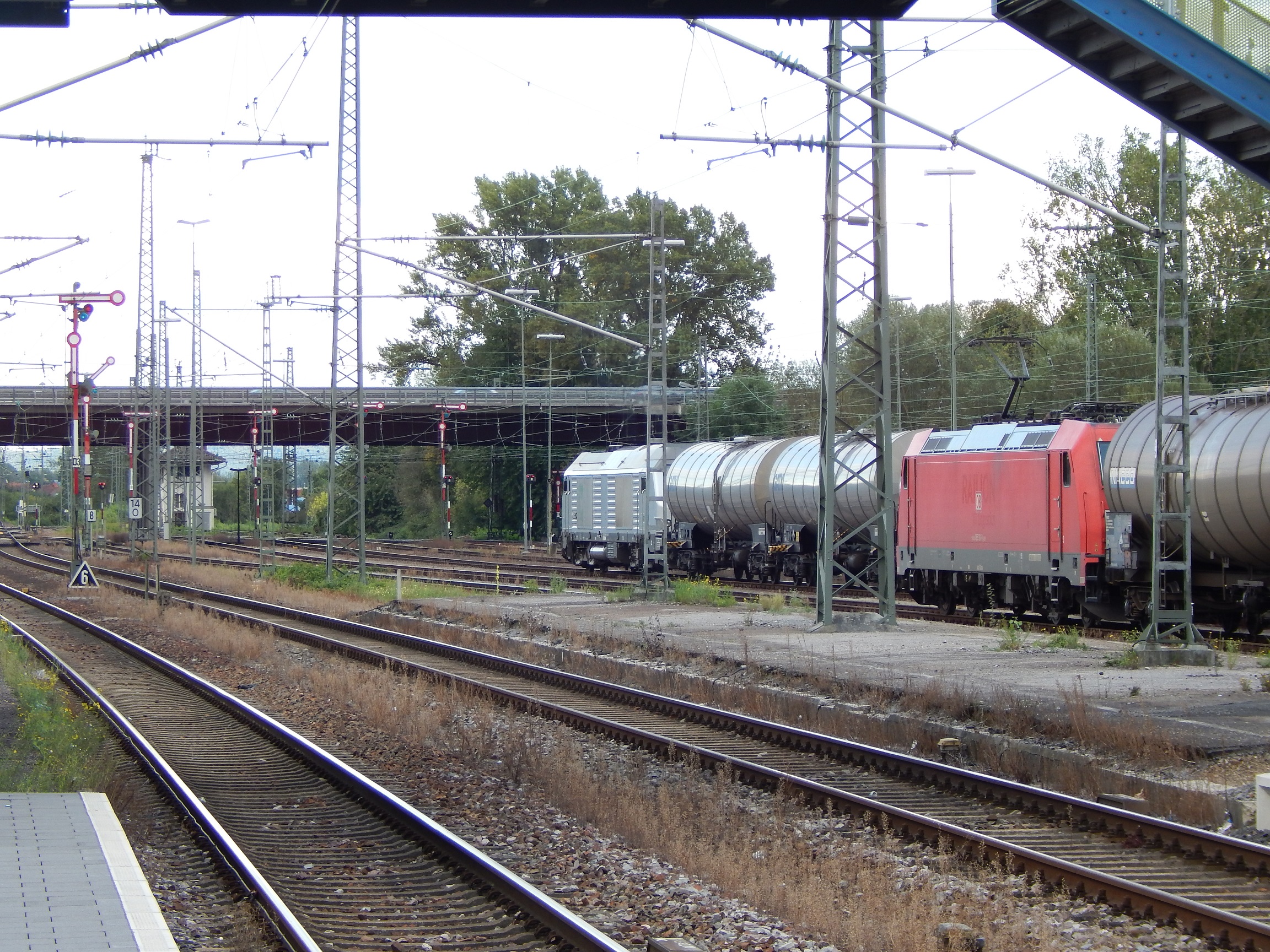 051 01 2017-09-15 17h45 Woerth (Rhein)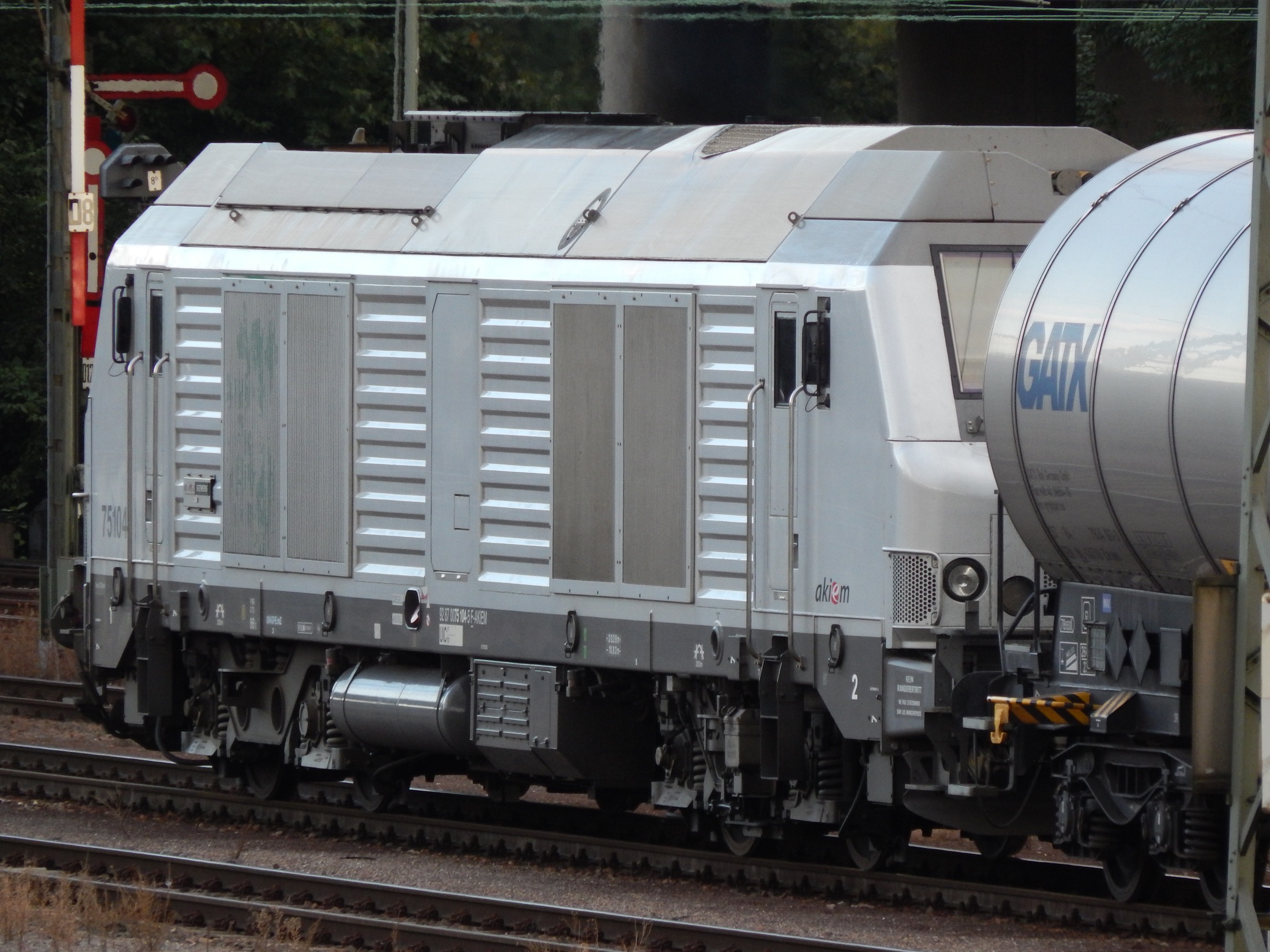 051 02 2017-09-15 17h56 Woerth (Rhein) BB 75104 Akiem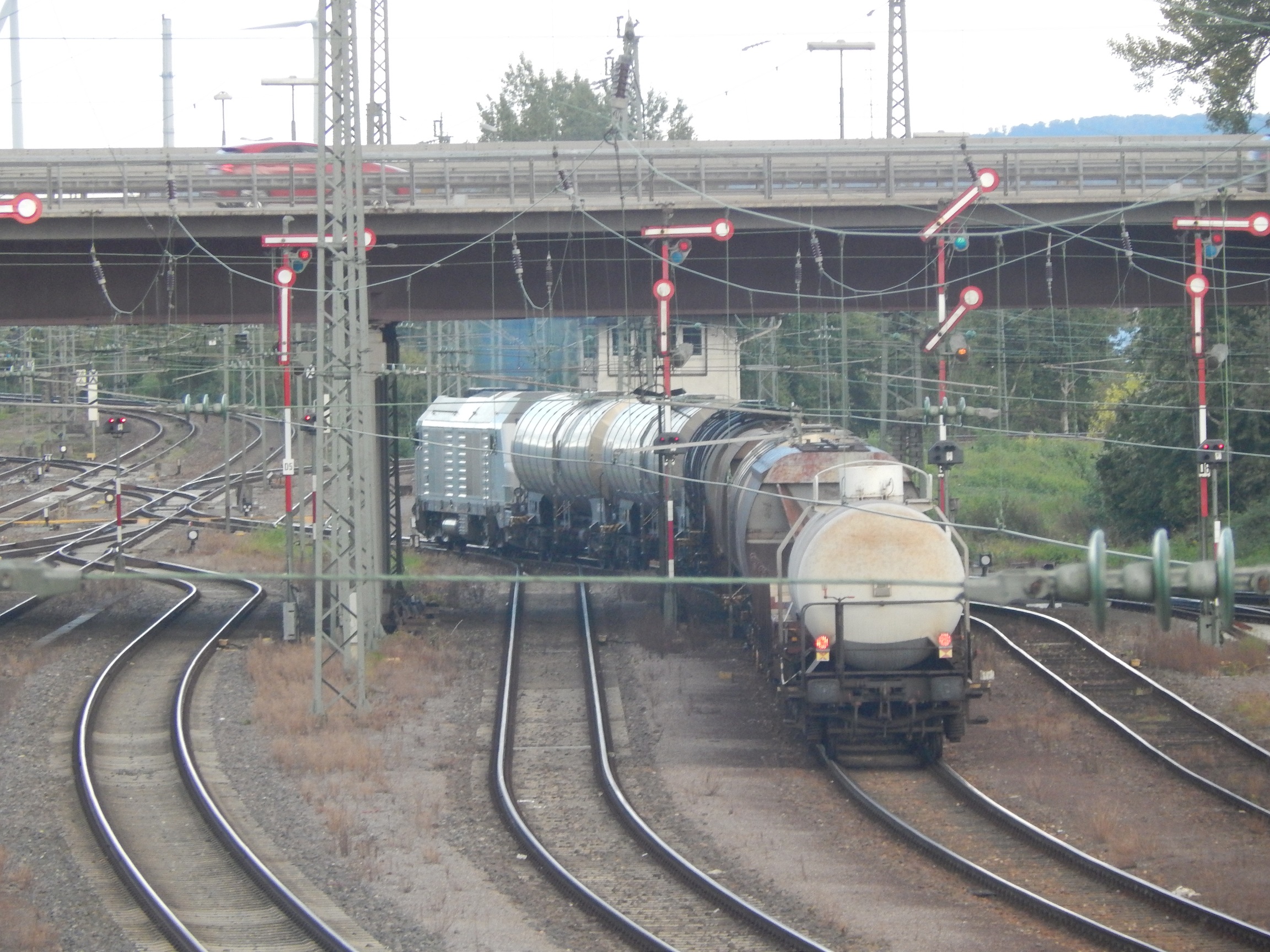 051 03 2017-09-15 18h05 Woerth (Rhein)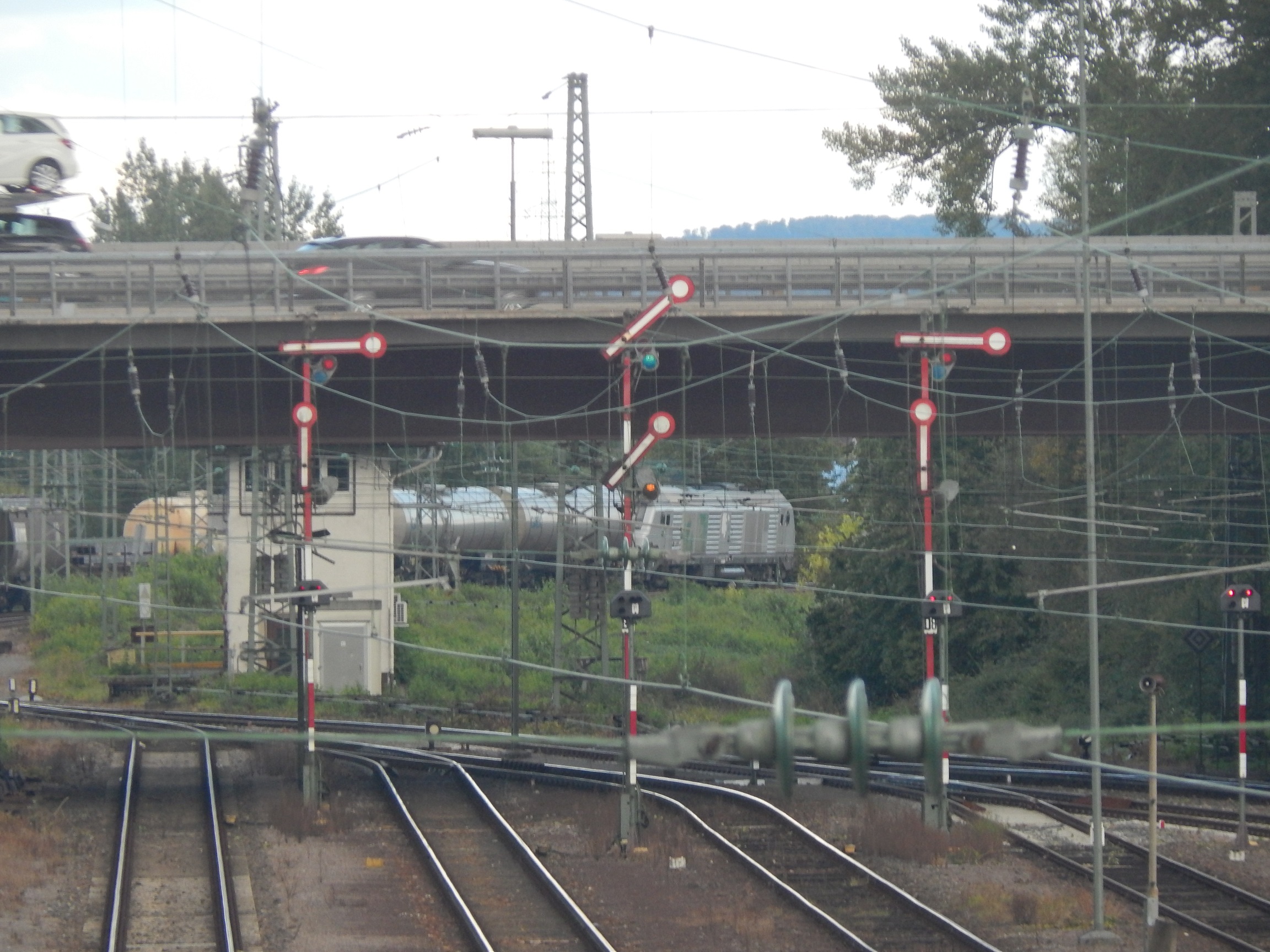 051 04 2017-09-15 18h06 Woerth (Rhein)
C'est parti... en exploitant la courte fenêtre (15 minutes environ) entre l'arrivée du train régional DB
en provenance de Lauterbourg et son départ en sens inverse.
Here it goes... using the short time span (about 15 mins) between the arrival of the local service
from Lauterbourg and the departure of the same train back towards that city.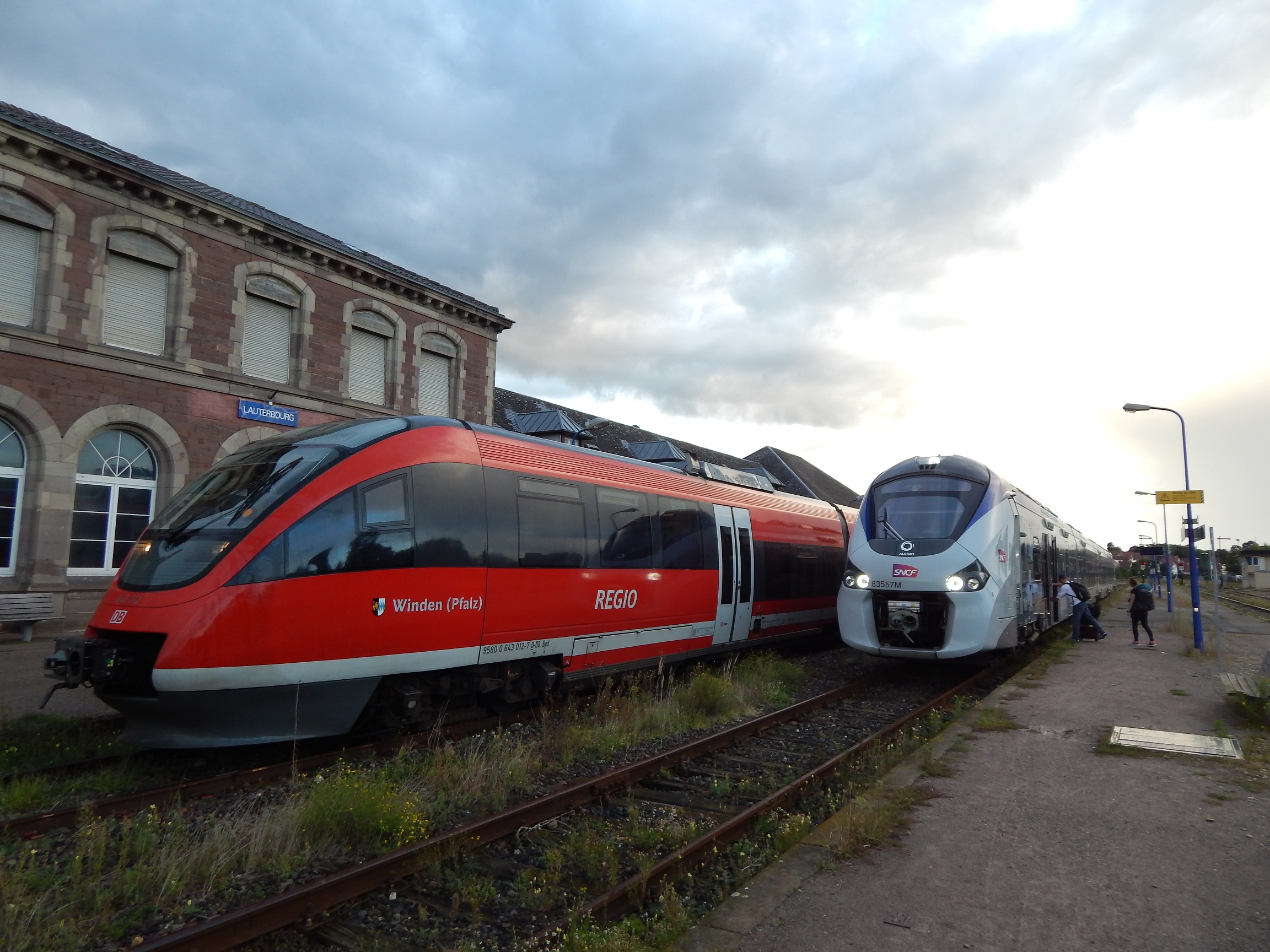 051 05 2017-09-15 18h39 Lauterbourg
Ci-dessus, l'autorail arrivé de Wörth et le Regiolis en correspondance vers Strasbourg.
Above, the local DB service from Wörth and the connecting SNCF TER train towards Strasbourg.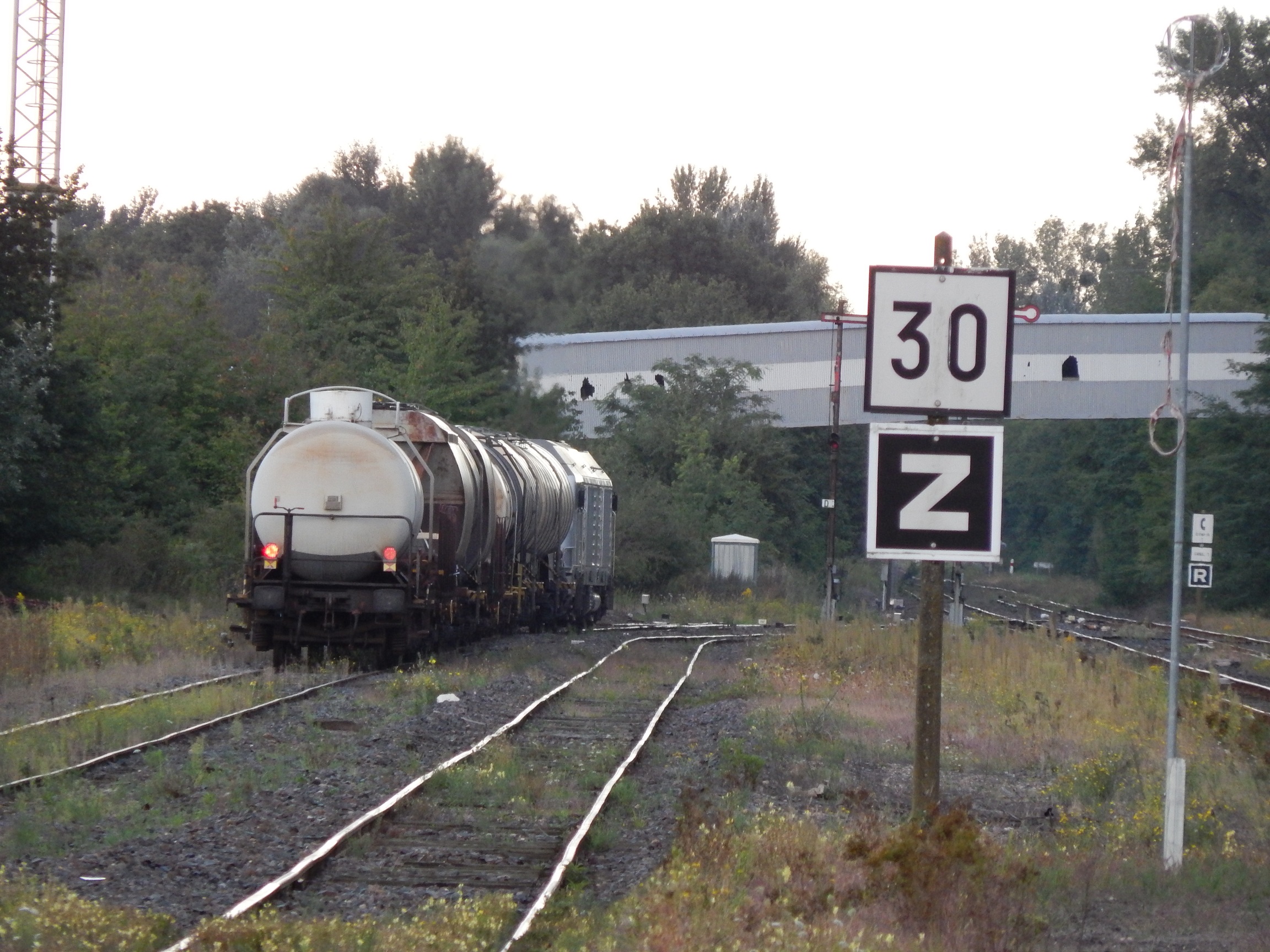 051 06 2017-09-15 18h40 Lauterbourg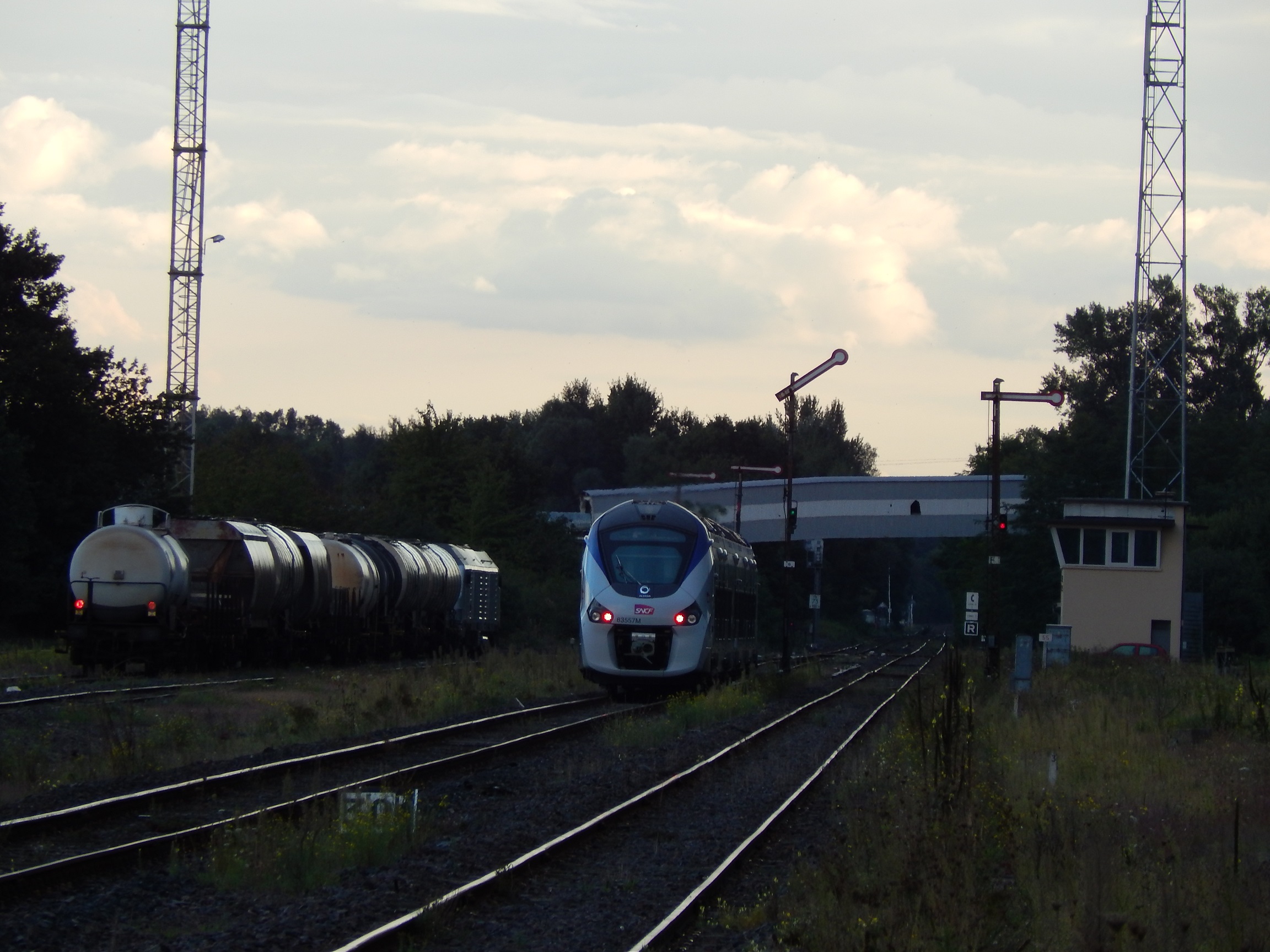 051 07 2017-09-15 18h43 Lauterbourg
Comme prévu, le fret est garé à la tête sud du faisceau de voies de Lauterbourg, et partira après le TER.
Compte tenu de la signalisation (BAPR, block automatique mais à cantons longs), et de la sortie à 30 km/h
du faisceau de voies, il y a largement le temps d'aller à Seltz (en voiture) pour l'y l'attendre...
As expected, the freight train is waiting at the south end of the Lauterbourg yard, and will leave
after the TER service. Considering the signalling system (BAPR, automatic block but with long block
sections) and the slow 30 km/h exit from the yard, there is plenty of time to go (by car) to Seltz
and wait for it there...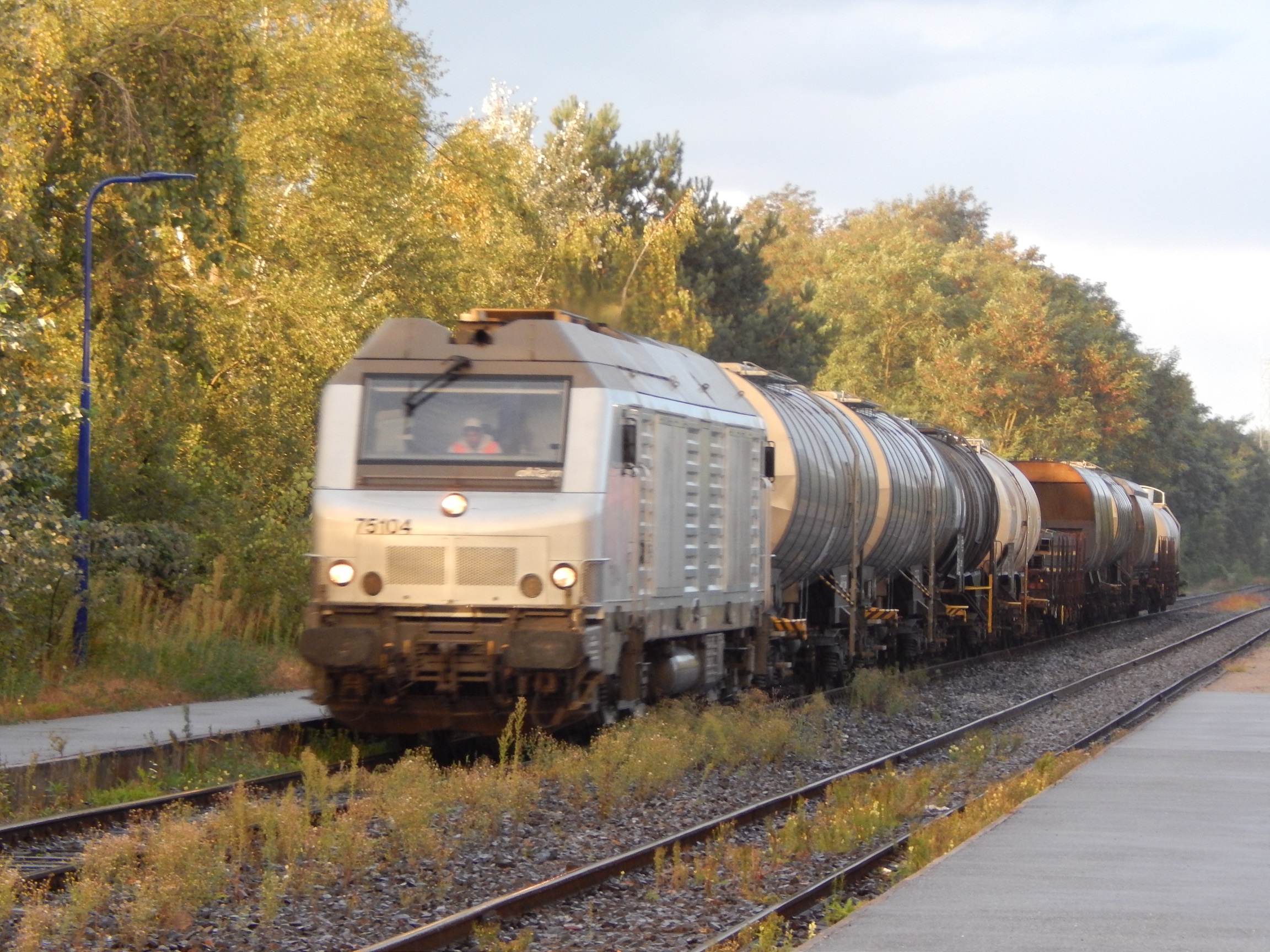 051 08 2017-09-15 19h11 Seltz (75104+fret v Hausbergen)
Et comme prévu, le voici au passage à Seltz. On notera la qualité toute relative de la voie,
et de fait une limitation généralisée à 40 km/h ne devrait pas tarder... même sans l'aide (?)
des quelque 300 trains détournés qui vont emprunter la ligne en septembre.
Just as planned, here it is at Seltz. One may note the obviously poor quality of the track,
where indeed a 40 km/h PSR (Permanent Speed Restriction) is about to be enforced, even
without the help (?) of the 300 or so diverted trains which will use the line in September.

On pourra se dire que 10 trains par jour sur cet axe, c'est bien peu... mais de jour, avec
une navette par heure et par sens sur la section à voie unique entre Lauterbourg et Wörth,
il n'y a guère de place que pour un fret par heure, et ce dans un seul sens seulement. Et la ligne
est restée fermée la nuit, alors qu'aux heures sans trafic régional on pouvait sans peine écouler
4 trains par heure (2 par sens). Choix surprenant... mais peut-être dû au fait que de toute façon
les principales contraintes étaient en réalité ailleurs : pas assez de matériel moteur interopérable,
ni de conducteurs bilingues. Dans la pratique, un conducteur français était systématiquement
accompagné, entre Lauterbourg et Wörth ou vice-versa, par un conducteur allemand, lui servant
de pilote, et par un(e) interprète (information de première main de la part d'une interprète
du Pôle Linguistique du groupe DB, qui y a passé le plus clair du mois de septembre...).
One might think that 10 trains per day on this line does not amount to much... but during the daytime,
with a regular interval service every hour on the Lauterbourg - Wörth single track, there is only
enough capacity for one train per hour... in one direction. And the line has remained closed
at night, precisely when (in the absence of passenger service) 4 paths per hour (two each way)
would have been an easy matter. A surprising choice... perhaps due to the fact that in any case
the main constraints were elsewhere : neither enough cross-border rolling stock nor enough
bilingual drivers. In practical terms, french drivers were always accompanied, between Lauterbourg
and Wörth or the other way round, by a german driver, acting as a pilot, and by a interpretor (this
was confirmed to me by a DB Netz interpretor who was on duty there for the best part of September...).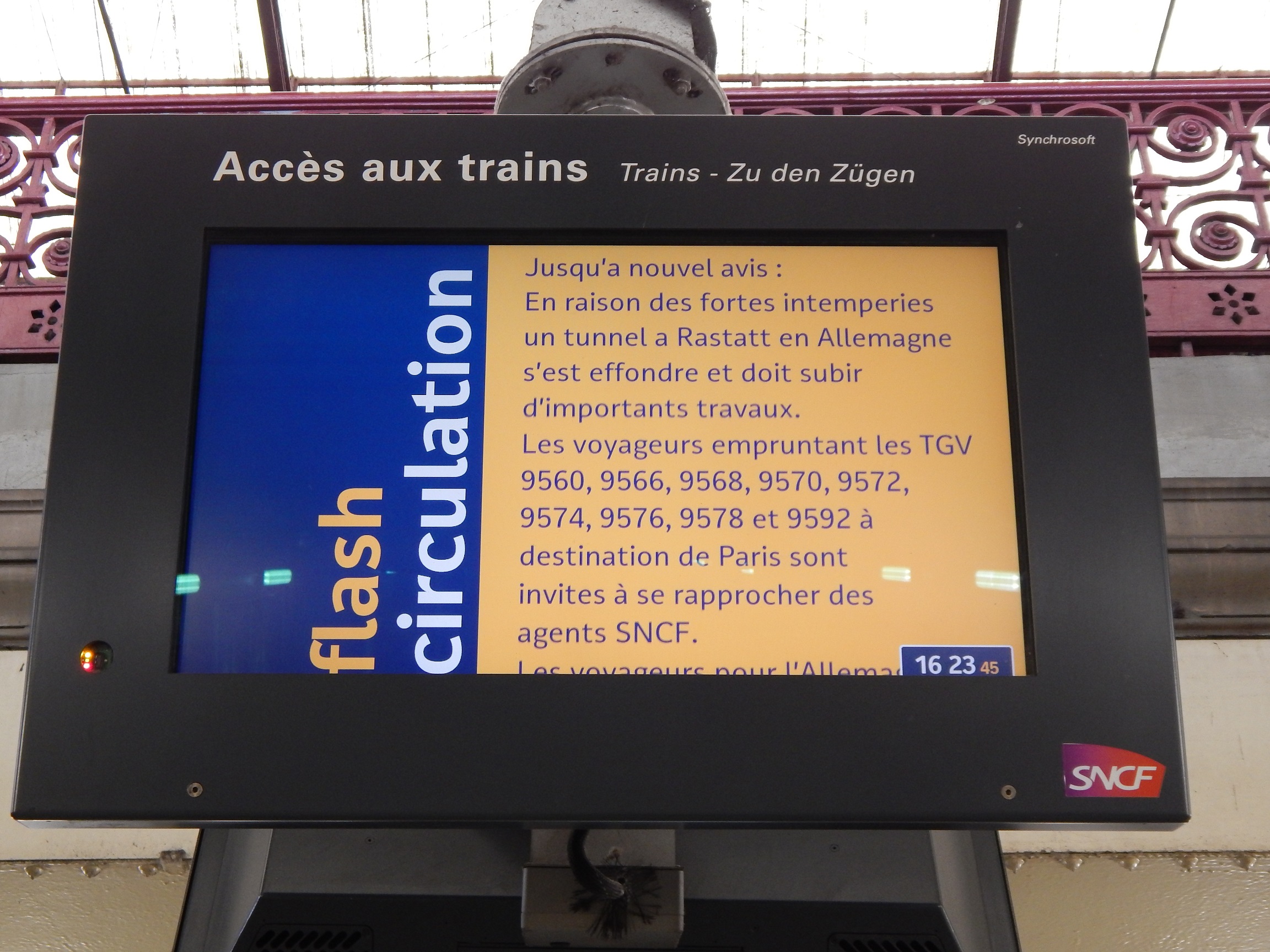 051 09 2017-09-17 16h23 Strasbourg (info Rastatt)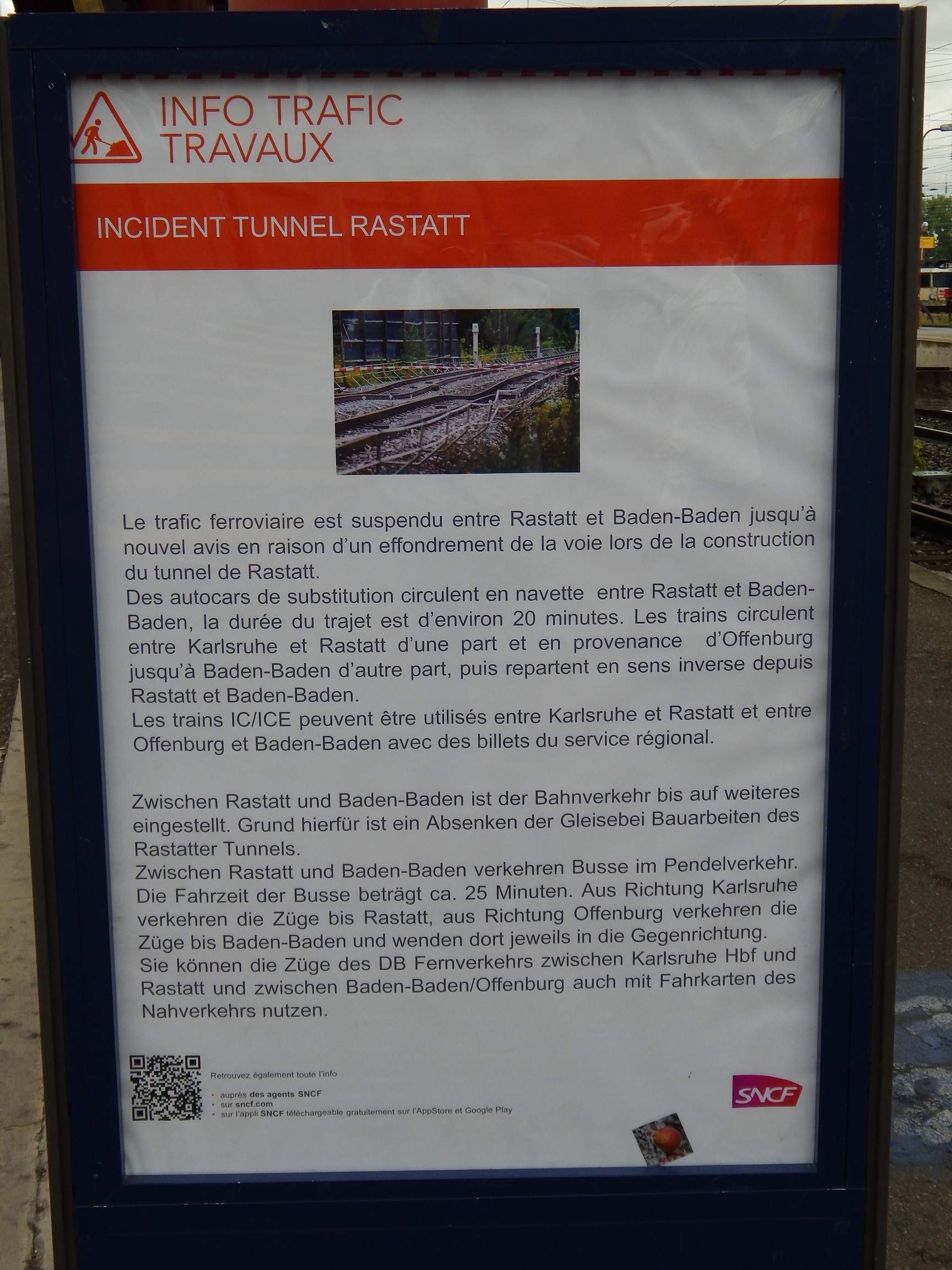 051 10 2017-09-17 16h24 Strasbourg (info Rastatt)
Avant de se diriger vers Rastatt, deux panneaux d'information visibles en gare de Strasbourg.
Before heading for Rastatt, here are two information displays at Strasbourg station.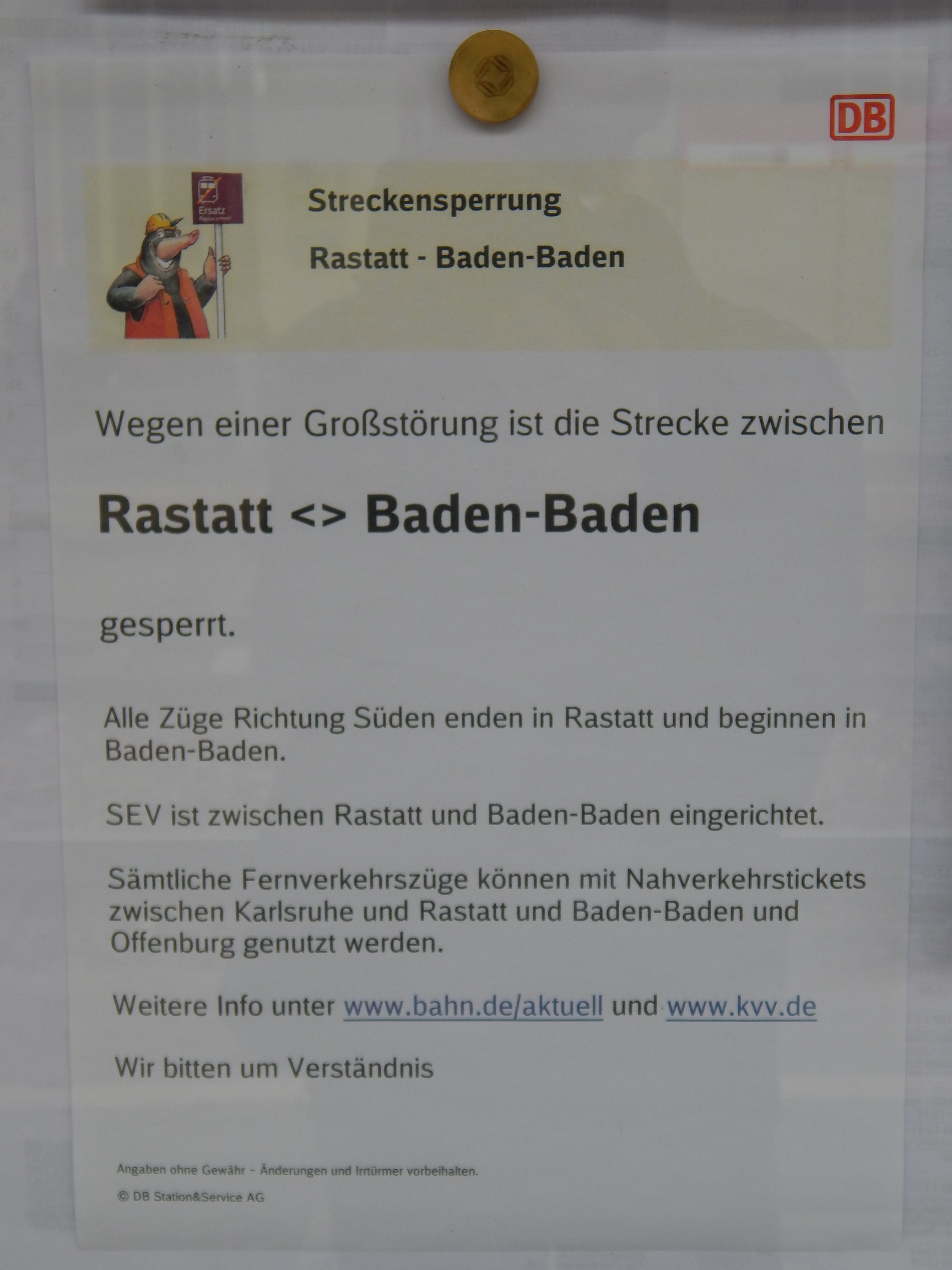 051 11 2017-09-28 11h05 Rastatt (info globale)
A Rastatt, en plus de personnel distribuant biscuits et bouteilles d'eau, ce ne sont pas non plus
les informations qui manquent... Ci-dessus, un message global. Ci-dessous, les départs des trains
de grand parcours (ICE et de rares IC en soirée) vers Karlsruhe et au-delà (d'autres font demi-tour
à Karlsruhe), puis l'horaire régional entre Karlsruhe et Offenburg, et enfin le tableau des départs
de Rastatt pour la journée entière. La DB annonce un allongement d'une heure pour la majorité des
déplacements alors que le parcours en bus ne dure que 20 mn... mais c'est logique dans un système
horaire cadencé où il était exclu de reconstruire l'horaire au-delà de Karlsruhe et d'Offenburg) :
le plus souvent, c'est donc avec le train de l'heure d'après qu'on parviendra à destination...
At Rastatt, in addition to railway staff dispensing water and snacks, there was plenty of
information too... Above, a general message. Below, mainline train departures (ICEs and a few ICs
in the evening) towards Karlsruhe and beyond (others reverse at Karlsruhe), then the timetable
for regional trains between Karlsruhe and Offenburg, and finally a display of departure times
from Rastatt for the whole day. DB was announcing a one-hour extension of most journey times, even
when the actual bus trip only took 20 mins... but this made sense in a clockface timetable which
could of course not be rebuilt beyond Karlsruhe and Offenburg : in most cases, one would indeed
reach one's destination with the train running one hour later...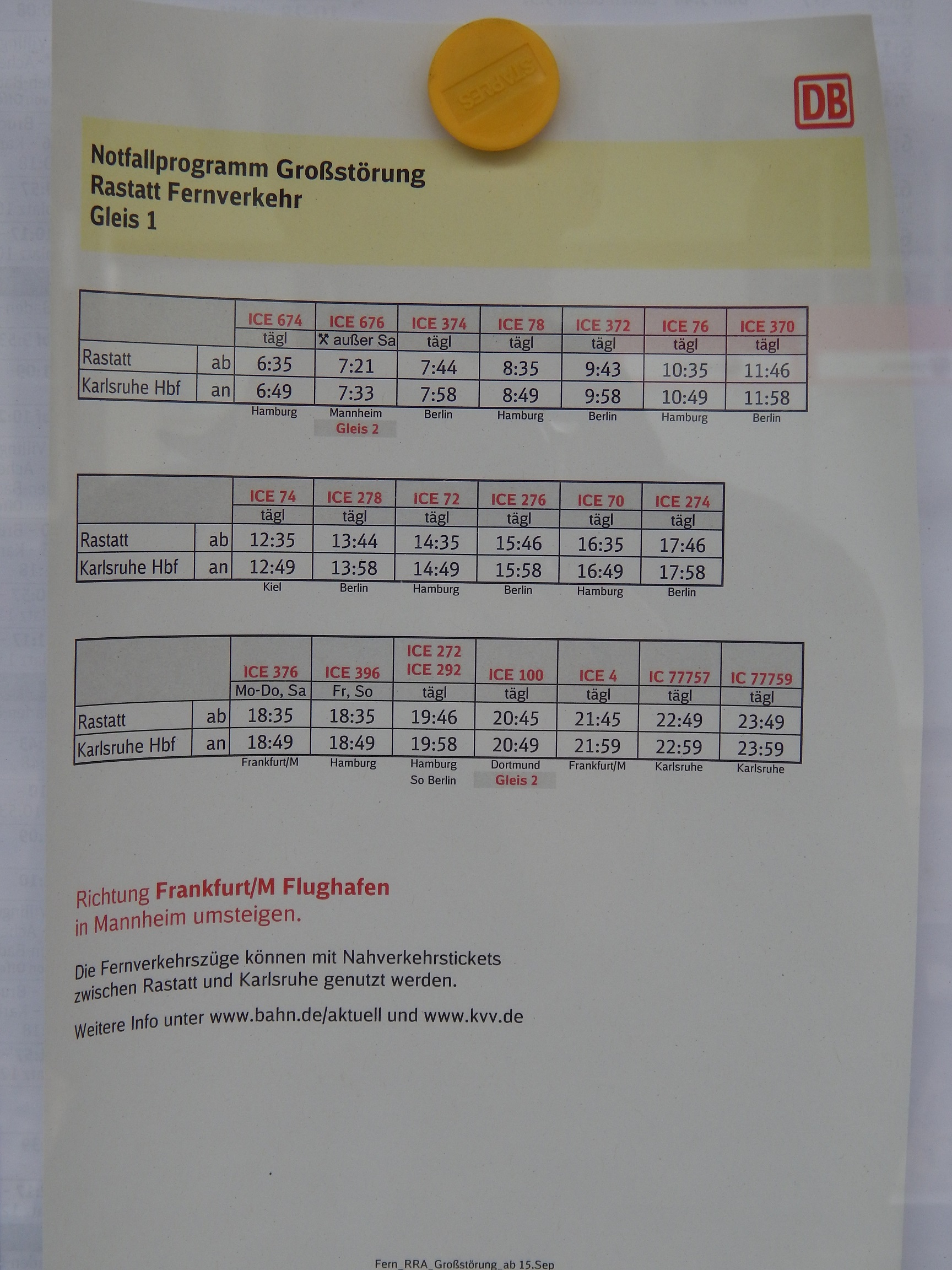 051 12 2017-09-28 11h06 Rastatt (horaire trains GL)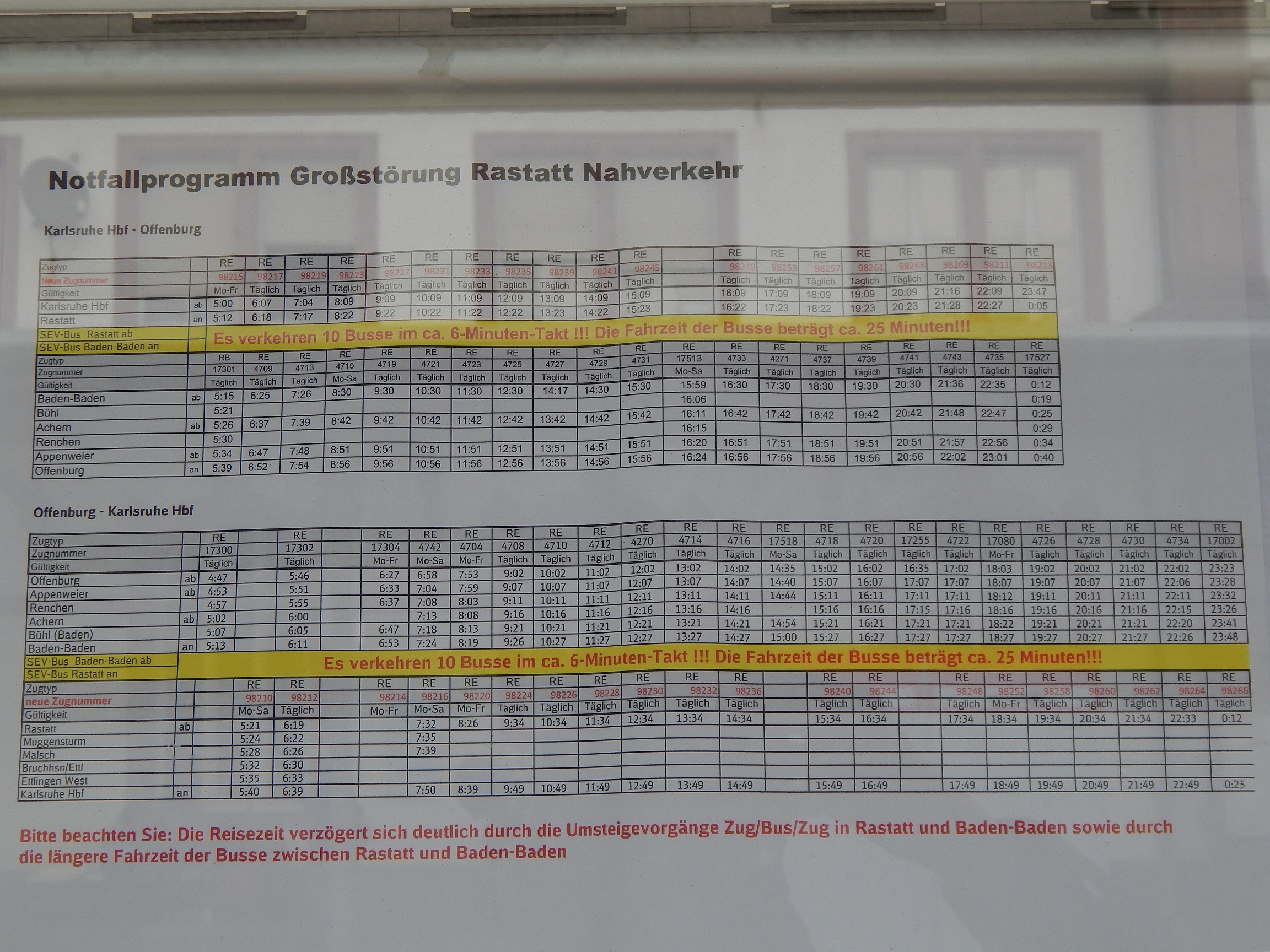 051 13 2017-09-28 11h07 Rastatt (horaire global)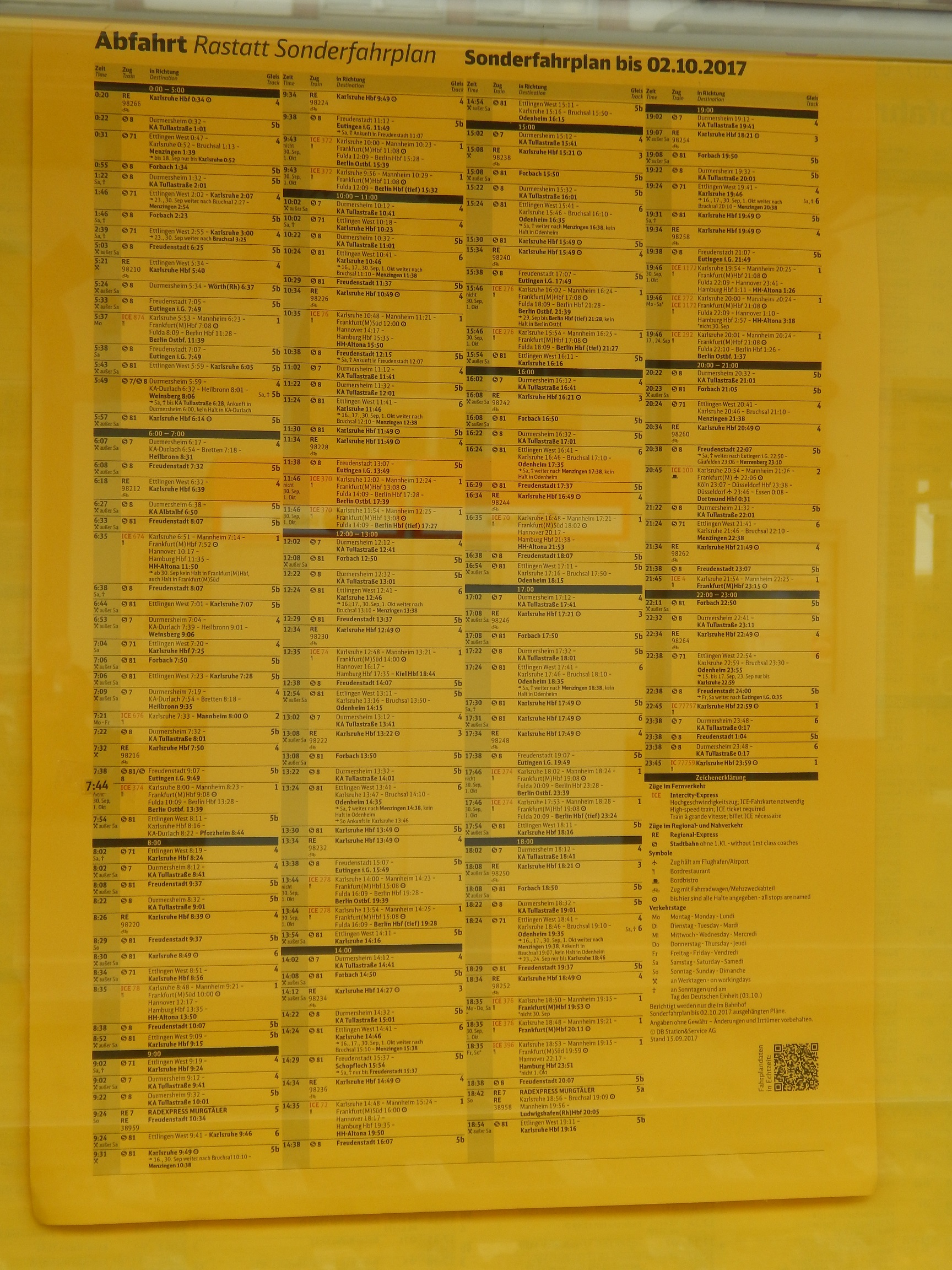 051 14 2017-09-28 11h08 Rastatt (horaire global)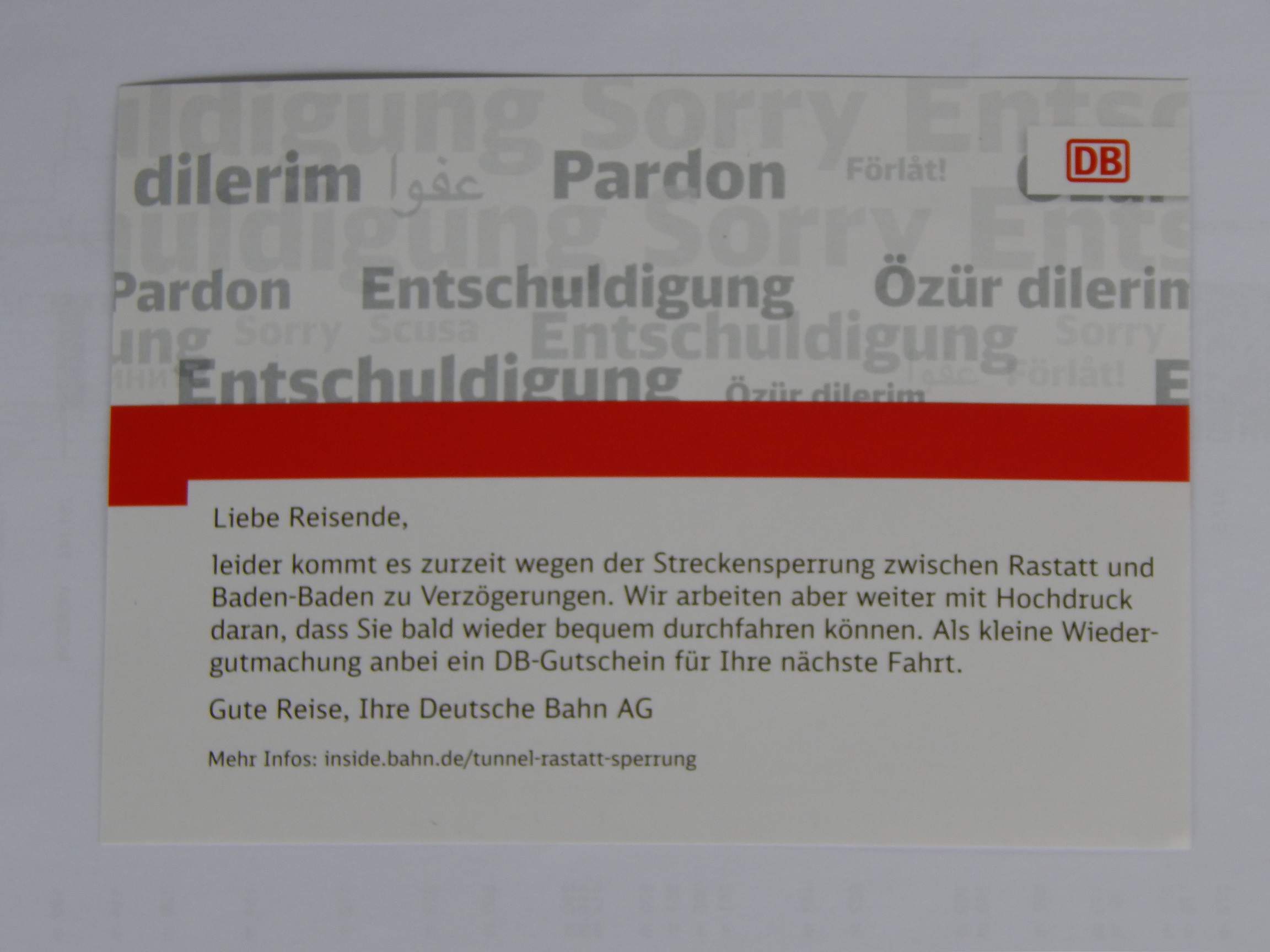 051 15 2017-09-28 11h10 Rastatt (indemnisation de 10 Euros)
Dernière consolation pour le voyageur, ce bon pour une indemnisation de 10 € avec code activable
lors d'un achat de billet en gare ou sur le Net.
One more compensation for the traveller, this 10 € discount voucher.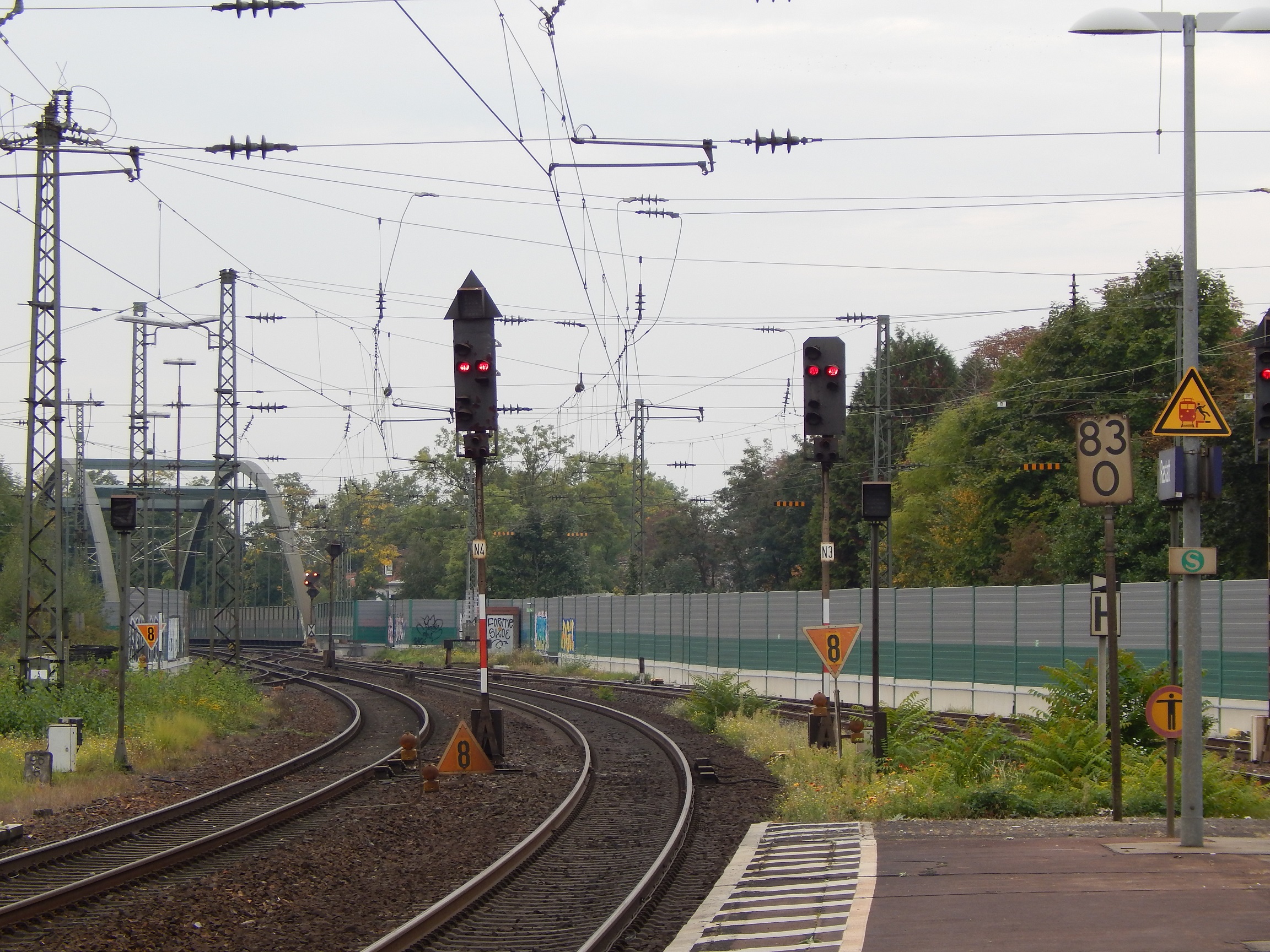 051 16 2017-09-28 11h04 Rastatt (vue Sud vers zone HS)
Les rails ne semblent pas rouillés, il doit donc y avoir des manoeuvres jusqu'au pont...
Rails here are not rusty : there must still be some shunting as far as the bridge...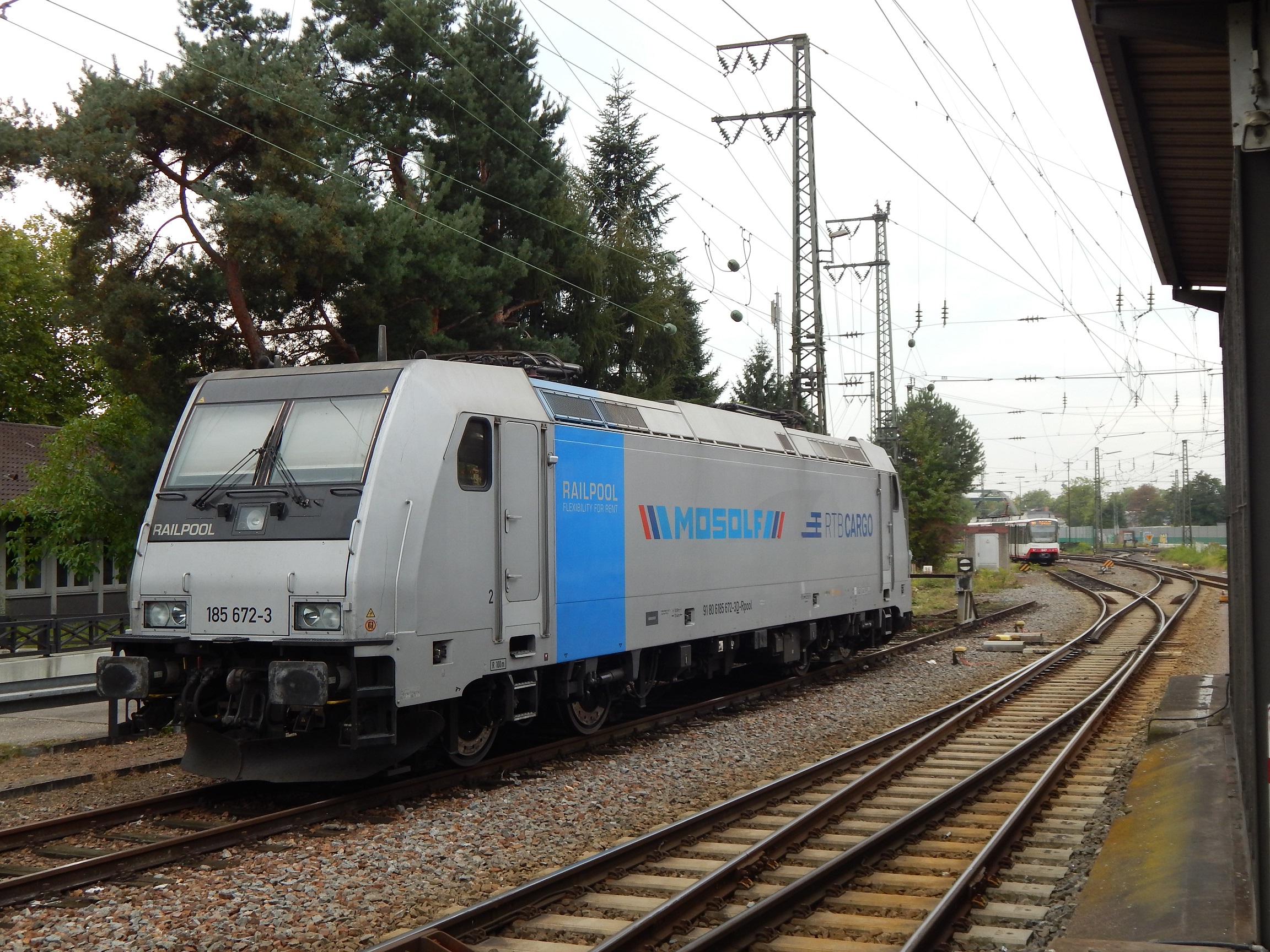 051 17 2017-09-28 11h01 Rastatt (185-672 + ligne de Freudenstadt)
Ici, une locomotive fret garée et à sa droite la voie de la ligne de Freudenstadt, non impactée.
Here, an idle freight loco and (to its right) the Freudenstadt line, operating normally.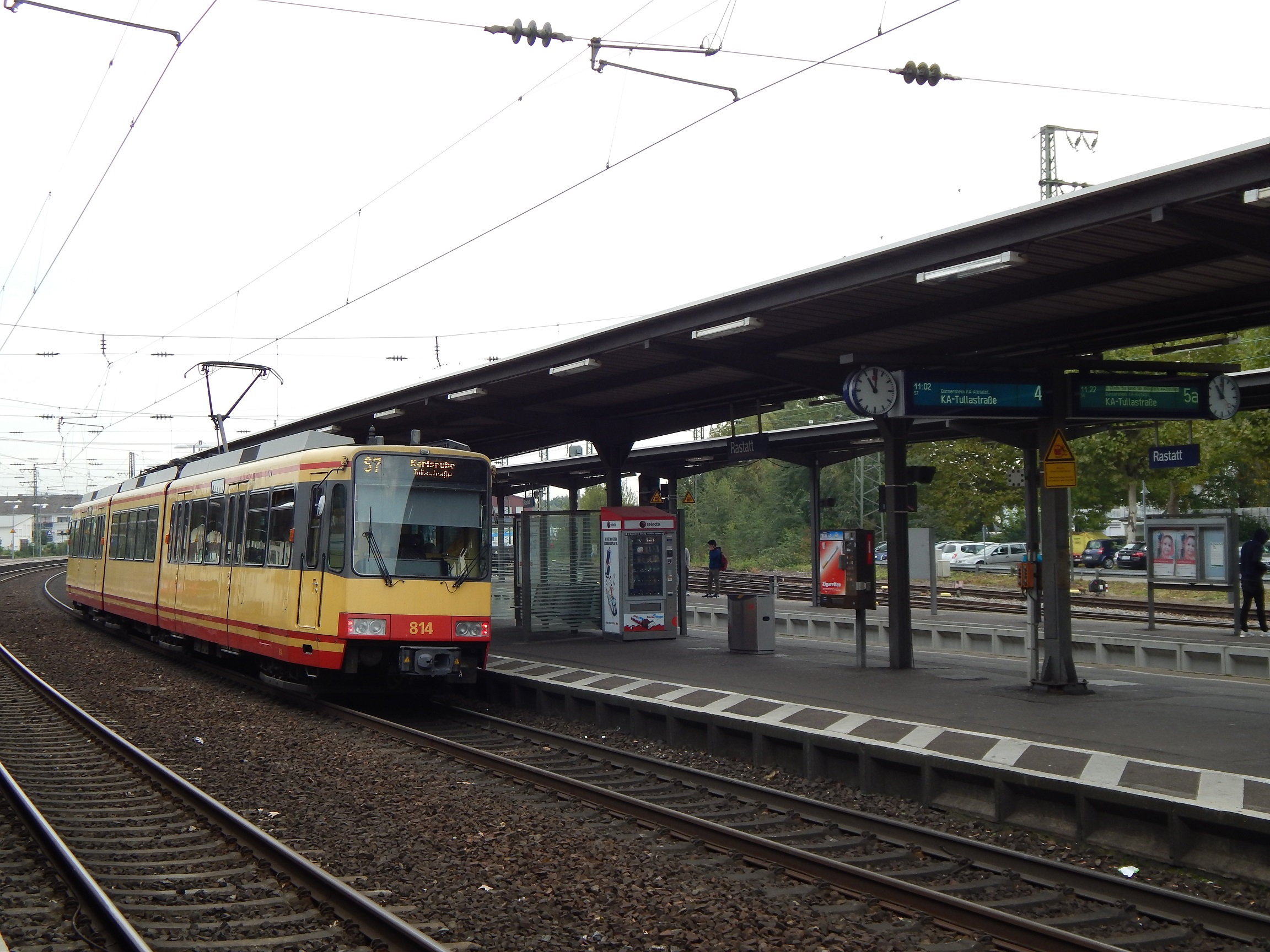 051 18 2017-09-28 11h03 Rastatt (TRM Achern - Karlsruhe, origine ici)
Ce tram-train devrait être parti d'Achern, au sud de Baden-Baden : son origine est reportée ici.
This tram-train originates from here instead of Achern, south of Baden-Baden.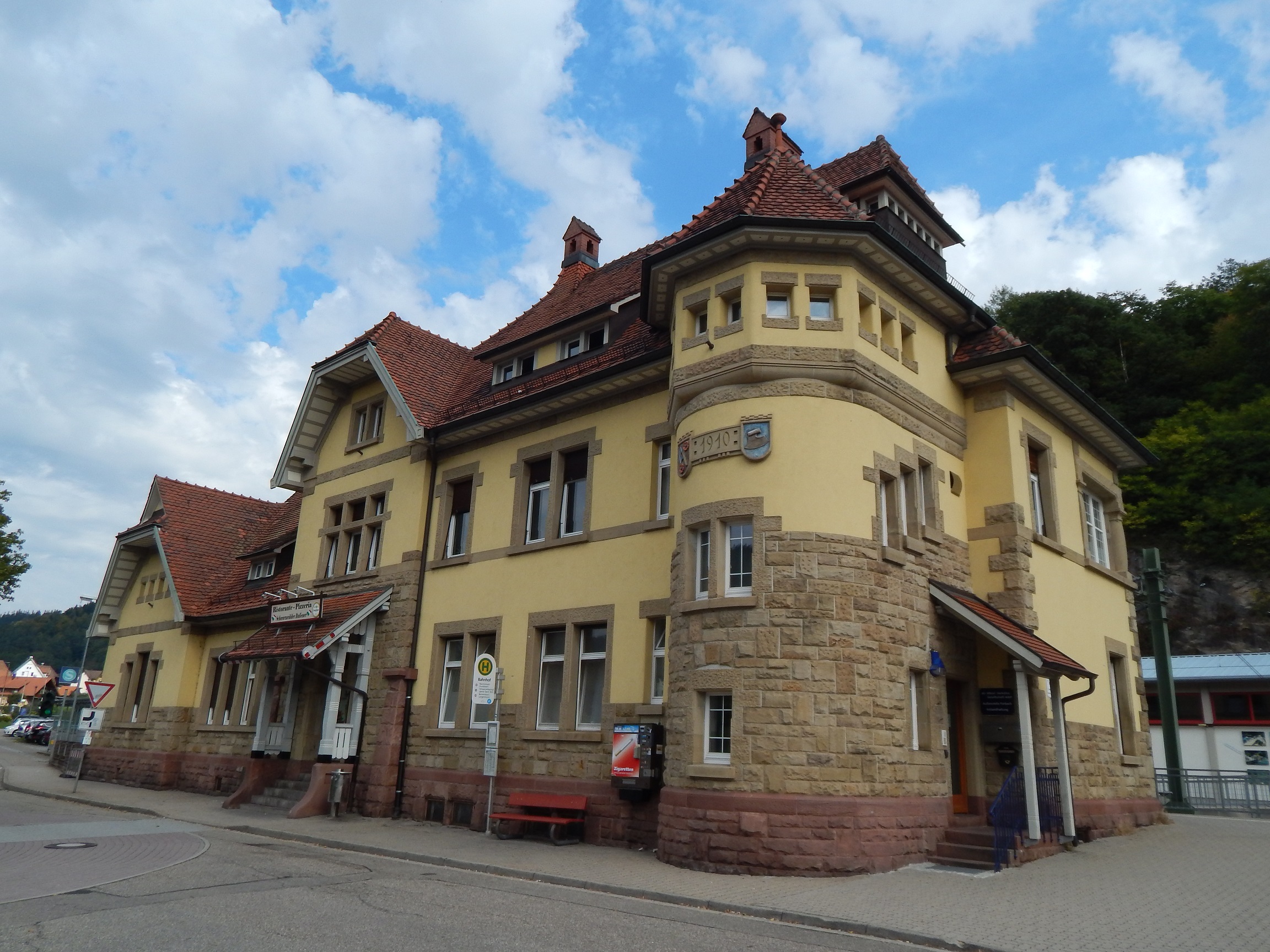 051 19 2017-09-28 14h01 Forbach (Schwarzwald)
Et c'est parti en direction de la Gäubahn (Stuttgart - Singen), avec un premier changement de train
à Forbach (Schwarzwald, alias Forêt Noire). Changement non indispensable, mais pour l'éviter
il aurait fallu attendre un tram-train plus direct à Rastatt, ce qui n'avait aucun intérêt...
On our way now towards the Gäubahn line (Stuttgart - Singen). The first connection is at Forbach
(Schwarzwald, or Black Forest) but is an unnecessary one : it could be avoided by waiting for
the next (faster) tram-train at Rastatt... which was absolutely uninteresting.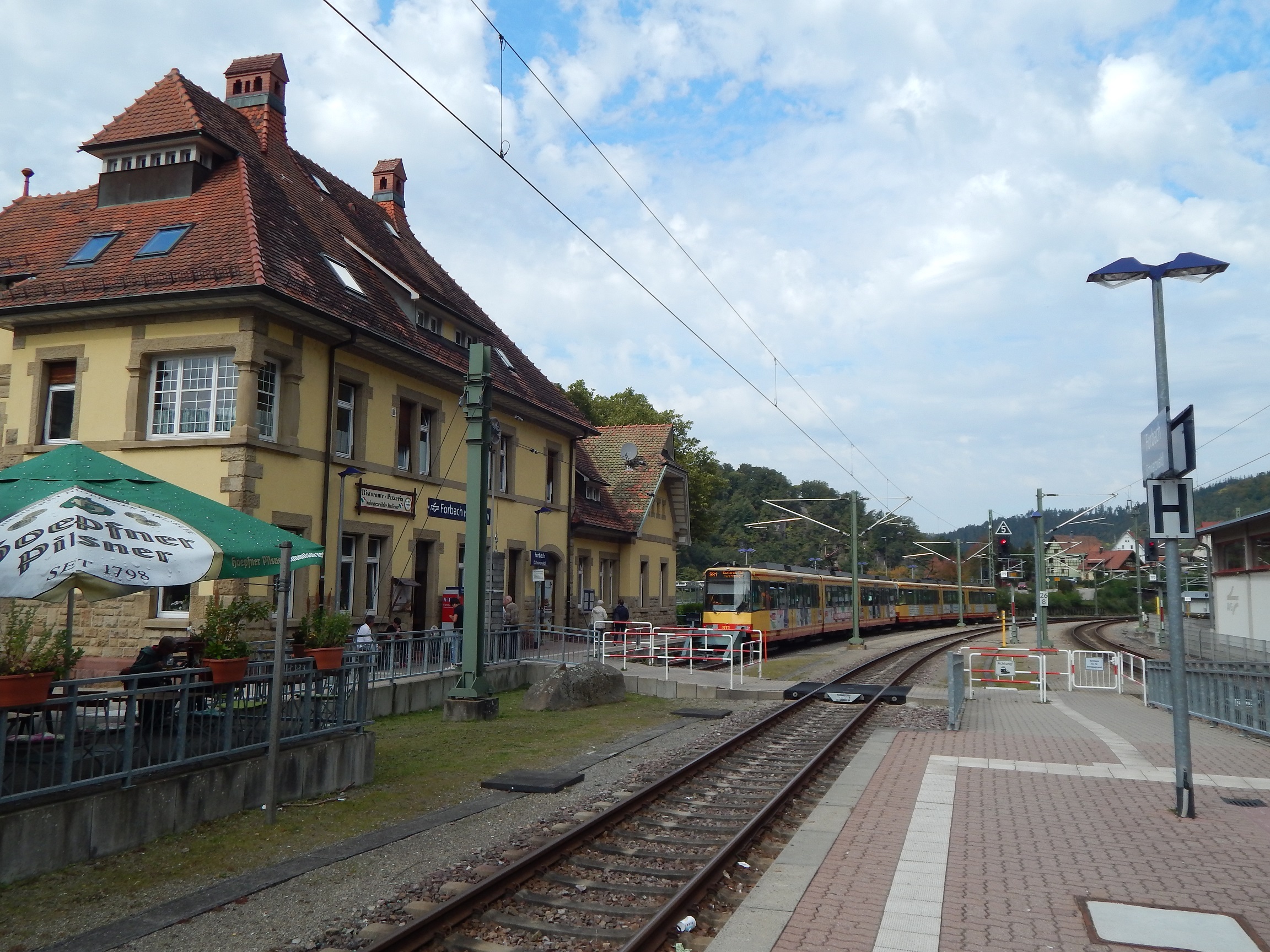 051 20 2017-09-28 14h05 Forbach (Schwarzwald) vue NW
Le tram-train Rastatt - Forbach. Pour information, la pizzeria située dans la gare sert des pizzas Hawaï
à 7 € seulement (non testées, mais en Allemagne les pizzas sont en général largement dimensionnées...).
The Rastatt - Forbach tram-train. Worth noting : the pizzeria in the station buiding has "Hawaï" pizzas
on offer for 7 € only (not tested, but in Germany pizzas are usually quite sizeable...).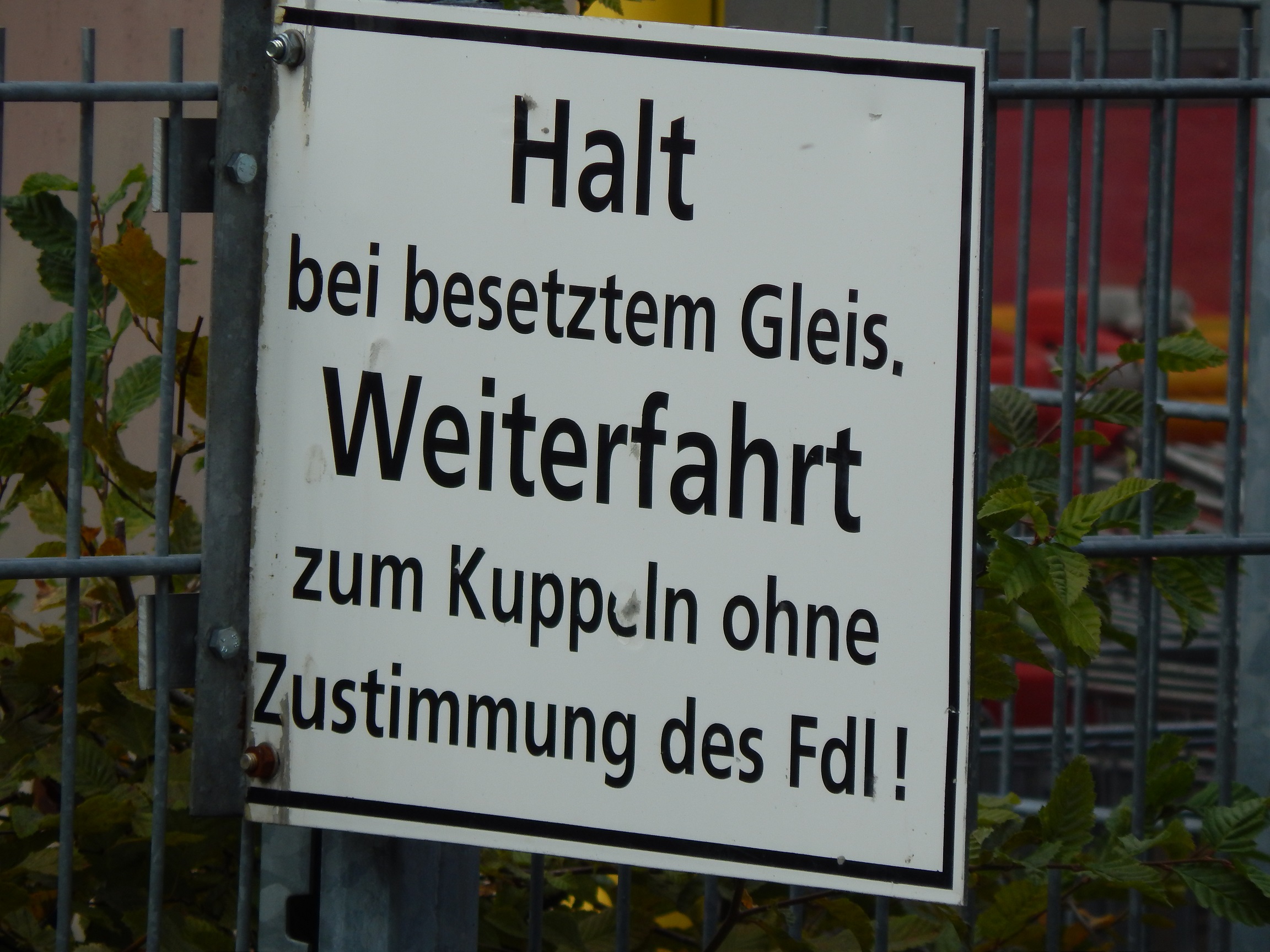 051 21 2017-09-28 14h10 Forbach (Schwarzwald) avis AC non requis pour mise en UM
Un étonnant panneau, qui impose l'arrêt si la voie est occupée mais indique aussi que pour
s'avancer pour un jumelage de rame, nul besoin de déranger l'agent-circulation pour si peu !
A "stop if track is occupied" sign, which surprisingly adds "when moving forward for joining
another train, you don't need an authorization from the signaller"...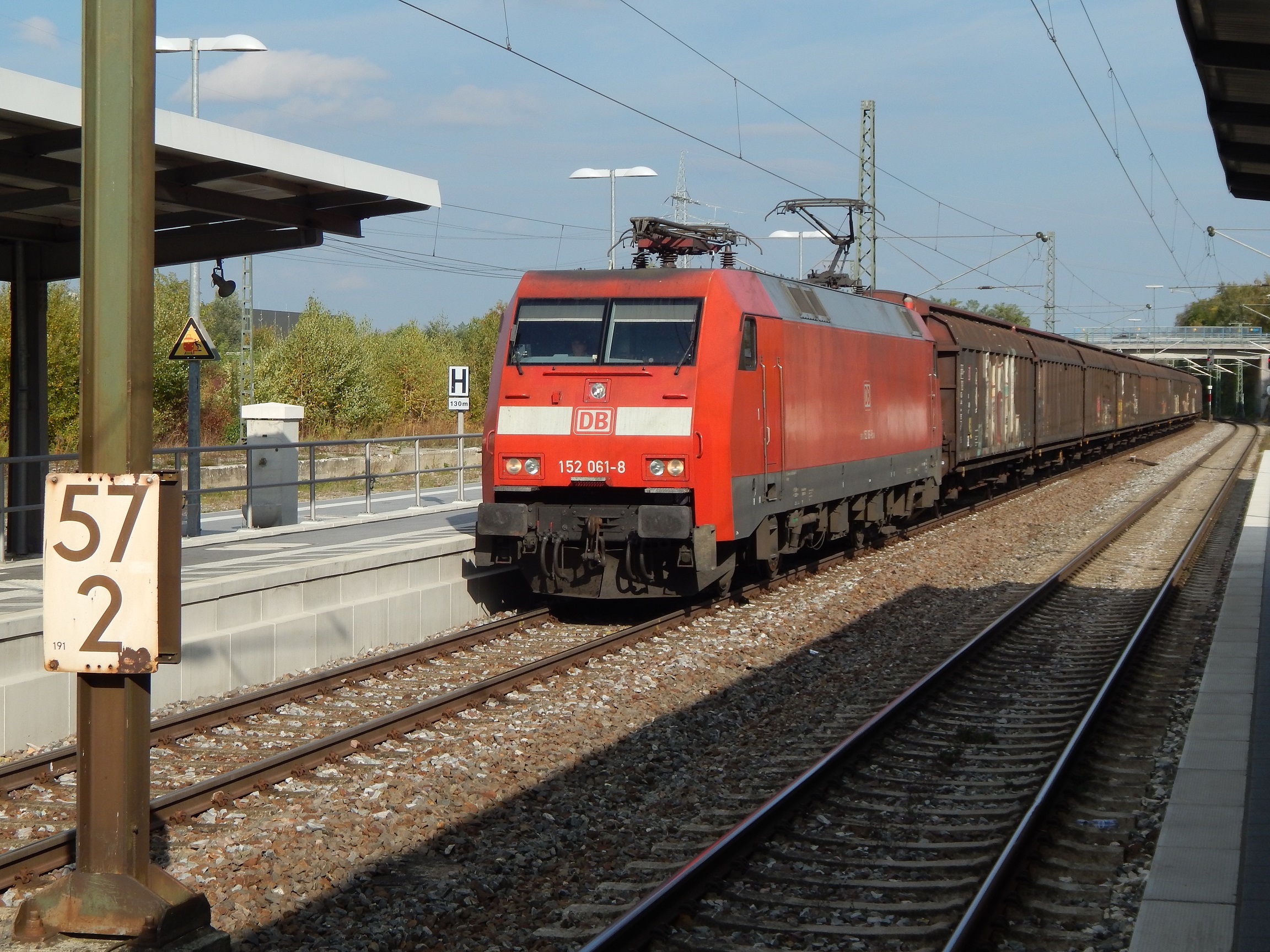 051 22 2017-09-28 16h20 Eutigen-im-Gau (152-061 + fret v Singen)
Après un second changement de train à Freudenstadt, nous voici à la gare où l'on rejoint la ligne
Stuttgart - Singen. Et de fait, on voit assez vite passer un convoi pour la Suisse... Ci-dessous,
le même convoi, puis un autre 20 mn plus tard, et enfin un acheminement manifestement local.
Absolument rien en revanche dans le sens Sud - Nord, pendant 1h15 environ : un premier signe
de l'imprévisibilité des circulations fret sur cet axe ?
After another connection at Freudenstadt, the Gäubahn line is finally reached at Eutingen-im-Gäu.
Soon enough, here is a freight train bound for Switzerland. Below, the same train, then another one
20 mins later, then quite obviously a local working. Nothing in the South to North direction, however,
for about 75 mins : a first indication of how unpredictable freight traffic is on that line ?


051 23 2017-09-28 16h21 Eutigen-im-Gau (152-061 + fret v Singen)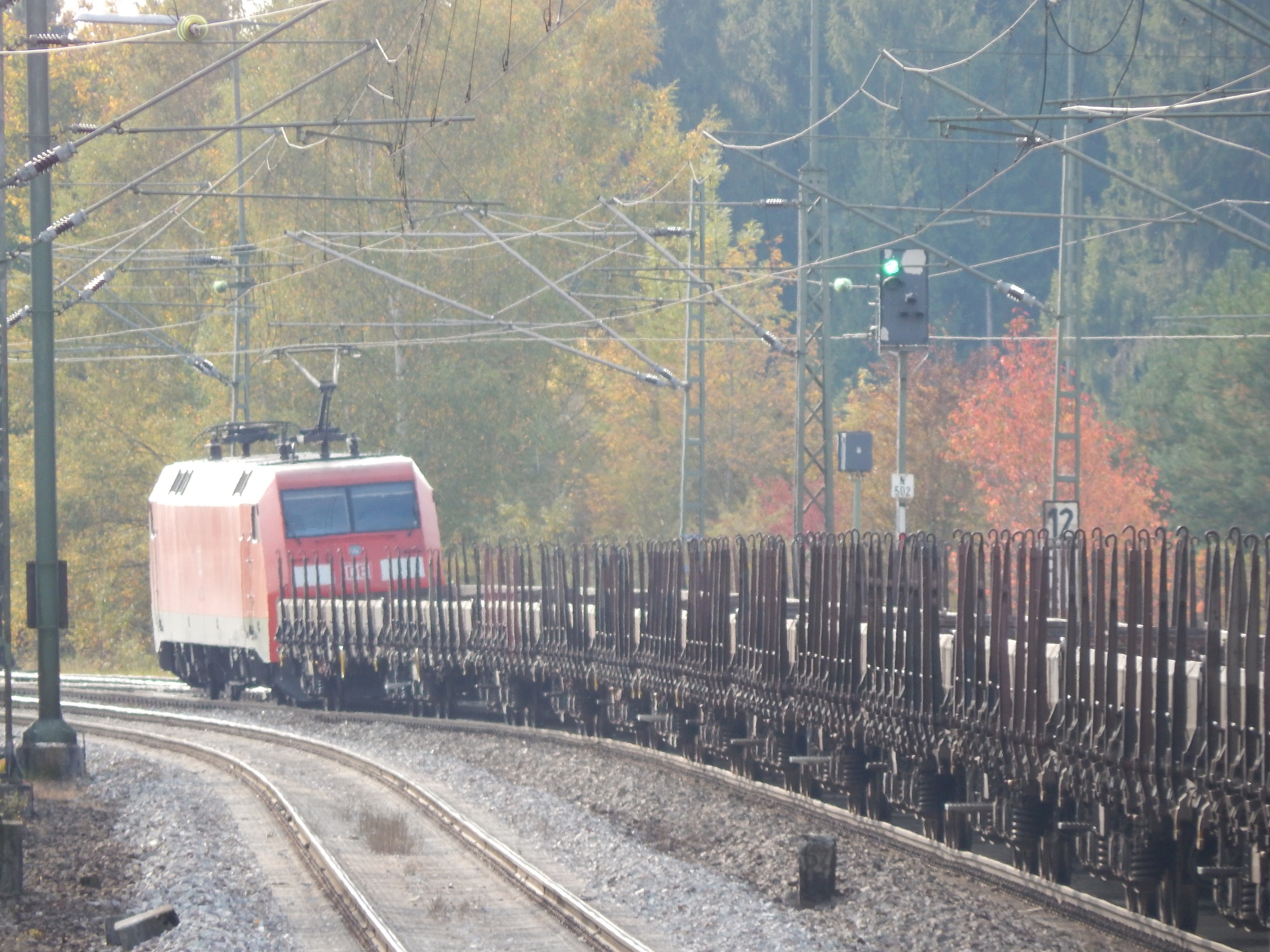 051 24 2017-09-28 16h41 Eutigen-im-Gau (autre fret v Singen)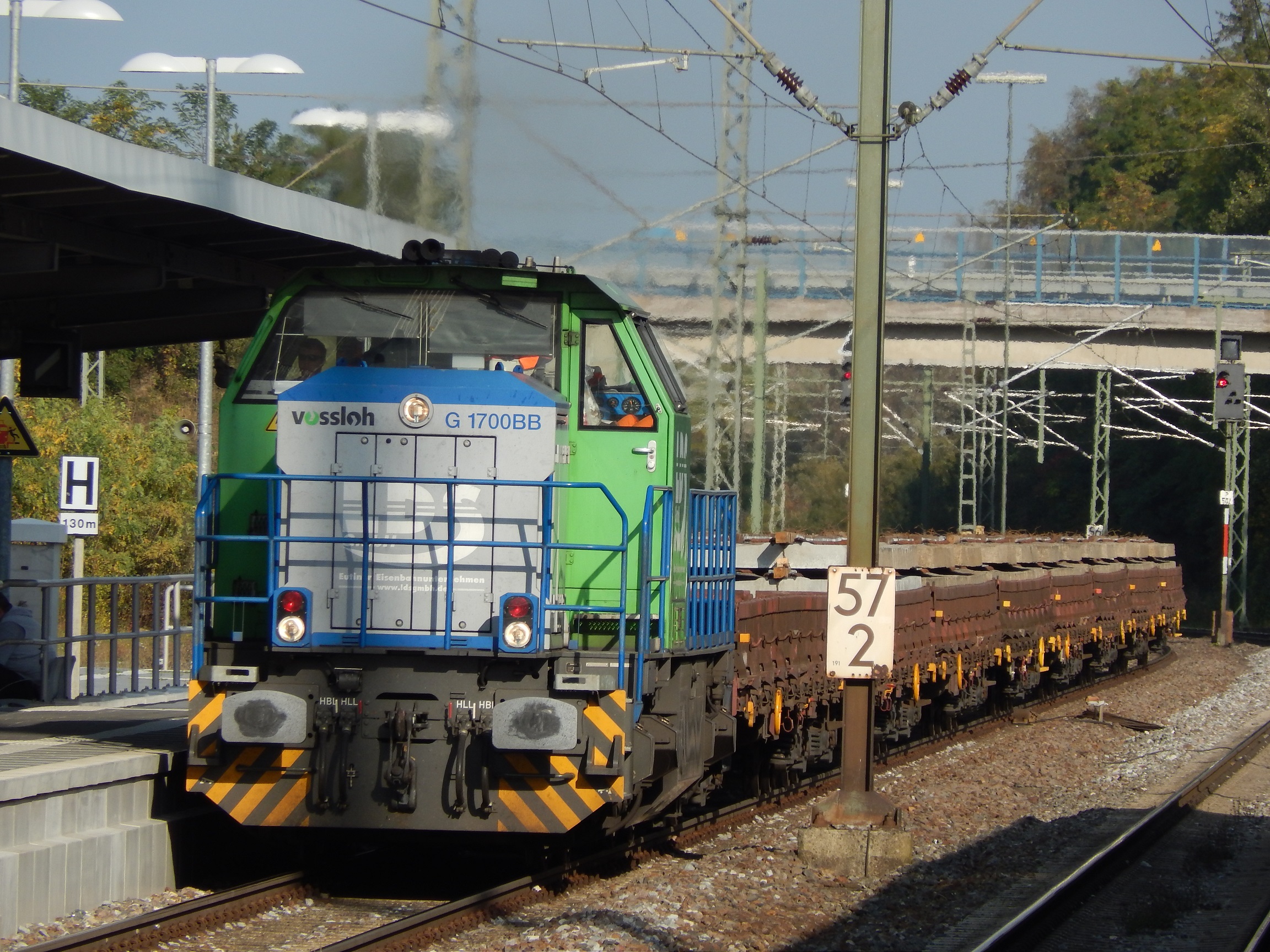 051 25 2017-09-28 16h53 Eutigen-im-Gau (G1700 + fret local)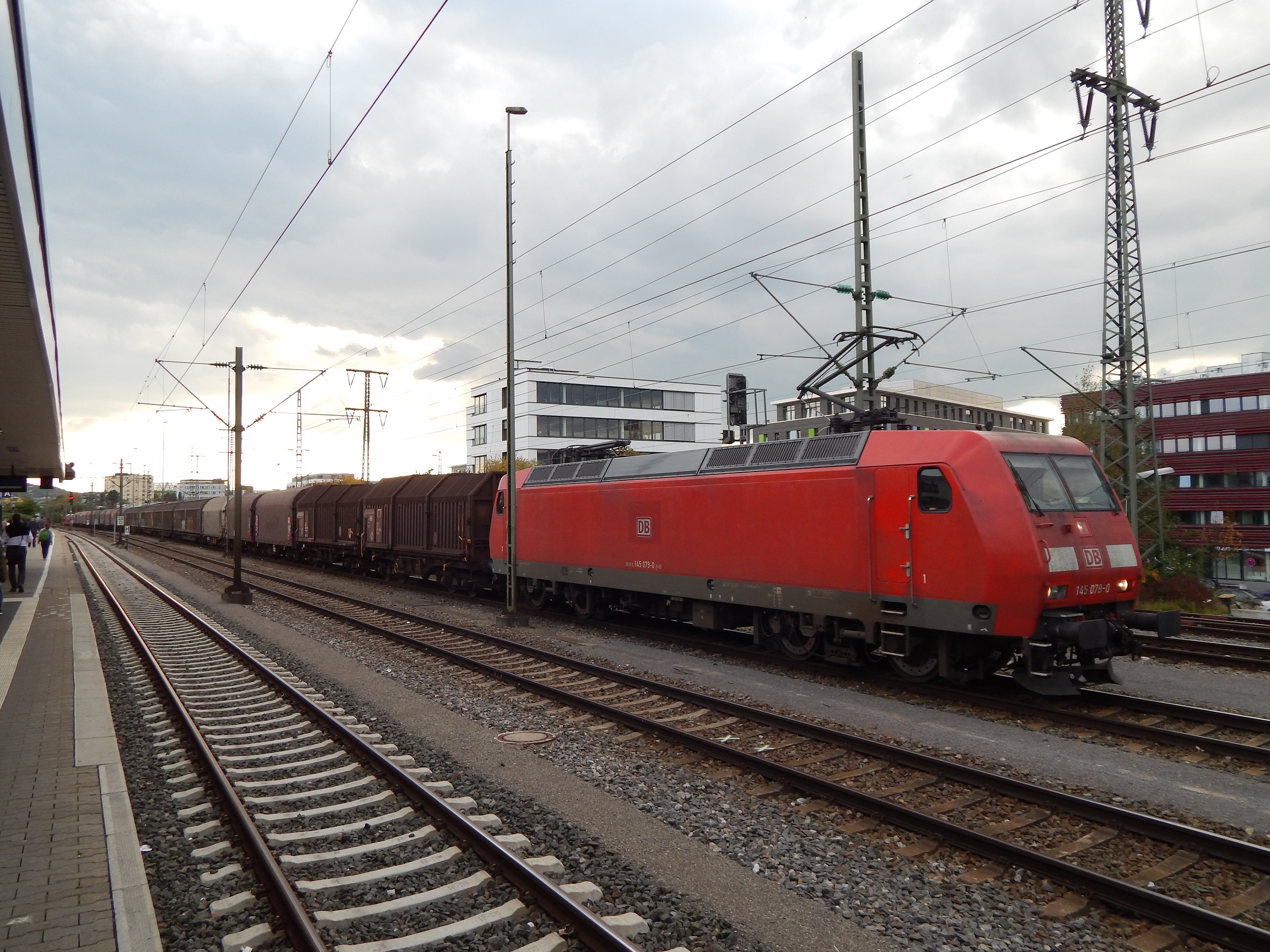 051 26 2017-09-28 17h31 Boeblingen (145-079 + fret v Stuttgart)
Böblingen, destination du jour, avec quelques voies de garage du fret en transit dont l'une
occupée par ce train à destination de Stuttgart-Kornwestheim, triage qui joue temporairement
un rôle essentiel pour ces "nouveaux" flux.
Böblingen,the day's destination, has a few tracks for looping freight trains, one of which
is busy here with this train bound for Stuttgart-Kornwestheim, a shunting yard which
temporarily plays a crucial part for these "new" flows.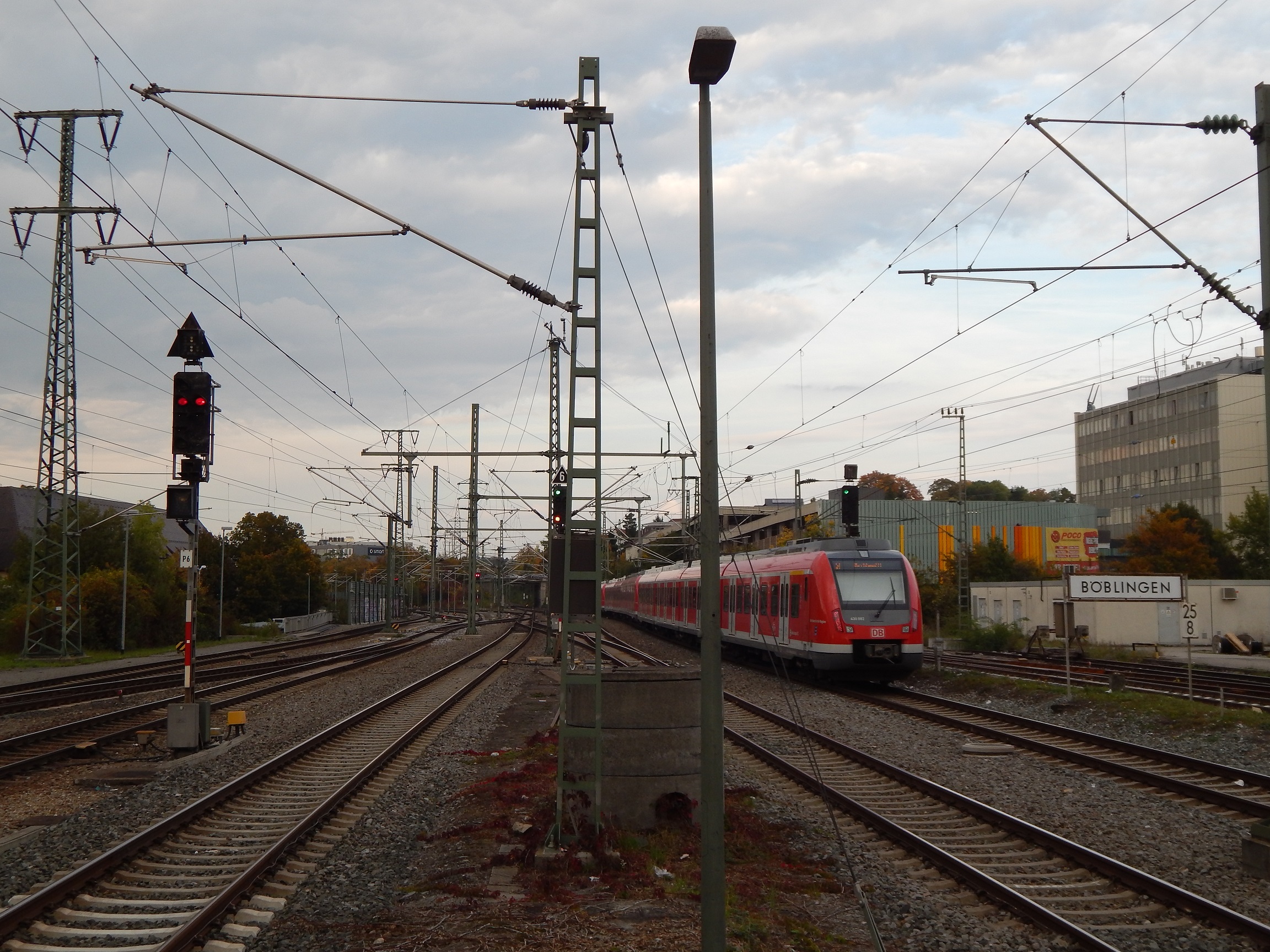 051 27 2017-09-28 17h36 Boeblingen vue Nord (430 UM3 S1 Stuttgart - Herrenberg)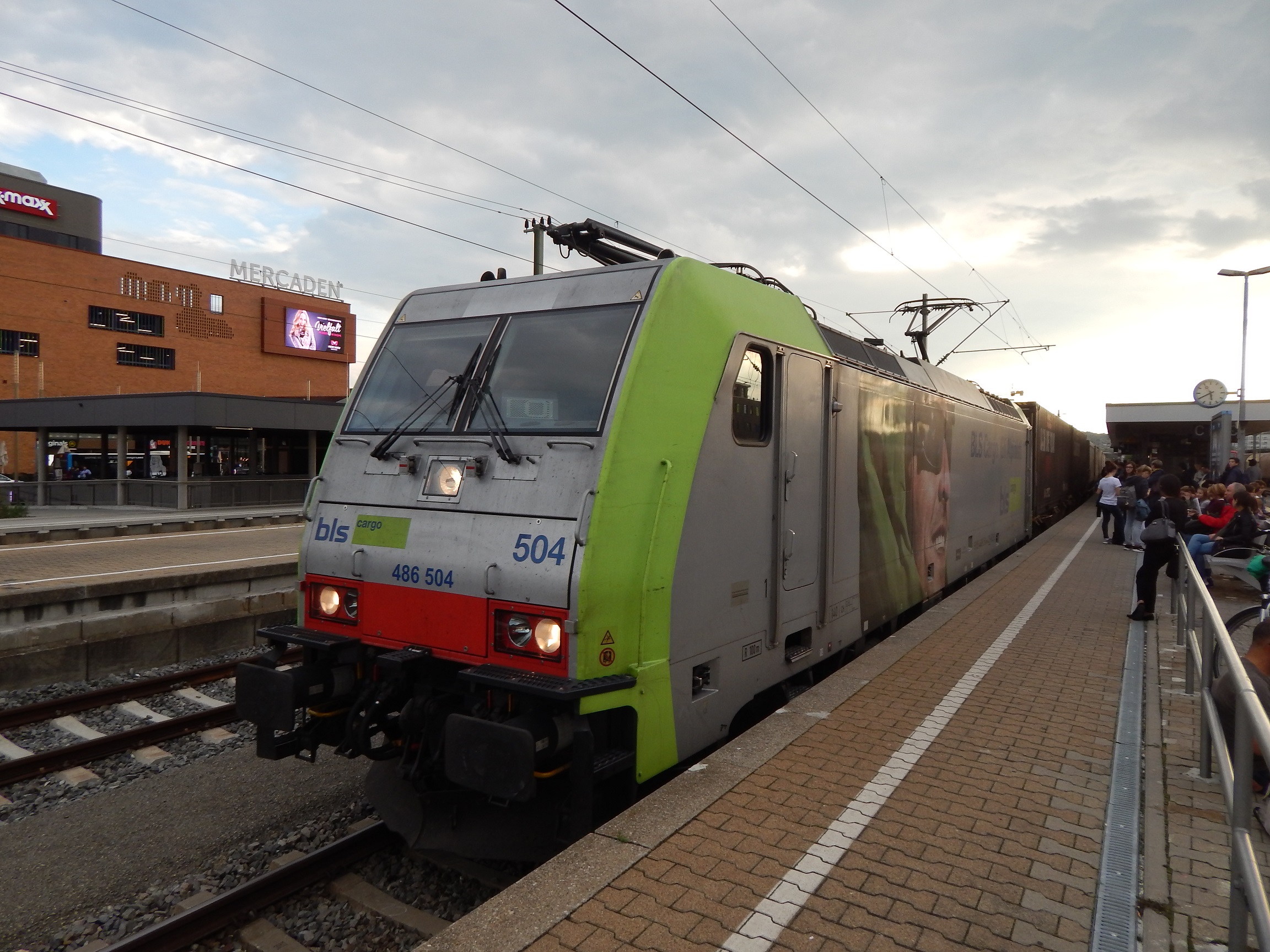 051 28 2017-09-28 17h42 Boeblingen (BLS 486-504 en passage direct vers le Nord)
Celui-là ne passe pas par les voies de relais vues plus haut, mais par une voie directe à quai.
Vu le trafic régional dans cette gare, il ne peut qu'y passer sans arrêt... Ce même train amorce
ci-dessous son parcours vers Renningen, par une ligne de rocade brièvement évoquée plus haut
et sur laquelle il va être revenu en détail immédiatement à la suite (elle permet au fret
de contourner par l'ouest le coeur du noeud de Stuttgart).
This train is not looped like the one before, but goes directly through the station. Considering
the amount of local traffic here, it can't of course stay on a platform track. Below, the same train
begins its onward journey towards Renningen, using a Stuttgart-avoiding line which has briefly
been mentionned before and which will be featured in detail further on.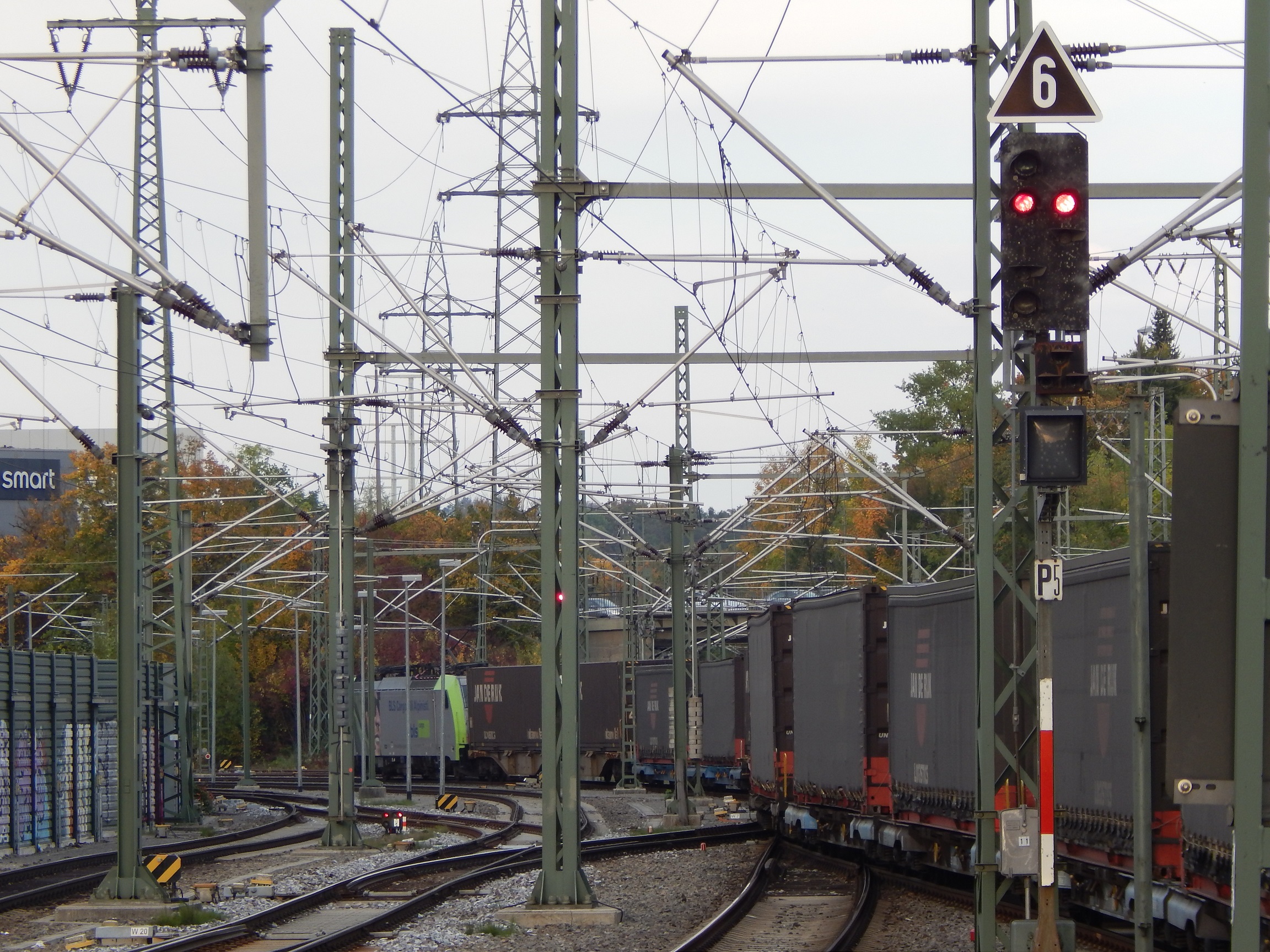 051 29 2017-09-28 17h43 Boeblingen (suite...)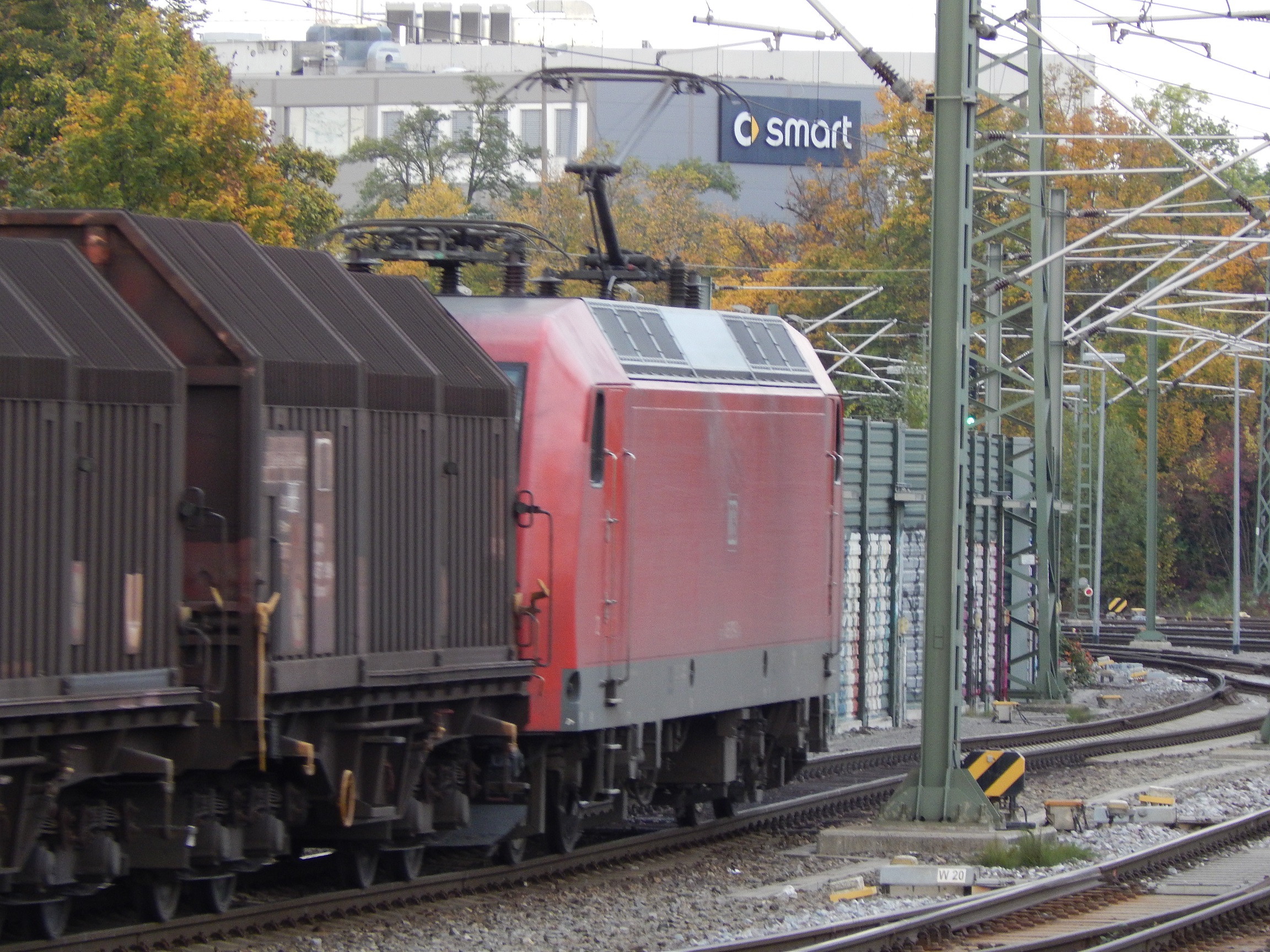 051 30 2017-09-28 17h49 Boeblingen (145-079 + fret v Stuttgart)
Le fret BLS est immédiatement suivi par le fret DB garé. A ce stade, il est utile de préciser pourquoi
cette courte ligne Böblingen - Renningen (14,3 km) est en pratique l'un des points durs de tout
le parcours de ces trains détournés. Depuis 2006, âge de la carte vue plus haut, cette ligne
est devenue une branche supplémentaire S60 du réseau S-Bahn de Stuttgart, avec une desserte
à la demi-heure par débranchement à Renningen d'une rame à destination de Weil-der-Stadt.
Pas de quoi interdire tout trafic fret aux heures de pointe... mais cela réduit tout de même
fortement la capacité disponible, parce que cette ligne est restée en partie à voie unique
et présente aujourd'hui les caractéristiques suivantes :
- pure voie unique du Km 0,4 au Km 2,0 environ (distances à partir de Böblingen),
- double voie mais un seul quai du Km 2,0 au Km 5,9 (autrement dit deux voies uniques
parallèles, l'une pour le fret, l'autre pour la S-Bahn),
- vraie double voie ensuite, jusqu'à Renningen,
ce que les vue suivantes, après ce fret tracté par une (rare) Voith Maxima 40 CC,
vont montrer en ordre inversé, c'est-à-dire de Renningen vers Böblingen.
The BLS freight train is quickly followed by the looped DB one. At this point, it is useful
to explain why this short (14,3 km) Böblingen - Renningen line is actually one of the pinchpoints
of the whole journey for these diverted trains. Since 2006 (when the map above was edited), it has
become an extra component (S60) of Stuttgart's S-Bahn network, with a 30-min frequency provided by
parting at Renningen from a Weil-der-Stadt service. This is not enough to prevent freight trains
from running during the peak, but still substantially reduces the capacity available for them,
because this line partly remained single track, and now has the following characteristics :
- true single track from Km 0.4 to around Km 2.0 (distances from Böblingen),
- double track but with only one platform from Km 2.0 to Km 5.9 (in other words,
two parallel single tracks, one for freight, one for the S-Bahn)
- proper double track afterwards, as far as Renningen.
The pictures below, after this working by a (seldom seen) Voith Maxima 40 CC, will show this
in reverse order i.e. from Renningen to Böblingen.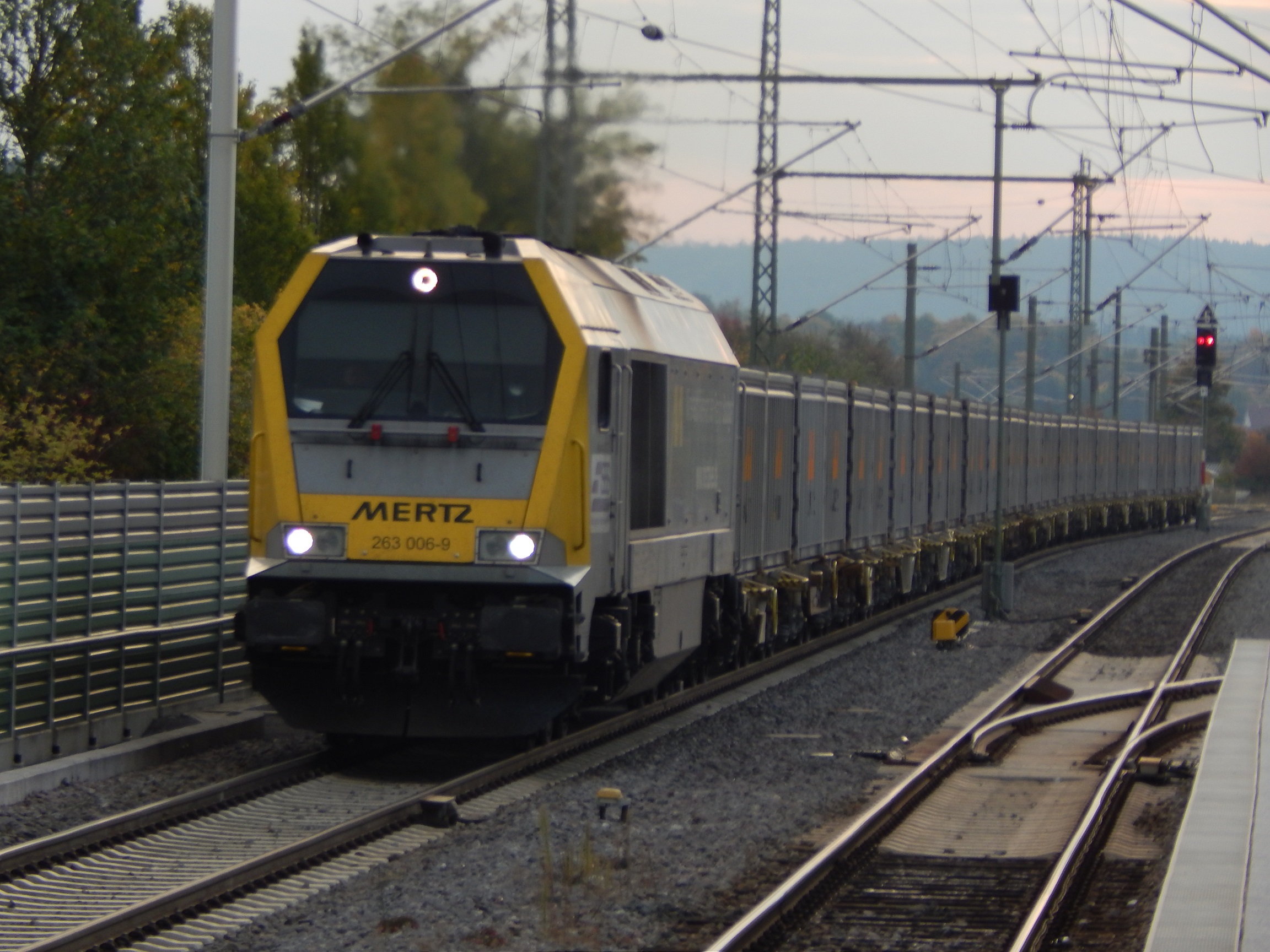 051 31 2017-09-28 18h26 Renningen (263-006 + fret de Rottweil)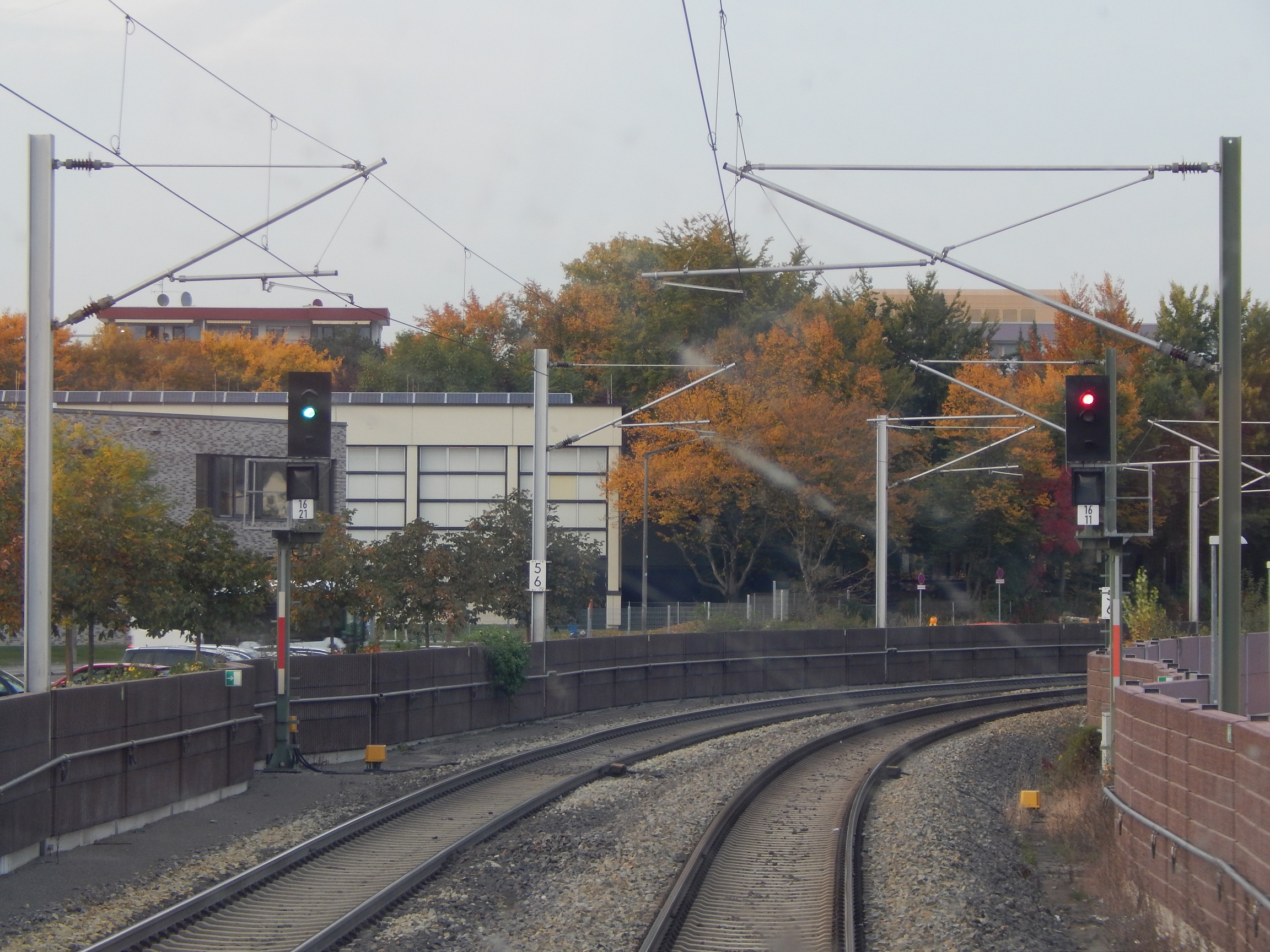 051 32 2017-09-28 18h51 Entre Renningen et Sindelfingen (fausse DV)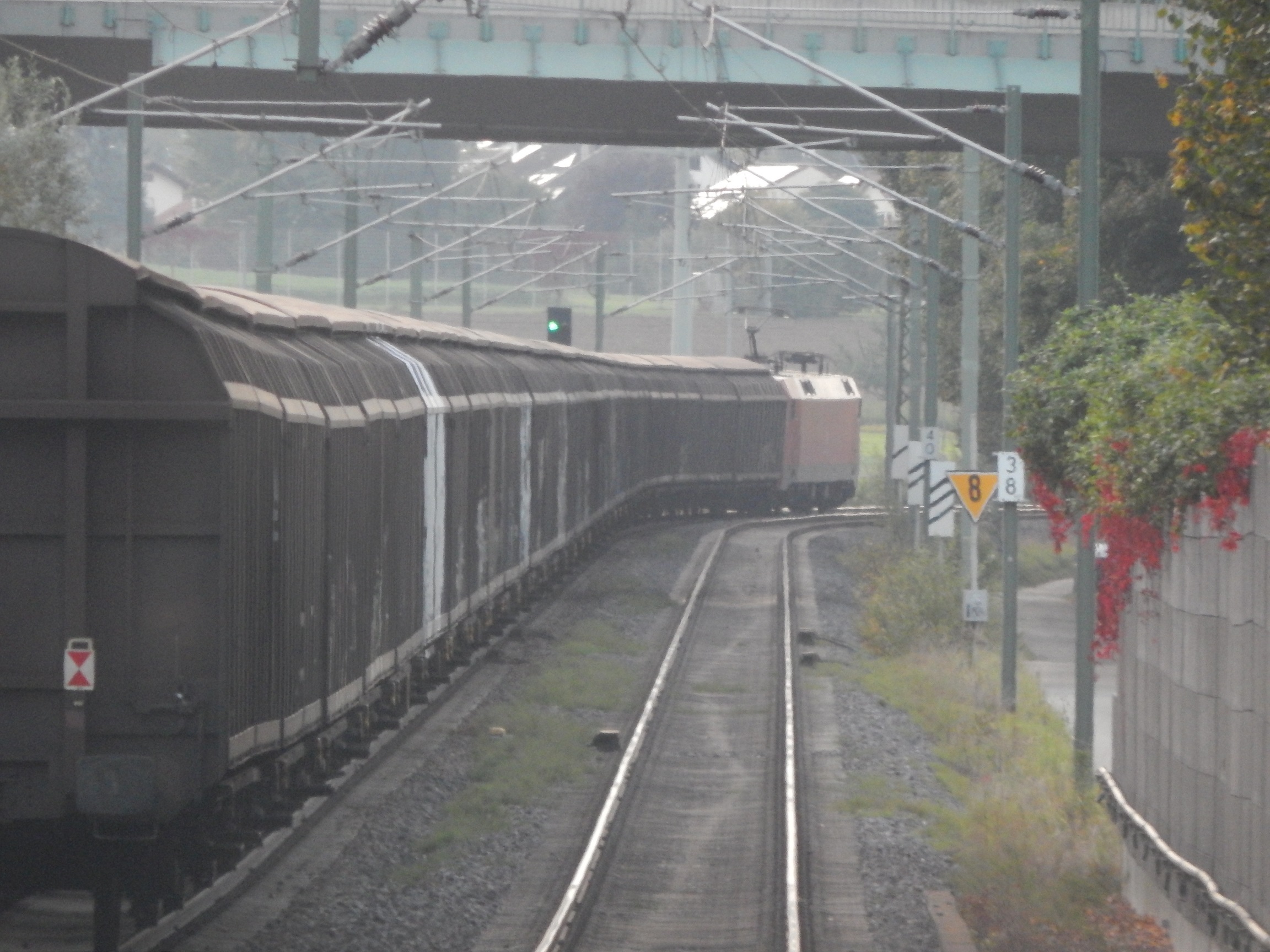 051 33 2017-09-28 18h54 Entre Renningen et Sindelfingen (fausse DV)
Cette vue pourrait faire croire qu'en Allemagne les trains roulent à gauche... mais
il s'agit simplement de la "double voie unique" décrite plus haut, où le fret circule
habituellement, dans un sens ou dans l'autre, sur la voie dépourvue de quais. Les deux vues
ci-dessous, où l'on voit la fin de cette "fausse double voie", restent dans la même logique.
This view might suggest that german trains now run on the left... but this is in fact
the "twin single track" described above, where freight usually runs on the platformless track,
in either direction. Both pictures below, where one sees the end of this "false double track",
follow this principle.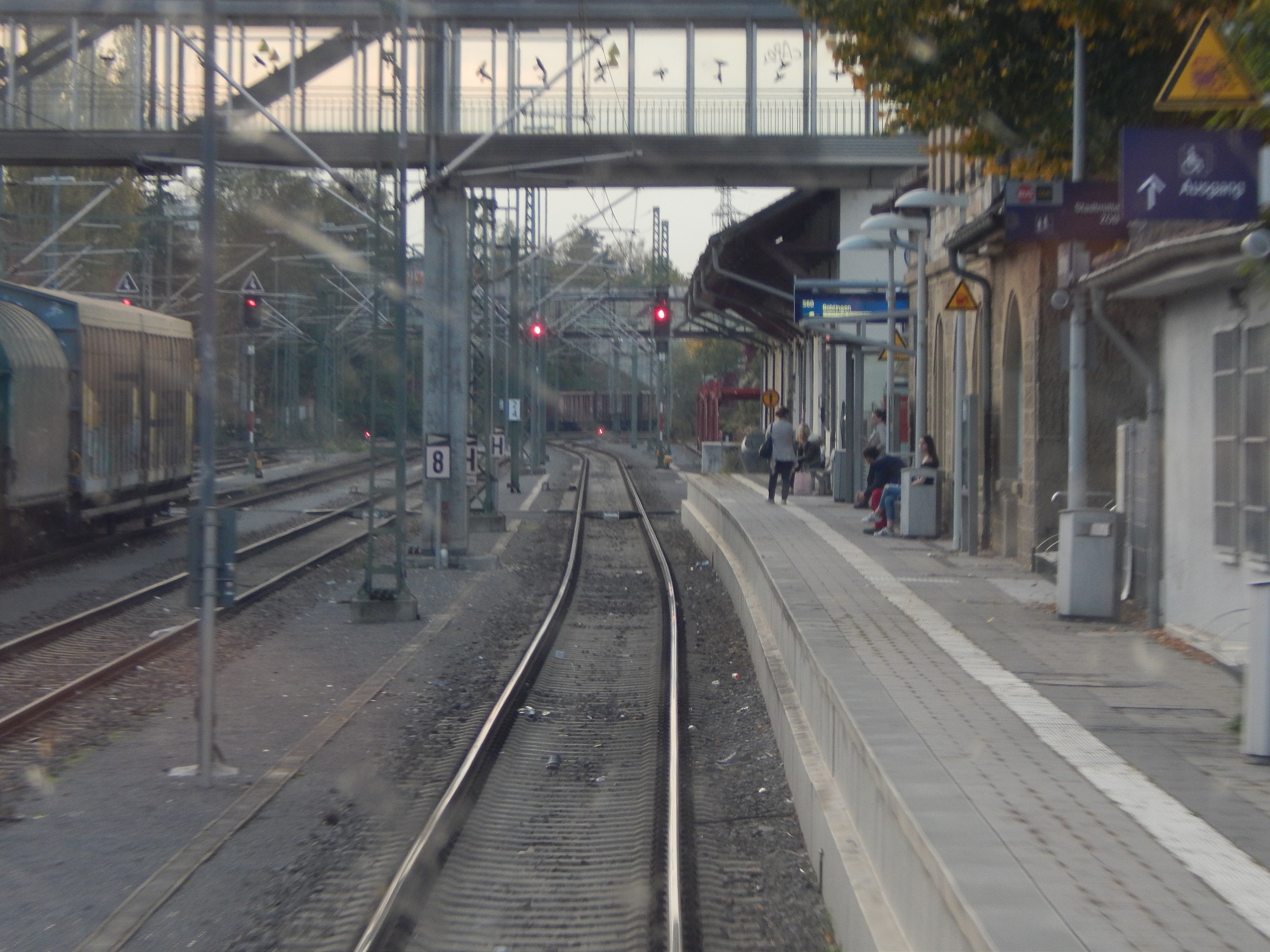 051 34 2017-09-28 18h56a Sindelfingen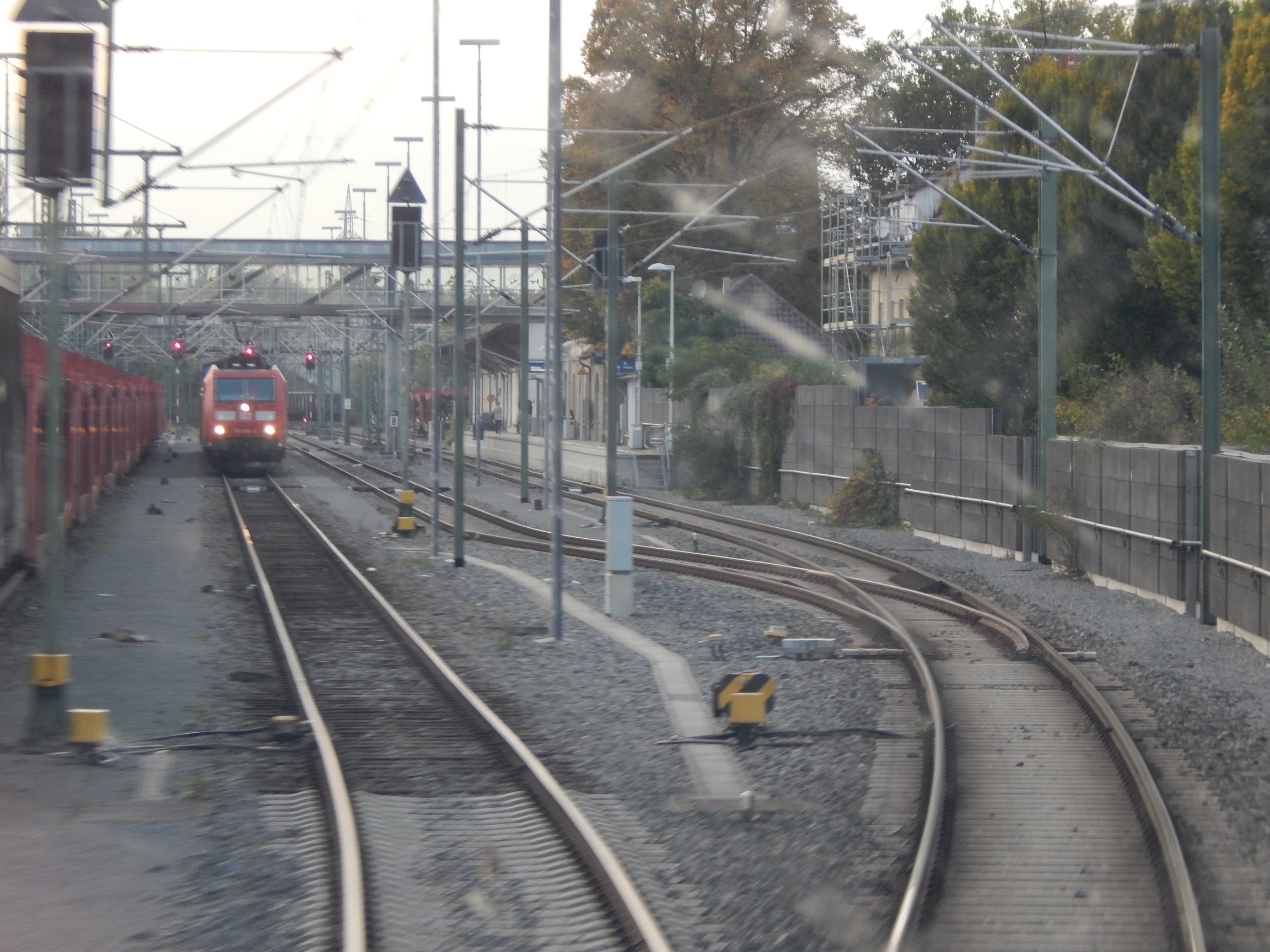 051 35 2017-09-28 18h56b Sindelfingen
A Sindelfingen, il y a même une troisième voie pour garer un second fret si nécessaire,
ce qui est le cas ici (la vue précédente montre l'arrière de ce train). Les voies suivantes
sont les voies de desserte de l'usine de construction automobile située juste en face
de la gare. Ci-dessous la section véritablement à voie unique (les deux rames visibles
ici sont bien des rames garées sur les voies de l'usine, et non des rames en transit).
At Sindelfingen, there is even a third track serving as a loop for a second freight train if needed,
which is the case here (the preceding view shows the rear of this train). The tracks beyond are
those of the car factory which faces the station. Below is the proper single track section (wagons
visible here indeed relate to the car factory, and do not belong to a freight train on its way).


051 36 2017-09-28 18h56c Sindelfingen (vraie VU)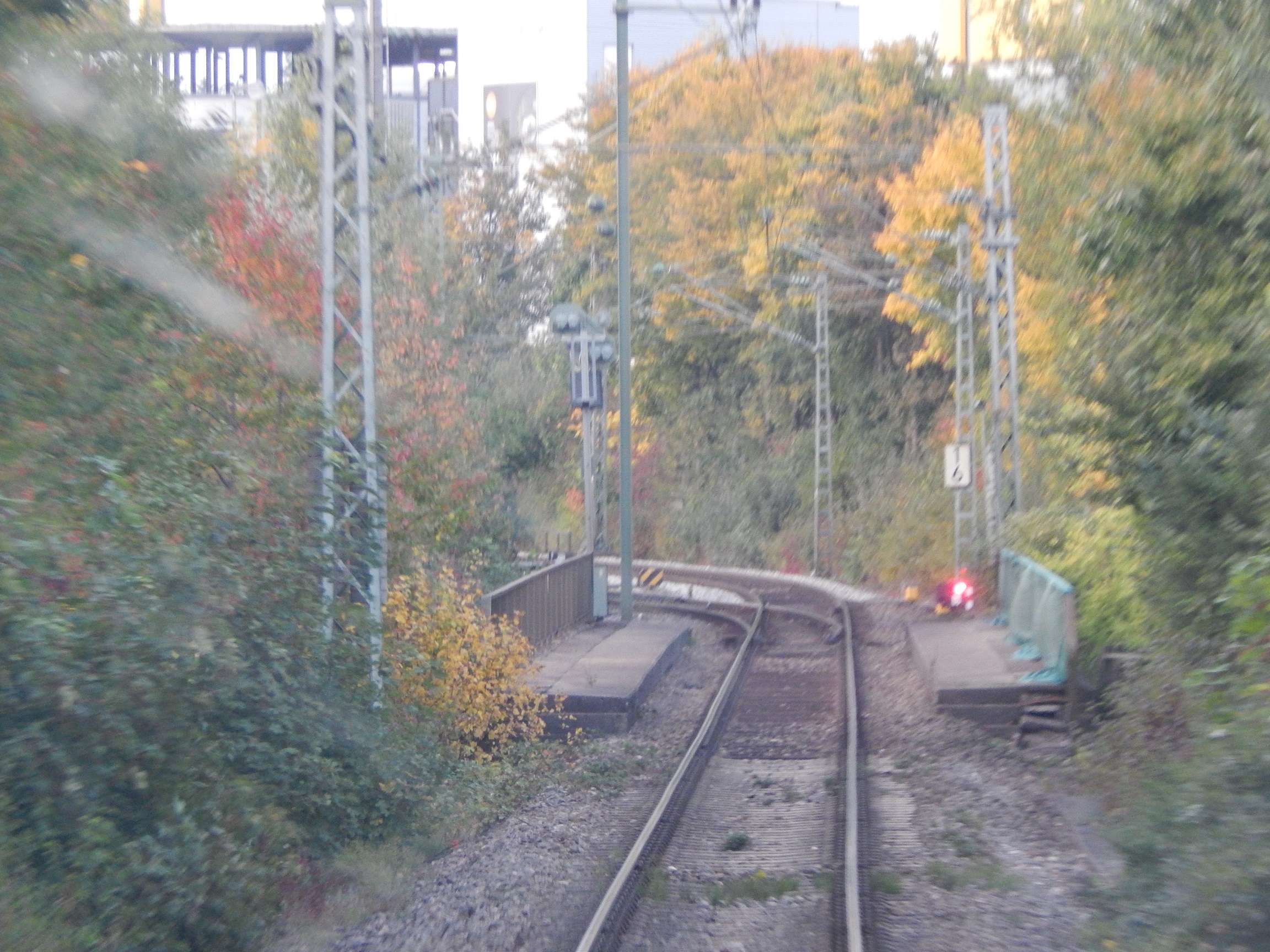 051 37 2017-09-28 18h56d Entre Sindelfingen et Boeblingen (vraie VU)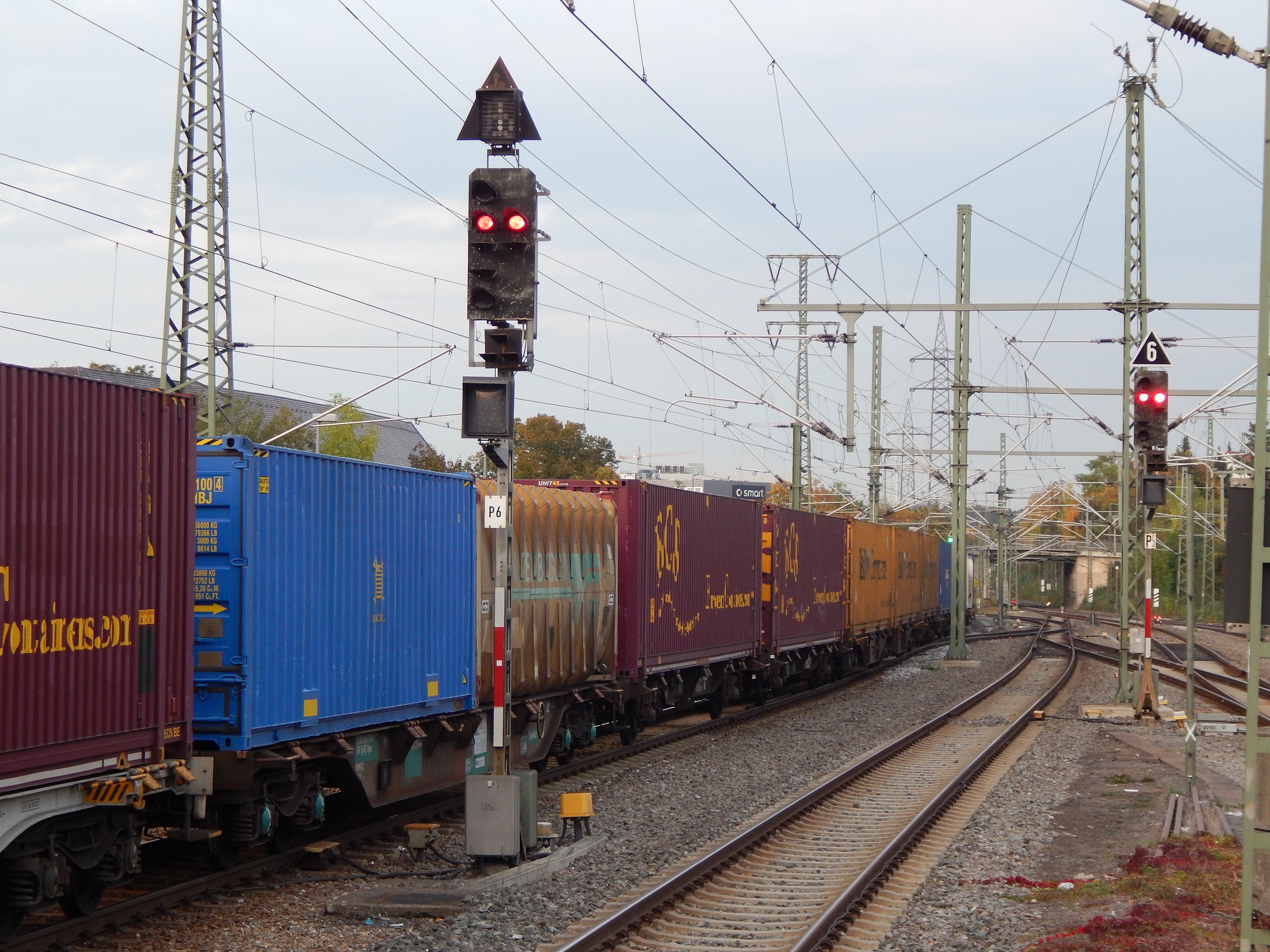 051 38 2017-09-28 18h59 Boeblingen (fret v Stuttgart)

Et à Böblingen, il y a déjà un autre fret Sud - Nord qui attend... Ici, l'hôtel situé
le long des voies (cf photo 41 ; pour information, il en existe un identique à Karlsruhe
le long des voies de circulation fret, qui à coup sûr fera prochainement l'objet d'une visite)
permet d'observer le trafic fret, même depuis le premier étage... Le seul risque sur
la fiabilité du comptage est le passage d'un train sans arrêt derrière un train garé,
mais cela ne semble pas s'être produit ce soir-là. Toujours est-il qu'en 4h30 de temps
on peut aisément évaluer la densité et la fluidité du trafic, et ce fut une éloquente
confirmation de toutes les difficultés rencontrées sur l'ensemble de l'itinéraire...
And at Böblingen, there is already another northbound freight train waiting... Here, the hotel facing
the tracks (see picture 40 - by the way, there is an identical one alongside the freight tracks
at Karlsruhe, which surely will be visited in the near future...) enables to watch freight traffic,
even from the first floor... The only uncertainty as regards final figures is if a direct train
passes behind a looped one, but this does not appear to have happened on that particular evening.
In any case, 4.5 hours are more than enough for a good estimate of how dense and fluid traffic is,
and here it was an effective confirmation of the difficulties that are met all along this route...

Circulations fret à Böblingen / Freight traffic at Böblingen (19:45 > 00:15) :

1950 > Sud ..........Combiné / Swapbodies
2015 > Sud ..........Autoroute ferroviaire / Rolling highway
2037 > Nord .........Produits pétroliers ou chimiques / Oil or chemicals
2047/57 > Nord ....Combiné / Swapbodies
2113/30 > Sud ......Combiné / Swapbodies
2201 > Sud ..........Wagons plats (rails) / Flat wagons (rails)
2238 > Nord .........Combiné / Swapbodies
2244 > Nord .........Autoroute ferroviaire / Rolling highway
2334 > Sud ..........Combiné / Swapbodies
2341 > Nord .........Combiné / Swapbodies
2348 > Nord .........Lotissement / Mixed freight
2348 > Sud ..........Lotissement / Mixed freight
2354/57 > Nord ....Autoroute ferroviaire / Rolling highway
0009 > Nord .........Combiné maritime P&O / P&O sea containers
0107 > Nord .........Wagons plats (traverses) / Flat wagons (sleepers)

Le premier constat est donc l'irrégularité des intervalles entre trains de même sens :
Nord > Sud (intervalles en minutes) : 25 - 58 - 48 - 93 - 14
Sud > Nord (intervalles en minutes) : 10 - 51 - 6 - 57 - 7 - 6 - 15 - 48
The first observation, then, is how irregular the succession of trains is [in a given direction] :
North > South (spacing in minutes) : 25 - 58 - 48 - 93 - 14
South > North (spacing in minutes) : 10 - 51 - 6 - 57 - 7 - 6 - 15 - 48

Dans tout cela, pas de lien évident avec le cadencement généralisé des horaires, mais plutôt
l'expression de l'impact des multiples sections à voie unique ou cisaillements d'itinéraires,
sans parler du rebroussement de Singen et de probables difficultés complémentaires au nord
de Stuttgart... Le plus étonnant ici est tout de même, après 50 minutes sans aucun mouvement
(22h44 - 23h34), le passage de pas moins de 6 trains en 35 minutes...
In all this, there is no clear link with the clockfce timetable, but rather a proof of the impact
of the numerous single track sections or conflicting paths, not even talking about the reversal
at Singen and further likely difficulties north of Stuttgart... Most surprising here was,
after 50 minutes devoid of any train movement (22:44 > 23:34), the observation of
no less than 6 trains in 35 minutes...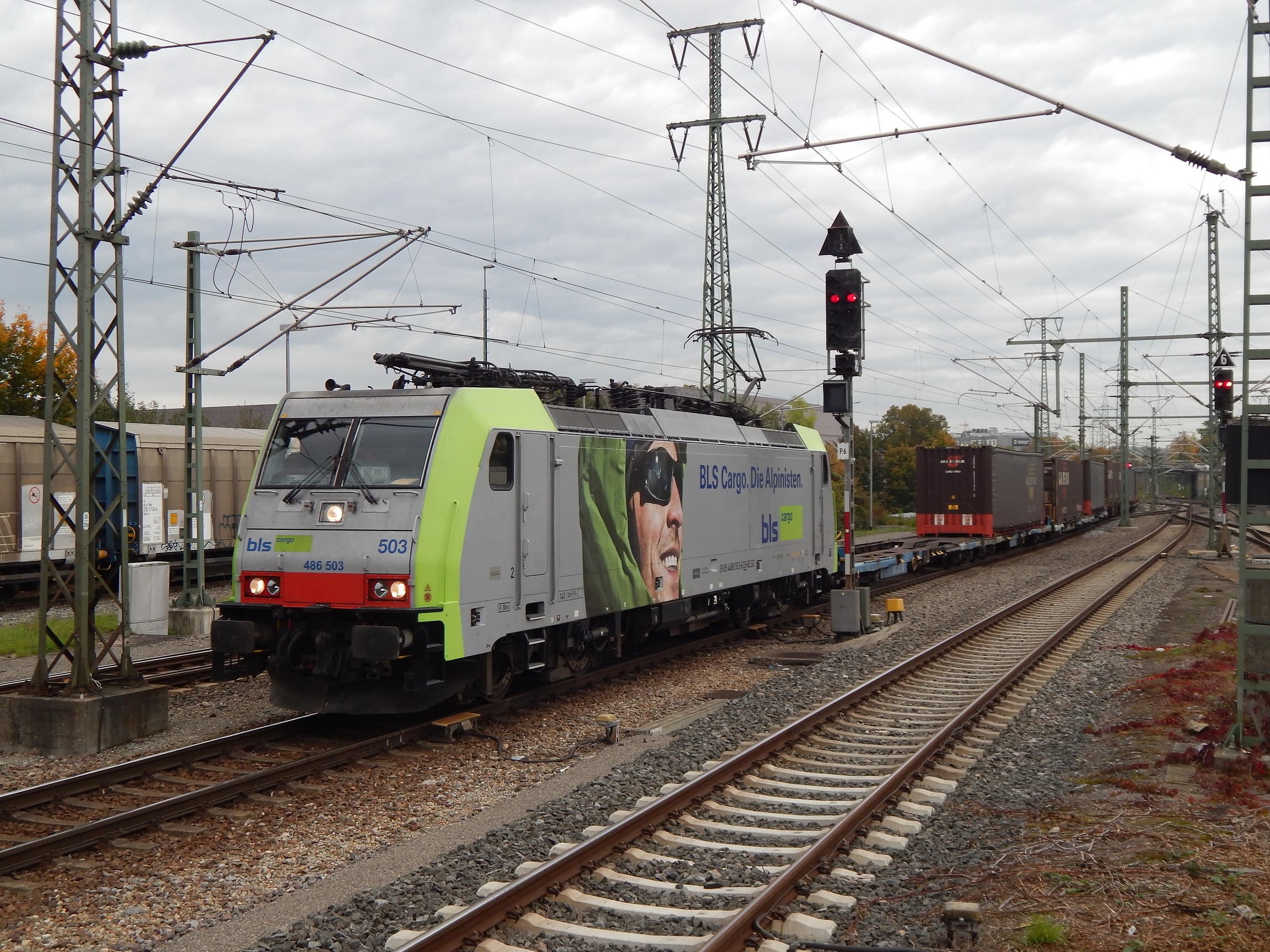 051 39 2017-09-29 9h35 Boeblingen (486-503 BLS v Singen)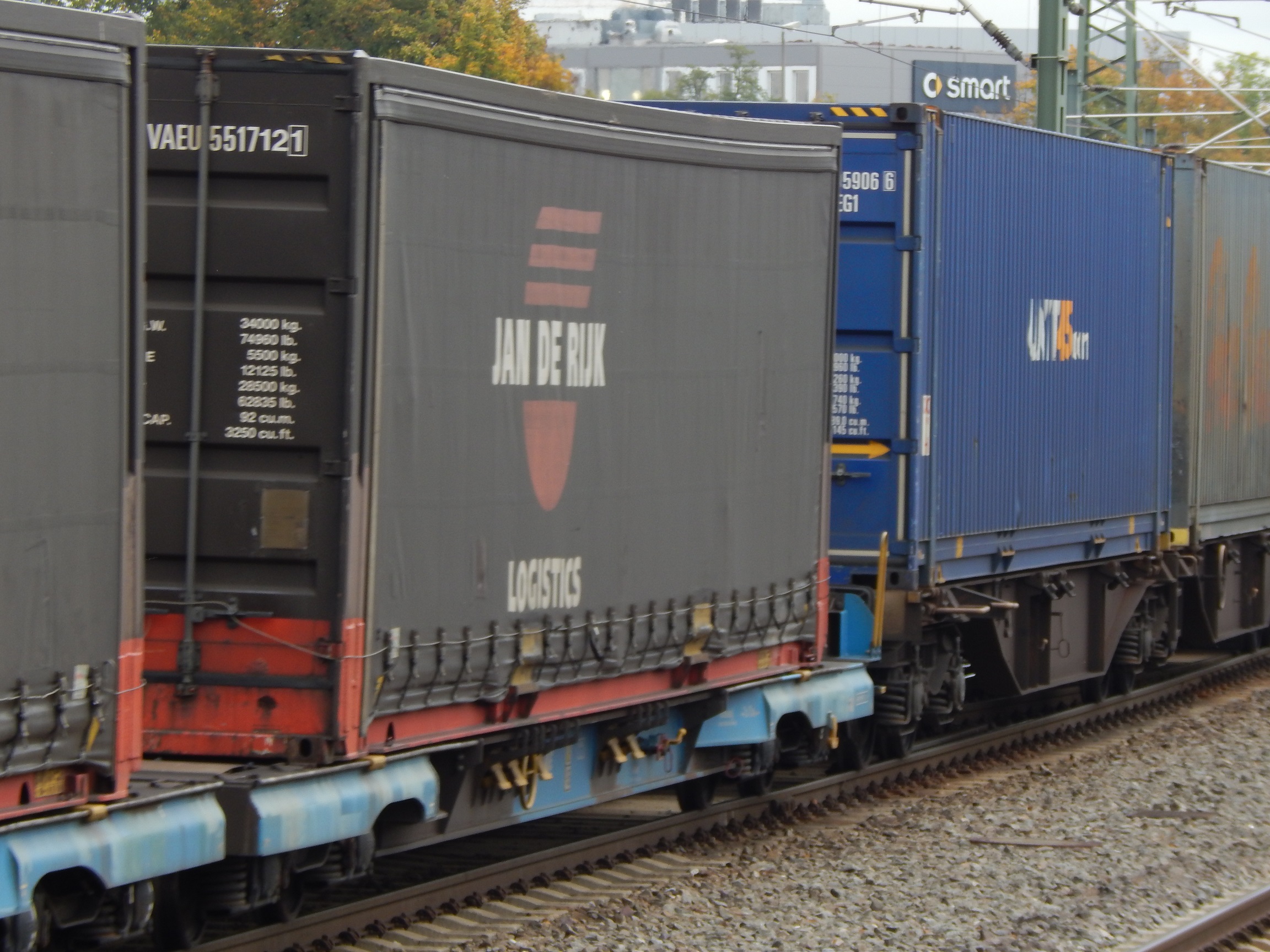 051 40 2017-09-29 9h37 Boeblingen (remorque de camion et conteneur maritime)
On notera ici la différence de hauteur du plancher de chargement (et donc de diamètre des roues)
entre le transport de remorques routières et celui de conteneurs maritimes, même de 9'6".
Note here the difference in wagon height (and therefore wheel size) between rolling highway
and the transportation of sea containers, even 9'6" ones.


051 41 2017-09-29 9h41 Boeblingen (fixation simple et poste d'observation)
La fixation intermédiaire de ce wagon double est plutôt simple... Au fond, l'hôtel "poste d'observation".
The intermediate link of this double wagon is rather simple... In the background, the "watching point" hotel.

Passons maintenant au coeur du sujet, la "Gäubahn" Stuttgart - Singen, dont l'handicap majeur
réside dans ces 75 km de voie unique dans sa partie centrale, de Horb à Hattingen. On pourrait croire
que c'est la rançon d'un parcours empruntant l'étroite vallée supérieure de la rivière Neckar,
qui au passage est une bonne affaire pour ce qui est des rampes (il y faut 43 km pour voir l'altitude
croître de 391 m à Horb à 557 m à Rottweil, une moyenne de 3,9 °/°°), mais il n'en est rien :
la seconde voie a été démontée pour "dommages de guerre" par les troupes françaises après 1945.
Let us now move to the main subject of this report : the Stuttgart - Singen "Gäubahn". Its major
drawback is this 75-km long single track in its central section, from Horb to Hattingen. One might
think that this results from the decision to follow the narrow upper Neckar valley, which by the way
is a bargain as regards gradients (43 kms are needed for the altitude to rise from 391 m at Horb
557 m at Rottweil, an average of 1 in 250). But this is not so : the second track was removed by
french troops after 1945, as "war compensation".

Cette longue voie unique, même pourvue de nombreux points de croisement, est donc un vrai
"réducteur de débit"... mais les choses ne sont guère plus simples aux abords de Stuttgart :
Even with a number of passing loops, this long single track section is indeed a "capacity killer"...
but in fact, things are not really that much easier in the vicinity of Stuttgart :

- trafic régional élevé jusqu'à Herrenberg (km 42, terminus de la ligne S1 de la S-Bahn),
et encore substantiel jusqu'à Horb (km 67, fin de la double voie),
- a high level of regional traffic until Herrenberg (km 42, end of the S1 S-Bahn line),
which remains substantial until Horb (km 67, end of the double track),

- gare en travaux (rehaussement de quais) à Bondorf (km 51), où l'une des trois voies est
durablement hors service (et pour mémoire, la section Böblingen - Horb était purement
et simplement fermée en août, également pour travaux, ici de renouvellement de voie),
- upgrade work on platforms at Bondorf (km 51), where one of the 3 tracks is out of use for
a while (let us remember too that in August the Böblingen - Horb section was completely
closed, for track renewal this time),

- capacité réduite sur la ligne Böblingen - Renningen (sujet déjà décrit plus haut),
- limited capacity on the Böblingen - Renningen line (see above),

- et il y a les IC Stuttgart - Zürich cadencés aux deux heures, seuls trains rapides
sur cet itinéraire et qui donc pèsent d'un poids certain sur la capacité disponible...
- and the Stuttgart - Zürich ICs, on a 2-hrs clockface pattern, the only fast trains
on this line, therefore having a distinct impact on available capacity...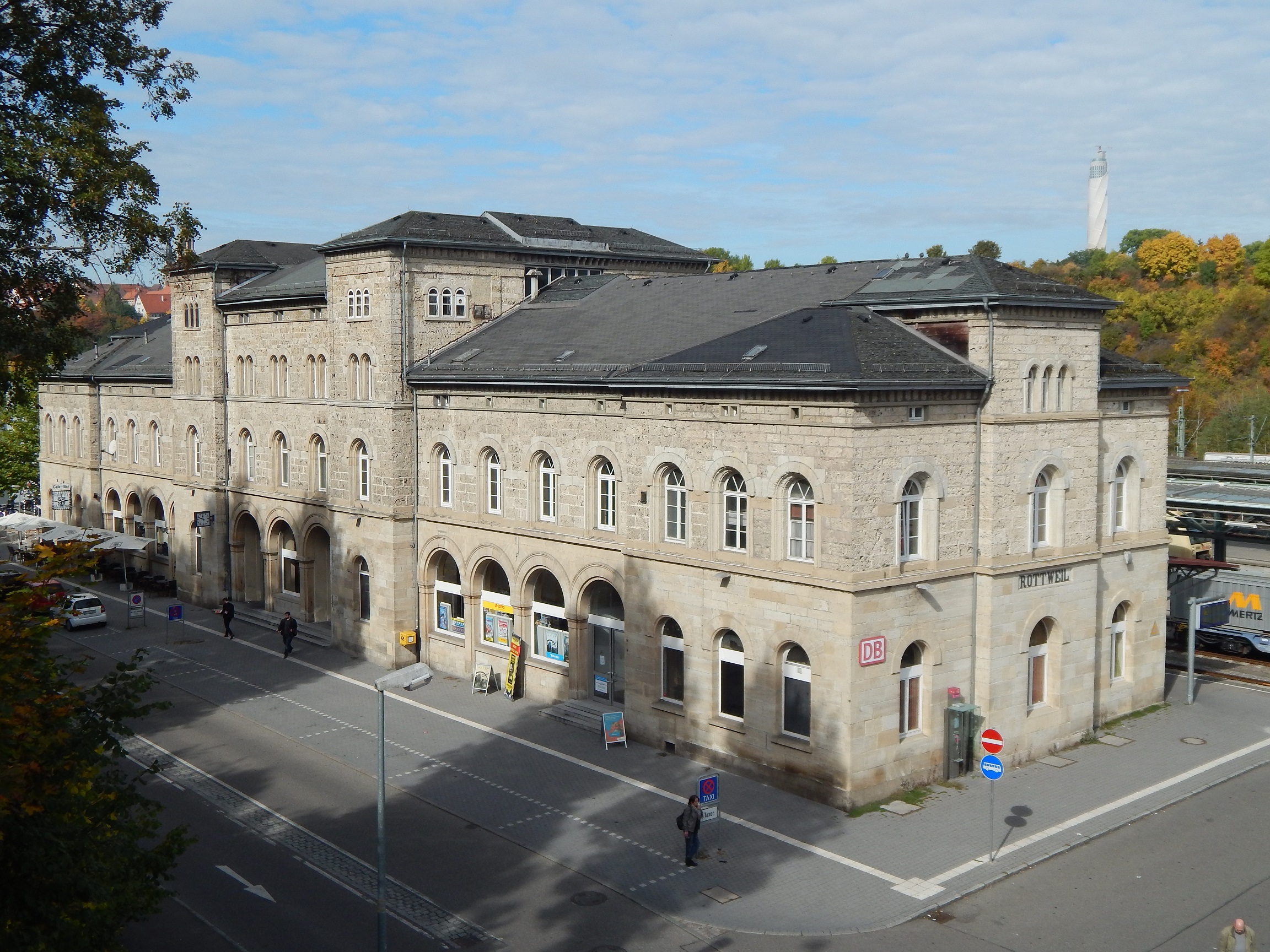 051 42 2017-09-29 Rottweil (gare)
Premier arrêt : Rottweil. La "plus ancienne ville de Bade-Württenberg" bénéficie d'une gare
à la hauteur de son statut historique... Comme la pause a duré un certain temps, les vues
ci-dessous sont classées par thèmes :
- circulations voyageurs et diverses,
- événement historique local,
- circulations fret.
First stop : Rottweil. The "oldest city in Baden-Württenberg" has a station building which
lives up to its historical status... As the stay there lasted for some time, pictures below
are classified in 3 categories :
- passenger & miscellaneous traffic,
- a local historical event,
- freight traffic.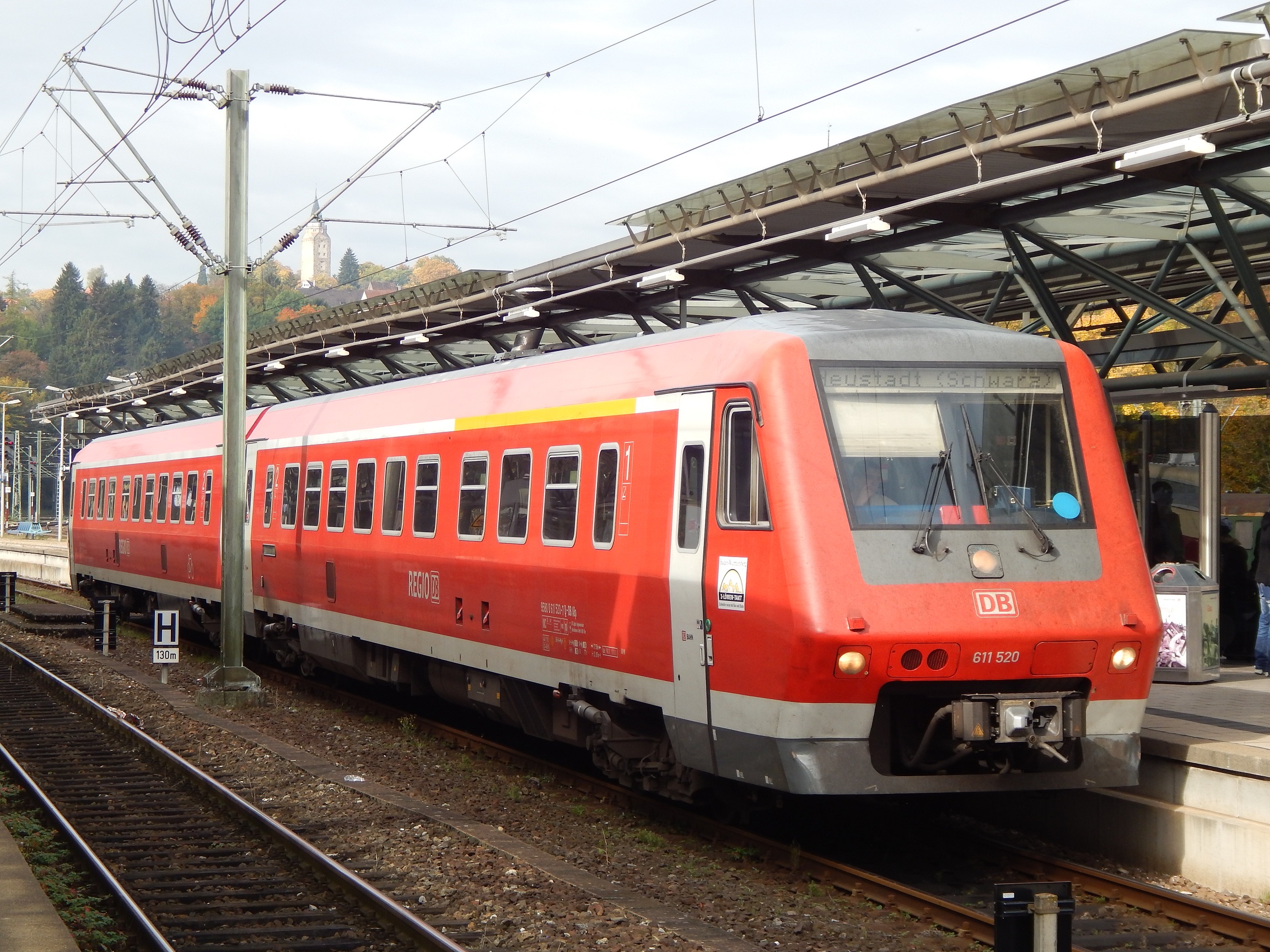 051 43 2017-09-29 11h07 Rottweil (611-020 vers Villingen)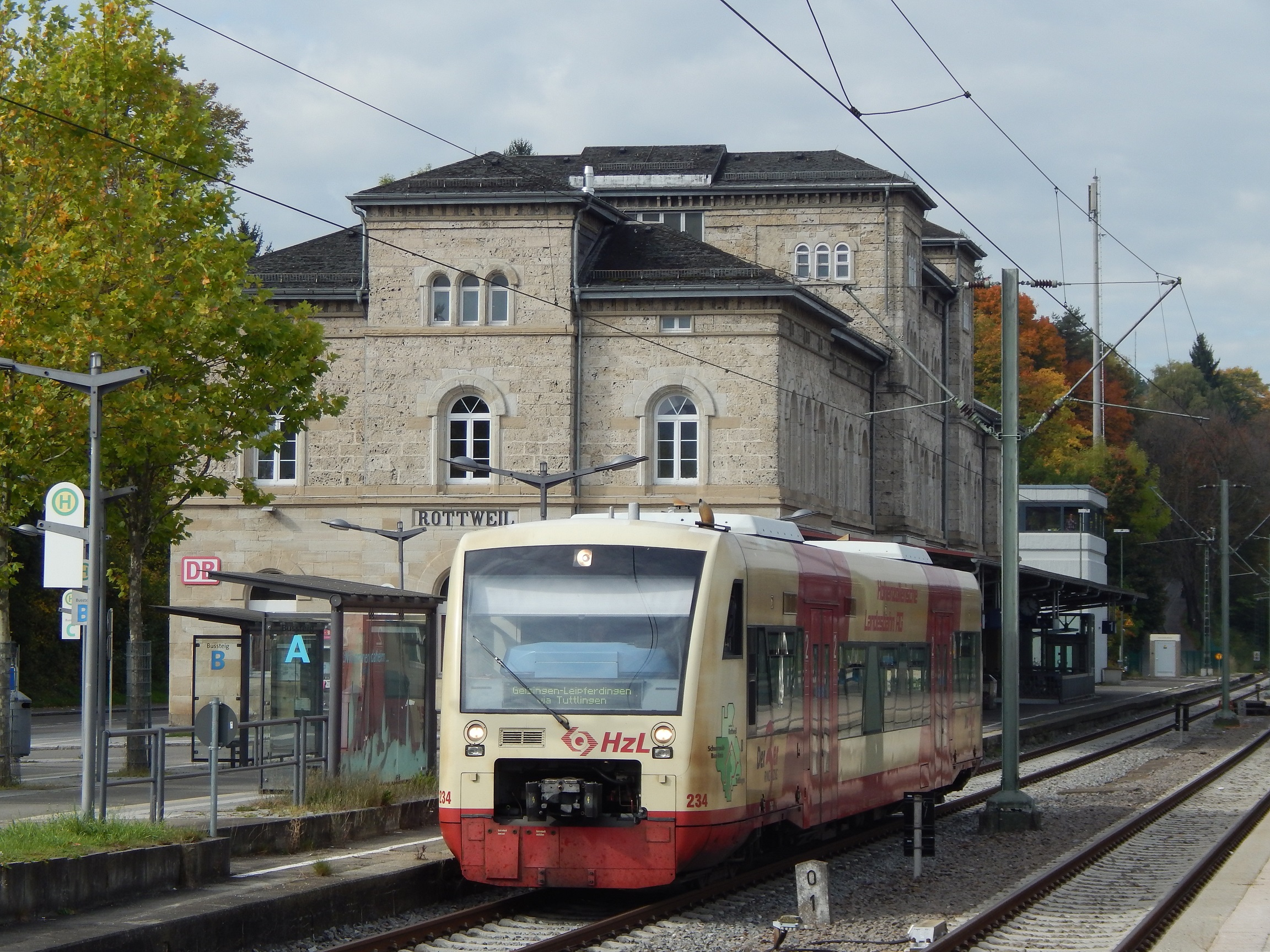 051 44 2017-09-29 11h22 Rottweil (650-630 VT 234 vers Immendingen)
L'autorail ci-dessus, non pas DB mais HzL (Hohenzollern LandBahn), est du type qui servira
au trajet suivant, jusqu'à Tuttlingen (photo 59) : une gare de bifurcation où l'arrêt sera
de courte durée (13h08 > 13h14), le temps de se rendre compte que le lieu est finalement mineur
et le contexte photographique plutôt quelconque... Il en ira de même à Engen (13h29 > 13h40).
The DMU above, not DB but HzL (Hohenzollern LandBahn), is of the same type as the one which will be
used for the following leg, as far as Tuttlingen (picture 59) : a junction where the stop will be
short (13h08 > 13h14), because this station finally appeared to be of little interest, with
an uninspiring photographic background. The same will happen at Engen (13h29 > 13h40).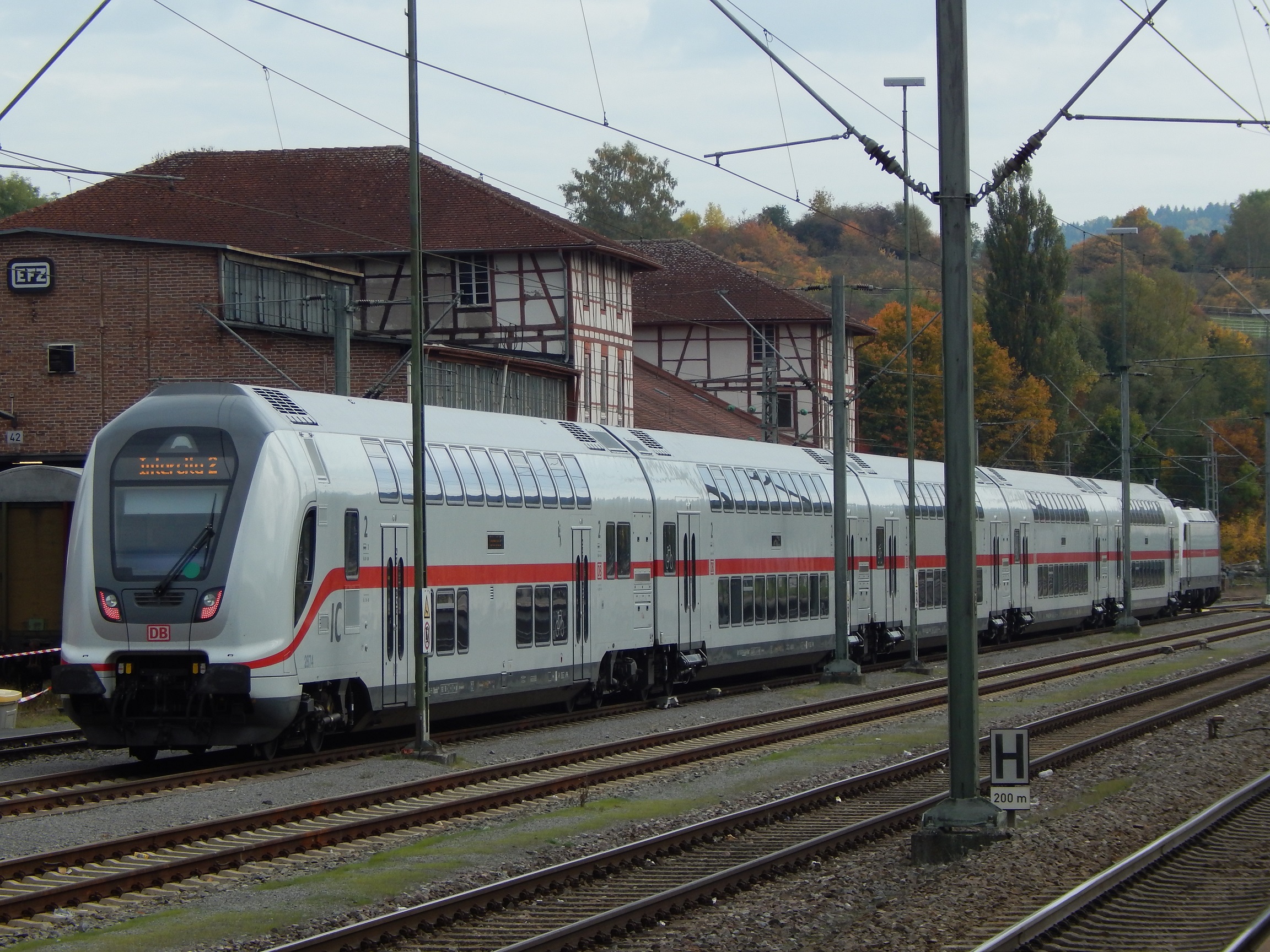 051 45 2017-09-29 11h28 Rottweil (146-571 + IC 2874)
051 46 2017-09-29 11h29 Rottweil (146-571)
Une marche d'essai pour cette rame IC 2 visiblement flambant neuve, qui sera recroisée
plus tard après qu'elle ait probablement fait demi-tour à Singen. Si celle-là
circule ici, la pression pour écouler des sillons fret est-elle si grande ? Globalement
oui, mais finalement peut-être pas tant que cela sur ces 75 km à voie unique...
A trial run for this clearly brand new IC 2 set, which will be passed again later after its likely
reversal in Singen. If this one is running here, is pressure for running freight trains really
that high ? On the whole, yes, but maybe not that much over the 75 kms of single track...

Ci-dessous, étonnement plus grand à la vue de tout ce matériel historique, notamment aux couleurs
"Rheingold", mais l'explication viendra vite (photo 48) : un festival vapeur le prochain week-end...
Below, even more of a surprise when spotting all this "heritage" motive power, especially the ones
with the "Rheingold" livery, but the explanation will come soon enough (picture 48) : there will be
a steam festival here over the week-end, beginning tomorrow...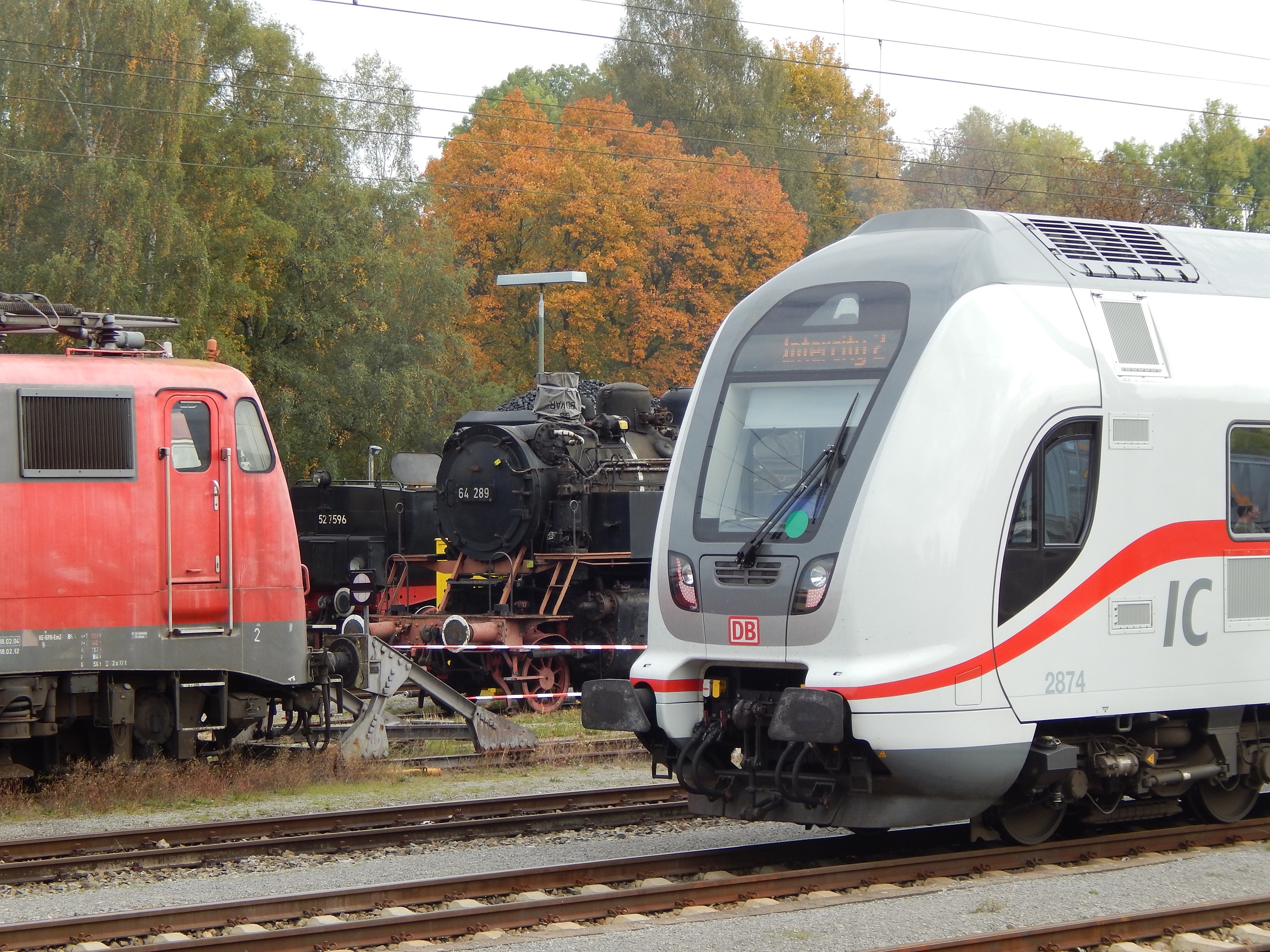 051 47 2017-09-29 Rottweil (3 generations)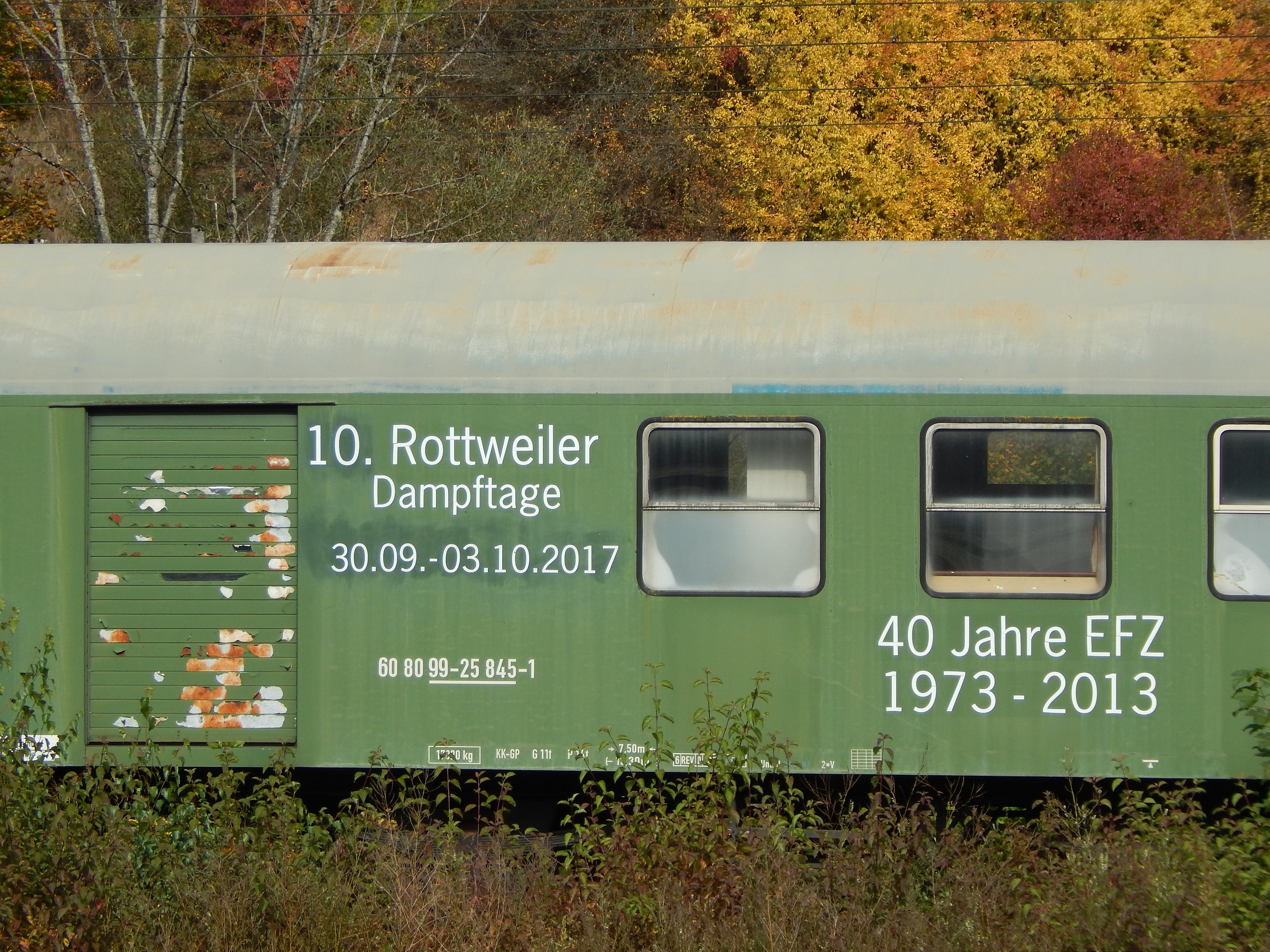 051 48 2017-09-29 Rottweil (explication)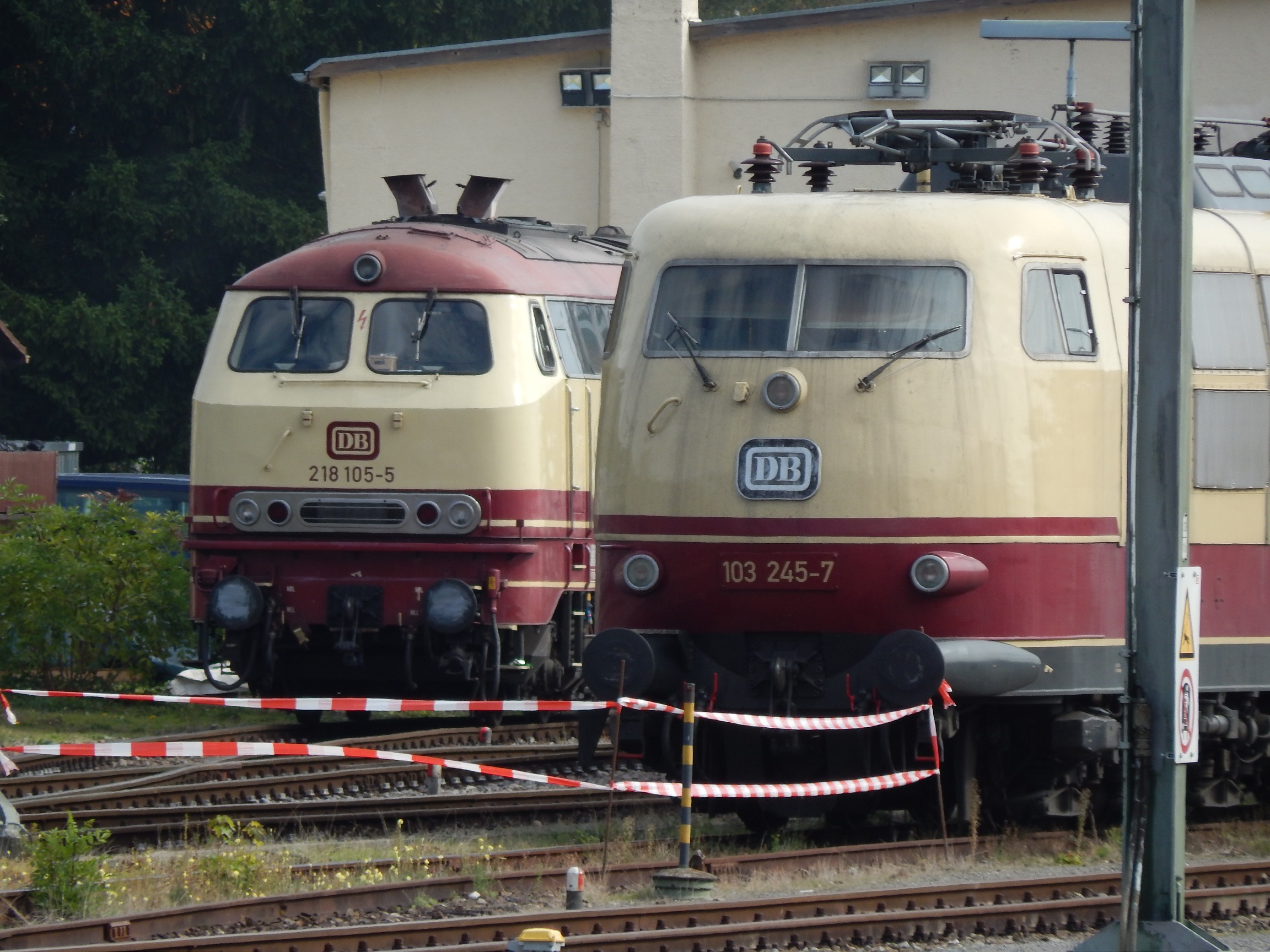 051 49 2017-09-29 Rottweil (218-105 103-245)
051 50 2017-09-29 Rottweil (110-468 114-488 103-245)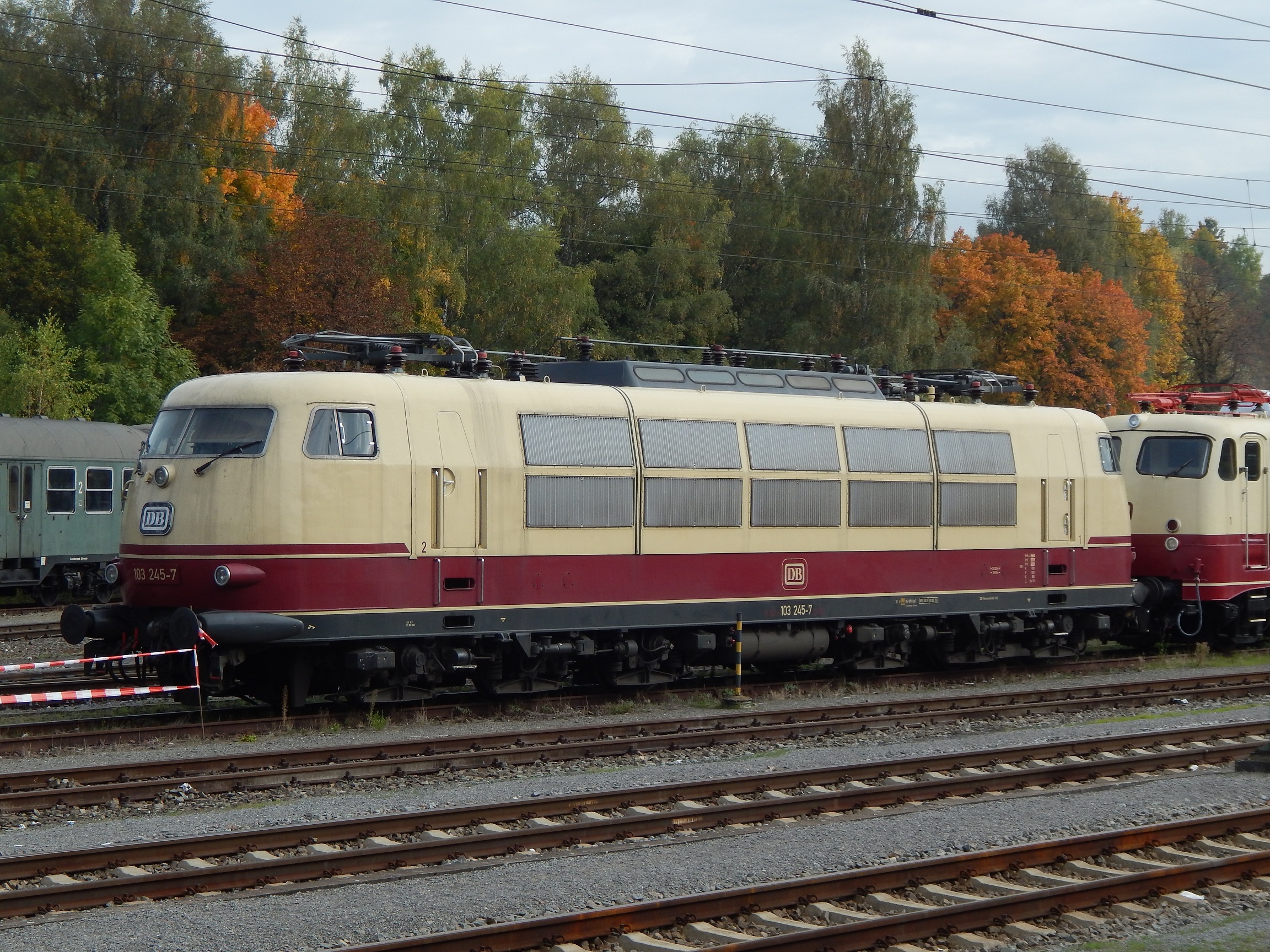 051 51 2017-09-29 Rottweil (103-245)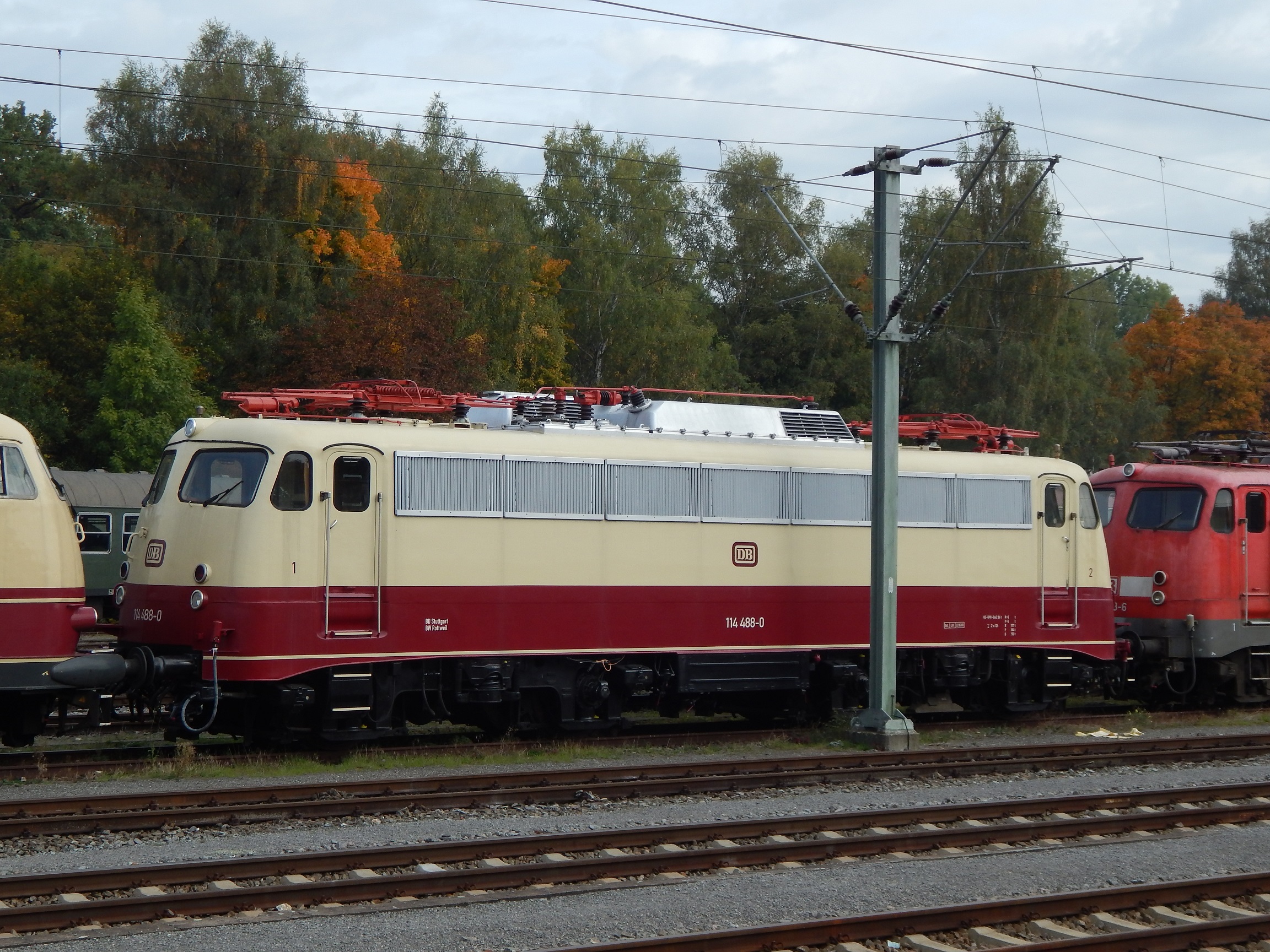 051 52 2017-09-29 Rottweil (114-488)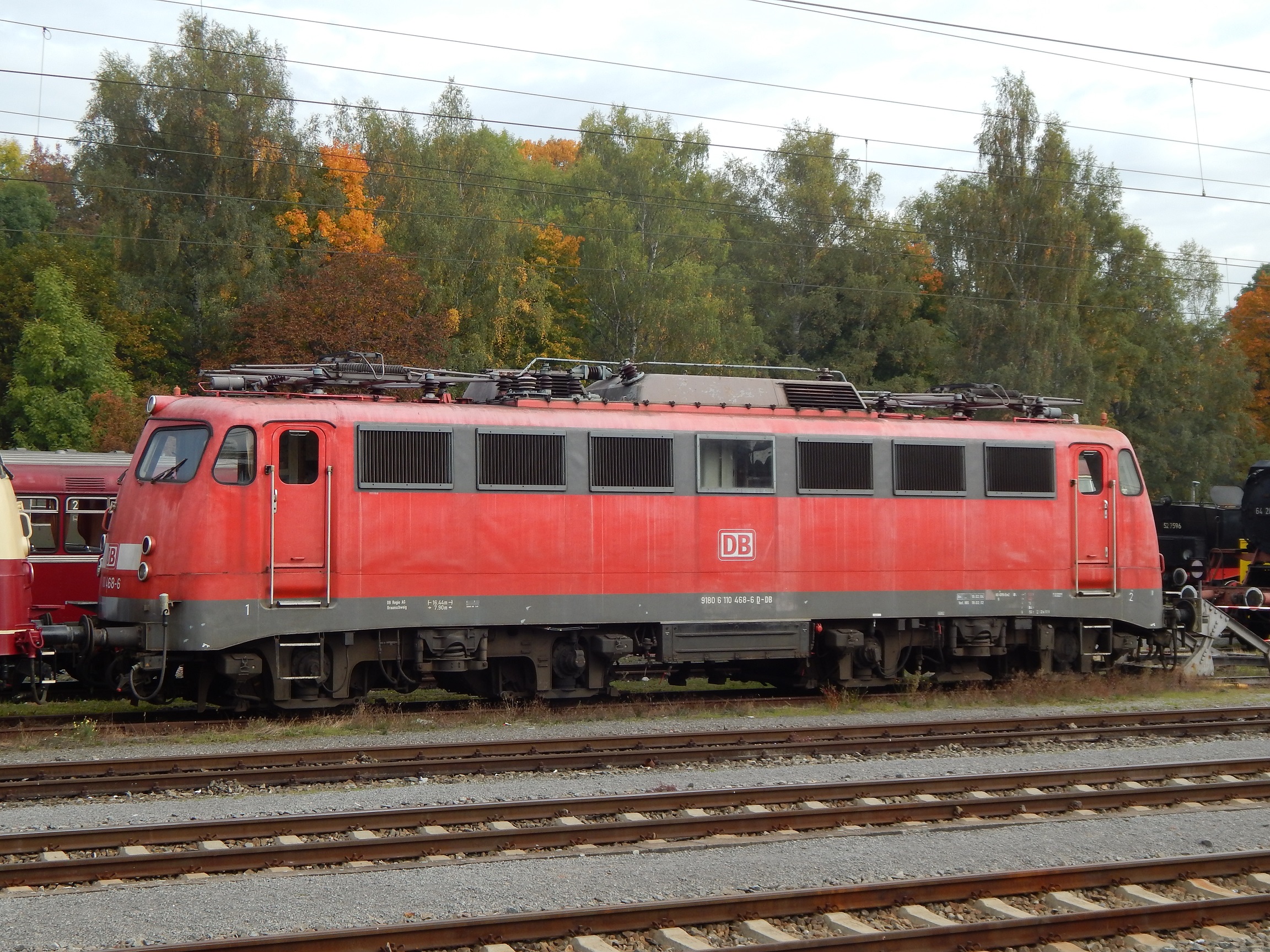 051 53 2017-09-29 Rottweil (110-468)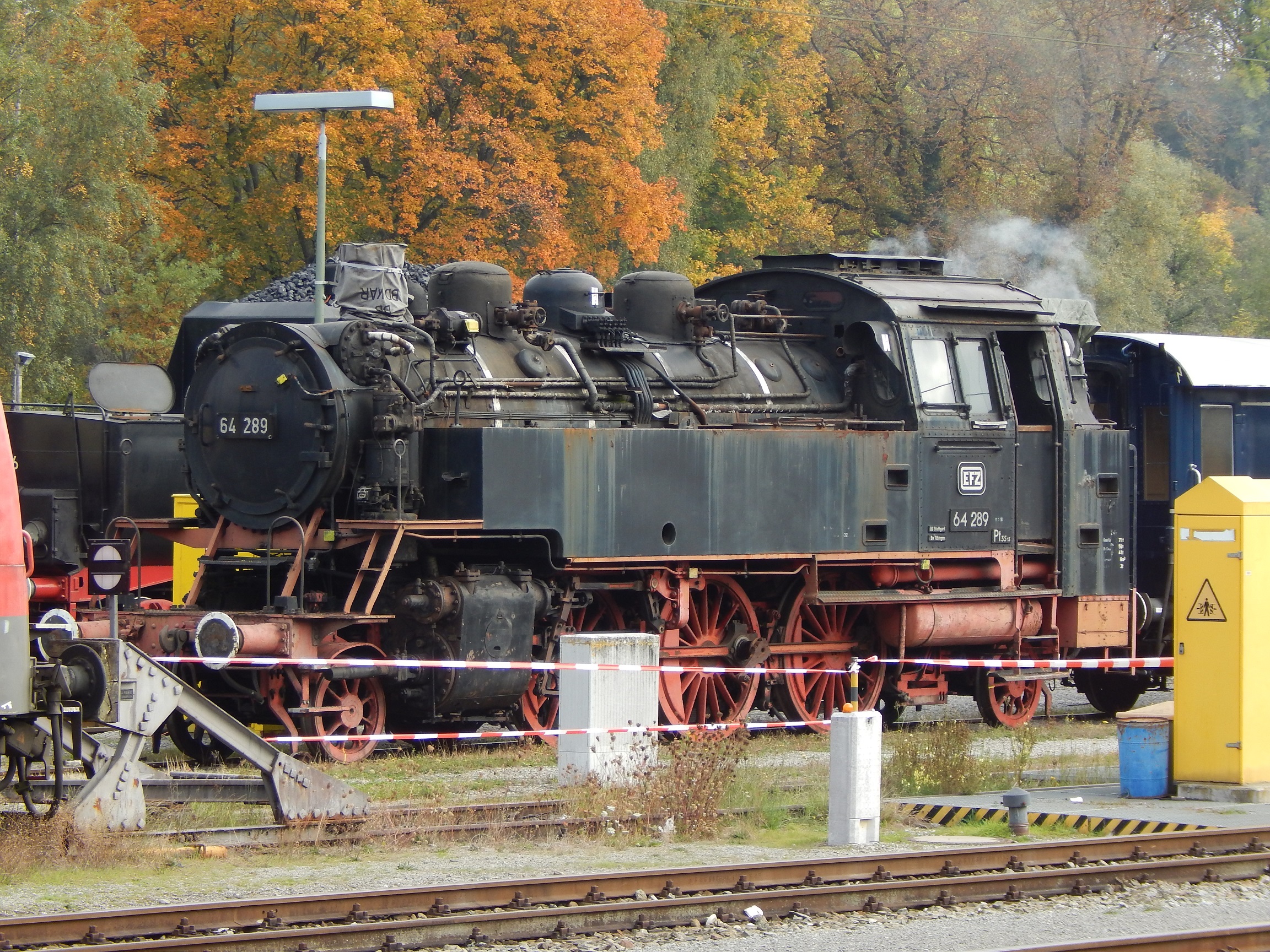 051 54 2017-09-29 Rottweil (64-289, type 131)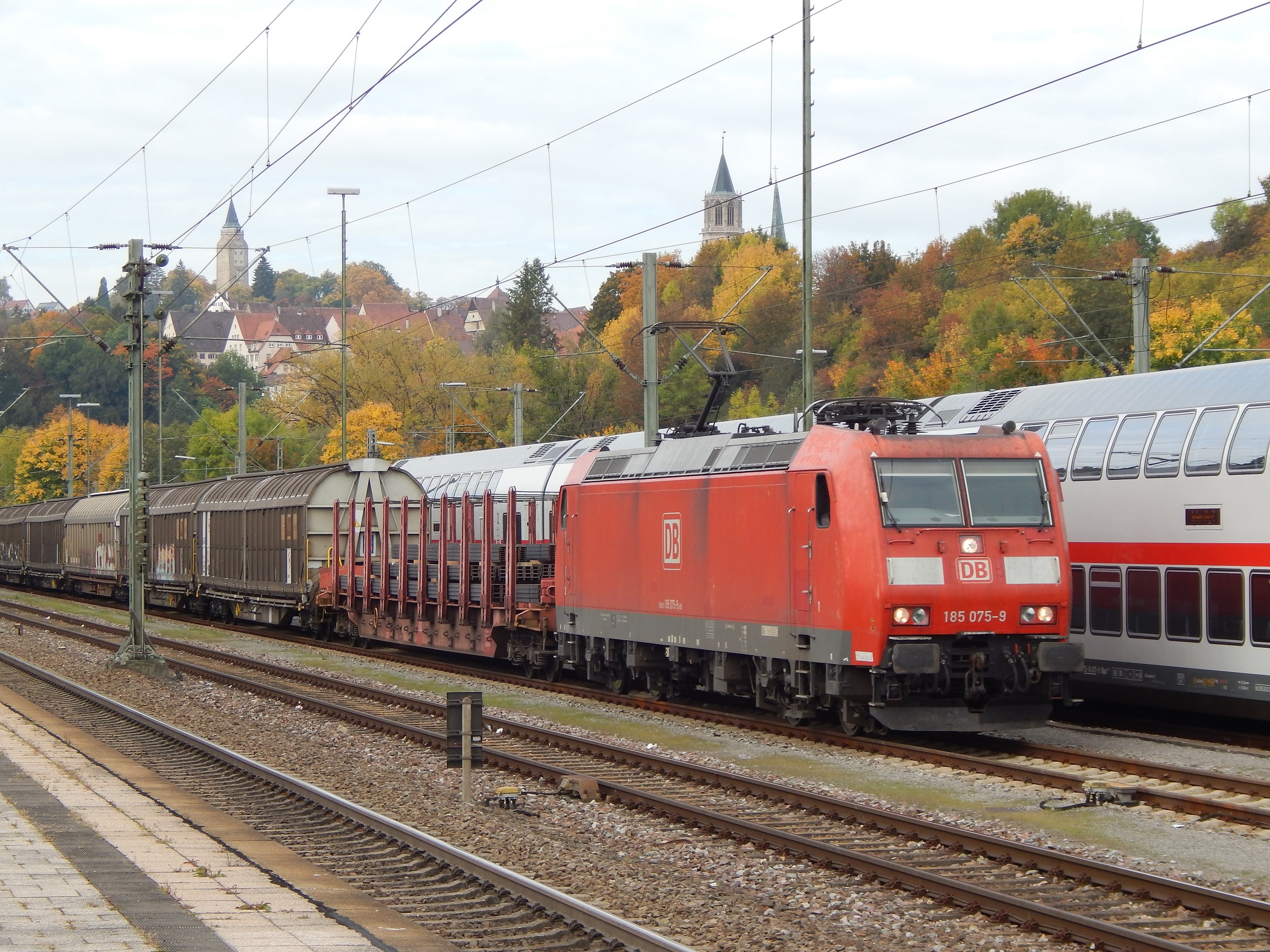 051 55 2017-09-29 11h33 Rottweil (185-075 + fret v Singen)
Alors qu'on pouvait légitimement s'attendre à voir apparaître le fret BLS vu à Böblingen,
c'est celui-ci qui se présente... pour être garé pour dépassement.
At this point, one could legitimately expect the arrival of the BLS freight that was spotted
in Böblingen, but in fact this one came up... only to be looped in order to be overtaken.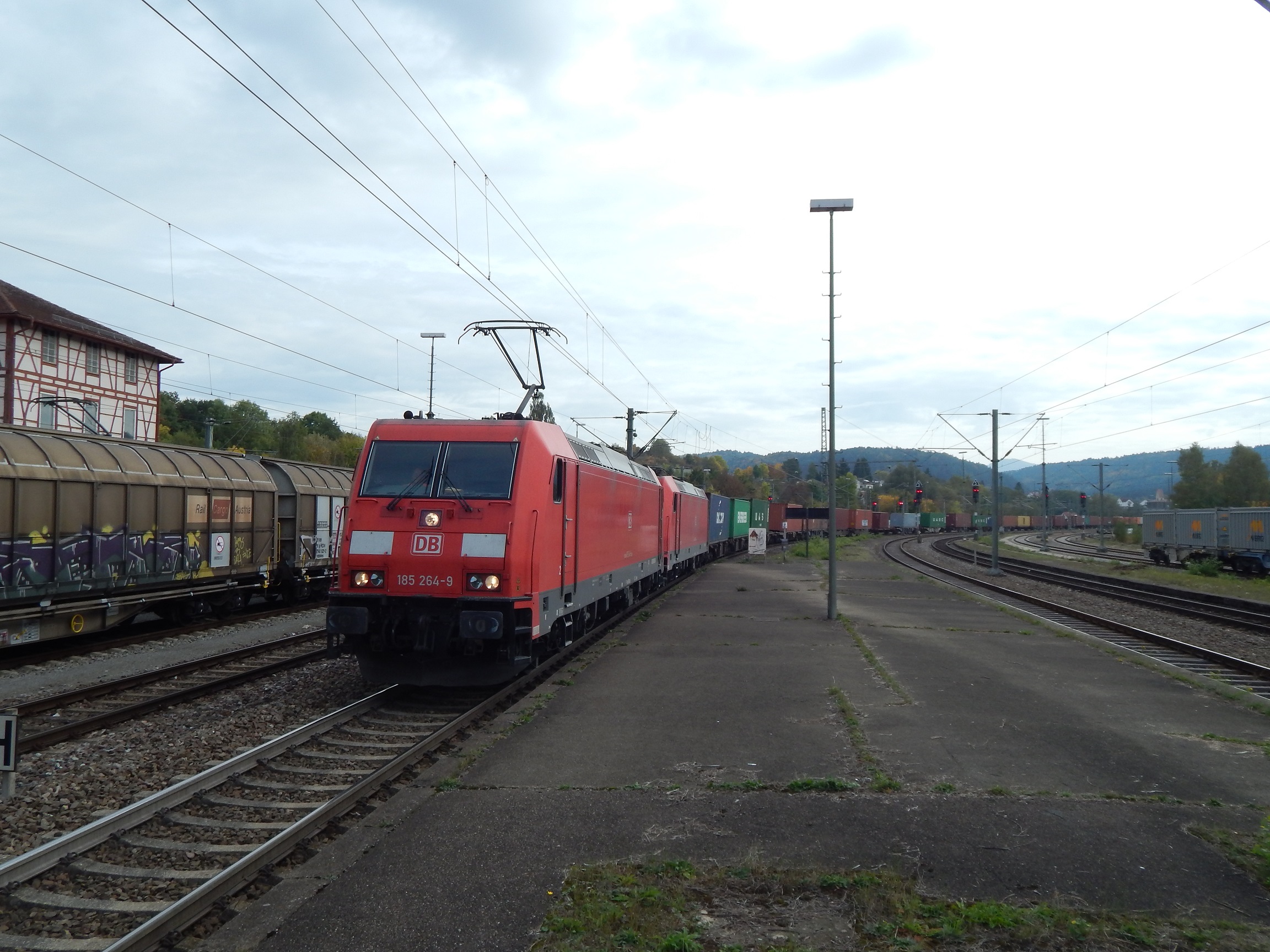 051 56 2017-09-29 11h35 Rottweil (185-264+185-209 + fret v Stuttgart)
Le premier fret Sud - Nord de la journée : aucun n'a été croisé depuis Böblingen, quittée pourtant à 9h38 !
Autrement dit, vu depuis Böblingen, 4 heures passent sans le moindre convoi de ce sens...
ce qui peut néanmoins se comprendre, car cet intervalle paraît correspondre à des départs
de la région de Milan qui se situeraient entre minuit et 4 heures du matin : peu probable...
The first northbound freight of the day : none had been seen since Böblingen, which was left
at 09.38 ! In other words, as seen from Böblingen, 4 hours went by without seeing any freight
in this direction... However, this is understandable, because this time span corresponds to
departures from the Milan area between midnight and 4 AM : most unlikely...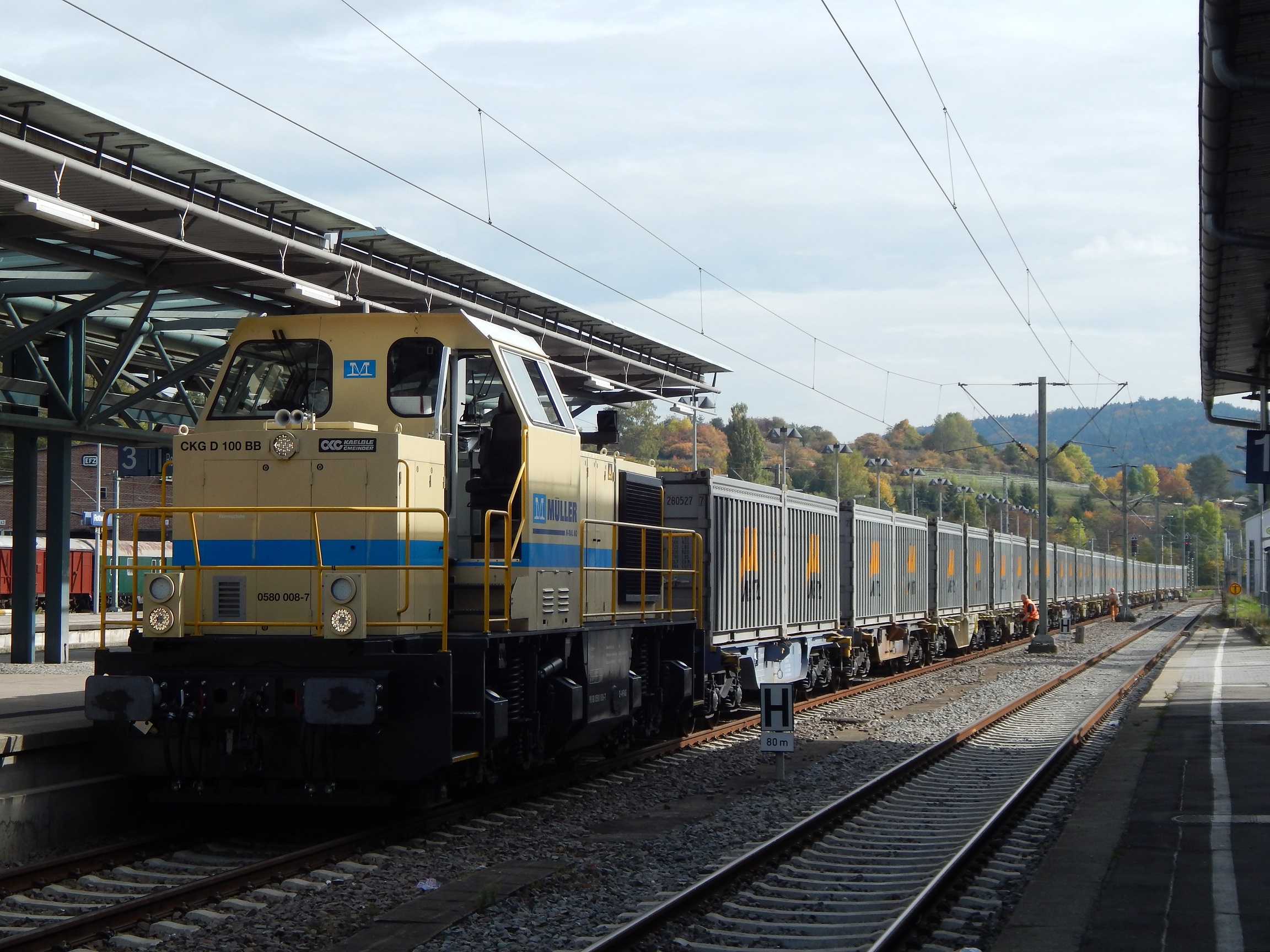 051 57 2017-09-29 11h47 Rottweil (G1700, manoeuvre locale)
Une manoeuvre locale dont le contenu ressemble fort au fret de la photo 31... qui venait donc d'ici.
A local shunting operation with wagons looking very much like those of picture 31... which, then,
were very probably coming from here.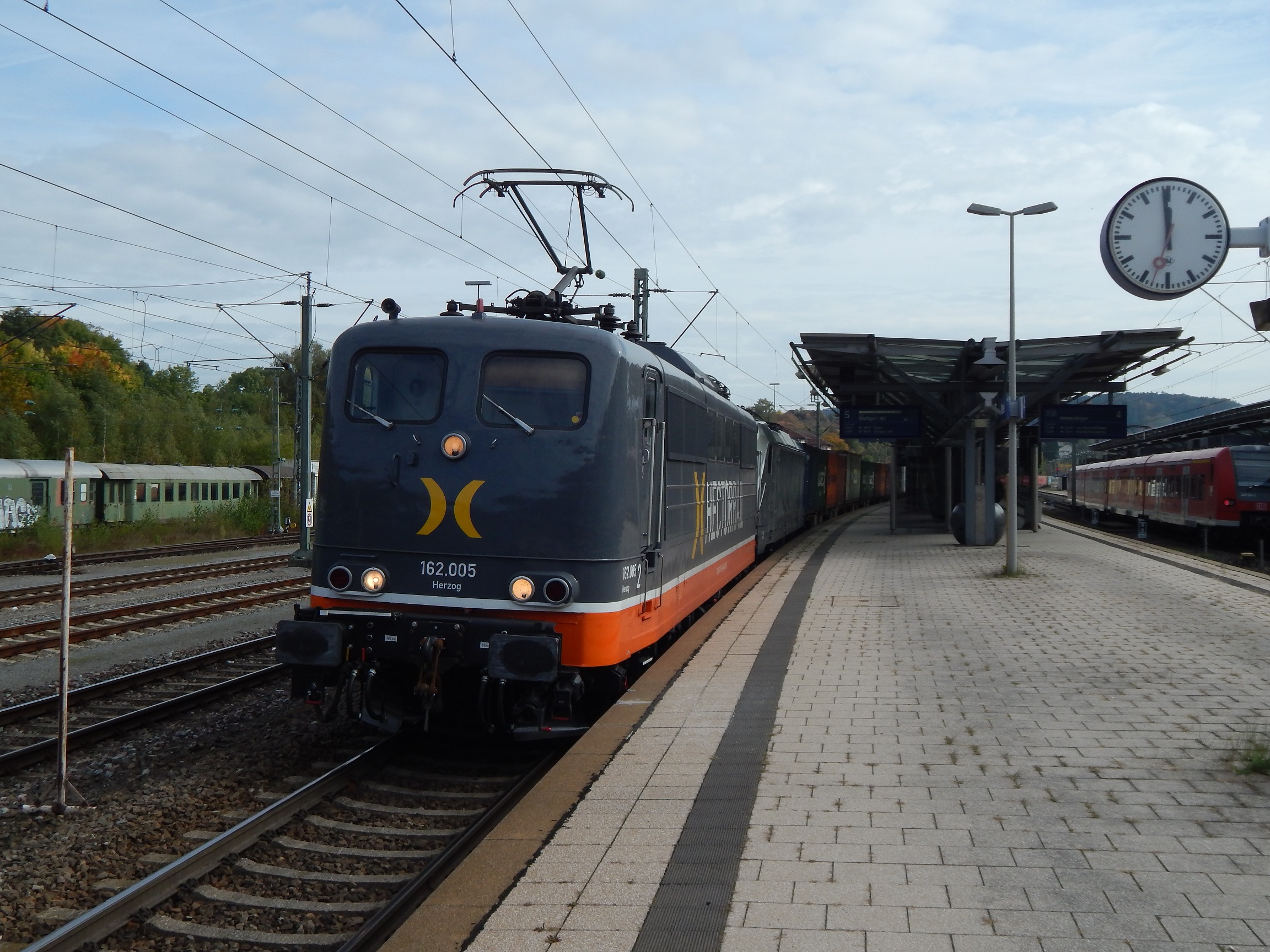 051 58 2017-09-29 12h01 Rottweil (162-005 Hector Rail v Stuttgart)
Un second fret Sud - Nord, 26 mn après le précédent : un rythme déjà plus normal...
La locomotive est une ex-151 de la DB, dont Hector Rail possède 15 exemplaires : 10 (162-001
à 010) sont effectivement en service, et les 5 autres servent de réserve de pièces détachées...
A second northbound freight, 26 mins after the first one : a somewhat more normal rhythm...
The locomotive is an ex-DB Class 151 ; Hector Rail has 15 of these, 10 (162-001 to 010)
on duty and the extra 5 as spare parts.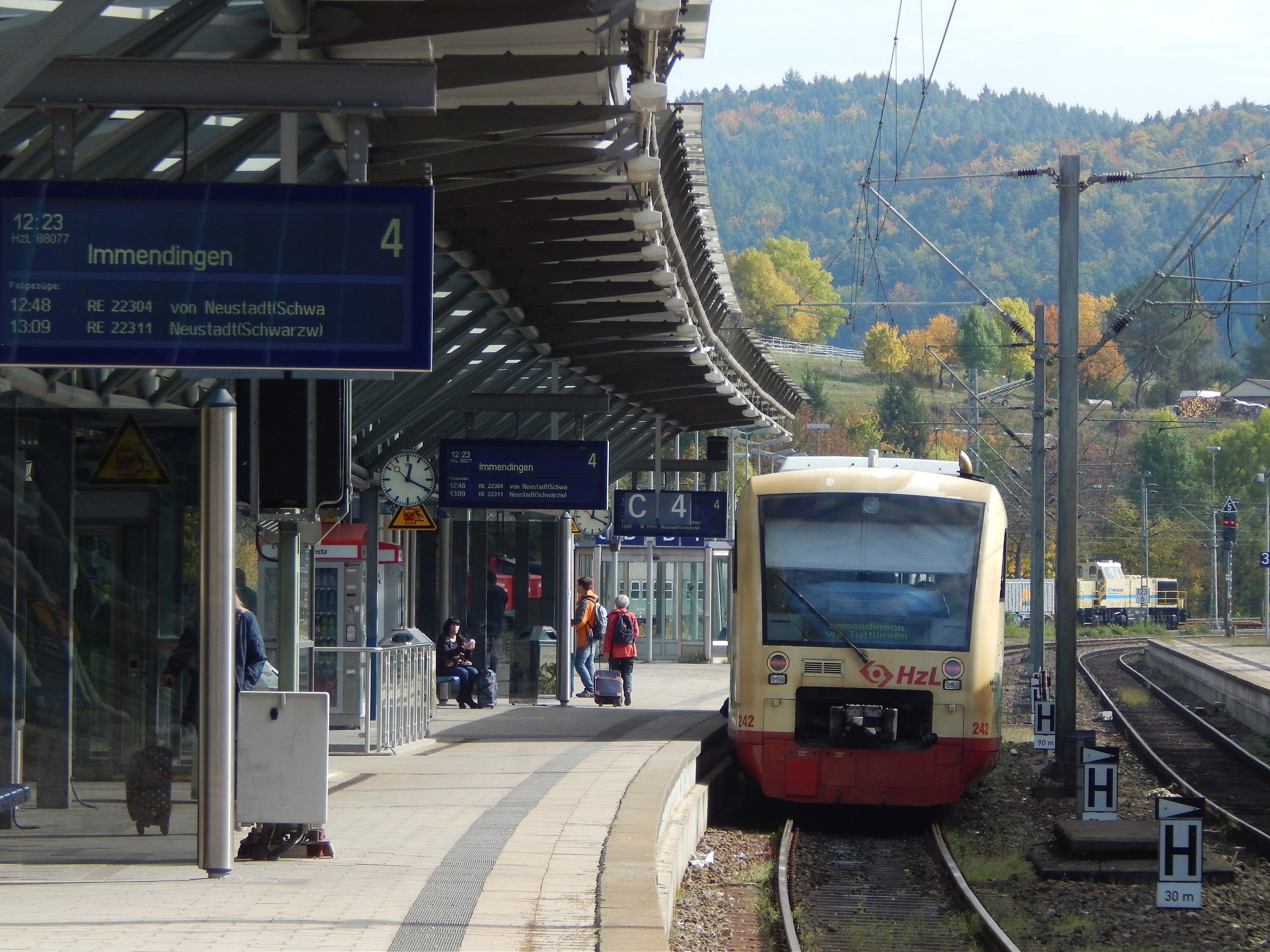 051 59 2017-09-29 12h21 Rottweil (650-638 VT 242 v Immendingen)
L'autorail emprunté pour le parcours suivant, jusqu'à Tuttlingen.
The DMU of the following leg, as far as Tuttlingen.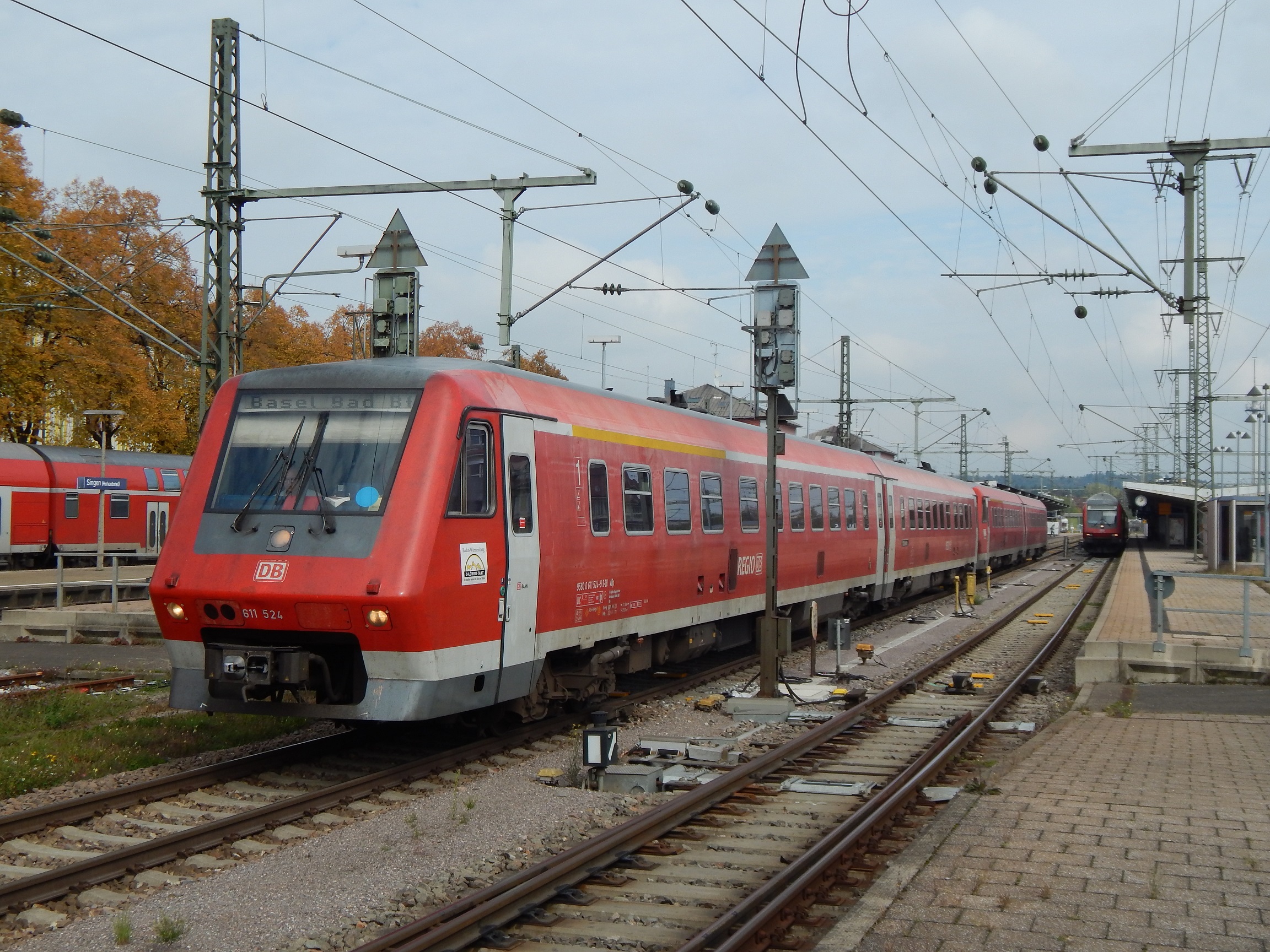 051 60 2017-09-29 14h08 Singen (611-024+011 vers Basel-Bad)
Nous voici arrivés à Singen (Hohentwiel), à proximité de la frontière suisse... où ce n'est pas
simple non plus : faute de raccordement direct pour la direction de Schaffhouse et Zürich,
le fret doit y rebrousser... tout comme le font d'ailleurs les IC Stuttgart < > Zürich.
Heureusement, les voies disponibles sont nombreuses : il y en a 8, même si toutes ne sont
sans doute pas assez longues pour les trains du combiné, plutôt longs par nature.
L'automoteur 611 ci-dessus est pendulaire, et à destination de Bâle... gare allemande.
We have finally reached Singen (Hohentwiel), near the swiss border... where things aren't
that easy either : as there is no chord for a direct continuation towards Schaffhausen and
Zürich, freight trains must reverse here... just like the Stuttgart < > Zürich ICs.
But there is a wealth of tracks for this : no less than 8, even if perhaps not all of them
are long enough for intermodal trains, which are usually long. The Class 611 DMU is tilting,
and is bound for Basle... the german station, not the swiss one.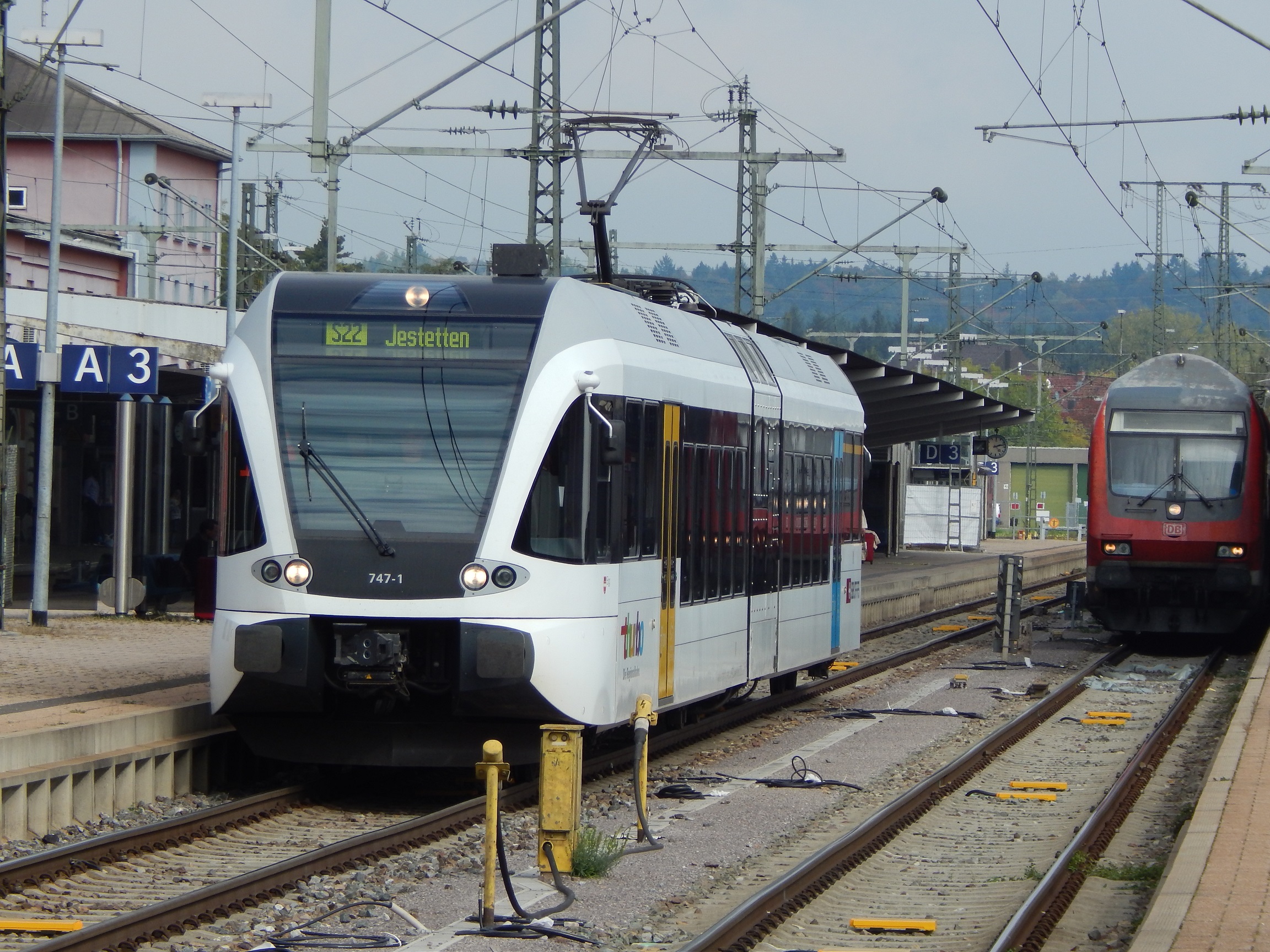 051 61 2017-09-29 14h14 Singen (H) 747
... et l'on voit évidemment ici du matériel suisse, y compris pour des liaisons locales qui réalisent
des parcours significatifs en Allemagne (voir aussi photo 66). Ci-dessous, séquence de rebroussement
d'un IC Stuttgart > Zürich, qui troque sa locomotive DB série 101 pour cette 11114 suisse.
... and of course one can see here swiss motive power, including some for local services which run
for significant distances in german territory (see also picture 66). Below, a reversal sequence
for a Stuttgart > Zürich IC, which swaps its Class 101 DB loco for this swiss 11114.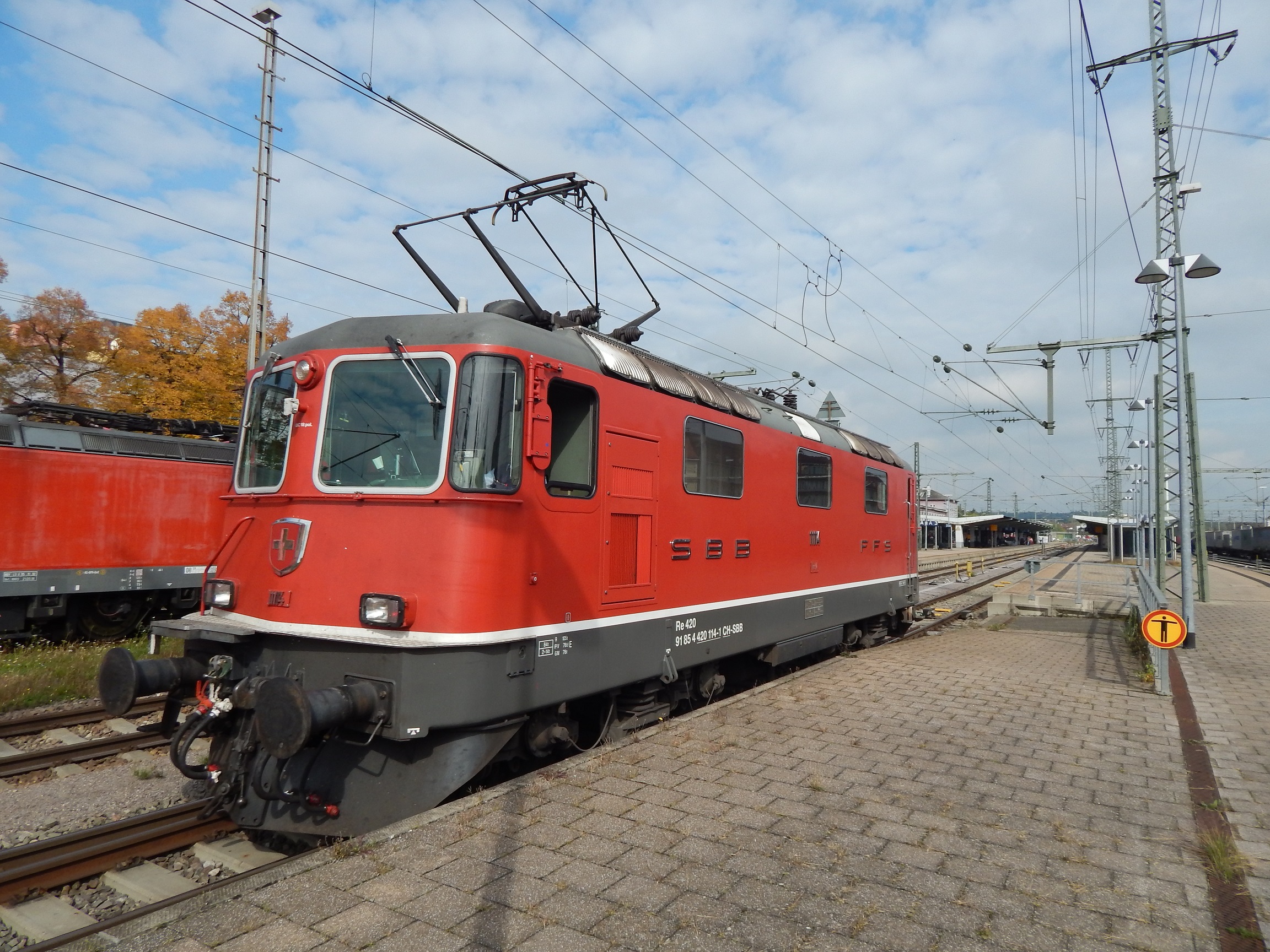 051 62 2017-09-29 14h28 Singen (H) 11114 en manoeuvre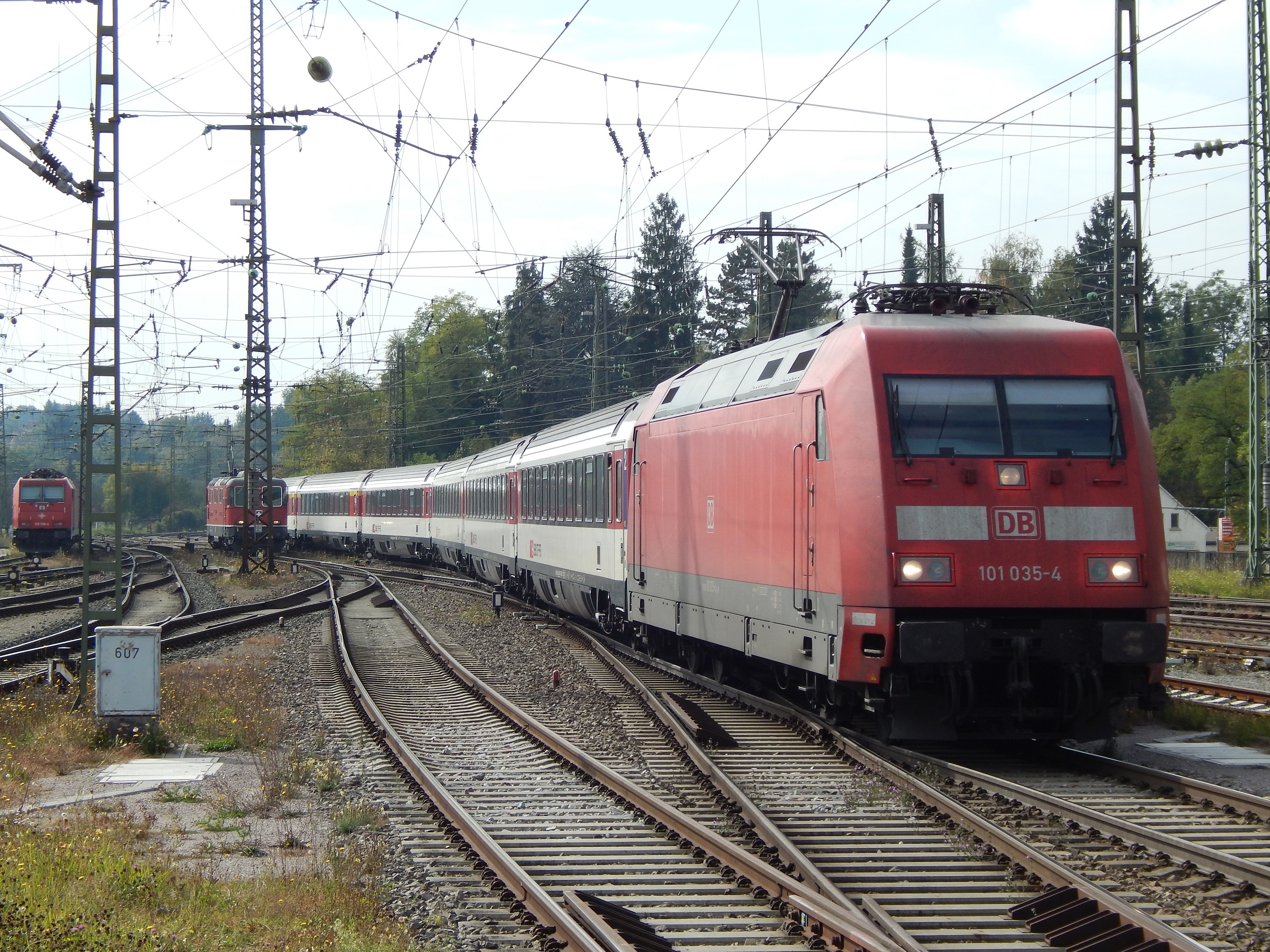 051 63 2017-09-29 14h31 Singen (H)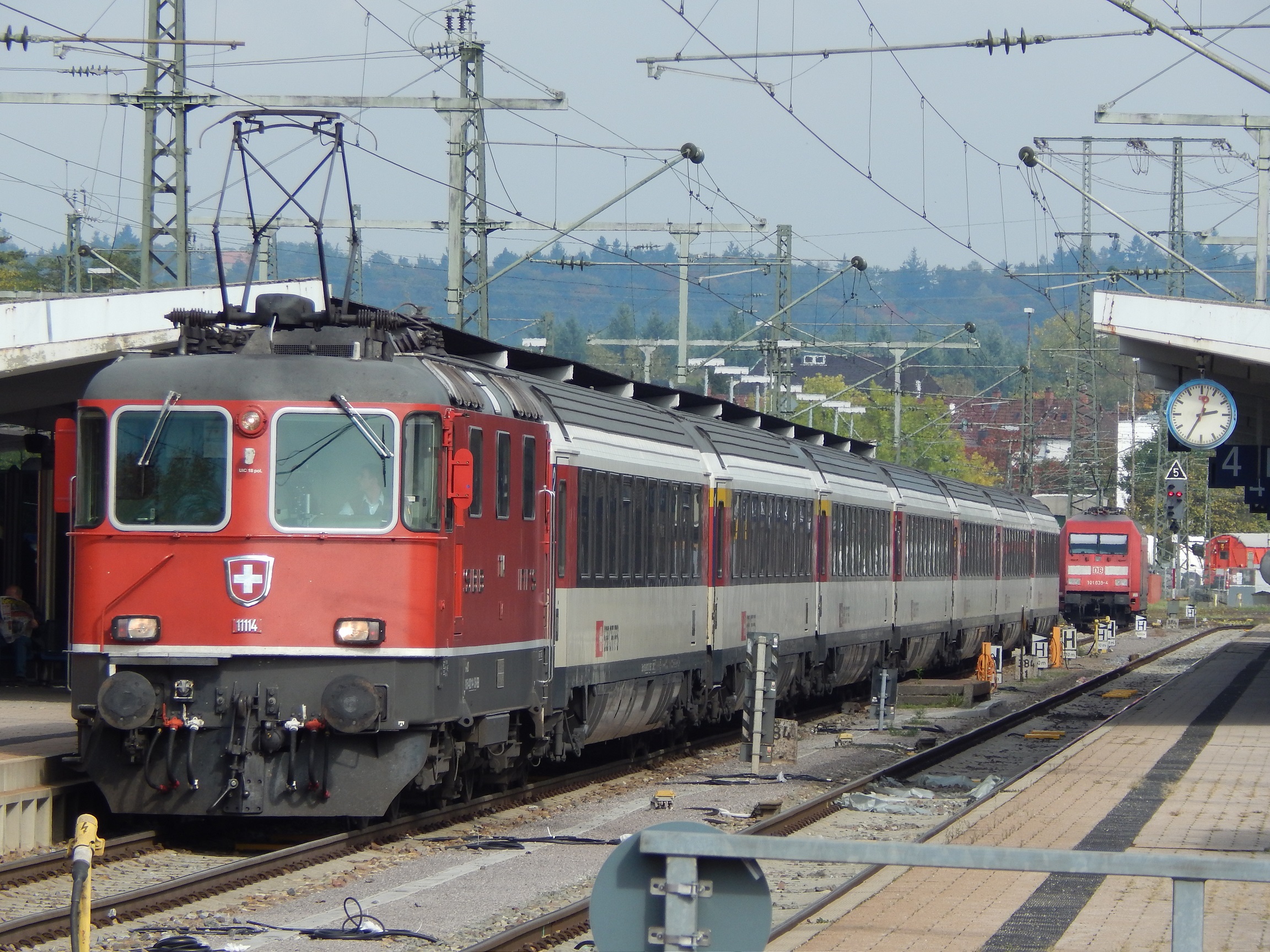 051 64 2017-09-29 14h36 Singen (H)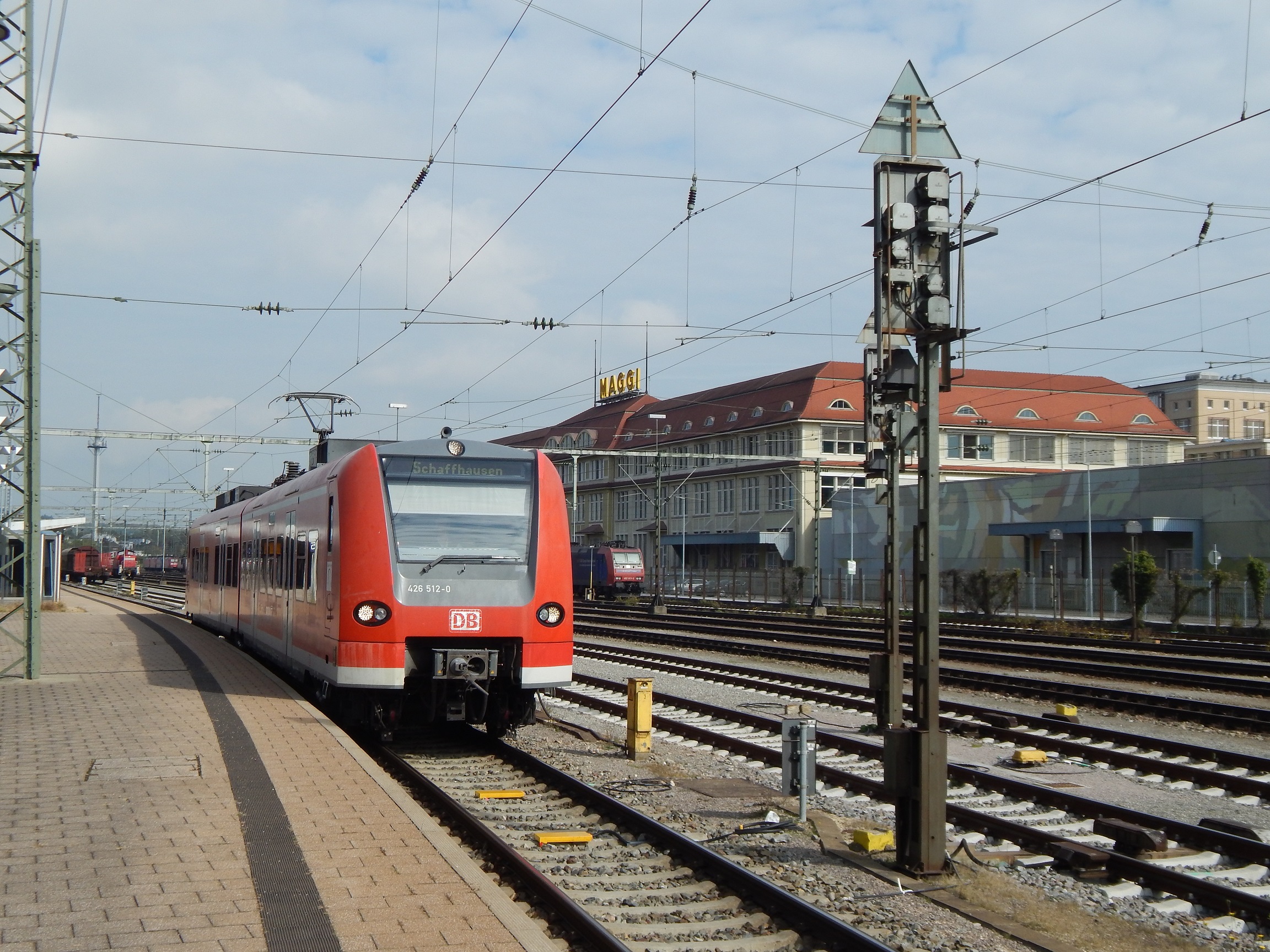 051 65 2017-09-29 14h42 Singen (H) 426-012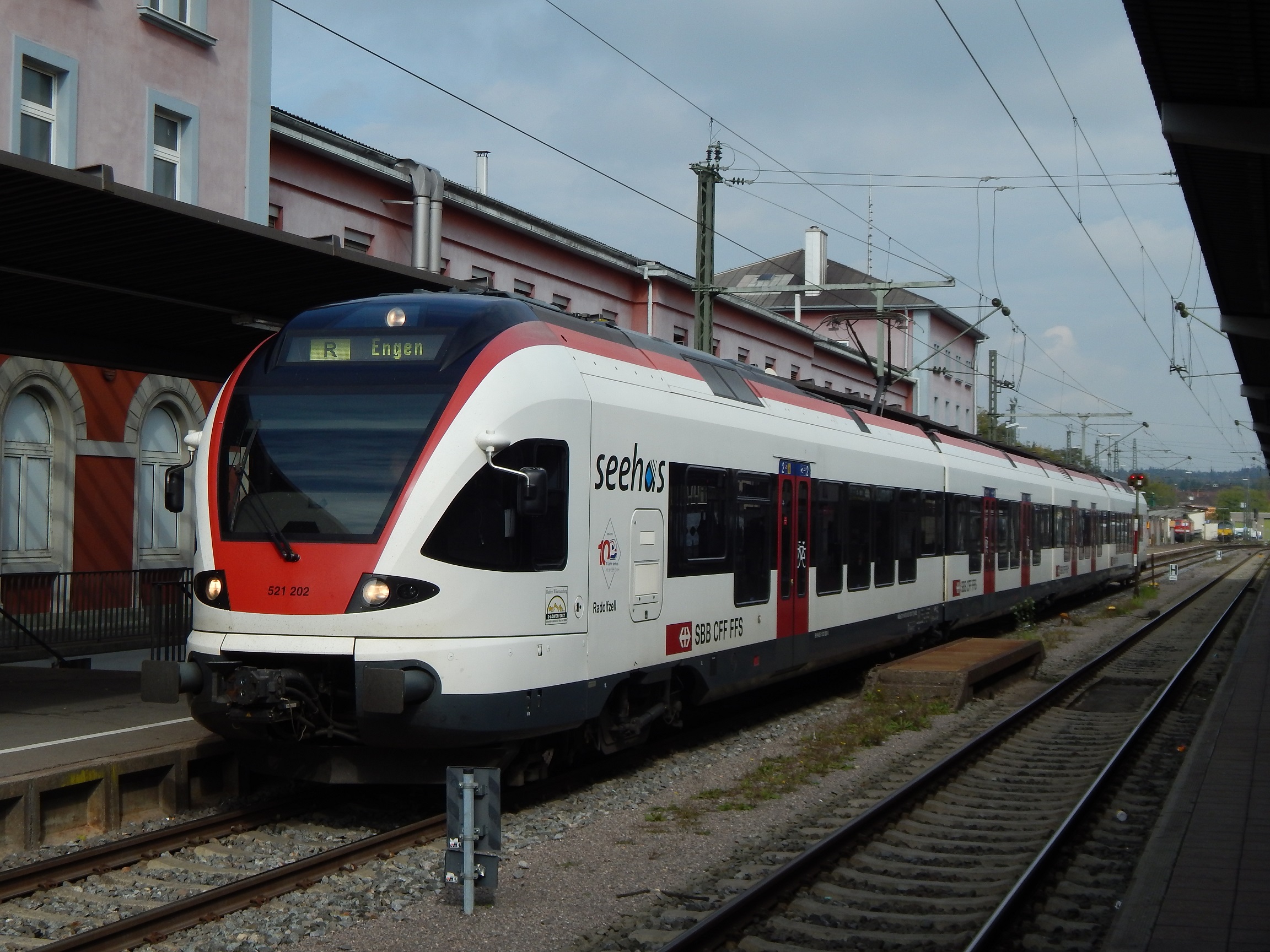 051 66 2017-09-29 14h59 Singen (H) 521-202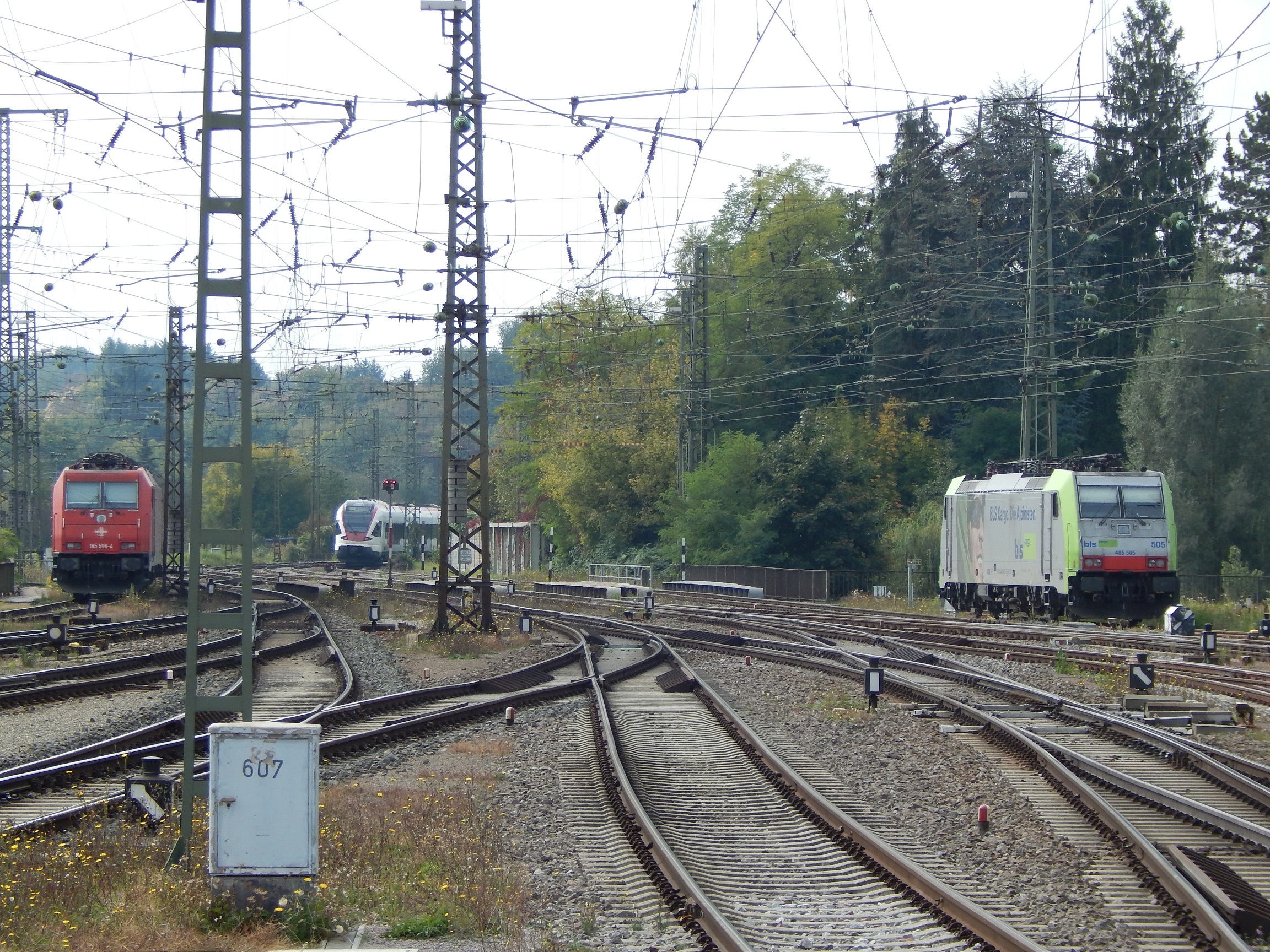 051 67 2017-09-29 14h00 Singen (H) 185-596 Crossrail + 486-505 BLS
L'entrée Ouest de la gare de Singen. A gauche, derrière la locomotive Crossrail garée, la ligne
vers la Suisse (Schaffhouse puis Zürich). Au milieu, l'automotrice suisse est celle de la vue précédente,
qui prend ici la direction de la ligne de Stuttgart... mais pour un parcours court. A droite,
une locomotove BLS garée. En fait, il y a tellement de locomotives fret garées sur ce site
qu'on en trouve un peu partout, comme les vues suivantes vont le montrer...
The western throat of the Singen station. On the left, behind the idle Crossrail loco, the line
towards Switzerland (Schaffhausen and further on towards Zürich). In the middle, the swiss EMU
is the one of the previous picture, now leaving on the Stuttgart line... but for a short journey.
On the left, an idle BLS loco. In fact, so many freight locomotives are waiting here that they
can be seen all over the place, as the next pictures will show...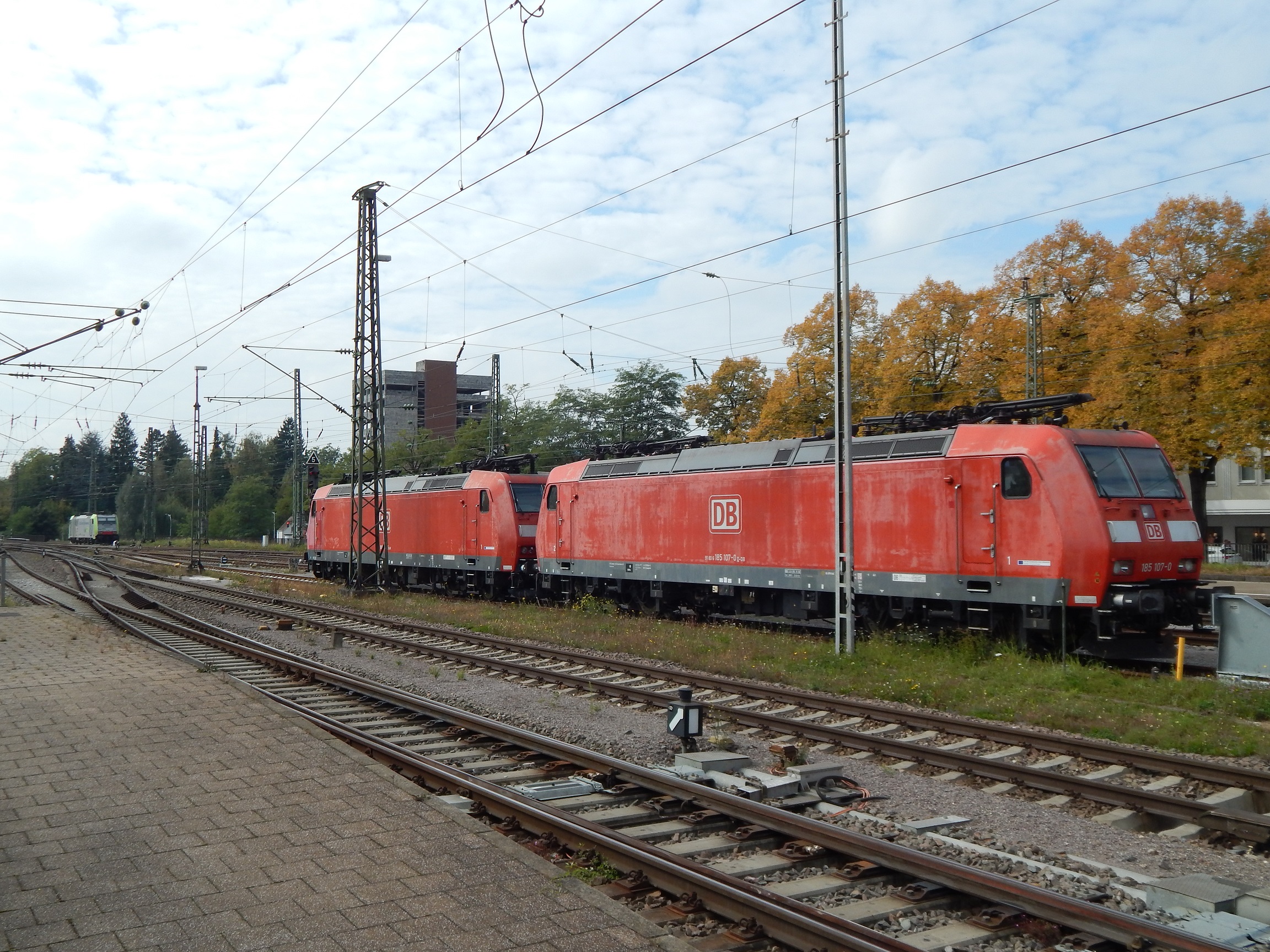 051 68 2017-09-29 14h02 Singen (H) 185-096+185-107
Toujours côté ouest de la gare, plus près des quais : deux locomotives DB de la série 185.
Still on the west side of the station, closer to the platforms : a pair of DB Class 185s.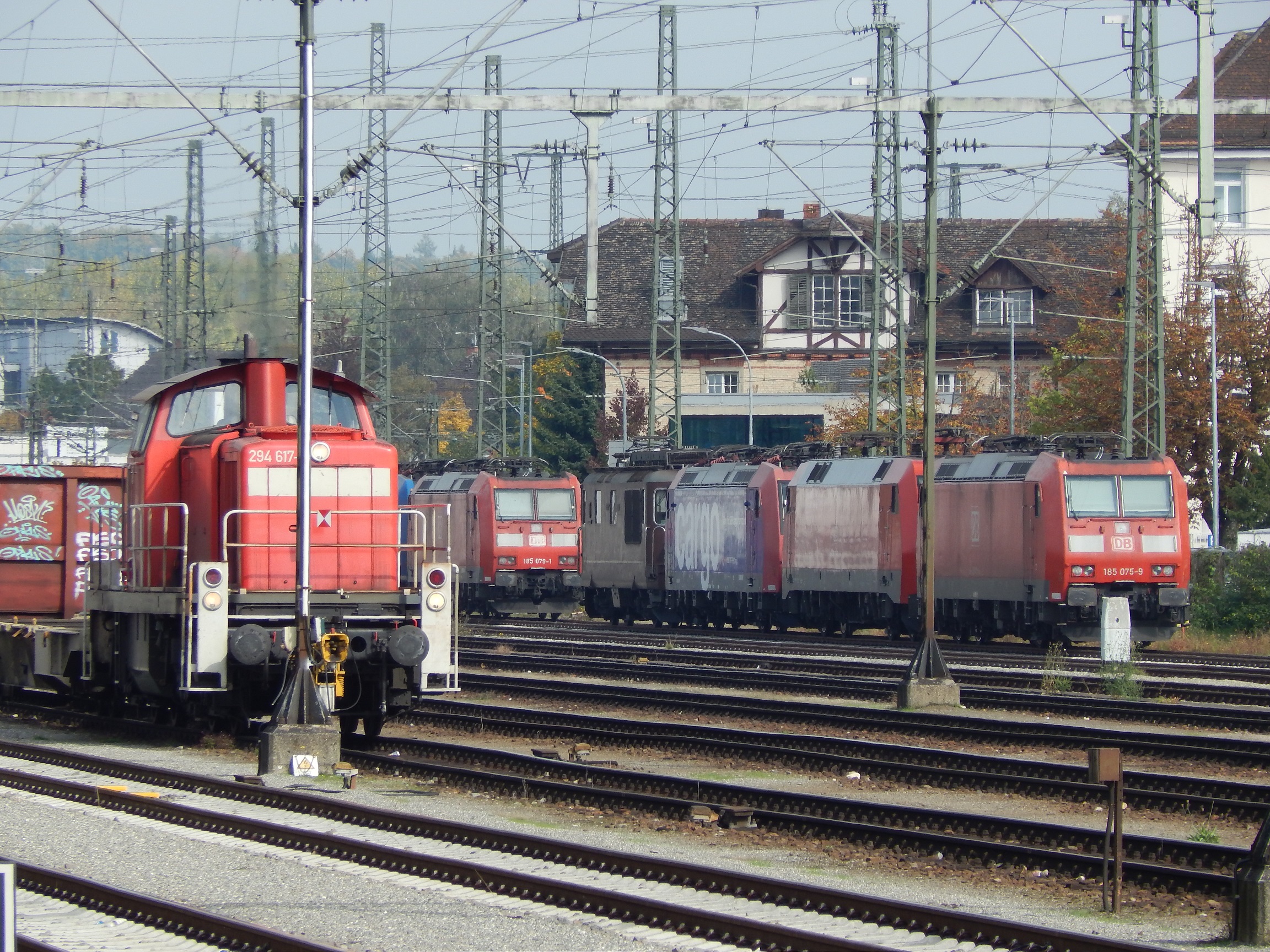 051 69 2017-09-29 14h44 Singen (H) 294-617 185-079
... et côté Est, ce n'est pas mal non plus !
... and the east side is busy too !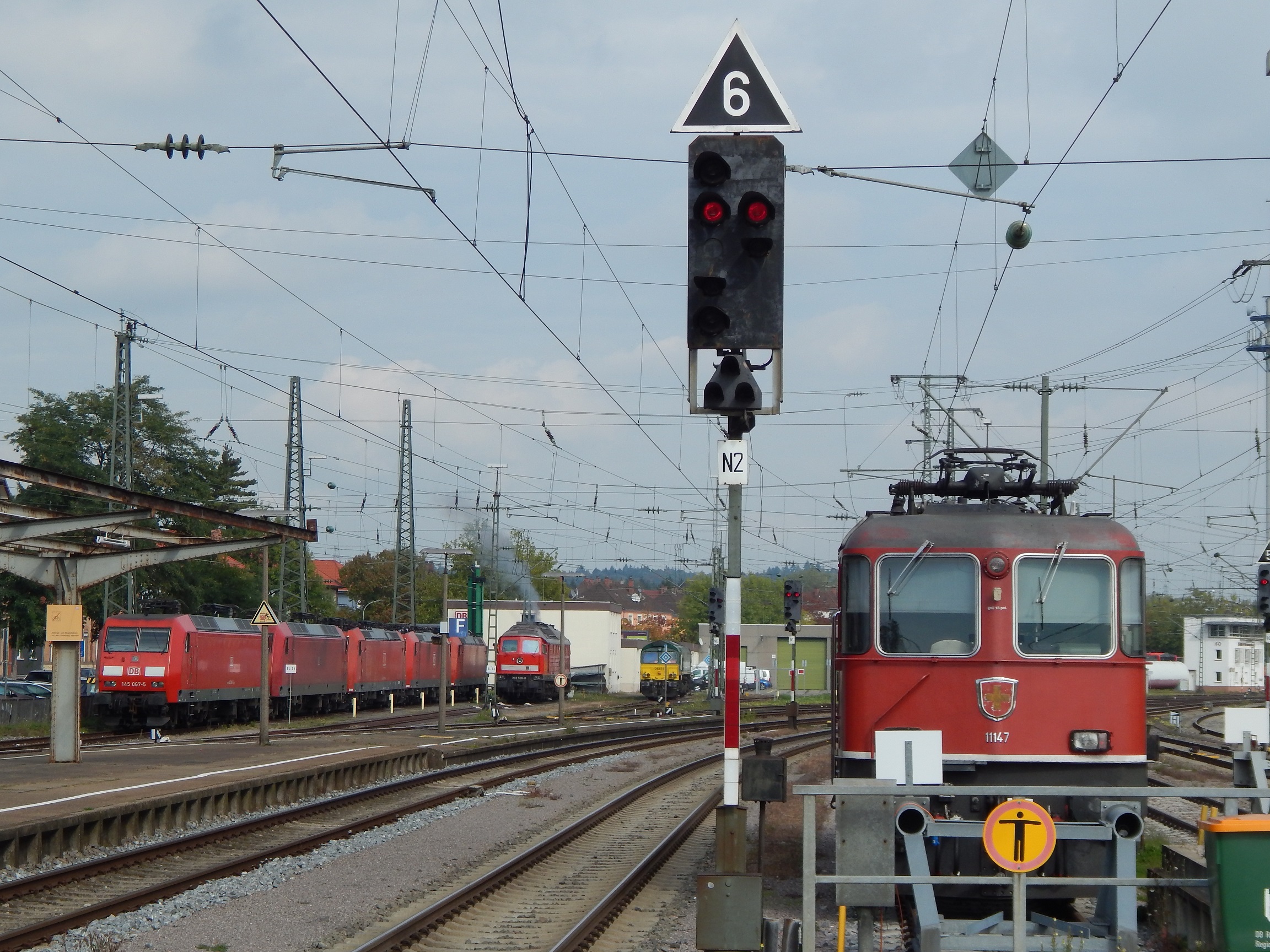 051 70 2017-09-29 14h56 Singen (H) SBB 11147 + locos diverses dont 232-528
Côté Est toujours...
Still on the east side...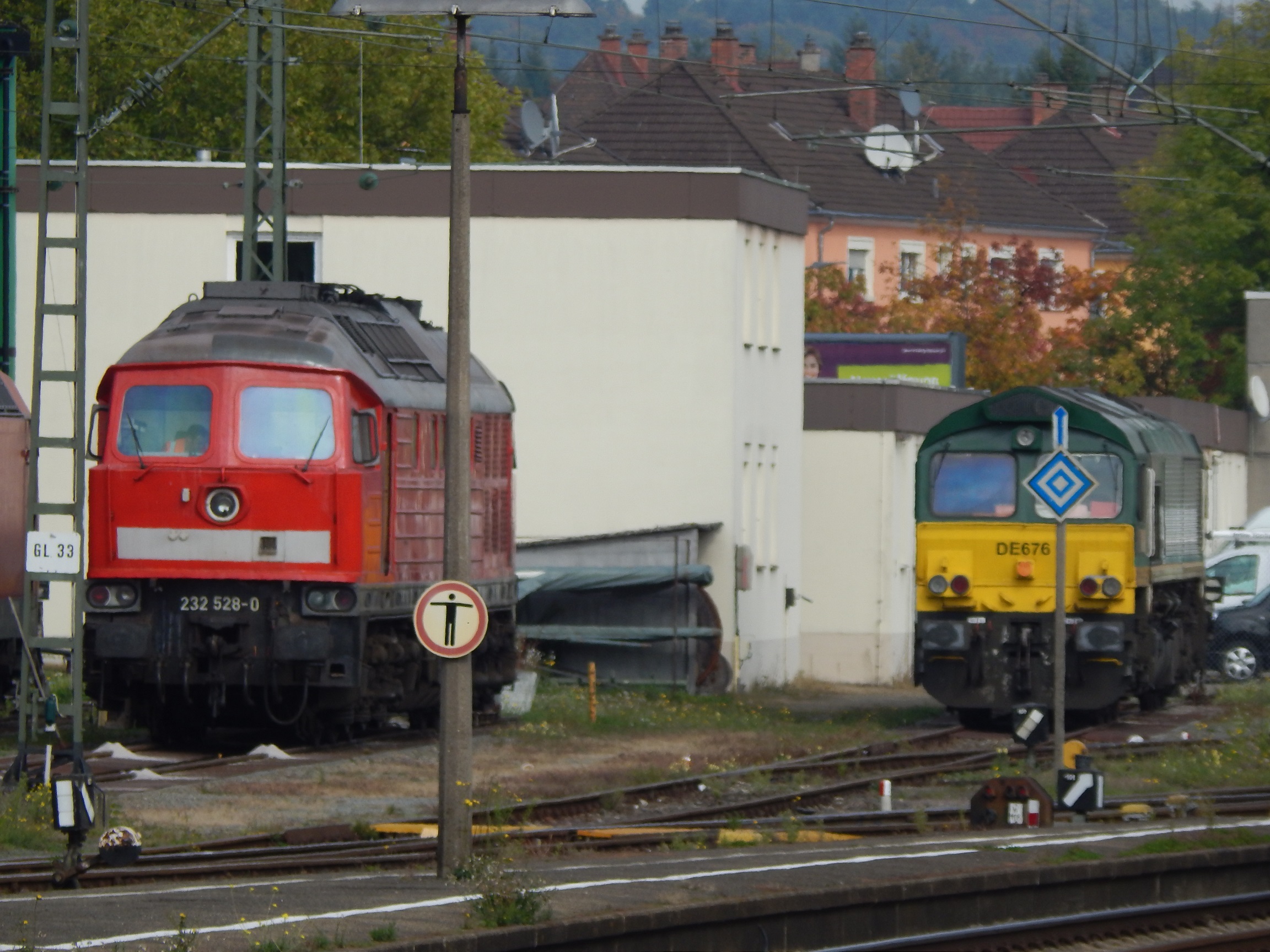 051 71 2017-09-29 14h54 Singen (H) 232-528 + Class 66-77
... jusqu'à trouver une locomotive ex-RDA, et une Class 66/77... Noter la différence de gabarit.
... and this goes as far as discovering now a formerly east german loco, as well as a Class 66 or 77.
Note the difference in size (gauge) between the two.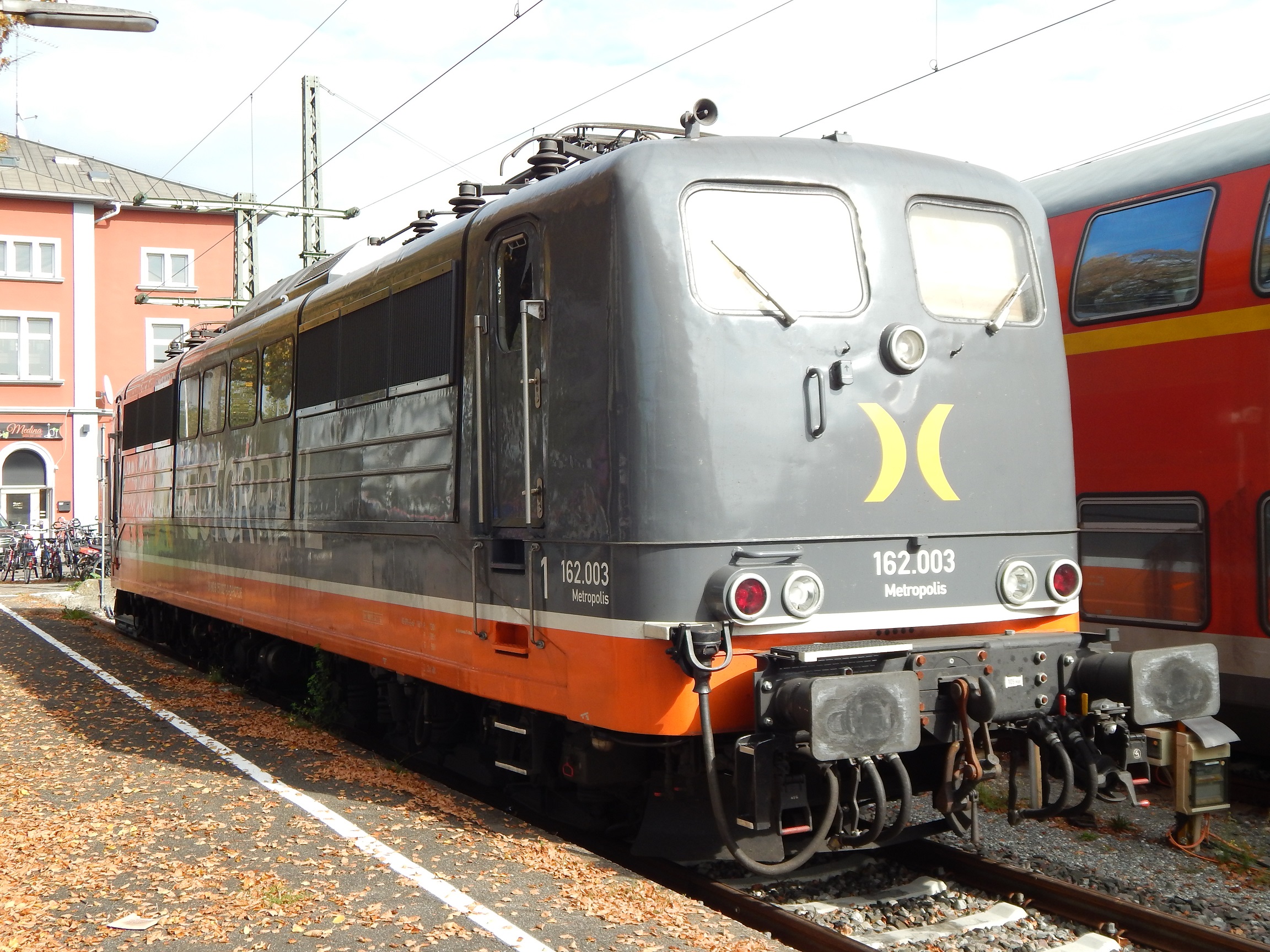 051 72 2017-09-29 14h59 Singen (H) 151-027 aka 162-003 Hector Rail
Retour côté Ouest, au plus près de la gare cette fois, pour une autre locomotive Hector-Rail,
qui a conservé sa numérotation 151-027 ex-DB sur le côté (voir photo ci-dessous) : visiblement,
cette double numérotation ne gêne personne... ou alors, il était trop compliqué de changer
celle d'origine, qui est probablement celle devant servir dans la gestion des circulations.
Back to the western station throat, just next to the station building this time, for yet another
Hector Rail loco, which has retained the ex-DB 151-027 numbering on its sides (see picture below) :
this double numbering does not seem to worry anyone... or perhaps it was too complicated
to change the original number, which is probably the useful one for traffic management.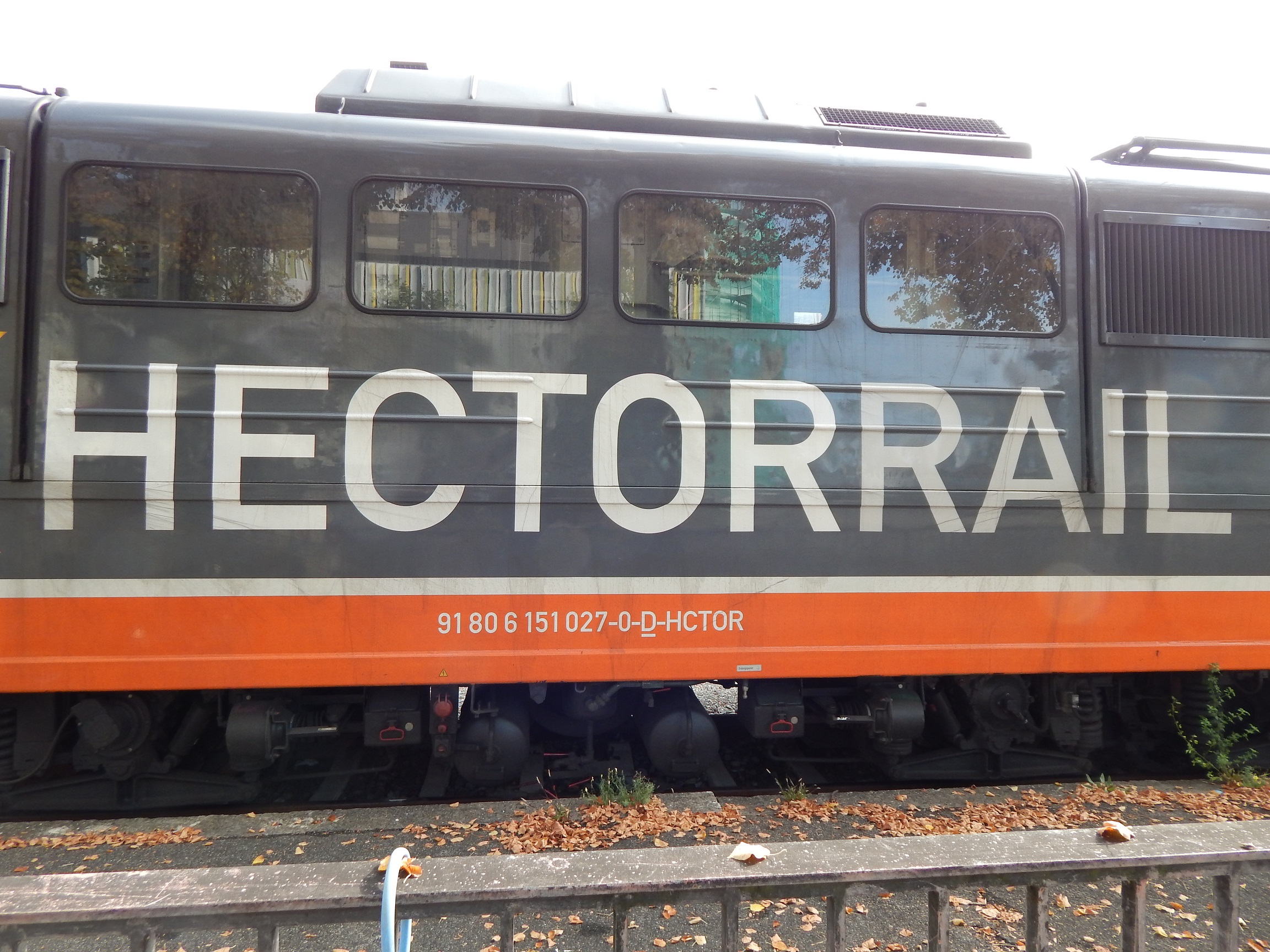 051 73 2017-09-29 14h59 Singen (H) 151-027 aka 162-003 Hector Rail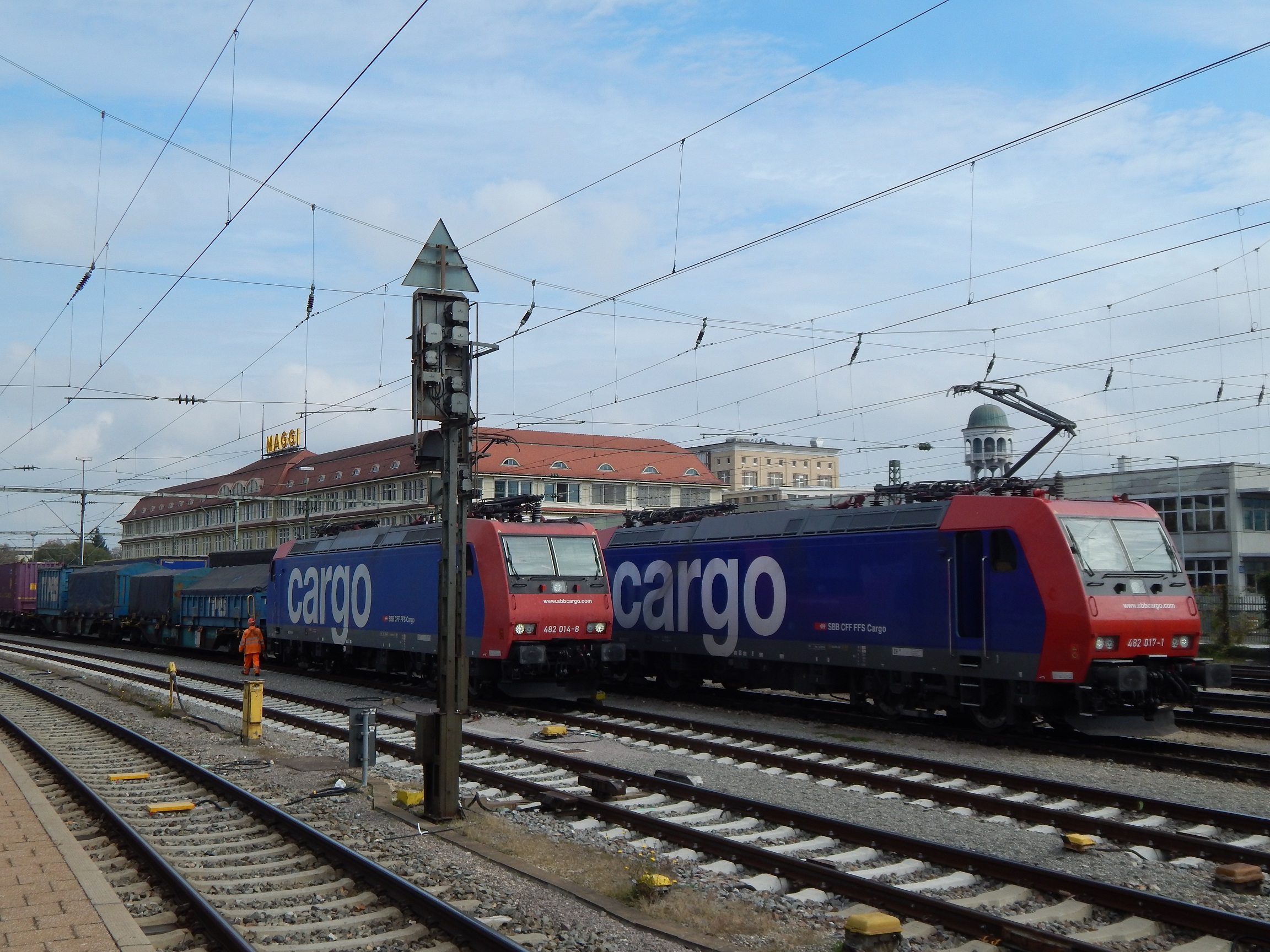 051 74 2017-09-29 13h57 Singen (H) 482-014 v Stuttgart 482-017 v CH
Voyons maintenant comment circule le fret dans cette gare. Tout se passe donc côté Ouest,
et on pourrait croire ici que ces deux locomotives suisses, même "compatibles Allemagne",
sont toutes deux à destination de la Suisse. La suite montrera qu'il n'en est rien, celle
de gauche étant bel et bien à destination de l'Allemagne...
Let us now look at how freight is handled in this station. Clearly, everything is taking place
at the western end, and one might think that these two swiss locos are bound for Switzerland,
even if both are fit to run in Germany. We'll soon find out that this is not so : the one
on the left is bound for Germany...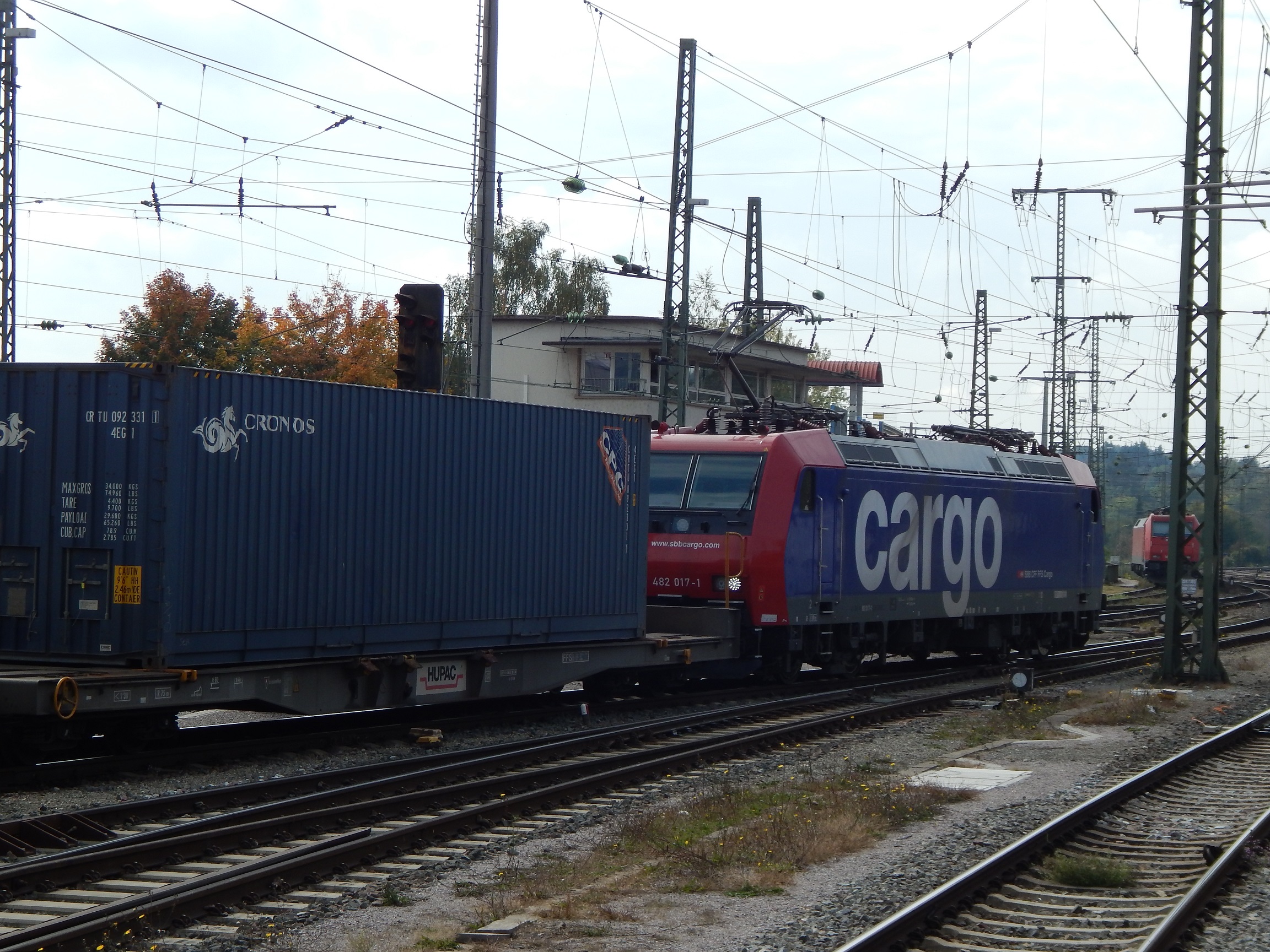 051 75 2017-09-29 14h18 Singen (H) 482-017 v CH
Le convoi de droite part donc vers la Suisse...
So, the train on the right leaves for Switzerland...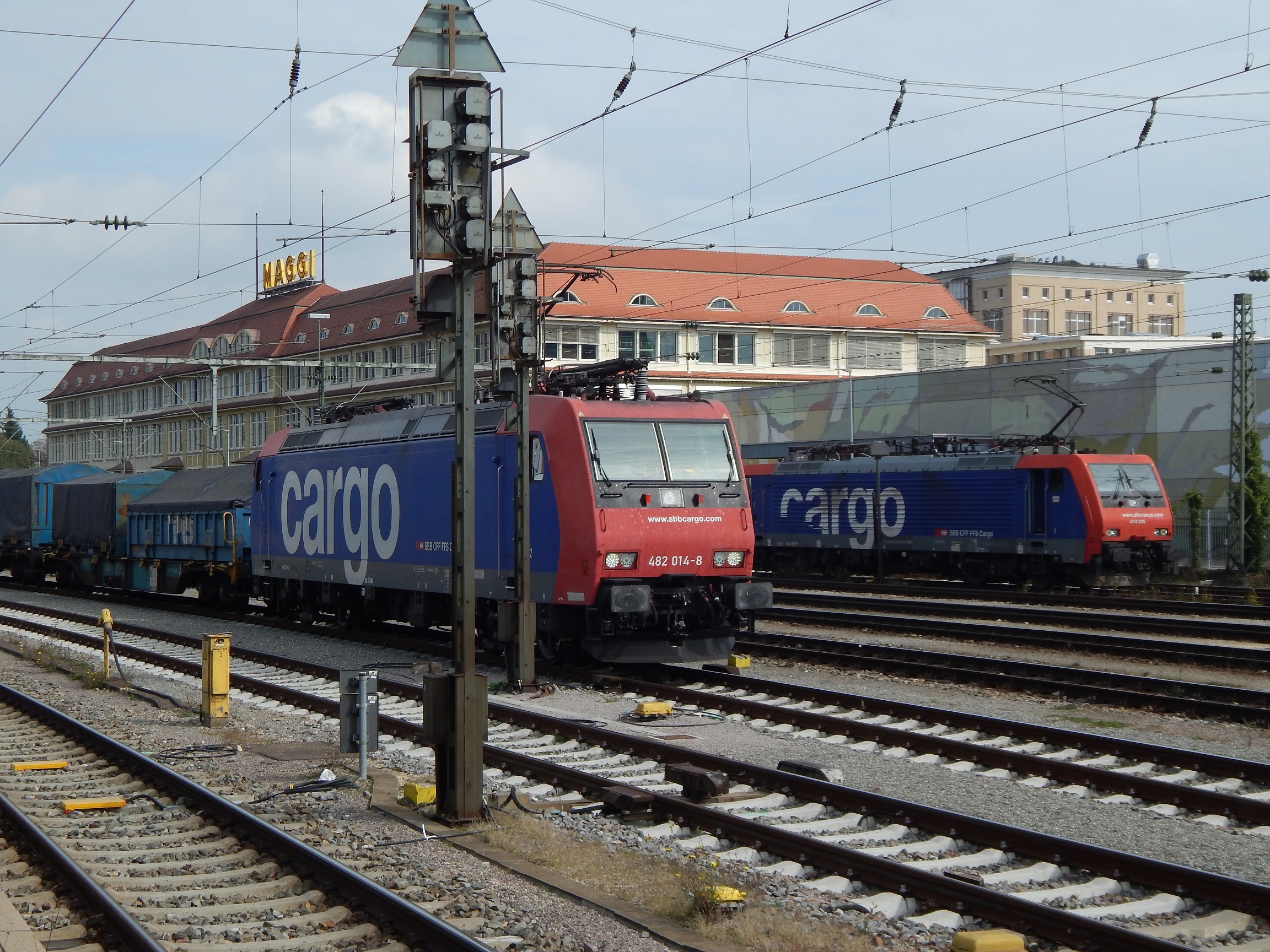 051 76 2017-09-29 14h22 Singen (H) 482-014 v Stuttgart 474-005 v CH
... ce qui en révèle un autre derrière lui, qui partira bientôt vers la Suisse également.
... which uncovers another one just behind, which will soon leave for Switzerland too.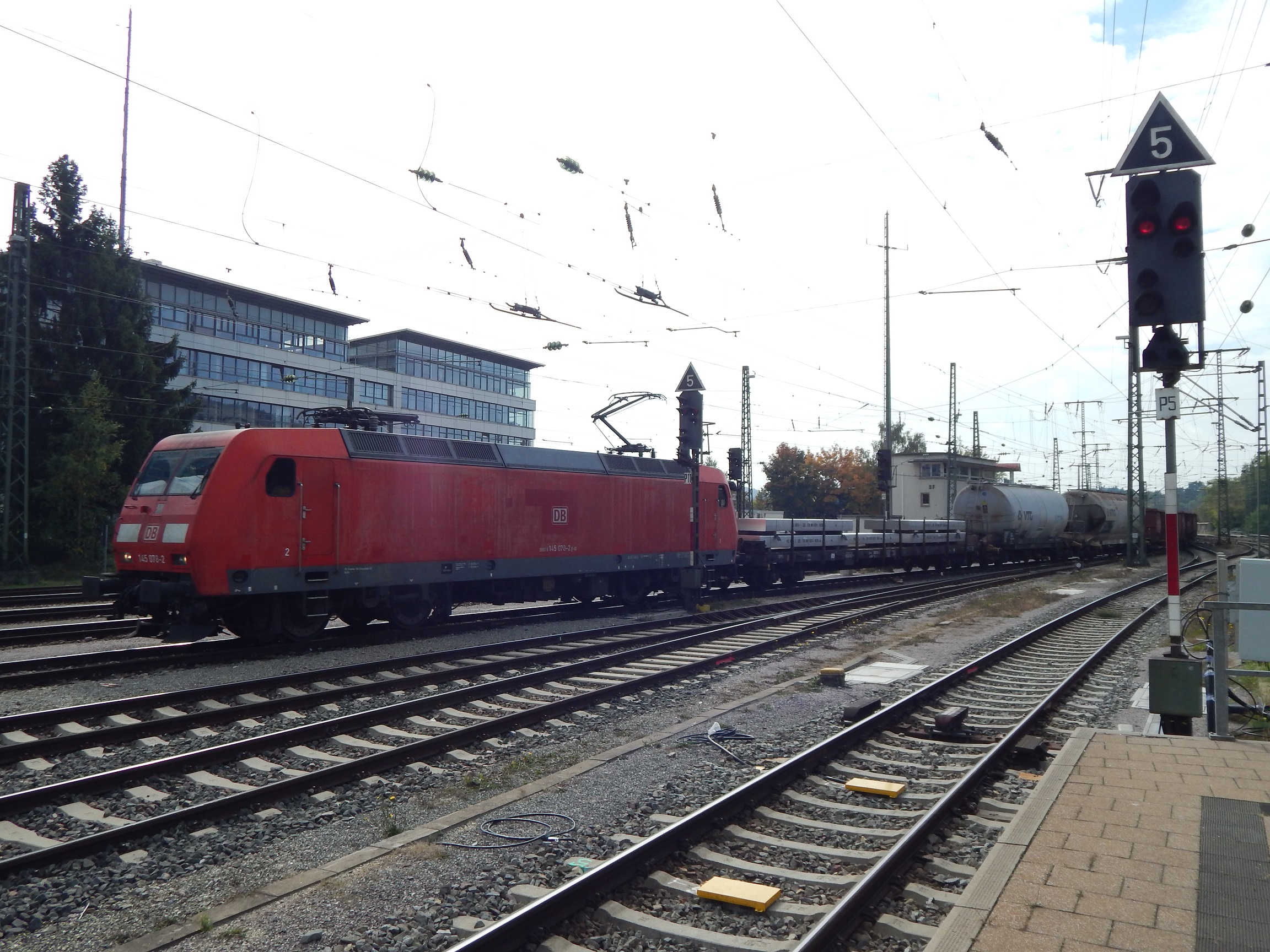 051 77 2017-09-29 14h23 Singen (H) 145-078
Le train BLS vu à Böblingen est toujours attendu, et celui qui se présente ici n'est pas celui de
la photo 55 : c'est donc le deuxième à avoir doublé le convoi BLS quelque part entre Böblingen et ici...
The BLS train spotted in Böblingen still hasn't shown up, and this one is not the one of picture 55 :
this is then the second one which overtook the BLS train, somewhere between Böblingen and here...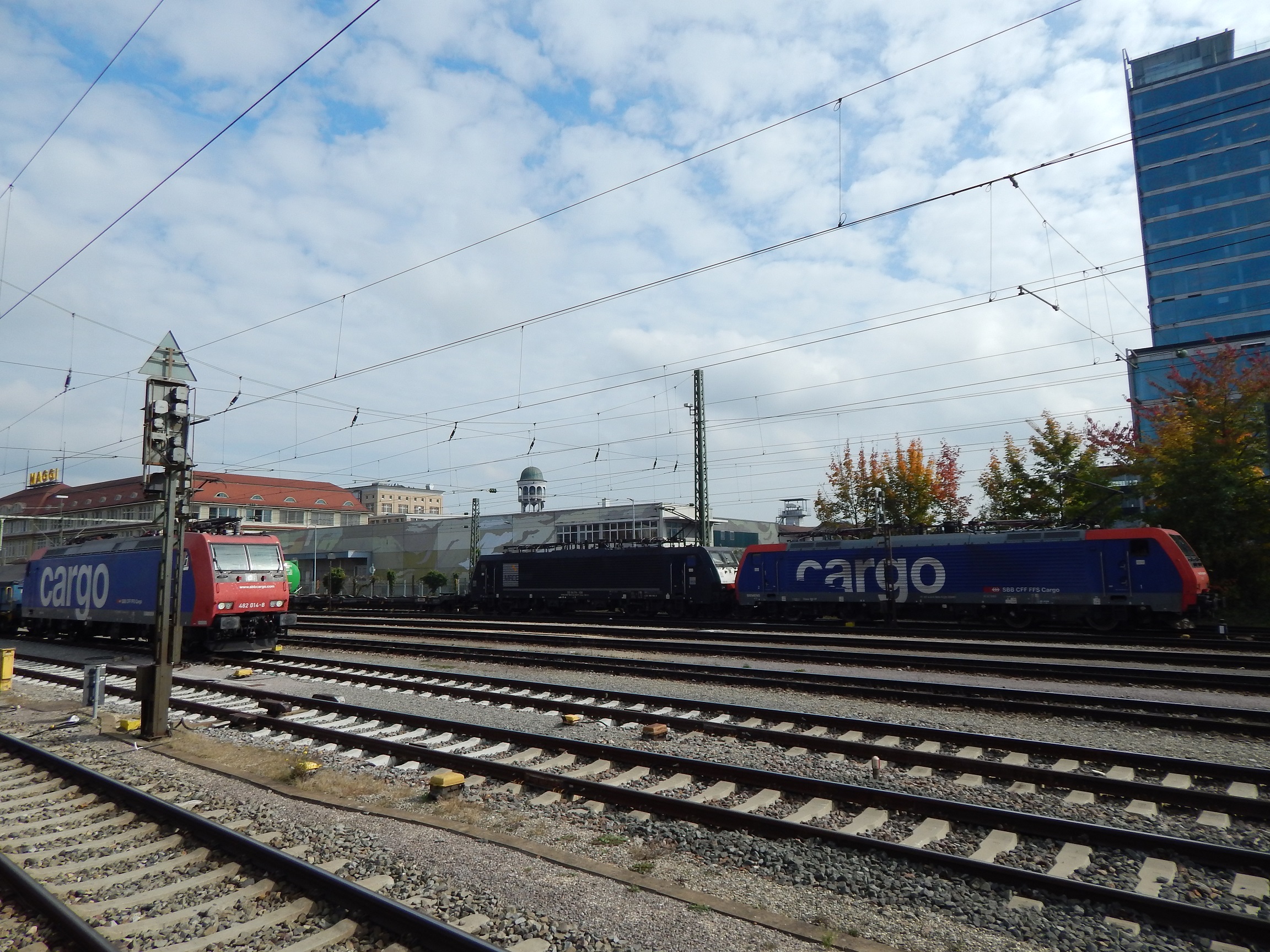 051 78 2017-09-29 14h25 Singen (H) 474-005 + 189 ES64F4
Deuxième départ vers la Suisse donc, 7 minutes seulement après le précédent.
Second departure towards Switzerland, just 7 minutes after the previous one.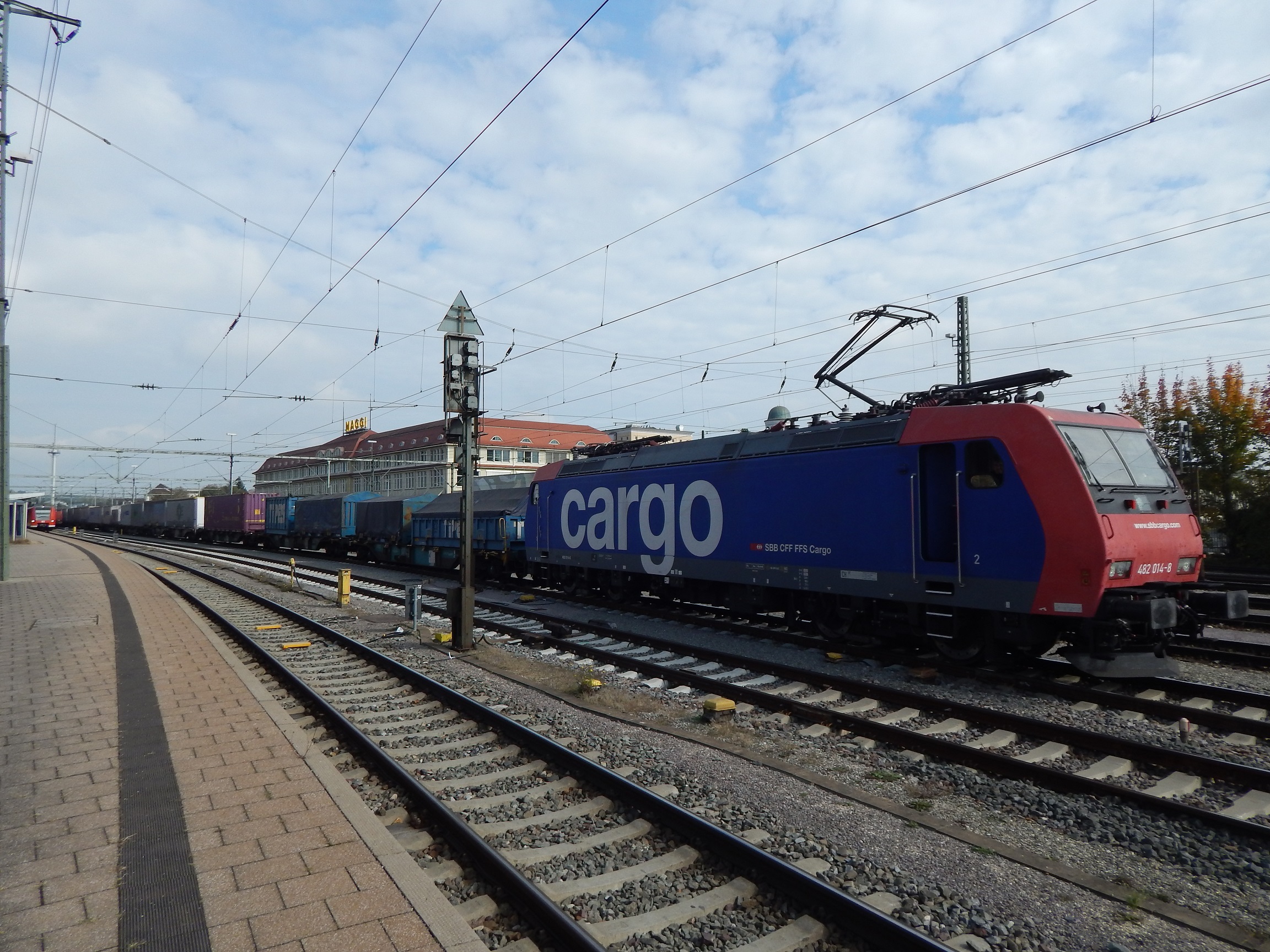 051 79 2017-09-29 14h40 Singen (H) 482-014 v Stuttgart
Et 15 mn plus tard, celui-là part donc vers l'Allemagne.
And 15 minutes later, this one is then leaving for Germany.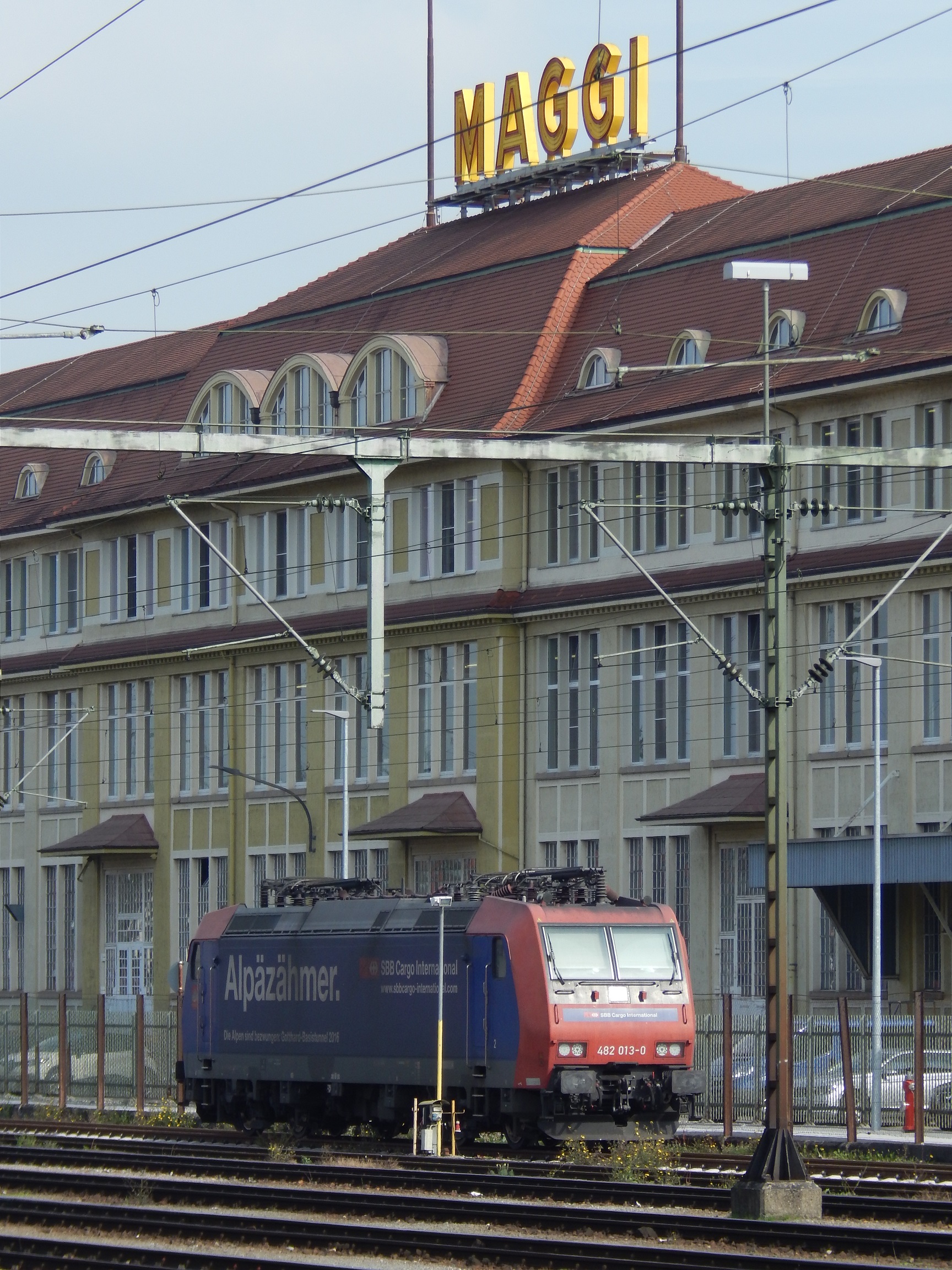 051 80 2017-09-29 14h41 Singen (H) 482-013
Les voies de rebroussement sont désormais vides, hormis cette locomotive au repos...
The tracks for reversing are now empty, except for this loco taking a rest...


051 81 2017-09-29 14h43 Singen (H) Relais 8v quasi-vide (482-013)
051 82 2017-09-29 14h45 Singen (H) 486-503 BLS arrive enfin
... mais cela ne va pas durer longtemps. Voici enfin le convoi "BLS 486-503" qui semblait
avoir disparu et a donc été dépassé par deux autres convois entre Böblingen et ici : celui
avec la 185-075 (photo 55) et celui avec la 145-078 (photo 77). Convois plus rapides parce que
moins lourds ? Plus courts et donc plus faciles à tracer dans l'horaire, vis-à-vis de croisements
sur des évitements qui ne seraient pas toujours assez longs ? Un arrêt long quelque part,
en lien avec un changement de conducteur ? Mystère... Il lui aura en tout cas fallu 5h10
pour couvrir les 146 km de Böblingen à Singen, soit une misérable moyenne de 28 km/h...
... but this didn't last long. Here is at last the "BLS 486-503" freight, which seemed to have
vanished and has indeed been overtaken by two others between Böblingen and here : the one with
185-075 (picture 55) and the one with 145-078 (picture 77). Faster trains because they were
lighter ? Shorter trains, and therefore easier paths to build into the timetable, as perhaps
not all loops were long enough for the BLS train ? A long stop somewhere, for changing drivers ?
This will remain a mistery... but as a result, it took 5hrs10mins for the 146 km from
Böblingen to Singen, a miserable average of 28 kms per hour...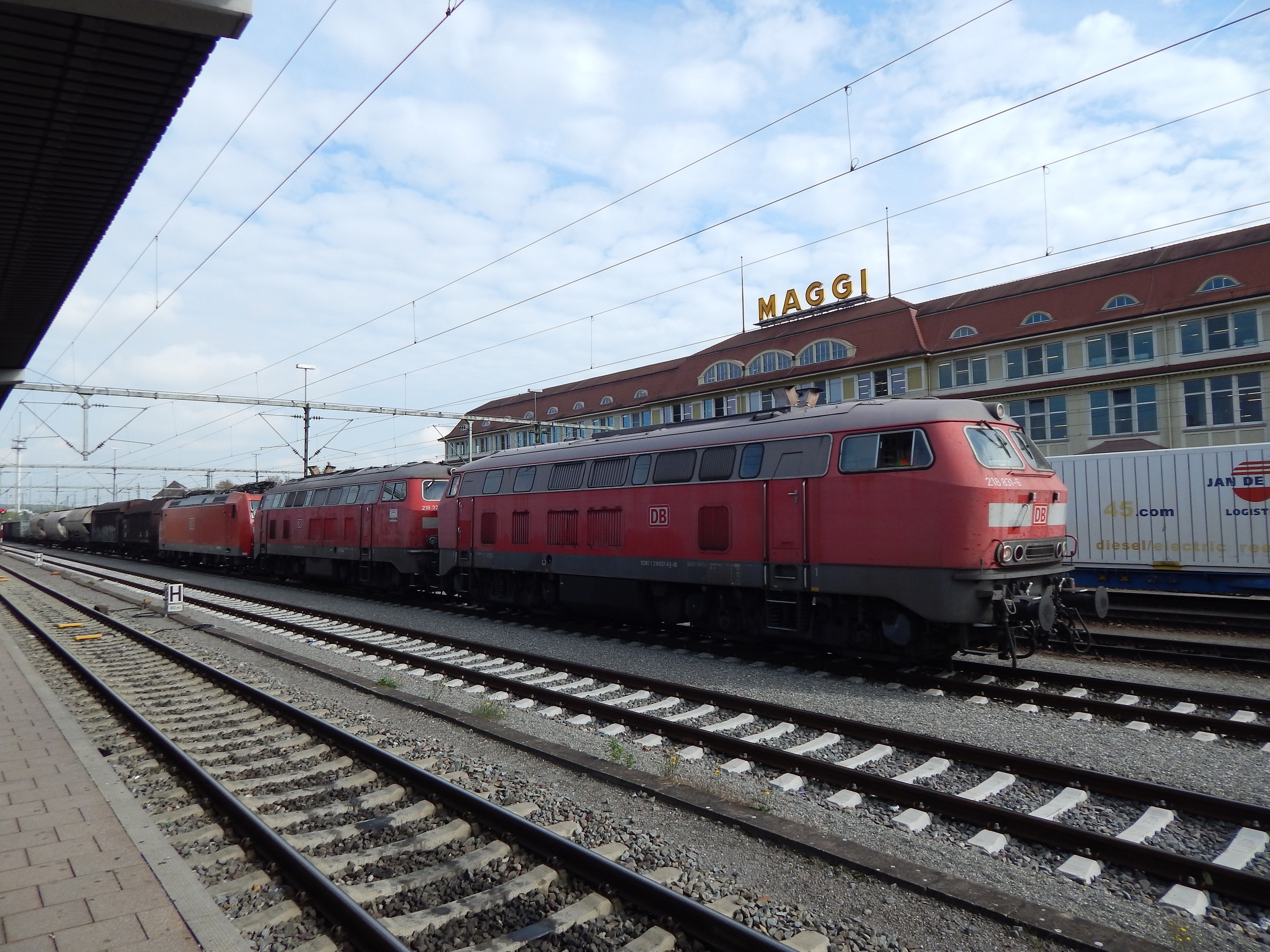 051 83 2017-09-29 14h47 Singen (H) 218-831+326+185-140
Ensuite, un convoi un peu bizarre, puisqu'arrivant de l'Est avec une paire de diesels 218 et une 185
en véhicule. Il n'est pas impossible qu'il soit arrivé via Ulm et Friedrichshafen, d'où le besoin
de traction diesel (l'électrification est en cours) avant de poursuivre vers la Suisse avec la 185.
Next, a rather strange train, coming from the east and headed by a pair of Class 218 diesels,with
an idle Class 185 behind them. It may have run via Ulm and Friedrichshafen - hence the need for
diesel traction (electrification is under way) - before continuing towards Switzerland with the 185.

Dernière remarque, en guise de conclusion sur un problème complexe. Il y eut certainement une autre
difficulté, en Suisse celle-là : la nécessité de rejoindre l'axe Bâle - Gotthard (ou celui du Lötschberg)
par des itinéraires peu habitués à voir défiler un tel volume de fret. Point bien sûr non exploré ici,
mais dont on peut supposer qu'il aura également eu un impact non négligeable, ne serait-ce que
du fait de la présence de deux courtes sections à voie unique entre Schaffhouse et Zürich...
A final remark, which could serve as a conclusion over a complicated subject. There has certainly been
another difficulty, in Switzerland this time : the need to reach the Basle - Gotthard route (or the
Lötschberg one), using lines not really suited for such a high volume of freight traffic. This matter
has of course not been investigated here, but it is likely that its impact has not been small,
not least because of two short single track sections between Schaffhausen and Zürich...

MERCI DE VOTRE VISITE / THANKS FOR VISITING